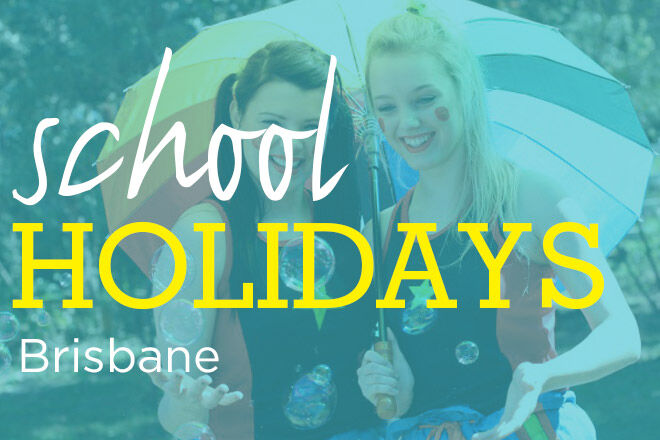 It might be winter, but chances are, your kiddo has a spring in their step because the Queensland school holidays are coming! But before they burst out of the school gates, there's still time to plan some activities and practice your rendition of 'Let Me Entertain You' à la Robbie Williams.
Although we can't help with the singing, activities are sorted for Brisbane kids. Whether they sail the seven seas, step back in time, reach for the stars or run away to the circus, mini-mites are about to have maximum fun.
Here are 18 great school holiday events happening in and near Brisbane. Yay!
Queensland school holidays: June 25 – July 10, 2016
1. Kid-focused festival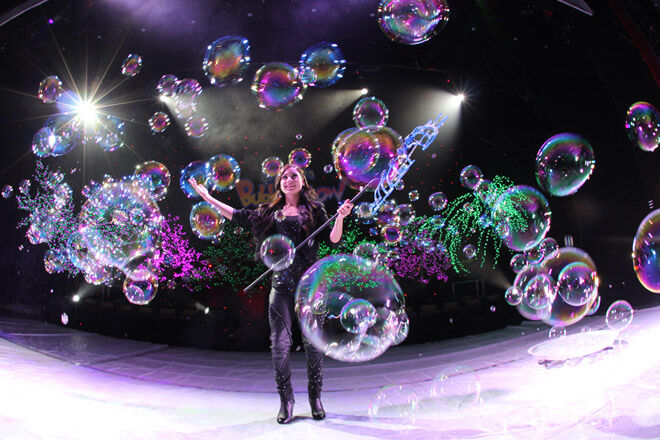 The Out of the Box festival is big news for kids aged eight and under. It includes enough school holiday activities to keep tykes going for months, but they're all jammed into eight exciting days. Dig in!
Various South Bank locations, June 21 – 28. Ages 8 and under. Book here.
2. A day with the dinos
Dinosaur Discovery is back by popular demand and this exhibition will go down in history with dino fans. There are more than 20 animated, life-sized dinosaurs to meet. And then, when your sprout is all roared out, head on over to the nearby Sciencentre.
Queensland Museum, June 21 – October 9. All ages (although young kids might find the dinos a bit scary). Book now.
3. Seeing stars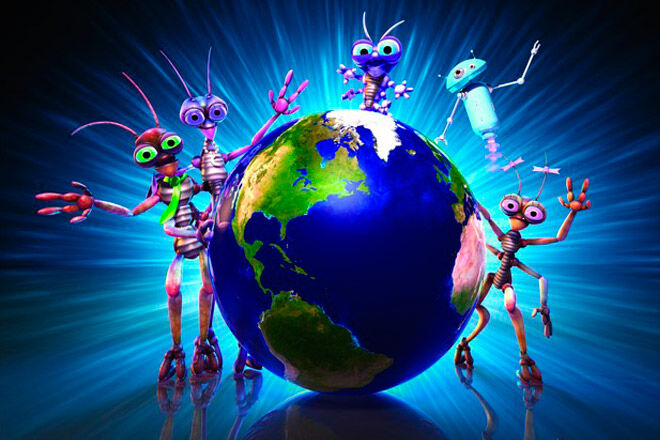 Perfect Little Planet is a perfect little introduction to the solar system. Kids will love the show (with added aliens) and it includes a night sky tour where stars and planets are projected all around!
Sir Thomas Brisbane Planetarium, June 25 – July 10, 10:30am, 11:30am or 12:30pm (depending on the date). Ages 5+. Admission prices apply. Bookings recommended, call (07) 3403 2578.
4. Ride the rails
About 40 minutes from Brisbane, Under Construction is a dream come true (or choo!) for mini-makers, train buffs and LEGO fans. Practice trades in the Apprentice Workshop, build a toy train in the Wood Workshop and go into LEGO overdrive.
The Workshops Rail Museum, June 25 – July 10. Ages 3 to 10, plus activities for under 3s. Buy tickets online or on the door. Wood Workshop: $10 per toy train, 11am to 12 noon weekdays, wear enclosed shoes.
5. Go wild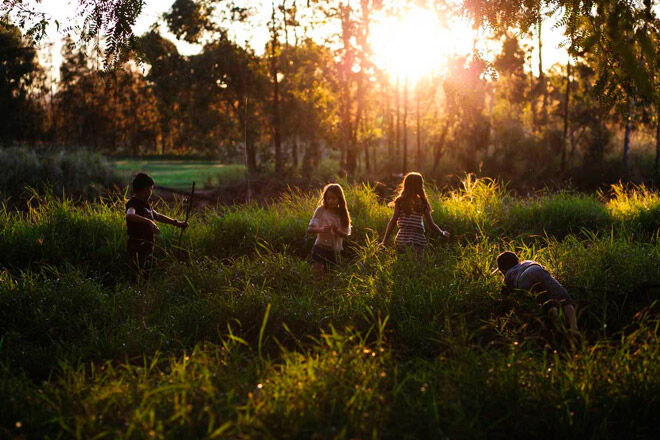 Barefoot Nature Play's Wild Winters program is a chance for your sprog to get outside (for 1 to 5 days) and let their imaginations loose next to the campfire. Foraging and pogo sticks are possibilities too!
St Paul's School and Pullenvale State Primary School, June 26 – July 1. Prep to age 13. Limited spaces, prices and bookings here.
6. Run away to the circus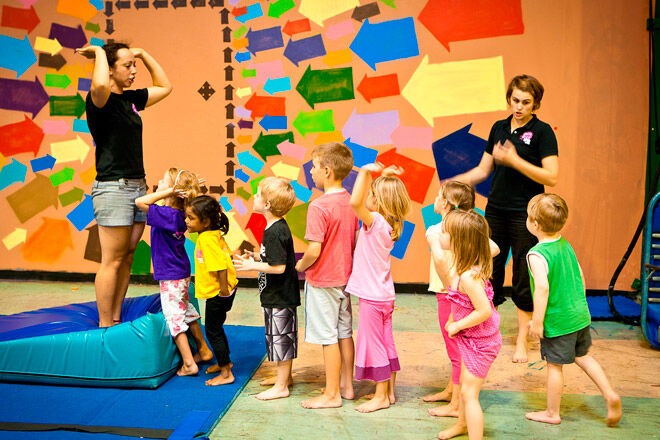 Your kiddo will flip out when they join the Holiday Flipperoos Camp! This three-hour circus workshop is bouncy and fun for little acrobats.
Flipside Circus, June 27 or June 28, 10am to 1pm. Ages 5 to 7. $60, enrol now. For other ages and classes, jump onto Flipside Circus.
7. Let it grow!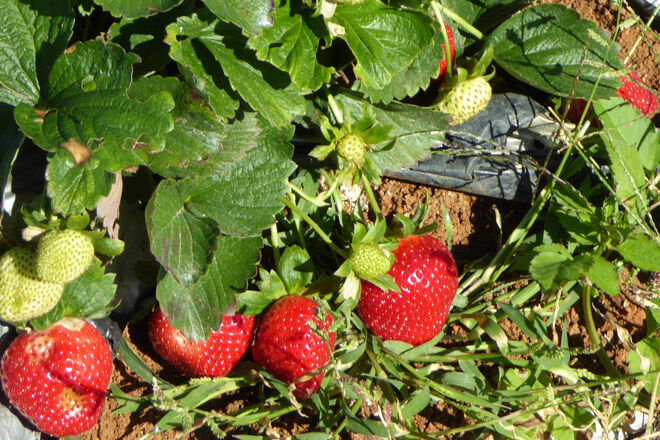 Spurtopia Workshop: Wicked Wicking shows bambinos how to grow strawberries, herbs and veggies without a garden! They get to make their own wicking pot, plant it out and take their mini-garden home.
Brisbane Botanic Gardens, June 29, 9:30am, 11am and 12:30pm. Ages 5+. Free. Materials provided, wear enclosed shoes. Call (07) 3403 2535 to book.
8. Mud, glorious, mud!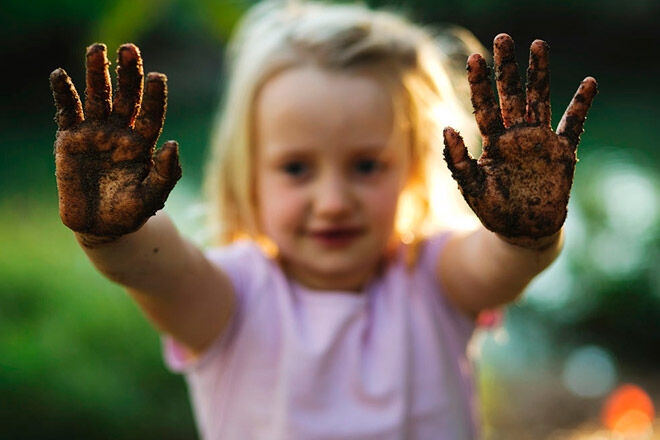 June 29 is International Mud Day. It's the perfect recipe for mud pies, mud monsters and muddy puddle-jumping, so get out the gumboots and go for it!
St Pauls School, June 29, 2pm to 4pm. All ages with parental supervision. Wear old clothes, enclosed shoes, hat and sunscreen. Bring a change of clothes and a towel. No need to pre-register, call 0423 162 478 for info, run by Barefoot Nature Play.
9. The hunt is on!
On your marks, get set, go! This Treasure Hunt will see your kid cracking clues and unearthing natural treasures as fast as their legs will take them.
Brisbane Botanic Gardens, June 30, 2016, 10am to 2pm. Ages 4+, must be accompanied by an adult. Free. Bring a phone or tablet to photograph items. Bookings not required, but you may need to sign up to sessions on the day.
10. Pottering around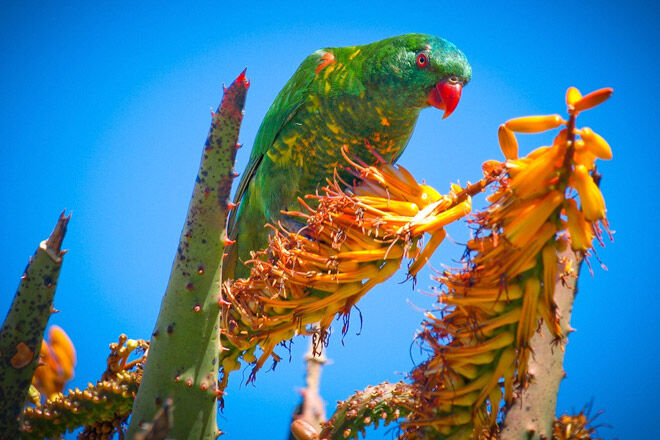 Mini-mites will love getting their hands dirty making Clay Art Creatures. Explore the gardens for some wildlife inspiration, then create a critter out of clay.
Brisbane Botanic Gardens, June 30, 2016, 10am to 2pm. Ages 4+. Free. Wear sturdy shoes and a hat. Bookings not required.
11. Search, explore and connect!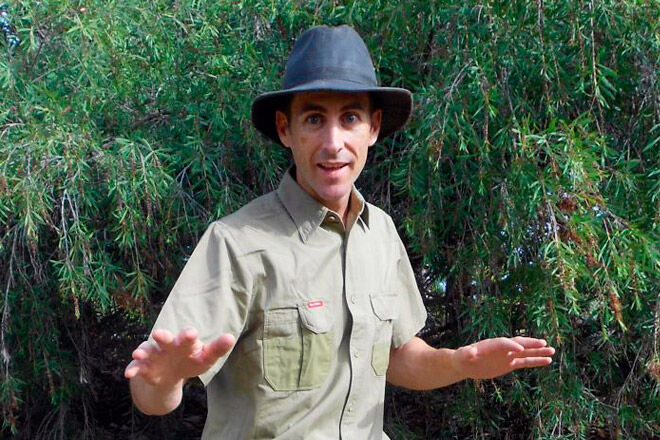 A Sparky Do Dah Natural Adventure is a fab way for kids to explore the new Karawatha Forest Discovery Centre. With interactive displays and games in the park, it's time to nature play the day away.
Karawatha Forest Discovery Centre, July 1, 10am to 12 noon and July 9, 1pm to 3pm. Ages 5 to 10. Free. Bookings essential.
12. All aboard!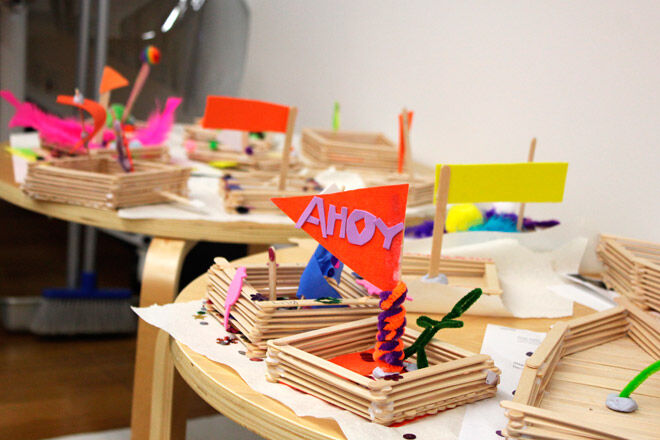 Shiver me paddle pop sticks! Ahoy! Boat Building for Kids gets mini-mariners constructing a boat they can take home and set afloat.
Museum of Brisbane, July 4 – 8, 10am to 1pm. Ages 3+. Free. Bookings not required.
13. Arrr, there be fun ahead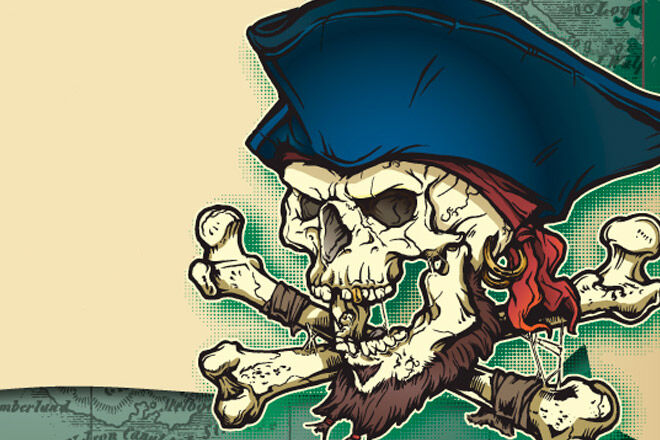 Adventure awaits with Pirates Week! The pirate-themed pantomime, salty sea dogs' lunch, buried treasure, plank-walking, boat-building, deck-swabbing and more, makes this the event of the year for young buccaneers!
Queensland Maritime Museum, July 4 – 8, 10am to 2:30pm. Ages 5 to 11. $24 per child, including lunch and craft materials. Prizes for best pirate costume. Bookings required.
14. A world of wonder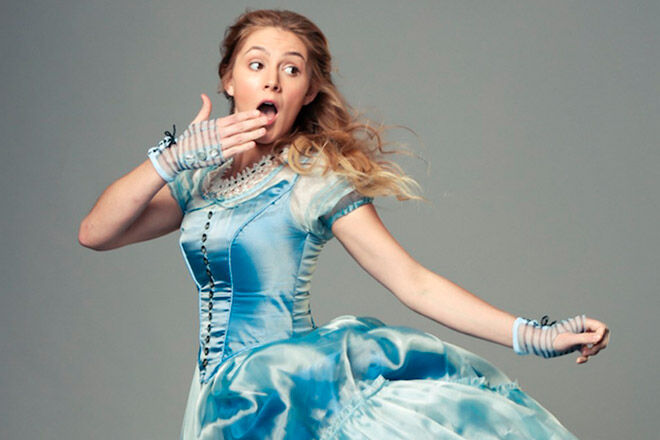 Tumble down the rabbit hole into a stage production of Alice in Wonderland. The White Rabbit, Mad Hatter, Cheshire Cat and Queen of Hearts bring fun and fantasy to your child's school holidays.
Brisbane Powerhouse, July 4 – 7 (four shows). All ages. $34.90. Book here.
15. All fun and games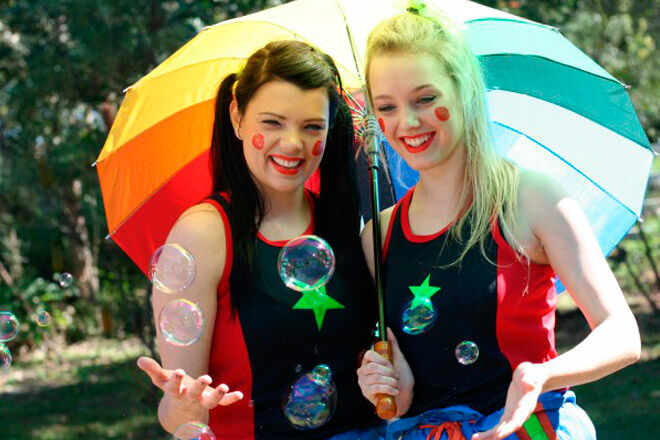 Fast, Fun and Funky will get kids moving and grooving with games like Limbo, Musical Statues and more.
Kalinga Park, July 4, 10am to 12 noon. Ages 5+. Free. Bring a hat, sunscreen and a water bottle. Register here.
16. Junior chefs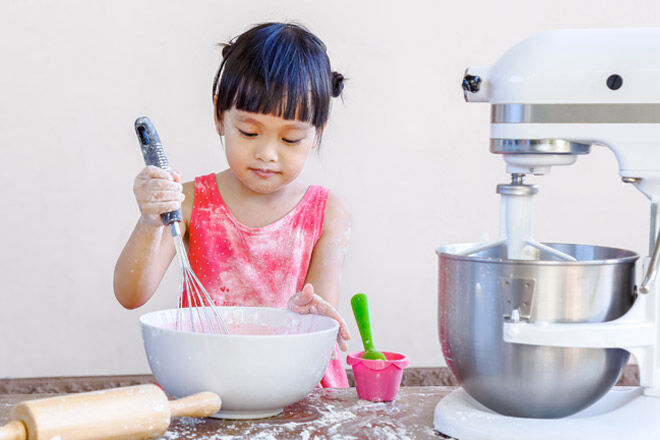 The Kids in the Kitchen Workshops are a sweet way to entertain bambinos. It's cupcake-decorating time!
Underwood Marketplace, July 4 – 8, 10am to 1pm. Free. No bookings required.
17. A taste of Aboriginal culture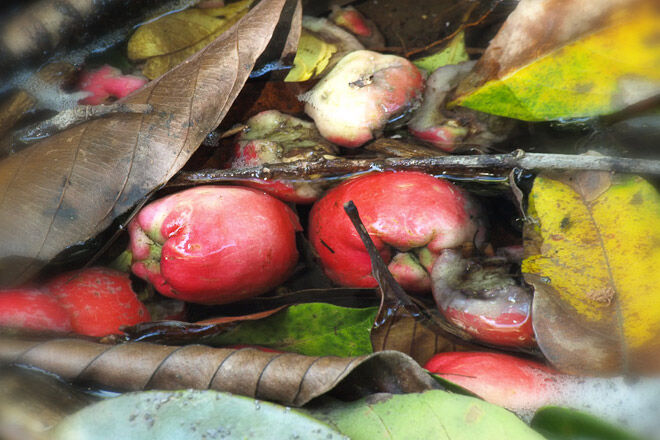 With traditional Aboriginal games, painting, weaving, dancing, bush tucker tasting and Aboriginal Plant Trail walks, the NAIDOC School Holiday Activities make for an awesome day out.
Brisbane Botanic Gardens, July 5 – 7, 10am to 2pm. Free. Call (07) 3403 2535 for more info.
18. Come fly a kite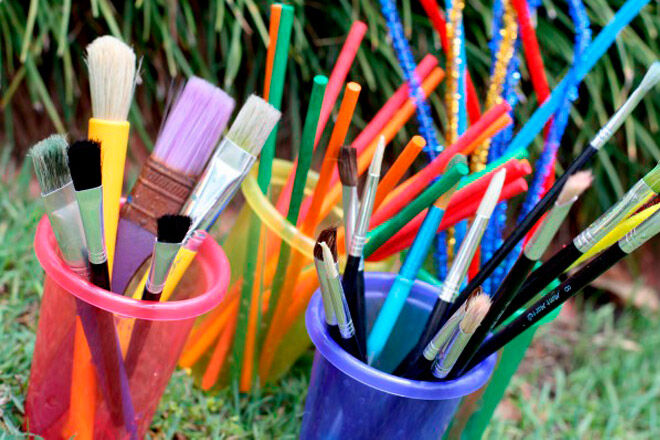 Catch some air with Kite-making and Flying. Wee ones will have a ball making, flying and taking home  their own kite.
Fig Tree Pocket Riverside Reserve, July 7, 10am to 12 noon. Ages 6+. $5. Bring a hat, sunscreen and a water bottle. Register here.