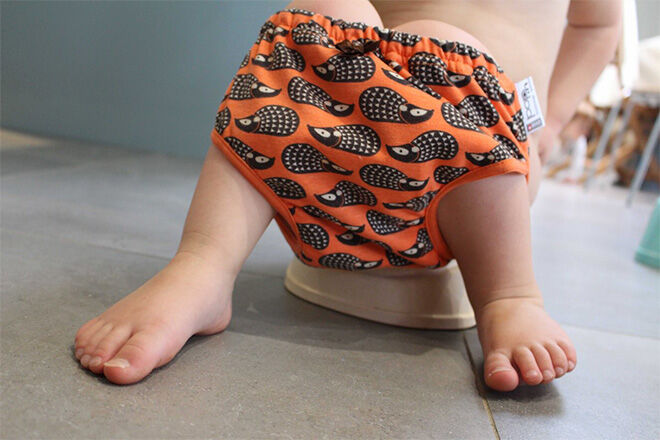 Making the move to underwear is a big moment for both you and your wee one. No more nappies, yay! Wet pants (and worse), boo! While there's no rush to get to the big kid bowl, being prepared can help make the transition easier for you both.
When you think your tot is ready, try out these 18 toilet training essentials to help them ditch the nappy for good.
1. Potty on, dude!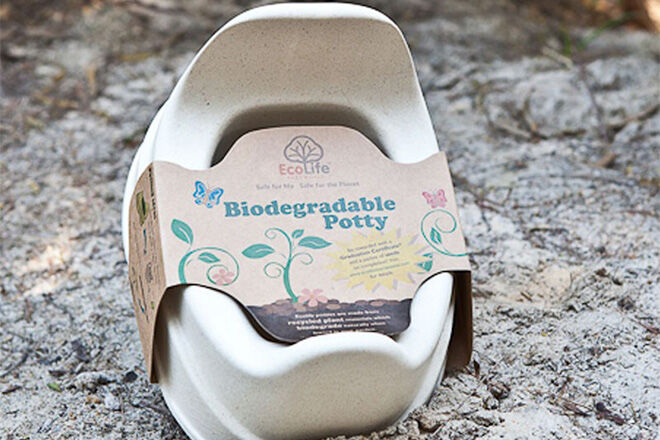 Let's face it, a potty is pretty much just a comfy bucket that your kiddo will quickly outgrow once they've mastered toilet time.
The EcoSouLife eco potty ($14.99 ) is both economical and eco-friendly. Made from vegetable waste matter (basically leftovers of corn, starch, bamboo and rice husks), you can bury it when you're done and it will naturally biodegrade in the ground.
2. Sheet happens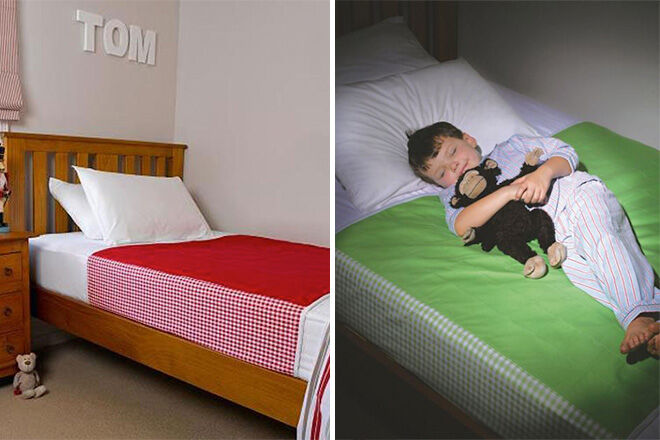 While your little one will likely stay in nappies at night for awhile, it won't be long until they're nappy free 24/7. For when after-dark accidents happen, Brolly Sheets (from $24.95) are essentially a waterproof mattress protector that goes over the sheet, making midnight bed changes a breeze.
3. Take a seat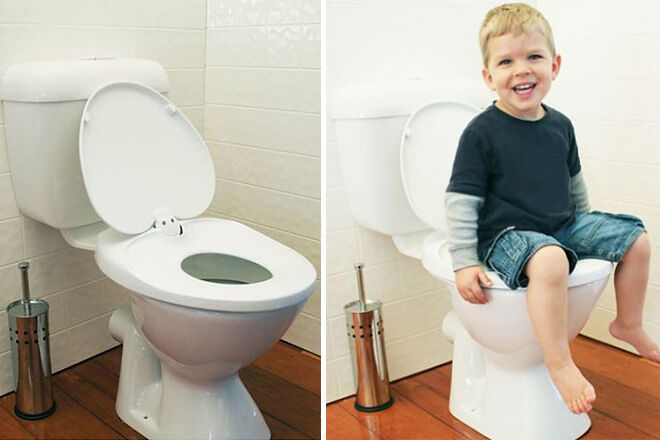 Some kiddies skip the potty and tackle the toilet straight up. It's much easier if you have a small seat that fits your tot's bot, but a separate seat means more hassle, clutter and mess for you.
Enter the Lupi Lu toilet seat ($99.95). Fitted with both an adult and a child seat, it replaces your regular seat so one seat is all you need for the whole family!
4. Smarty pants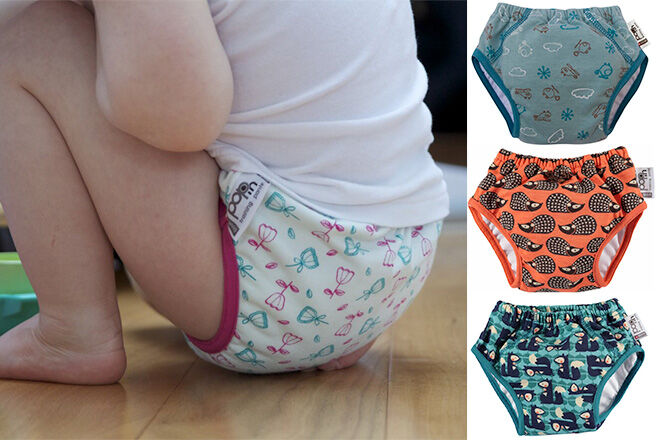 Training pants are great for that awkward in-between phase when your little one almost has the hang of holding on but is not quite ready to be nappy-free.
The oh-so-cute Close Pop-in reusable training pants ($24.95) pull up and down like regular undies but are lined to minimise the mess of little accidents. Available in four sizes.
5. Stand to attention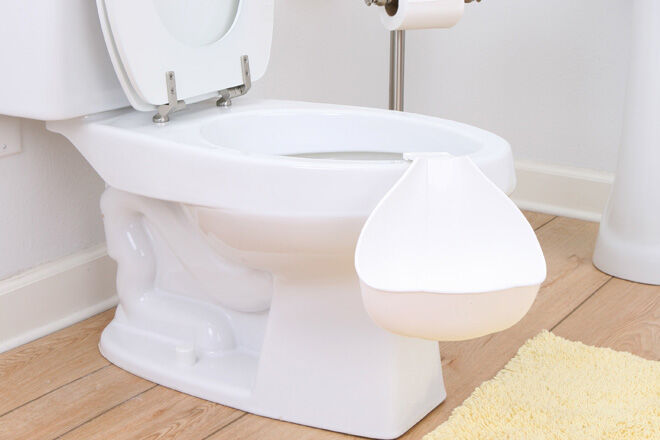 Your wee fella will find tinkle time while standing a lot easier with a toilet that's just the right height. The clever Wee Man ($29.90) clips onto the side of the toilet ready for your little guy to use. When he's done, just unclip and tip into the big bowl just like a regular potty.
6. Driver's seat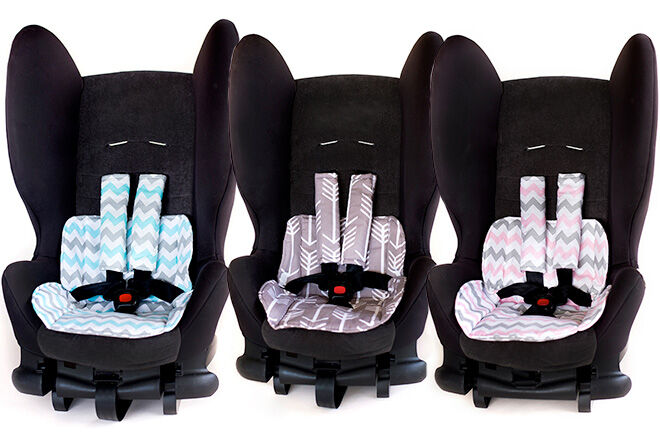 Don't let style take a backseat to function when you can have them both. Bambella Designs car seat protectors ($35) catch the mess when your tot doesn't make the next pit stop while adding a splash of colour and flare to your kiddo's car seat.
7. Good books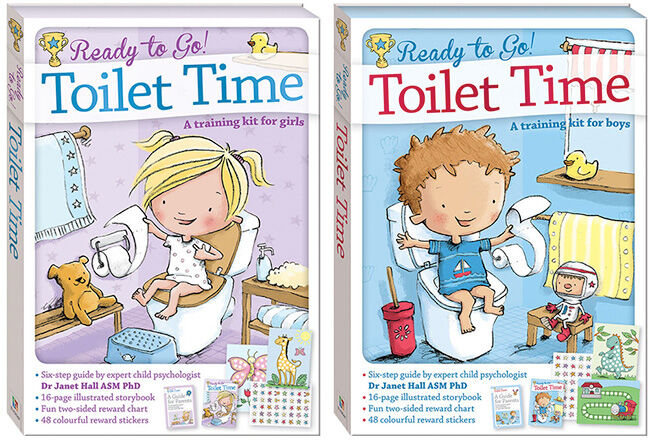 It never hurts to seek expert help. The Ready to Go! Toilet Time kit ($22.95) for girls or boys is an easy six step guide to toilet training written by child psychologist Dr. Janet Hall PhD.
The kit includes a short, fun illustrated storybook and a rewards chart and stickers your little squirt will love.
8. Just rewards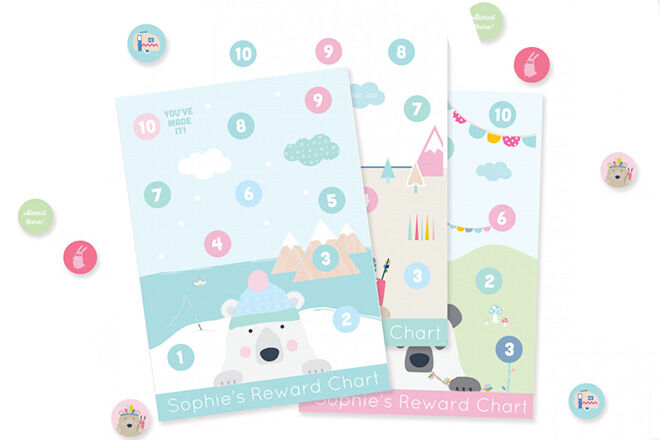 What kid doesn't respond to a bit of bribery, uh, we mean positive reinforcement? Pop a personalised Stuck On You Reward Chart ($14.95) on the fridge as a fun reminder of how your tyke's toilet habits are tracking.
Buy them a special prize when they're done for some extra incentive. And because they're generic reward charts, you can use them for all sorts of things.
9. Beat the clock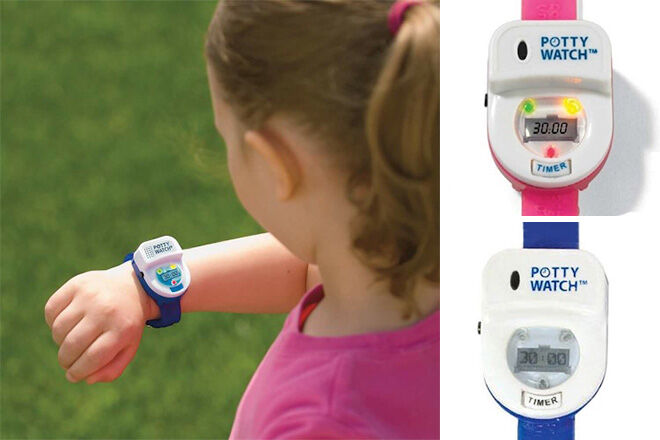 Half the battle of toilet training is getting your kiddo to go before it's too late. They'll never forget with a Potty Watch Potty Training Timer ($19.95).
Perfect for your Little Miss or Mr Independent, the colourful alarm is worn like a watch and uses music and blinking lights to remind them that it's time to go. Available in three colours.
10. Snap to it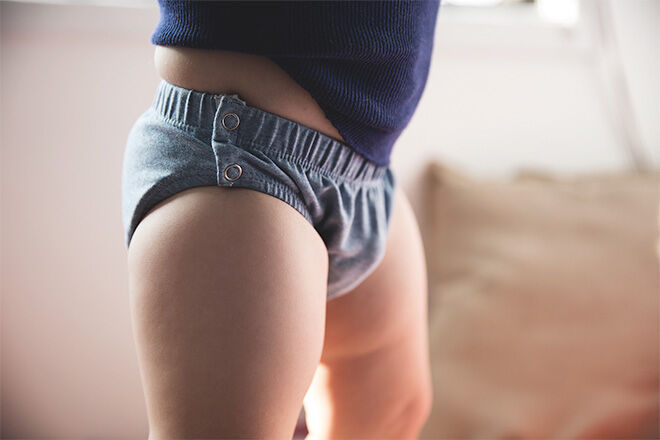 The dreaded poo in the pants does actually get worse after the job is done when you have to figure out a way to get them off your kiddo.
Clearly invented by mums who have 'been there, done that', Snap Undiez ($15) are the fuss-free answer. They fit like undies but unfasten at the side just like nappies. Oh snap!
11. In the bag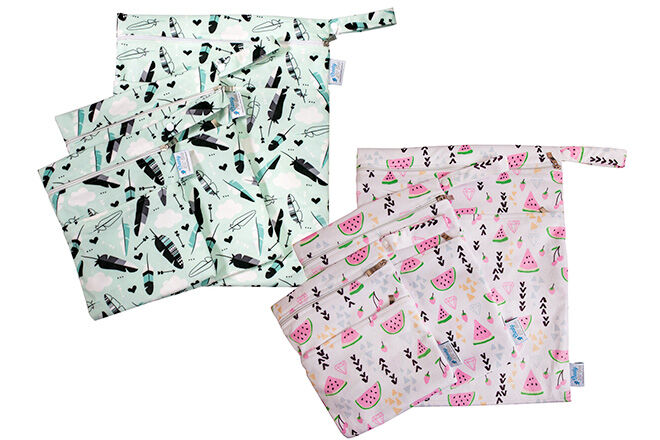 No matter how well trained your munchkin is, accidents will still happen. So don't forget to pack a change of clothes and have somewhere to put the dirty ones.
The Cheeky Lil' One Wet/Dry Bag (from $14) is a handy water resistant bag perfect for keeping damp items away from the rest of your things and is stylish enough to be carried as a bag on its own. Available in three sizes.
12. Get out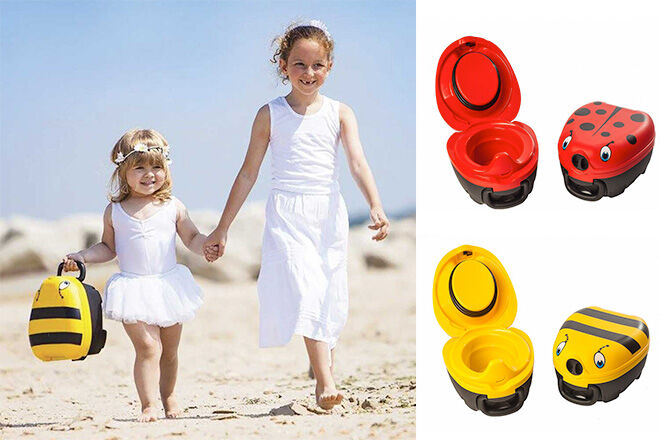 Don't panic trying to find a kid-friendly public toilet while you're out – take one with you. The adorable My Carry Potty ($34.95) is a self-contained and completely leak and odour-proof portable potty with a carry handle so your kiddo can kart it anywhere.
Because when you've got to go, you've go to go!
13. Wash and wear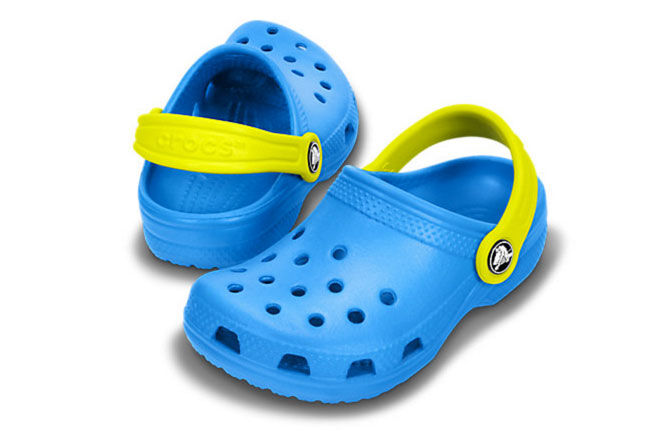 When a piddle puddle happens you'll have more to clean up than just wet undies. Make life a little easier by putting your poppet in a pair of waterproof shoes, like the Kids' Classic Crocs ($39.99). Take that gravity!
14. On target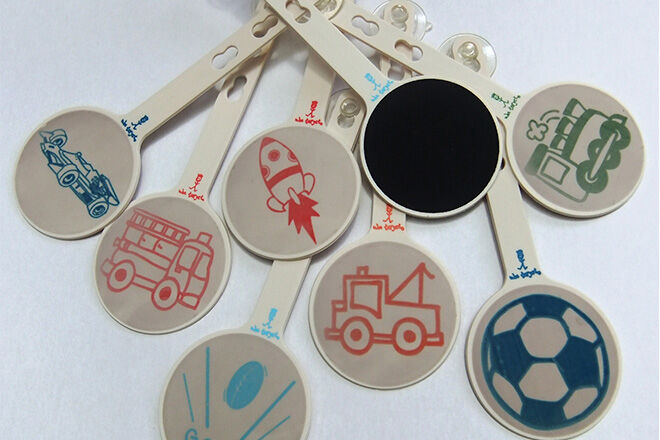 Help your little man learn to be a straight shooter with this simple and clever Wee Target (from $6.95). The nifty plastic target sticks in your toilet rim and changes colour to reveal a special picture when he hits a bullseye!
15. Right stool for the job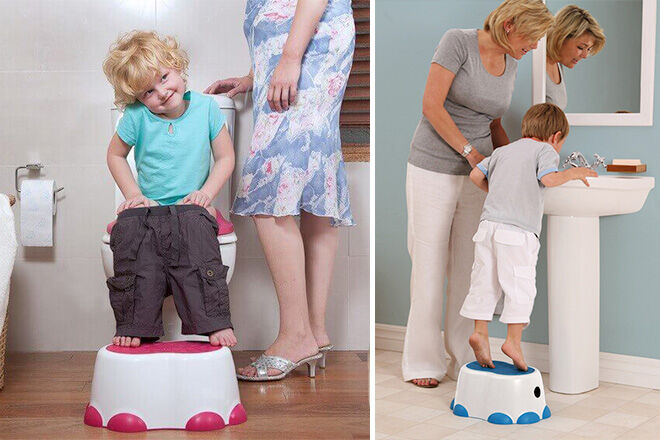 Give your bambino a boost with a handy Bumbo Step Stool ($18). Sturdy but lightweight with a non-slip surface, it's a handy addition to your bathroom to help your little one onto the big toilet or stand at the sink for independent hand washing.
16. App-y days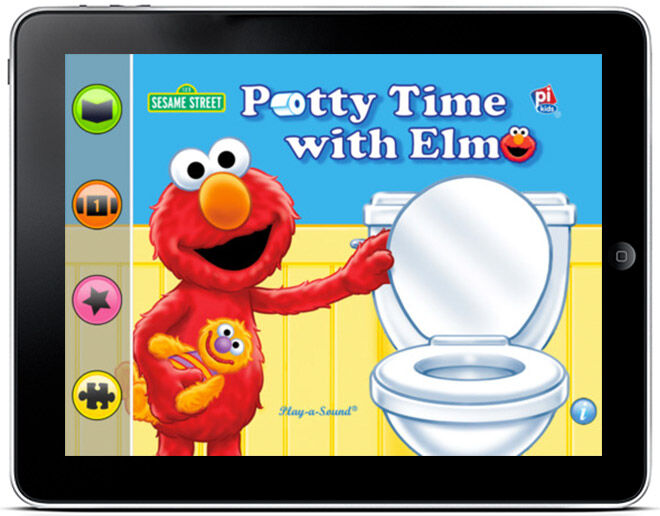 For your tech-savvy toddler, turn screen time into toilet time. The Potty Time with Elmo app ($4.49) teaches toilet training basics through storytelling, songs and games.
17. Clean eating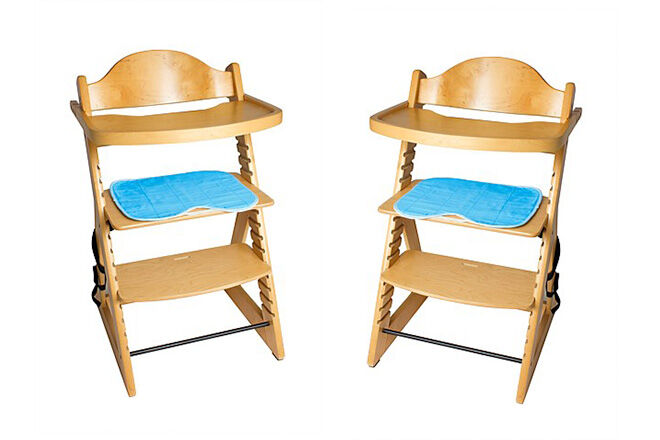 Food time can be a messy job, especially since what goes in must come out! And if it comes out a little unexpectedly, keep your high chair clean with a Brollysheets Seat Protector ($19.95).
Originally designed for car seats, it's slimline shape makes it perfect to pop on your tot's high chair to catch little 'spills'.
18. Keep it clean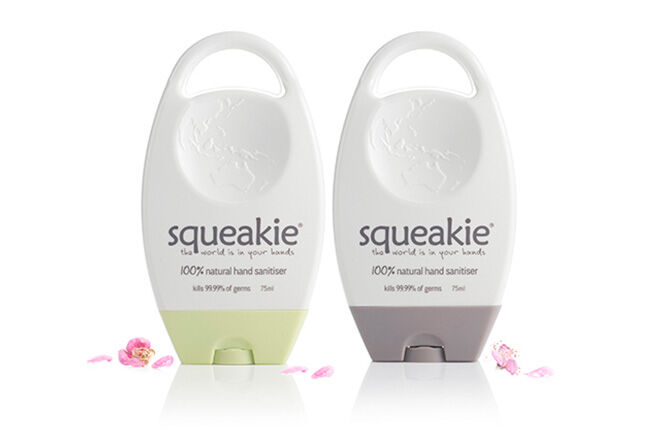 Toilet time can be a messy business, especially on the run. Keep a hand sanitiser within reach for both you and your little one.
We love Squeakie Natural Hand Sanitiser ($19.95 for 2). Made from naturally derived pure milk whey alcohol, it removes 99.9% of the germs without all the nasties.
---
WIN:
a $395 toilet training starter kit
Brolly Sheets are giving one lucky Mum's Grapevine reader a complete toilet training system, worth $395. Enter here. Ends November 11, 2016.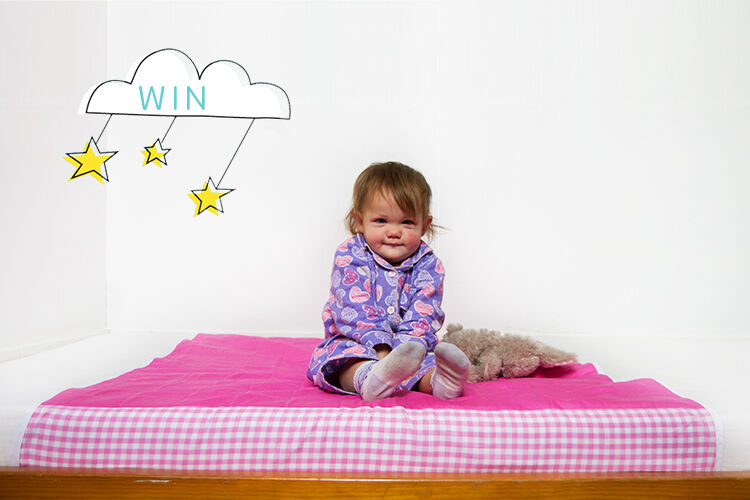 ---
FIND MORE:
toilet training tips 
Book List: Best books for toilet training tots
29 potties to make toilet training a breeze
---