There's a bear in there, and a chair as well, presenters with songs and stories to tell. Dance along, have some fun, it's Play School Live in Concert!
Called Prince of Bears, the 2017 Play School concert tour is coming soon, which means the big hand is pointing to Excitement O'Clock. If your preschooler loves watching the show on telly – and who doesn't – then they won't hold back when their fave toys and presenters hit the stage.
And that's the idea! This concert brings the iconic TV show to life, with a strong emphasis on 'audience participation' ("YAY!!!!!" say a zillion kids in unison). Gear up for songs, games, nursery rhymes, stories and electricity in the air (not literally) as mini-mes jump into the action, with some quiet time thrown in for good measure.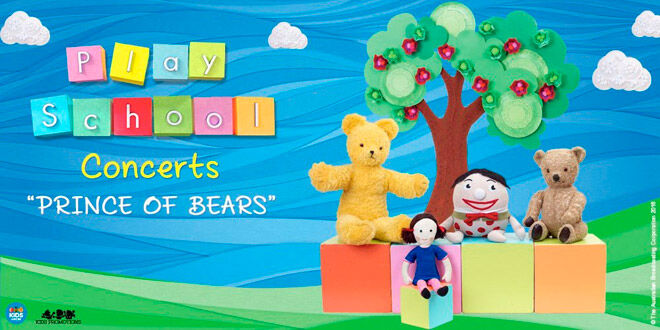 ---
2017 Touring Dates
Victoria: Touring from 26 February to 27 March, 2017
New South Wales: To be confirmed
Queensland: Touring from 7 May to 2 July, 2017
Australian Capital Territory: Touring from 13 July to 16 July, 2017
South Australia: Touring from 11 August to 20 August, 2017
Western Australia: Touring from 7 September to 31 October, 2017
Northern Territory: 31 October, 2017
Tasmania: Touring from 10 November to 14 November, 2017
Book now
Jump on these Play School Live in Concert: Prince of Bears tix before they sell out.
Tickets on sale at Kids Promotions from $19.80.