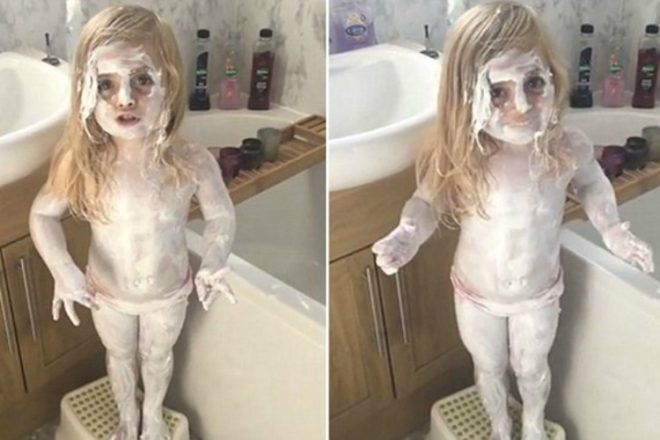 We've all had our fair share of messy moments and catastrophic cleanups. But Jem Armistead clearly wins the award for the 'messiest child of the day', thanks to her four-year-old daughter, Livvy, and a tube of Sudocrem.
Silence and Sudocrem never mix
If you ever needed proof that silence is suspicious when you have kids, then this video is all you need to see.
Jem films the moment she discovers her adorable daughter, Livvy in the bathroom, wearing nothing but knickers and a smile and covered head to toe in Sudocrem. We're talking hair, face, belly button, arms, legs, everywhere!
As Jem's daughter Livvy explains in her too-cute-for-words-English-accent, "'I was sneaking up and got the Sudocrem and put it all over my face. And then I put it all over me".
The little Livvy is clearly pleased with her ensemble as she smiles at her mother and admires the white paste on her body. Even Jem has a hard time keeping a straight face as her daughter explains what exactly has happened.
"I'll just shake it off"
Just when you think the little girl, who lives in Durham, England, couldn't get any cuter, she comes up with an exceptional idea on how to clean up the messy paste. Channelling her inner T-Swift, Livvy attempts to "shake it off" as she wiggles and giggles at the camera.
Livvy soon discovers that, while 'players gonna play and haters gonna hate', Sudocrem just isn't gonna shake off. And thus, as the video ends, Livvy is in for the beginning of one very messy bath!
Sudo(crem) of the clean-up crop
So, to all the parents out there who are currently cursing your kids as you clean up the spilled Weet-Bix, glued-on-glitter and chunks of cheese off the floor, take a deep breath and just remember this: at least your daughter didn't cover her ENTIRE body with nappy cream.
Thanks Jem, for not only sharing your imperfect parenting moment (which has been viewed well over five million times!), but also for reminding us all that Sudocrem belongs in a child-proofed locked cupboard.
ALWAYS.
Have plenty of messy kid moments at your place? You might like to read out post about how to get your baby to clean the house.