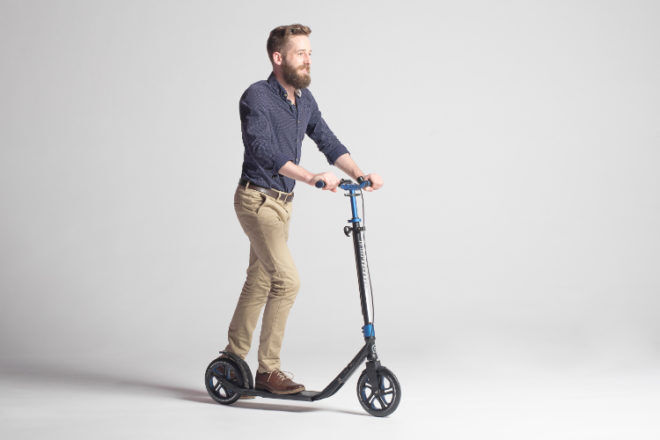 Scooters are the Father's Day present for 2017. Kids already love them, and dads are really just big kids so it's a given. There are a billion reasons why every dad should have their own scooter (and not just steal one of the kids' castoffs).
Here are just five. Oh, and we just happen to have one of these fancy scooters to give away.
1. It's fun. Nuff said.
Why should the kids have all the fun? Scooters are pure fun on wheels – that smooth glide, the speed, the tricks, the wind in your hair (or beard).
2. Kids on scooters are fast. Be faster.
Ever tried to keep up with a child on a scooter? Usain Bolt would have a hard time catching a kid on wheels. So if you can't beat 'em, join 'em.
3. Relive childhood.
Think back to childhood birthdays and Christmases when you unwrapped a cool new something to ride up and down the street. That's exactly how dad's going to feel on Father's Day – he may even say 'cool' a thousand times.
4. Be active without even trying.
There's nothing like working up a sweat doing something you love – and trust us, everyone loves riding a scooter. It gives your legs a workout, while getting that heart rate up, all while you're just having fun with the kids. We like to call it 'scootercising'.
5. It's enviro-friendly (and heaps easier than finding a parking spot)
Riding a scooter won't just get dad's heart racing, it'll give him a warm and fuzzy feeling inside because he's now an environmental champion. A man of the planet. A warrior against waste. Each time he hops aboard the scooter to run down to the shop or park with the kids is one less car trip. Scooter dads, we salute you.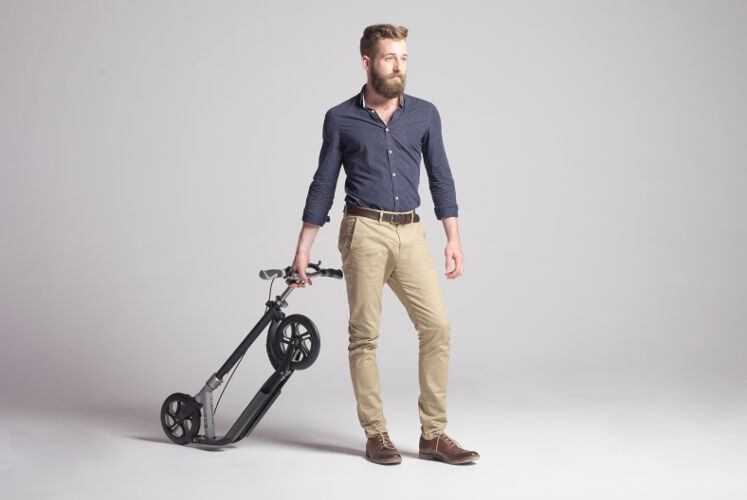 Ok, ok – I'm convinced. What scooter should I get him?
We're glad you asked.
Dads need a scooter that's robust, fast and has some cool features they can brag to their friends about. The Globber ONE NL 230 Ultimate Titanium is that scooter.
Here are the specs (which he will ask about so take note):
230mm bi-injection PU casted wheels.
One of the fastest adult scooters.
Steady and precise thanks to the CNC double clamp and wide aluminium deck.
Lightweight and hardy.
One second fold – just lift and pull.
Can support up to 100kgs.
Perfect for night riding thanks to the reflective pole and bell.
Handlebar brake for maximum safety.
The one-second fold is pretty impressive. Here's a closer look: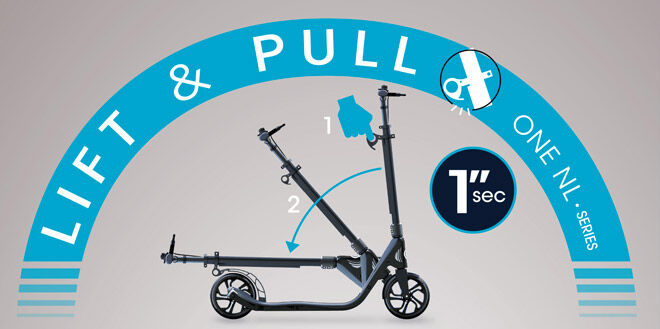 The Globber ONE NL 230 Ultimate Titanium ($230) is available online from Globber.com.au.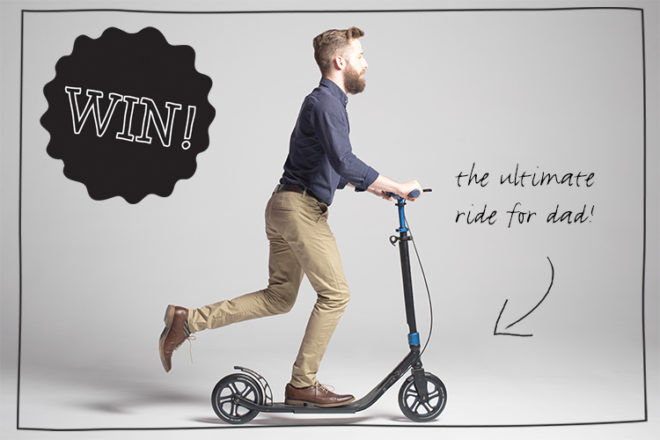 One lucky Mum's Grapeviner dad will win his very own Globber One NL 230, worth $230 and entry is a cinch.
HOW TO ENTER
Fill out your details below and visit the Globber website and tell us in the entry form what the maximum carrying capacity is.
Competition ends September 8, 2017.
---
COMPETITION TERMS AND CONDITIONS
Competition name: Weekly Win-a-thon – Globber ONE NL
The Promoter Mum's Grapevine Pty Ltd ABN 25 078 346 782.
Entry is only open to Mum's Grapevine newsletter subscribers who are Australian residents 18 years of age and over. Employees and their immediate families of Mum's Grapevine are not eligible to enter.
Entrants must be current and confirmed Mum's Grapevine newsletter subscribers.
Entry to the competition commences on 15 August, 2017 and closes 11:59 pm on 08 September, 2017 AEST.
Judging will take place at 10.00am on 10 September, 2017 at St Kilda VIC.
Winners will be notified by email and will be published on this page.
This promotion is a game of skill. Each valid entry will be judged against the set criteria. The best entry will win and chance plays no part in determining the winners. The judge's decision is final and no correspondence will be entered into.
THE PRIZE
There will be ONE (1) winner.
The winner will receive a Globber ONE NL 230 scooter (rrp $230) in the colour of their choice.
Total prize maximum value $230 rrp.
HOW TO ENTER
Entrants must complete all requirements within the entry box above to be eligible.
Instructions on 'How to Enter' form part of these Conditions of entry.
No responsibility is accepted for late or incorrect entries.
The prize must be taken as stated and no compensation will be payable if a winner is unable to use the prize as stated. The prize is not transferable, cannot be en-cashed nor can it be redeemed in any other form.
The Promoter shall not be liable for any loss or damage whatsoever which is suffered (including, but not limited to, indirect or consequential loss) or for personal injury suffered or sustained as a result of accepting the prize.
Entry in this Mum's Grapevine Competition competition implies consent of your details (name, suburb and state) being published on the Mum's Grapevine website and/or newsletter. Your email and postal address details will NOT be made public.
Mum's Grapevine will not sell or disclose your personal information to unrelated third parties without your consent.
---