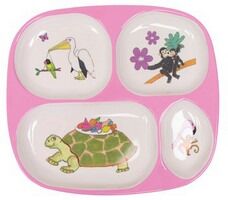 Anyone say fussy eater?
This super cute melamine plate by Danish label Rice will help tame your dinnertime diva. She will appreciate you dividing dinner into four compartments (oh so important you know!) and delight in discovering cute critters under those peas. If the sausage hits the fan and dinner ends up on the floor, the melamine will outlast any tantrum your diva can dish up.
Available from Baby Goes Retro $27.95.