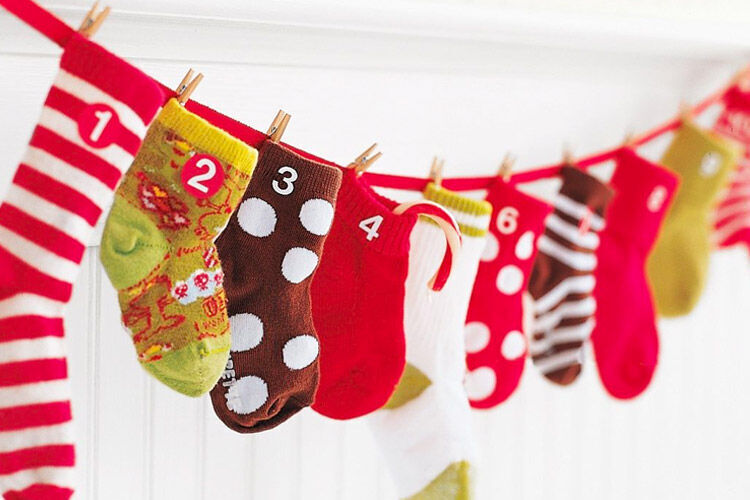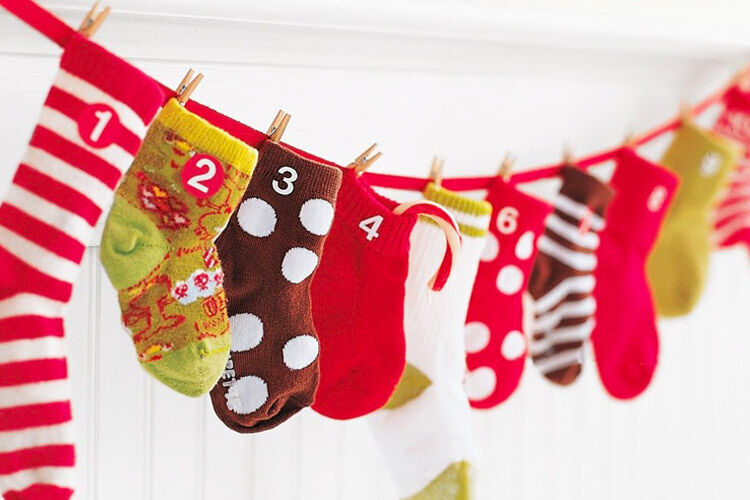 On the first day of Christmas … I made myself a stunning advent calendar.
Looking to put a spin on the traditional advent calendar this year? Well, look no further. We've scoured the web high and low and found stacks of ideas for creative Chrissy countdowns.
Here are 20 advent calendar ideas for you to make at home.
It's in the bag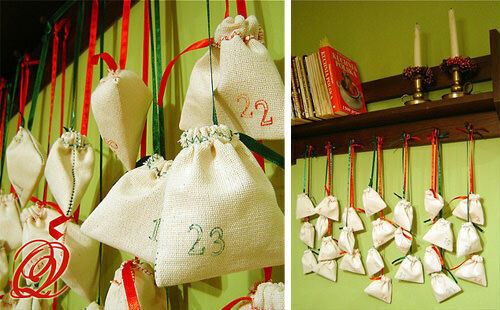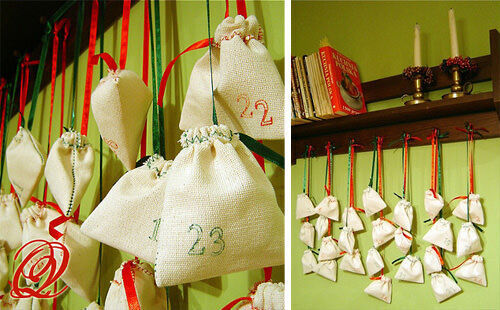 Get out the ink pad! Stamp or paint little cloth bags with numbers and hang them from a hook rack. (via Flickr)
Festive paper forest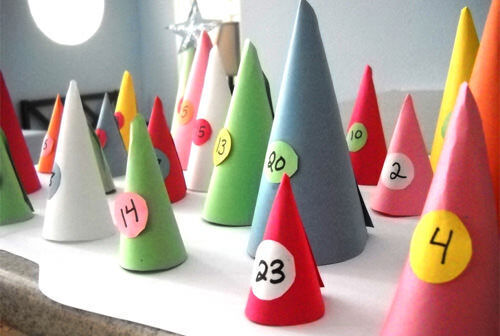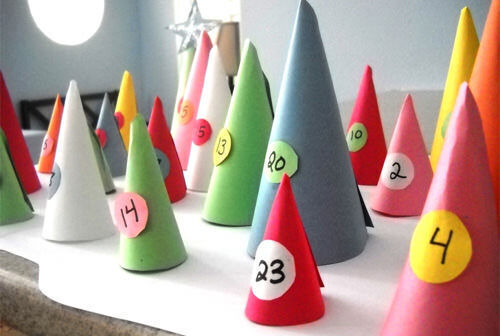 Create simple tree-like paper cones and place treats underneath. Mix up the numbers so kids can test their number recognition skills! (via Sarah Mcgaugh)
Bite-sized boxes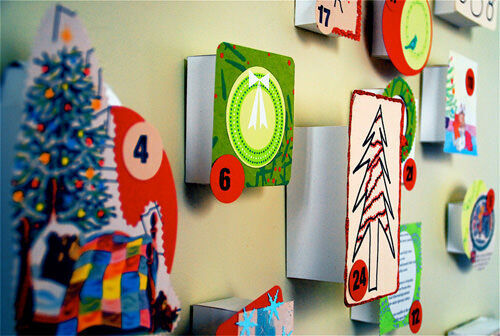 Cover treat-filled boxes with pictures and hang them on a wall. Get the instructions here. (via Our House)
Petite parcels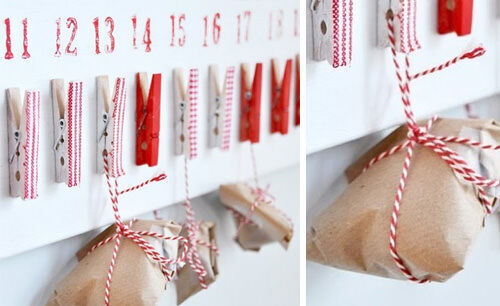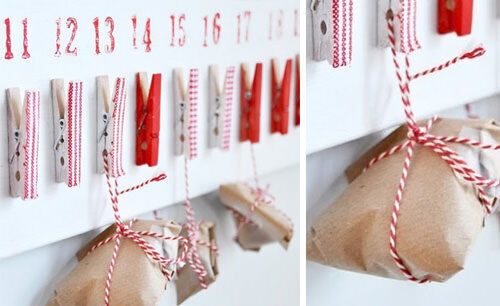 Glue pegs to a board and hang sweet little wrapped parcels from them. (via Tsj Photography)
Spread the love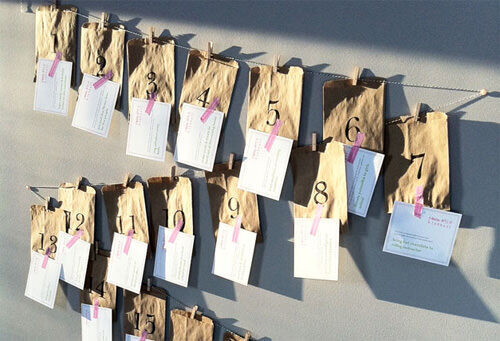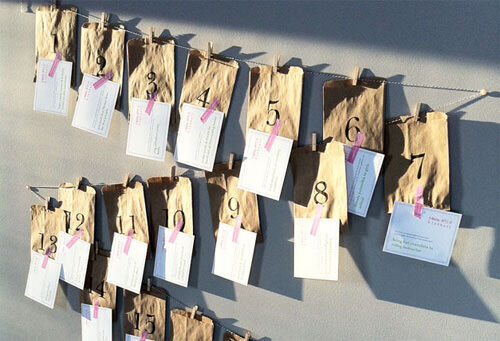 Random acts of kindness: Attach a note to each date suggesting an altruistic activity for the kids – like feeding parking meters, donating old toys to your local op shop, or bringing their teacher a coffee! Get some inspiration here. (via Tsj Photography)
Merry matches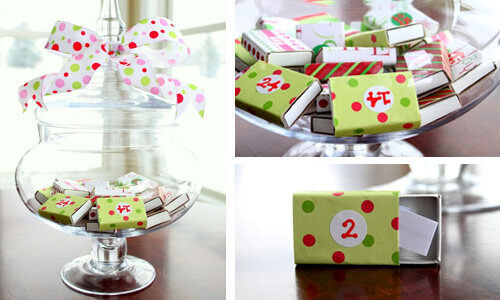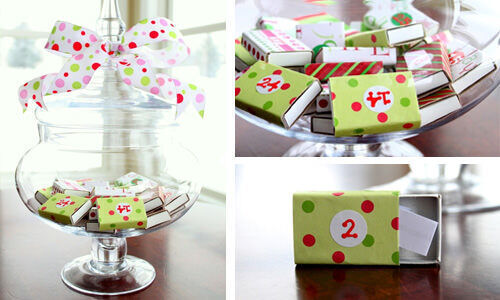 Decorate numbered matchbooks and display them in a beautiful glass jar. (via Babble)
A rainbow of windows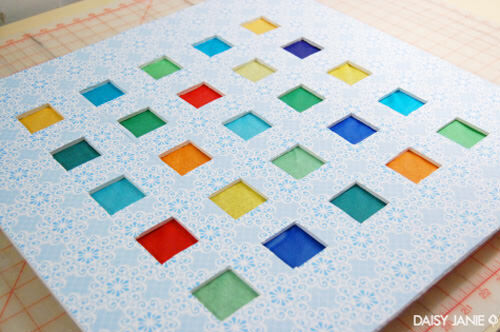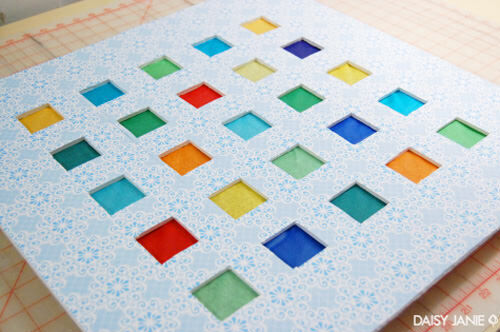 There's something deeply satisfying about pushing through that little window to get to your treat! Make your own punch-out advent calendar with this tutorial. (via Daisy Janie)
Snip, snip, Santa!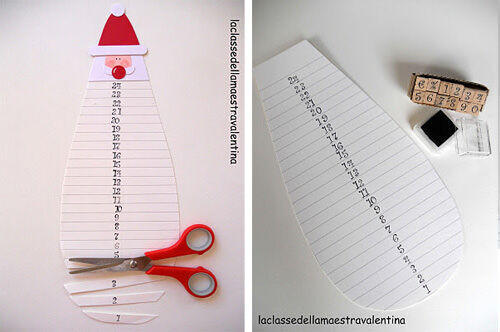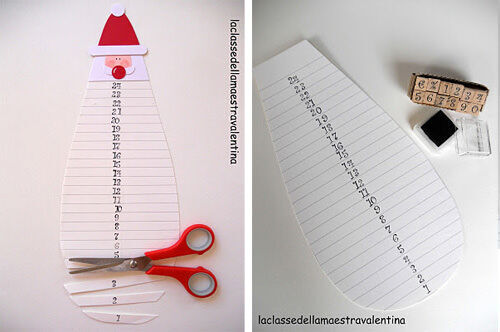 A no-chocolate version that's simple to make but surprisingly engaging for kids. Cutting stuff is fun! (via La Classe Della Maestra Valentina)
Snowmen on a string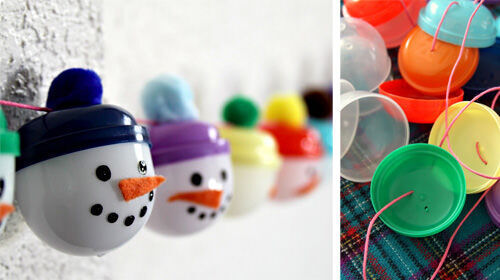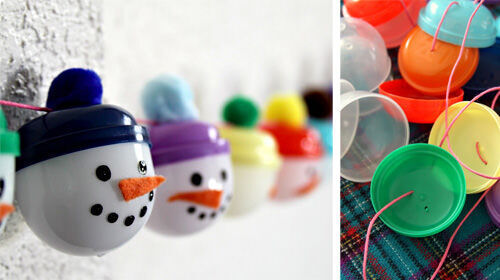 For this nifty snowman garland, you'll need some plastic capsules – the kind you get from novelty toy vending machines. Once you've amassed 25 of them you're ready to start crafting! Get the tutorial here. (via Whimsy Girl)
Toilet rolls at the ready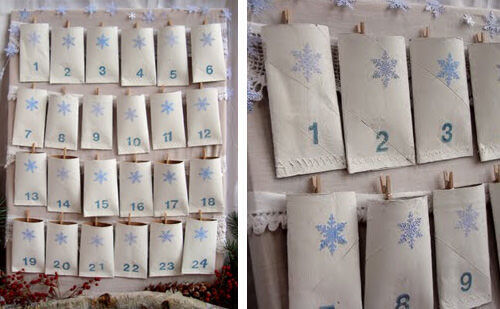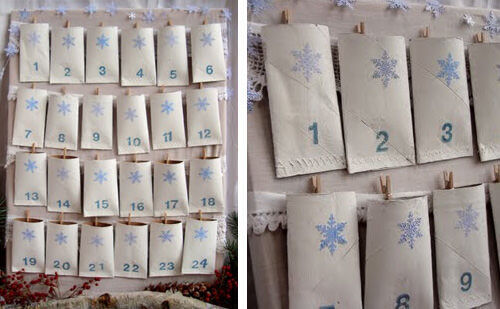 Here's what to do with all your old toilet paper rolls! Get the instructions here. (via Maya Made)
Sugar and spice and all things nice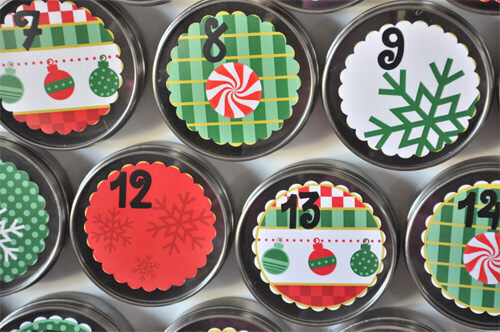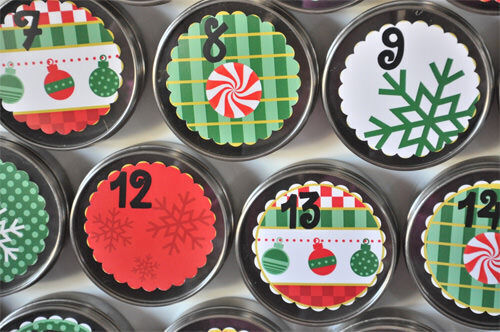 This fridge-mounted calendar is made from magnetic spice jars. Put stickers on the front, a trinket inside, and arrange them in a Christmassy shape! Get the instructions here. (via Baby de Roach)
Recycled socks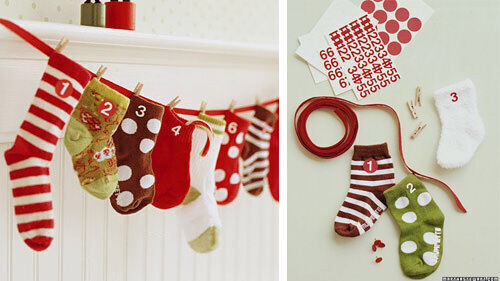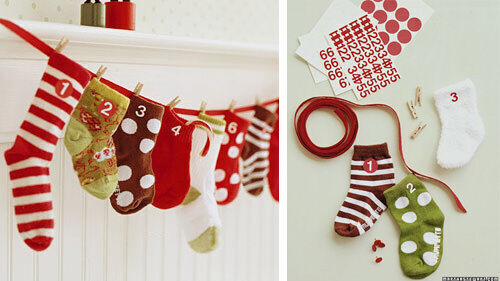 Recycle all those cute baby socks your little ones have grown out of! Add numbered stickers, peg them to a ribbon, and put treats inside. Get the tutorial here. (via Martha Stewart)
Boxes and branches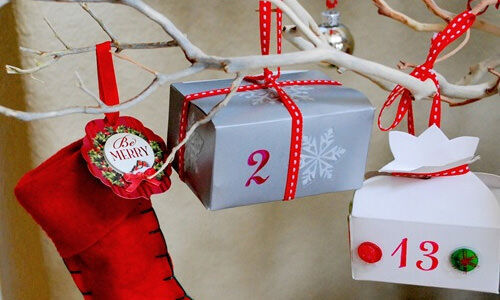 Create an 'advent tree' using favour boxes or small gift boxes hung from a painted branch. Get the instructions here. (via Centsational Girl)
Very festive felt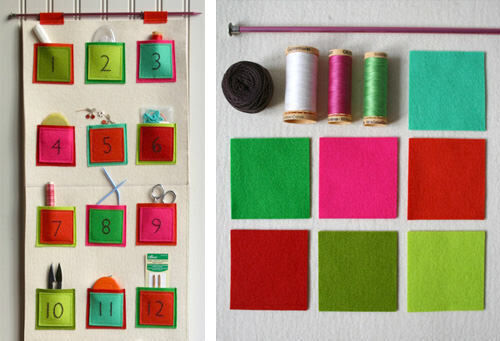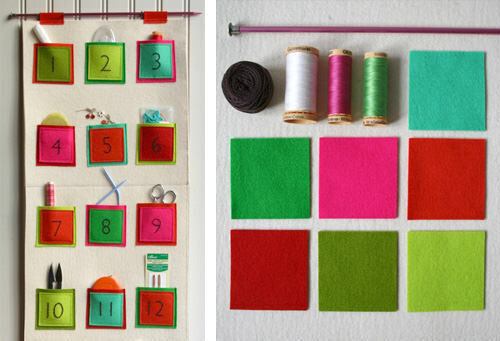 One to keep for years to come: Make your own embroidered felt calendar with this tutorial. (via All Crafts)
Family time treasures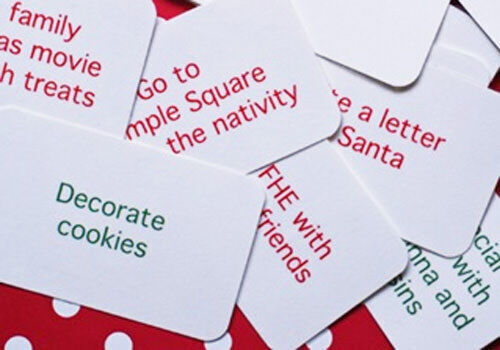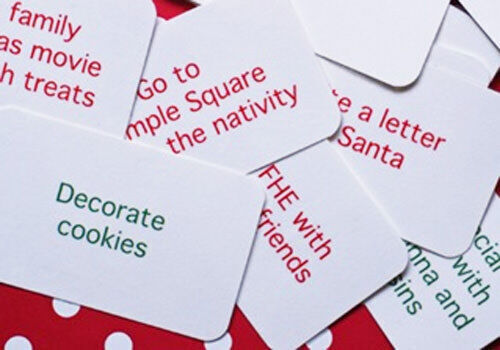 Trying to minimise sugary treats? Fill your advent calendar with family activity cards instead of lollies. If there's anything your kids love more than chocolate, it's time with you. (via: Image)
Doodle away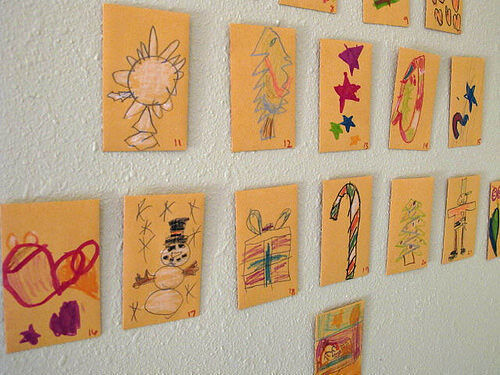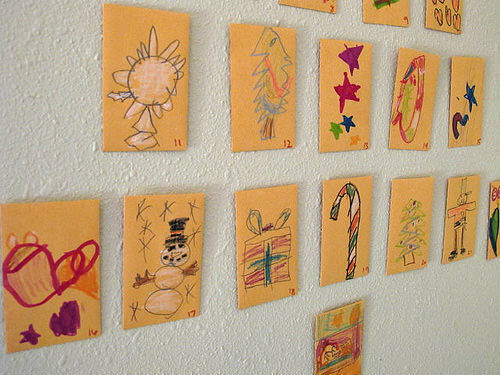 An advent calendar that will cost you only a few cents (and may gain you some precious time keeping the kids busy!) Let your children draw pictures on numbered envelopes then blu-tak to the wall. (via Eclectic Chica)
Christmas clipboard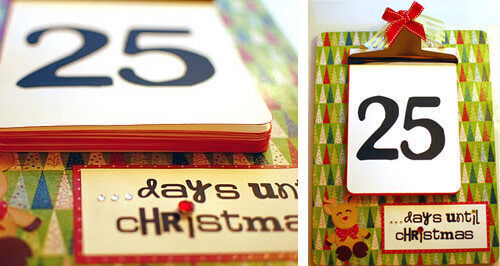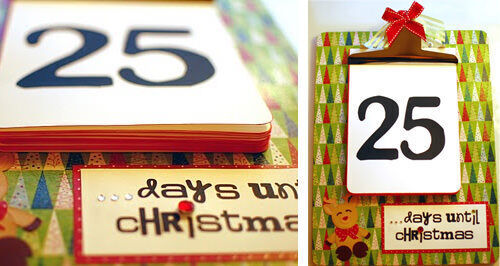 Use a clipboard and some scrapbooking stationery to make a Christmas countdown calendar. Instructions here. (via Scrap Inspired)
Roll on December!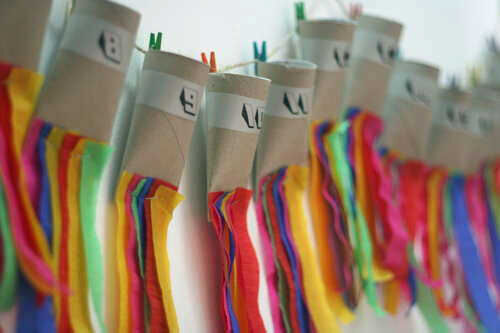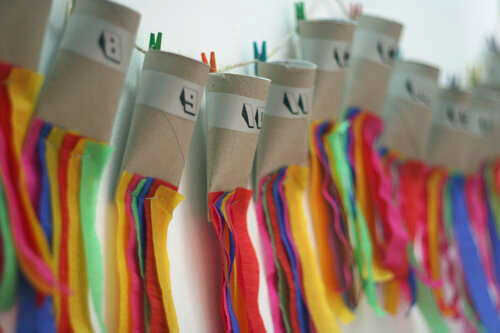 Here's a simpler version of the toilet paper roll calendar that kids can help out with. Get the tutorial here. (via Instructables)
Pretty paper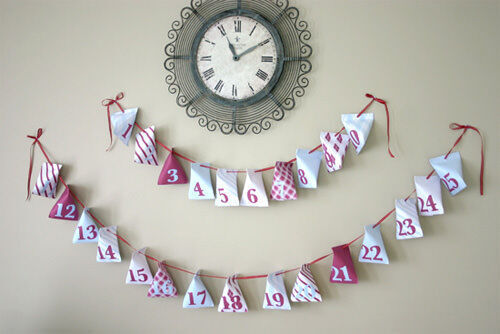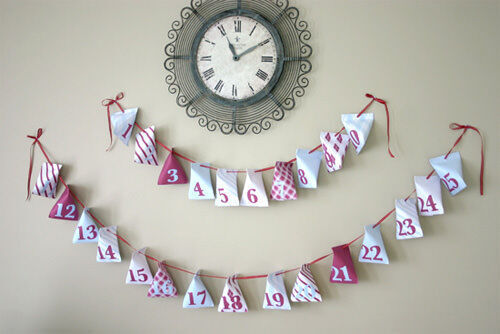 A pretty advent calendar garland made of folded, printed paper. Learn how to make it here. (via Polkadot Prints)
Looking for more DIY Christmas ideas? Here are just a few of our favourites:
---
Find the perfect gift
We've collected a treasure trove of amazing gift ideas, from the latest must-haves from leading brands to the quirky boutique finds. There's something for every little Piper, Noah and Charlotte.
Gift guides based on play and development, not gender.
---
Don't pay full price, grab a discount code from the
Mum's Grapevine Christmas Coupon Book