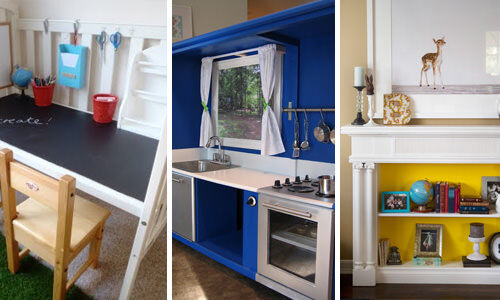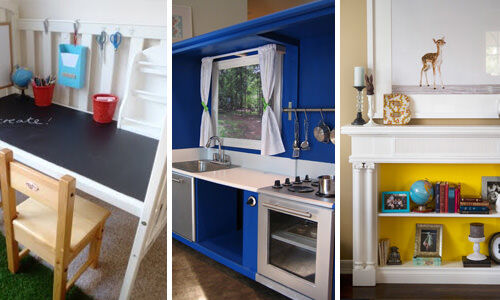 We love to see a bit of clever DIY and we especially love furniture transformations that take sad, old pieces in a totally new direction. So we've rounded up 10 of our favourite before-and-after furniture makeovers to get you inspired!
A TV unit becomes … a play kitchen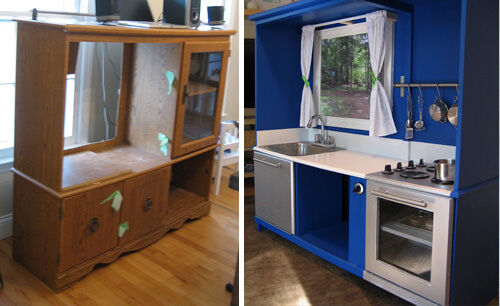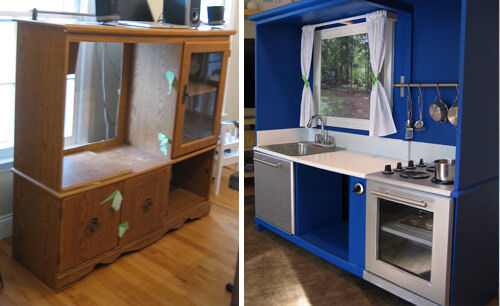 For a total cost of about $65 (and fair bit of elbow grease) Erin from Sutton Grace transformed a disused TV unit into a supremely luxe play kitchen – complete with a view! See the steps here. (via Sutton Grace)
A bedhead becomes … a sofa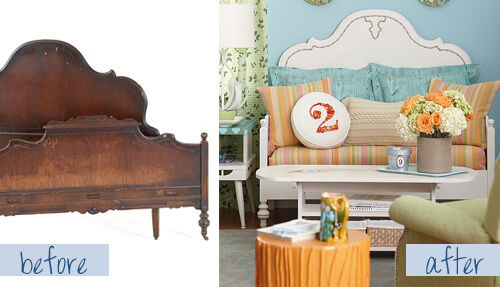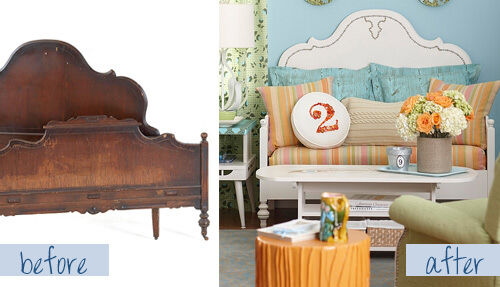 The bedhead becomes a sofa backrest, and the footboard is cut in half to form the arms. Add an MDF base and some upholstery and you have a very pretty settee. More details on how it was see here. (via Better Homes and Gardens)
A chest becomes … a mini wardrobe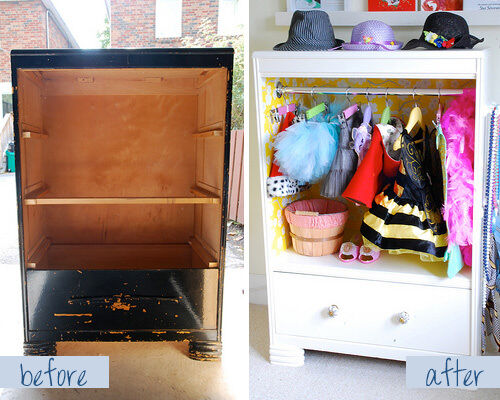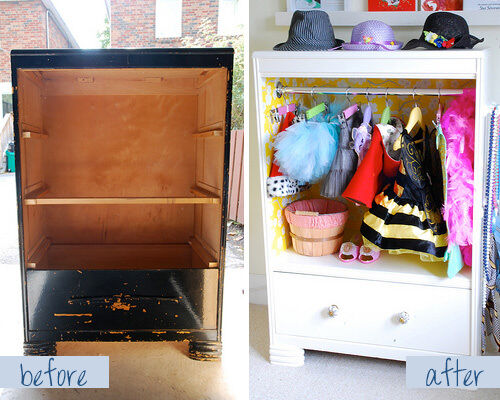 The perfect place for tutus and superhero capes, this four-drawer chest became a pint-sized costume closet for a lucky little girl. See the furniture makeover at here. (via Brooklyn Limestone)
A TV becomes … a puppet theatre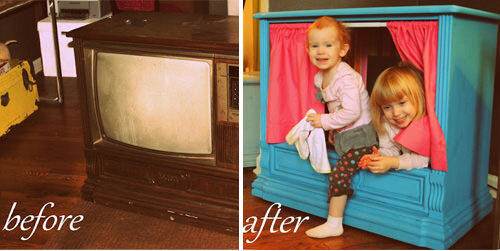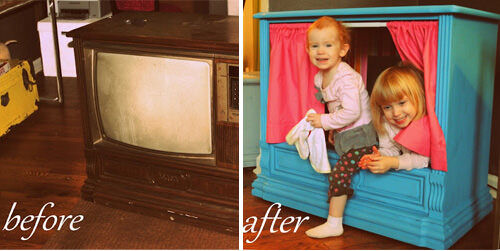 The 'before' picture is practically an antique! A hulking old TV was gutted and re-born as a kiddie hideway – for use as a reading nook, puppet theatre, pretend shop, and more! See how it was done here. (via Sugar Tot Designs)
A bench becomes … a nicer bench!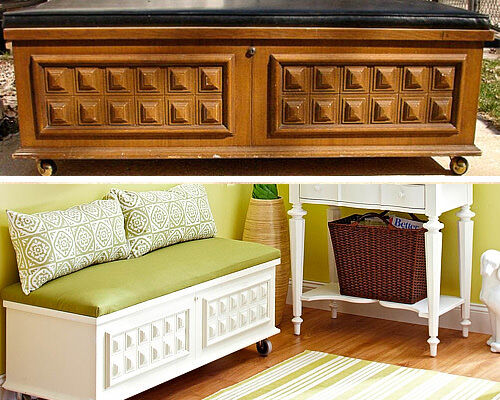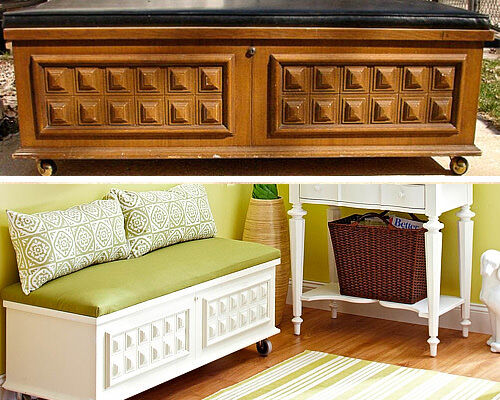 Faults like ripped upholstery and rusty casters can hide a furniture gem's true potential. A little bit of DIY and a lick of paint and voila! See how it was done here. (via Better Homes and Gardens)
Drawers become … a dolls house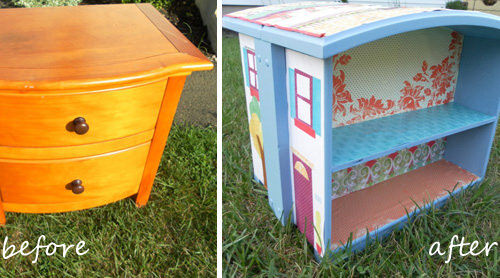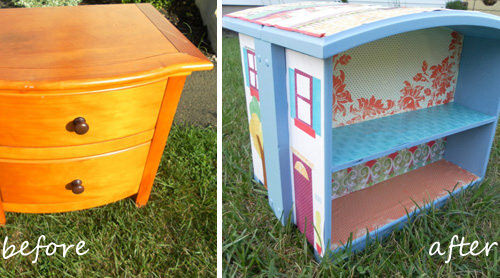 Two curved drawers were freed from a bedside table, turned on their ends, and fastened together to make a dolls house. The pretty paper decorations add a finishing touch. See the step-by-step process here. (via Nice Girl Notes)
An armoire becomes … an office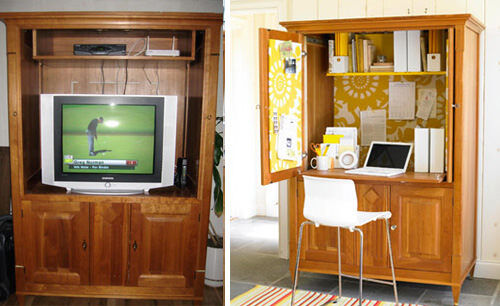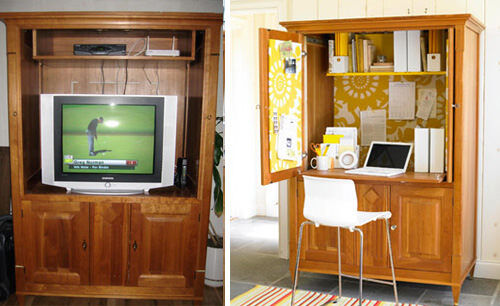 The addition of a pull-out shelf and some graphic wallpaper turned this drab armoire into a compact home office. See how it was done at here. (via Belle Maison 23)
A cot becomes … a craft table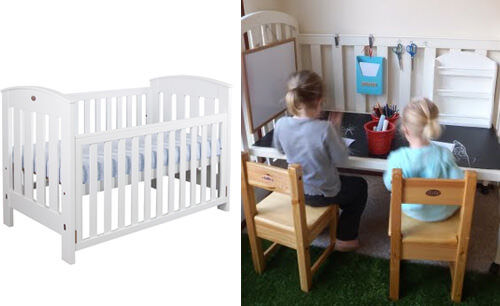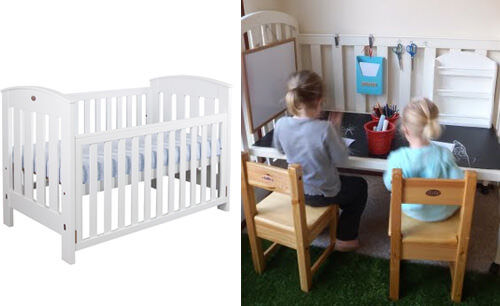 A cot with a removable side can have a new life as a kids' table, complete with chalkboard base and lots of space for hanging craft stuff. See the transformation here. (via A Little Learning For Two)
A mantel becomes … a bookshelf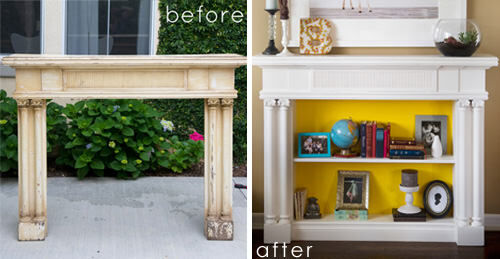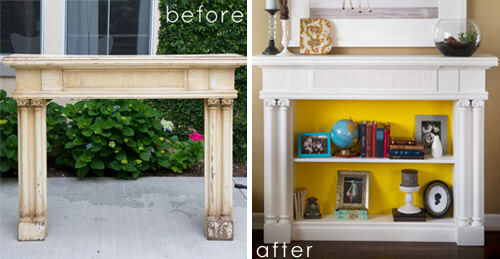 We'd all love an open fire in our homes but sadly it's not always an option. Here's a great way to get the look of a traditional fireplace mantel in your home – with storage built in too! Read how it was done here. (via Design Sponge)
Change table becomes … hall table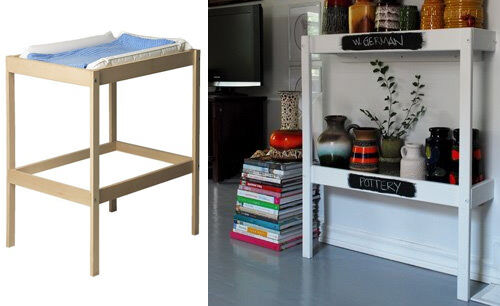 A change table chopped in half went on to have two new lives: One side became a hallway display shelf (above) and the other was transformed in to a cat perch! See them both here. (via Desire to Inspire)
READ MORE:
• Babies Room: 14 IKEA hacks to pimp your nursery
• IKEA Hack: 9 ways to makeover the LATT children's table
• 15 impressive DIY toy makeovers