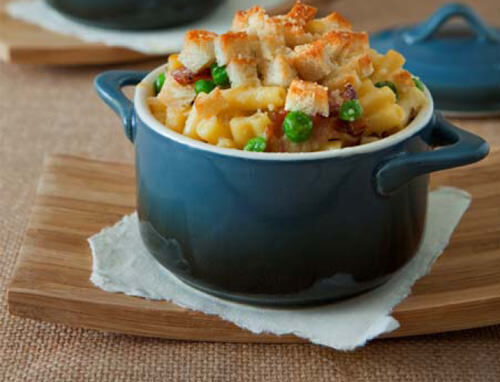 What's for dinner tonight? Try this hearty macaroni dish, flavoured with delicious pancetta (speck) and nutritious peas! Recipe below:
Ingredients
1pkt San Remo macaroni
200g speck (pancetta), thinly sliced
1 white onion, peeled & finely diced
2 tbsp butter
2 tbsp olive oil
1½ cups peas
2 eggs
250g mascarpone
1 cup thickened cream
Cracked black pepper
1 cup parmesan, grated
1 cup fresh bread crumbs
¼ cup grated parmesan, extra
Instructions
Cook pasta as per packet directions.
Preheat oven to 180°C.
Heat a pan on medium to high heat. Add speck, onion, butter and olive oil, cook until onion is soft and speck is crispy.
Add peas and turn down heat to low, cook for a further 3 minutes then turn off heat.
In a mixing bowl whisk together the eggs, mascarpone and cream.
Strain pasta and mix the speck and pea mixture to the pasta. Then add the cream and egg mixture and mix together.
Season well and add parmesan.
Place in a baking dish and sprinkle bread crumbs over the top and add extra parmesan.
Bake until crisp and golden brown.
Serves 4.
Recipe provided by San Remo.