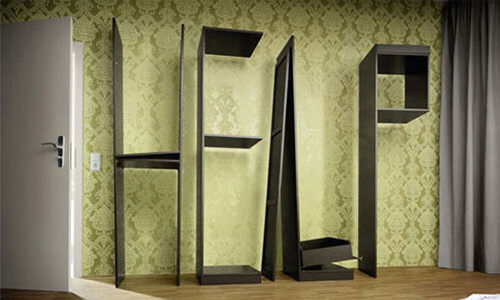 Think about all those little jobs languishing at the bottom of your to do list. Time to get them done! If you sometimes feel like you need a personal assistant or an entourage, then outsourcing could be your solution. New website Airtasker finds reliable people to help you with any task or errand you need run. So kick back, spend more time with your kids and reclaim time for yourself. (via Freshome)
Here are 10 creative ways to tick off your to-do list.
1. Get your flat-packed furniture built
To some, attempting to build an EXPEDIT bookshelf involves accidentally installing half the pieces backwards and then potentially ruining your marriage while arguing about who had the allen key last. What you may not know is that some people love doing this stuff – assembling flat-packed furniture gives them a sense of achievement akin to climbing Everest or discovering the Higgs boson (disclaimer: I am one of those people). So why not hire someone to whip up your BESTA while you do something you love instead? Find someone to save your sanity here.
2. Find the perfect party venue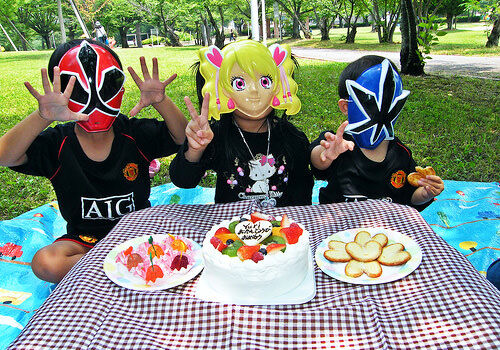 Hire yourself a location scout for your next party. Send your runner a list of requirements, and you can stop spending your time poring over Google Maps checking how far the toilets are from the BBQ area, and instead get back to the important things: like making a giant cake in the shape of Dora's head. You can also outsource party invitation design, personalised decorations, or even aforementioned Dora cake. Find someone to make your party happen here. (via emrank on flickr.com)
3. Digitise your memories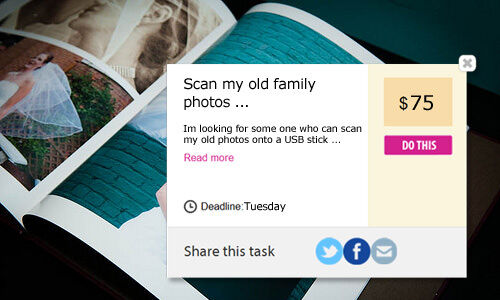 Lurking in your cupboards right now are albums of old photos yellowing at the corners. In a shoebox under your mum's bed, your school formal pictures are gathering dust. And on your hard drive are 7,456 images of your first born child that you never got around to turning into that fabulous photobook you thought you'd whip up in between feeds. How amazing would it feel to have them scanned, captioned, tagged, archived, categorised, printed, or edited into a multimedia slideshow extravaganza? Find someone to save your memories here. (via Emery Co Photo on flickr.com)
4. Get help getting romantic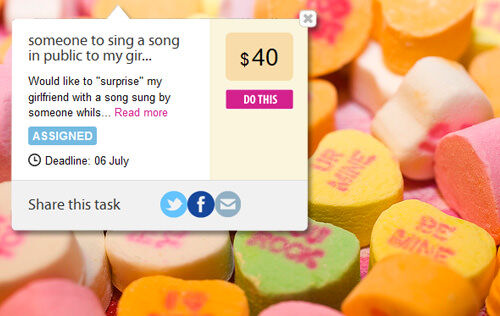 Jealous of all the amazing YouTube videos that are turning marriage proposals in to a competitive sport? Find a wing man (or woman) to turn a date in to something special, like the guy in the ad pictured above, who hired someone to surprise his girlfriend with a song while they were on a date. (I just hope the crooner didn't end up with the girl!) Find someone to wow your one-and-only here. (via barbtrek on flickr)
5. Sell your stuff on ebay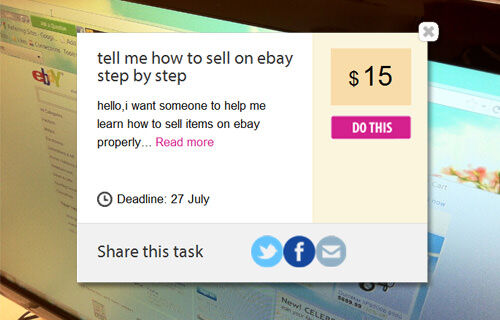 Selling on eBay is easy money, right? Why would you pay someone else to do it? Well, maybe because that pile of unwanted stuff in the garage hasn't moved in 6 months and at some point, you've got to get around to actually posting it. Find an experienced eBayer to set up your profile, write ads that get attention and give tips on photo styling, presentation and pricing. Get it right and the outsourcing fee will be more than covered by your tidy profit. Find an eBay expert here.
6. Find the perfect present
Some people are just incredibly hard to buy for (especially men – am I right?) Finding a truly epic gift for big birthday or anniversary can take a lot of time, research and creativity – three things you may be severely lacking as you juggle work, kids, and scraping cereal off high chairs. Hire a personal shopper to hunt down a bespoke gift that will win you huge brownie points. Or commission someone to make a sentimental present (like a video or photo board). That awesome idea you saw on Pinterest but have no time to create? Outsource it here! (via asenat29 on flickr)
7. Plan a kid-friendly holiday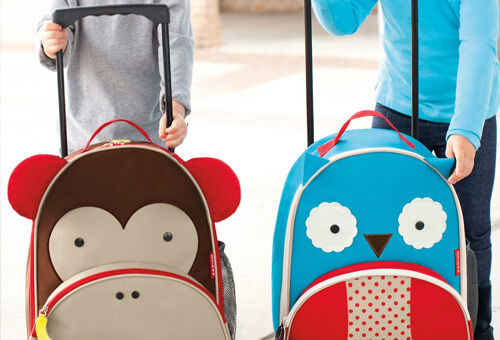 It's likely your days of turning up at a beach destination with nothing but a sarong and a guidebook are gone. With kids in tow you need a plan – often a very specific one that's beyond your travel agent's expertise. Like flights that fit between nap times. Or hotels with family suites, babysitting, and cot and stroller hire. Or restaurants with kids' menus that aren't soulless chains. There are now loads of online tools available to research these details, but the one thing you need is time. Give a seasoned traveller your wishlist and let them give you the low down. Find someone to plan your getaway here. (via Skip Hop)
8. Get clean, shiny and organised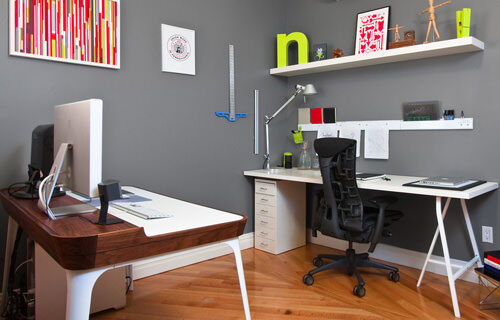 You might not be lucky enough to have a regular cleaner, but you can easily find someone for those one-off jobs like clearing out the garage on hard rubbish day, cleaning the oven, or polishing up your house before a party (or dealing with the aftermath). Think about hiring a seasoned organiser to help you with rainy day tasks – like weeding through the toy chaos and giving your playroom a makeover, or putting your home office in order. Some people just have the knack for this stuff: find them here. (via nkeppol on flickr)
9. Get IT help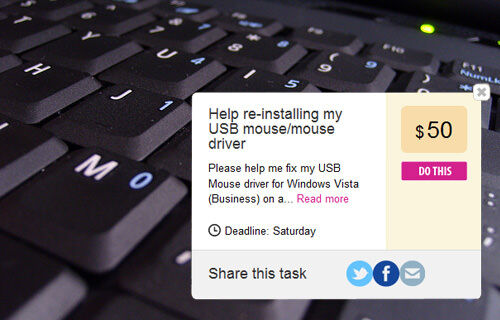 No, we don't mean calling a helpdesk. We mean an actual person who will do those nitty-gritty things like setting up your email, installing software, or getting your wireless working (and won't keep you on hold for 45 minutes then tell you to switch your computer on and off). You could ask someone to give you software tutorials, do your data entry or organise your iTunes library. You're not restricted by the services an IT consultant wants to offer you (or what your cousin who is 'good with computers' knows how to do). You set the task: you get the help you want. Find an IT guru here. (via DeclanTM on flickr)
10. Hire some muscle

Need something moved, transported or delivered? You don't necessarily need to hire a van or beg favours from neighbours. There are plenty of handy people out there willing to lift a couch, pick up that second-hand cot from your sister-in-law or drop off boxes for a small fee. Find someone to move your stuff here. (via Matt Blatt)
http://www.youtube.com/watch?v=kyqN2r2fTXY
(this post is sponsored for Airtasker)