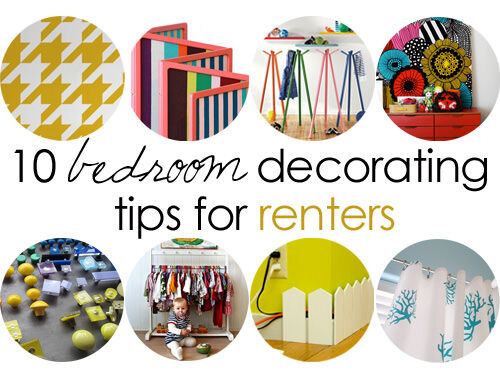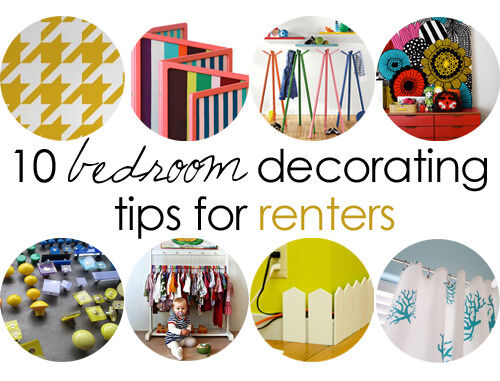 Making a rental property feel like a home can be a challenge – especially when it comes to creating a gorgeous baby nursery or a functional kids' space to keep the smallest family members happy!
Here are our top 10 tips for decorating beautiful bedrooms without spending a fortune (or leaving a mark!).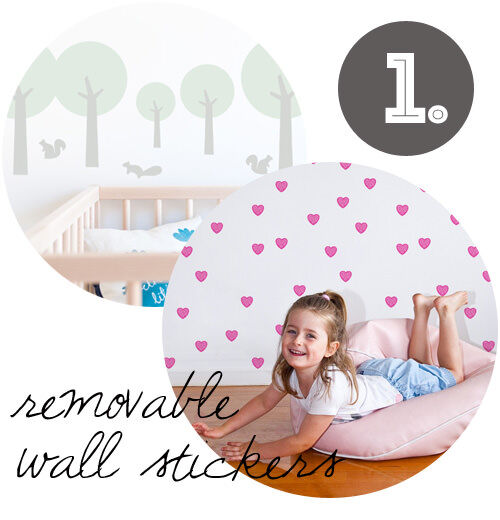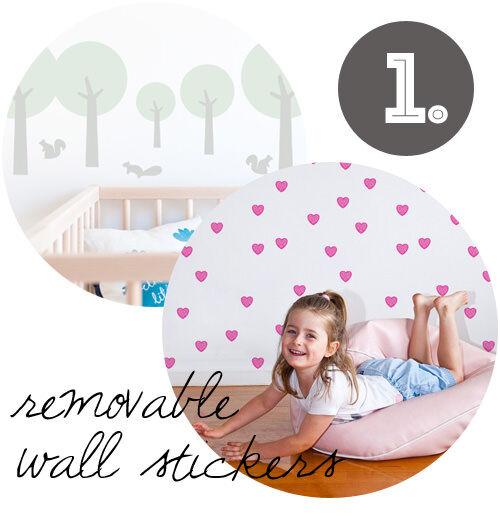 Removable wall stickers: Hands down the best way to temporarily transform a room, removable wall stickers (or decals) now come in a huge array of cool designs and materials – from subtle to eye-popping. Look for styles that you can peel off and re-stick when you move. And if you just cannot stand the wall colour, then cover it completely with removable wallpapers. Check out: Love Mae, 41 Orchard and The Wall Sticker company.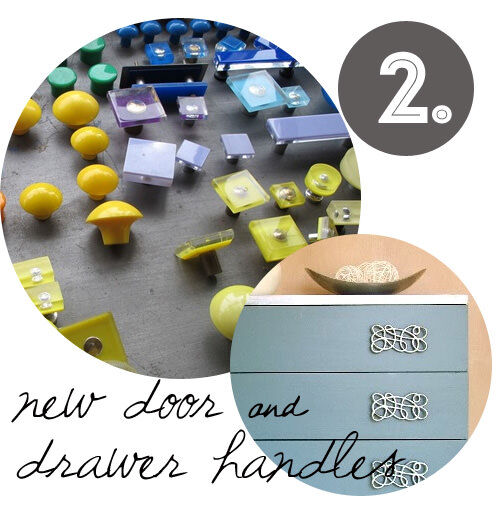 New door and drawer handles: If you're stuck with built-ins that aren't quite gelling with your theme, you'll be surprised at how new handles or drawer pulls can suddenly tie everything together. Look for mismatched vintage knobs to give a room character; sleek, modern handles to give a dated piece a new life; or chunky, bright drawer pulls for impact. Make sure your new handles will fit in existing holes, and keep the old ones to put back on before you leave! See Pottery Barn Kids, Ikea, Etsy (via My Vibe My Life & Salvage Savvy)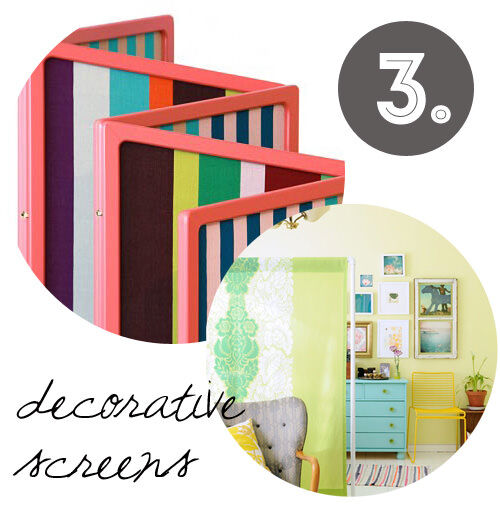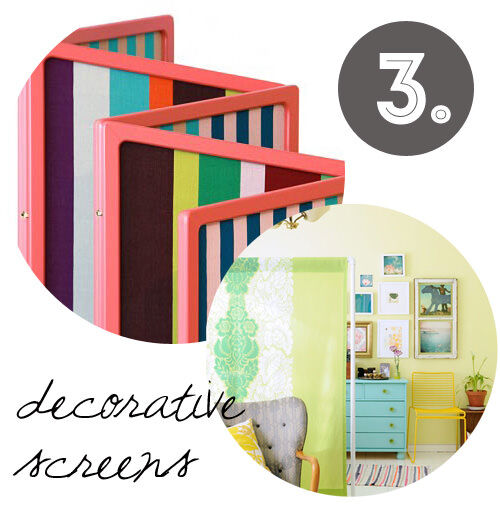 Decorative screens: Hide ugly radiators or add colour to a room with a beautiful screen. Screens can also double as wardrobes (with a freestanding clothes rail behind) or a room divider for shared bedrooms. If you' like a bit of DIY, make your own using plumber's pipe and fabric, or create a blackboard room divider with this tutorial. (via Design Milk & Kootut Murut)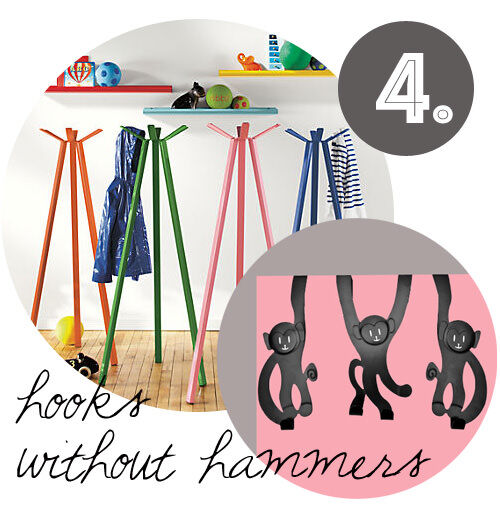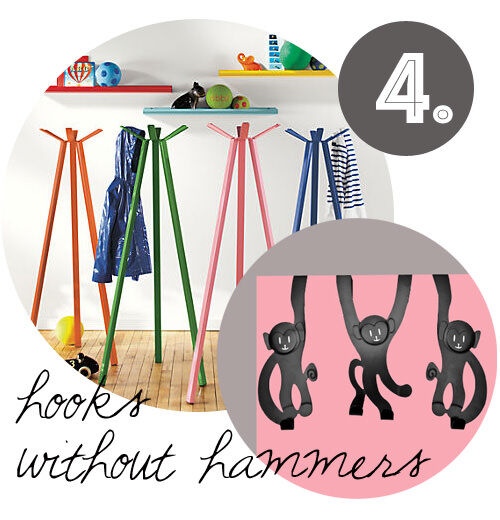 Hooks without hammers: Get the clutter off the floor without making any holes in the walls using free-standing coat racks, over-the-door hooks and storage 'trees'. Hang jackets, bags and even storage totes filled with toys. Check out Furniture Online, Mocka, Howards Storage World and Urban Baby. (via Room and Board & Urban Baby)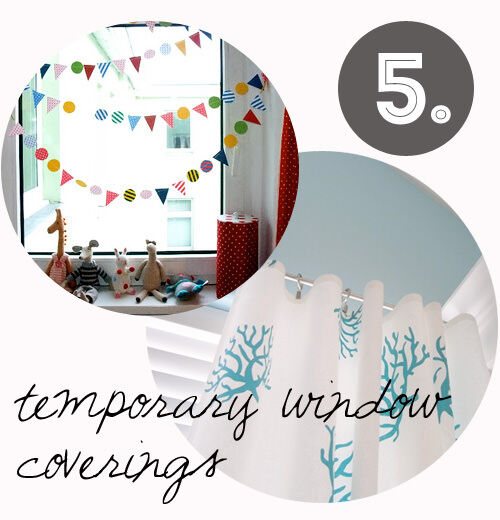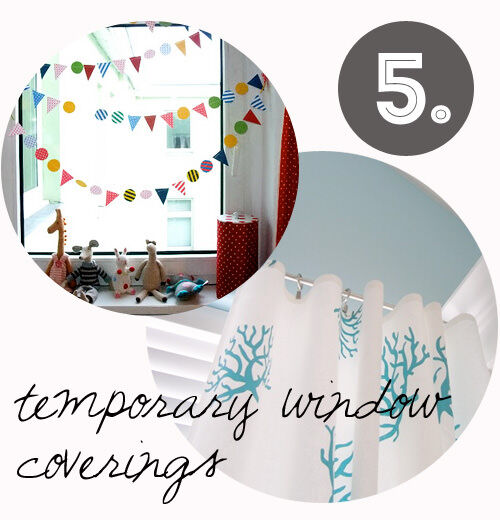 Temporary window coverings: The last thing you want to do in a rental property is invest a lot of money in window furnishings – because chances are they won't fit your next home. Remove tired curtains and use the existing hardware (or tension rods) to hang easy no-sew drapes, or make yourself some no-sew blinds. If the existing blinds are ok – just a bit meh – dress your window up with garlands, bunting or bead curtains. (via Project Nursery & Petite and Small)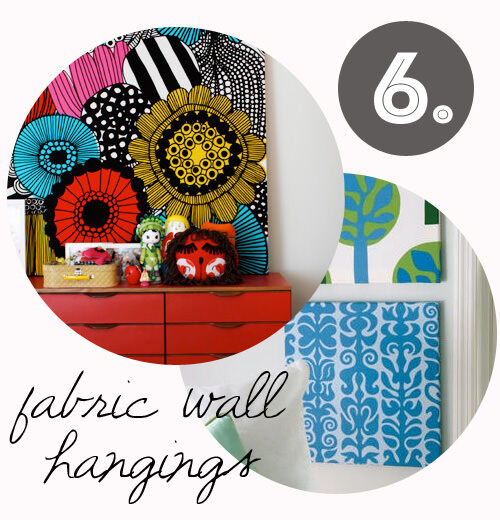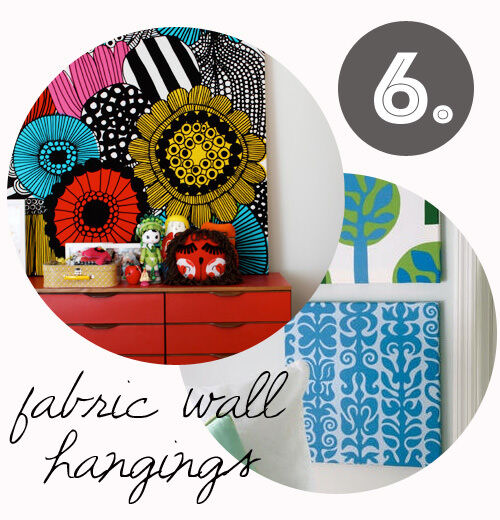 Fabric wall hangings: Hide boring "Builders' Beige" walls behind blocks of fabulous colour by stretching furnishing fabric over canvas. Staple-gun it down and then hang with non-marking wall hooks.  Choose designs with large-scale prints such as iconic Marimekko fabrics or budget-friendly Ikea.You can also experiment with displaying fabric in embroidery hoops or frames. (via The Design Files & Pinterest)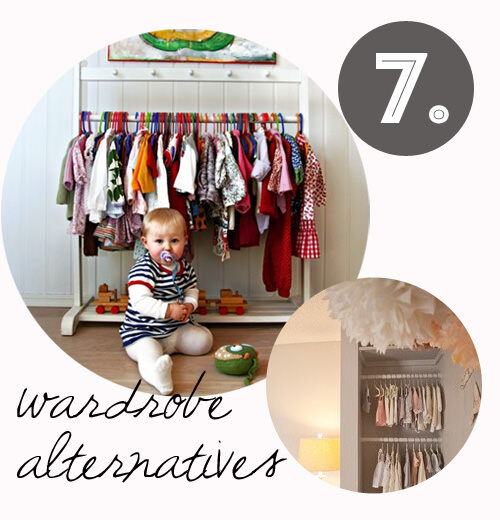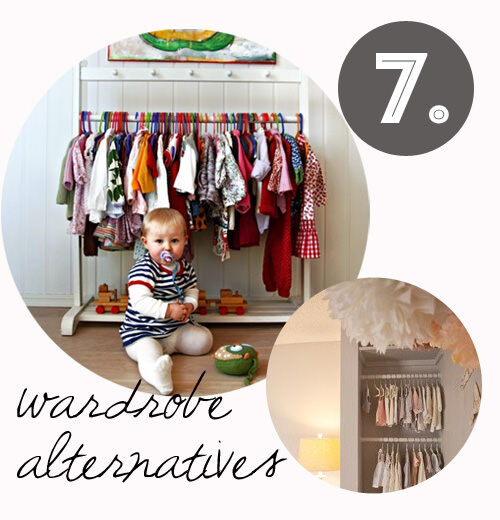 Wardrobe alternatives: If your rental home is bereft of fitted wardrobes, you don't need to go out and buy a hulking armoire for your kids' rooms. Children's clothes are small (and usually very pretty!) so try a free-standing clothes rack, a tension rod mounted in an alcove, baskets in a bookshelf, or turn an old chest of drawers in to a mini wardrobe. (via Apartment Therapy & On To Baby)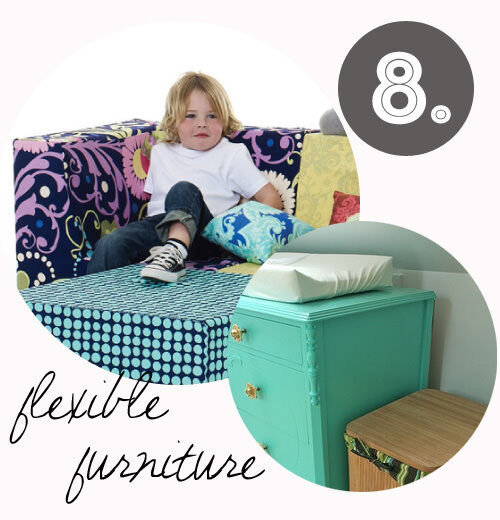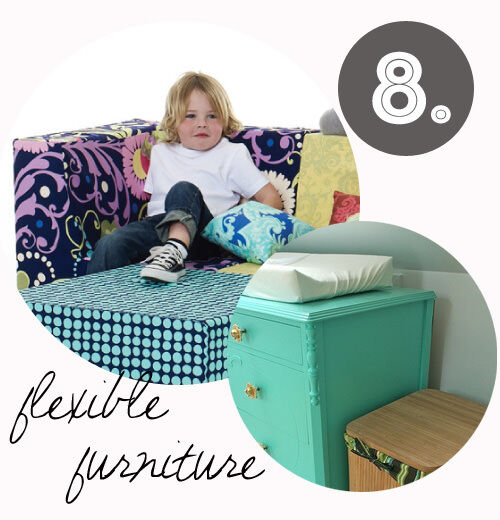 Flexible furniture: Before you've found your 'forever home' you can't really buy your 'forever furniture' – so it pays to be flexible. Invest in pieces that are modular, convertible or store easily, so you've got more chance of them working with your next home's layout, not just your current space. Check out mix-n-match modular sofas, Bloom's folding cot, and convertible baby furniture: like cots that become beds and change tables that become chests of drawers. (via Noosh & First Time Fancy)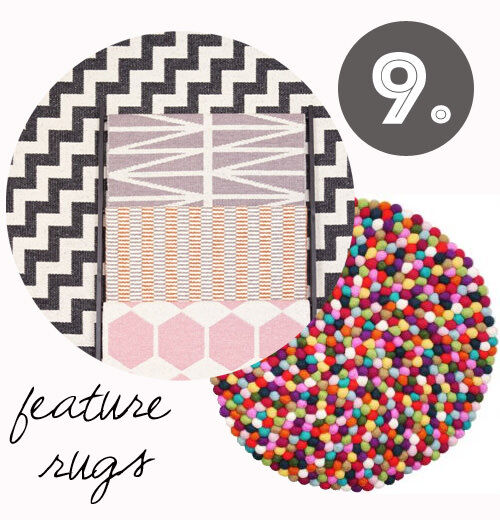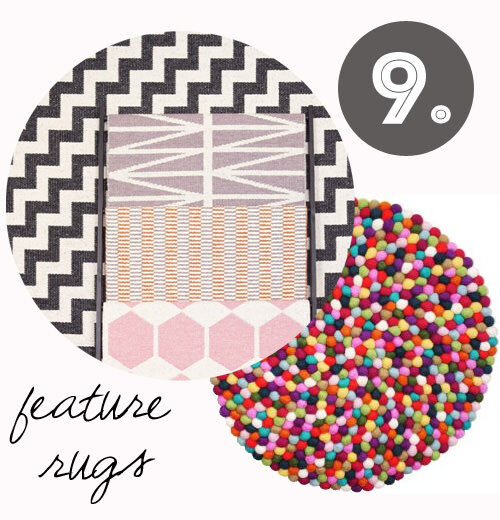 Feature rugs: Flooring is one of the most dominant features of any space, and if it's not to your taste it can make decorating the rest of the room feel futile. A gorgeous rug is the answer. We are currently in love with the uber practical indoor/outdoor rugs from Brita Sweden and Down To The Woods' fun felt creations.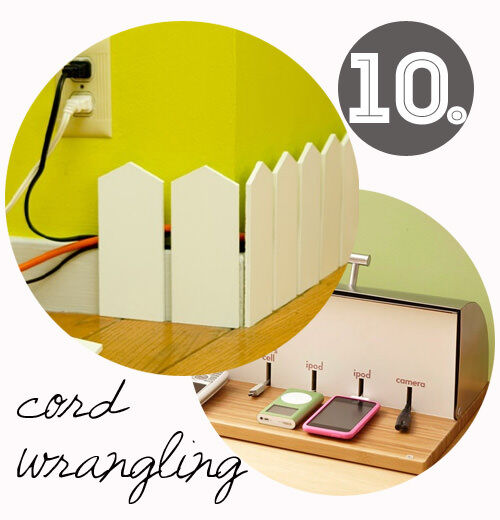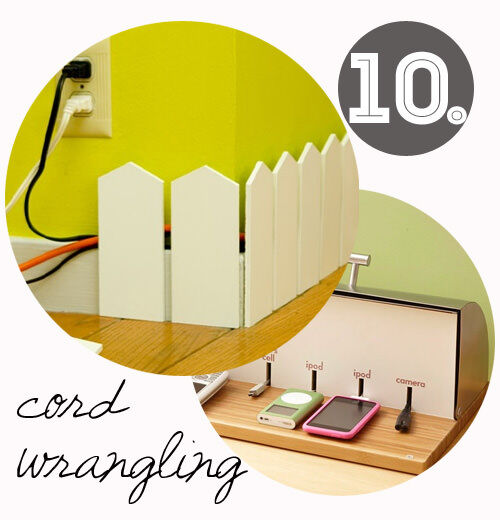 Cord wrangling: Power points in rental properties are never in the spots you need them! Use some clever tricks to hide the inevitable cord clutter and extensions, and you'll be well on your way to creating a more serene space. Create a cute picket fence cord track, or try your hand at making a charging station housed in a bread bin. (via Oboiler & Better Homes and Gardens)