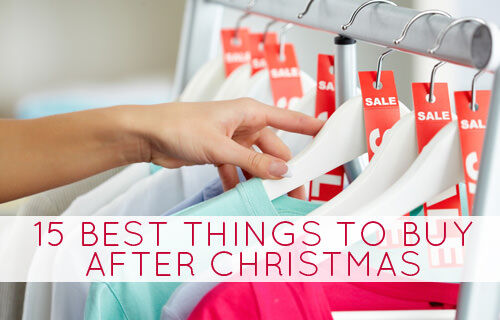 The post-Christmas sales can be overwhelming. After blowing the budget during the festive season it can be hard to decide what's a 'smart buy' and what you should leave on the shelf. Luckily, our in-house savings gurus are here tell you what to stock up on and where to find the best bargains.
1. Anything in a gift set
Scour your favourite cosmetics and perfume brands to fill your bathroom cupboards for the year. Many sets offer great value even before going on sale, so you'll be making a decent saving. Or pack them away to use as birthday gifts – just ditch the Christmassy packaging.
2. Summer clothes
Grab those gift cards you got for Christmas and get shopping. High summer is when clothing is usually massively discounted. Buy kids' clothes a couple of sizes up for next summer, too.
3. Food hampers
They'll spoil before next Christmas so pre-packaged food hampers will usually be heavily reduced. Look for your fave yummy treats and stock your pantry.
4. Christmas cards & wrapping paper
You'll give yourself a huge pat on the back next year if you have a set of cards and wrap ready to go, usually sold at half price this time of year.
5. Anything red
Valentine's Day isn't far away. Red is a key Christmas colour so there should be plenty of red paper, gift bags or gift sets you can stash away for your loved one and avoid paying the inflated prices in February.
6. Decorations
Pick out those detailed tree toppers and vintage-style baubles you've always wanted at massively reduced prices. Also, look for outdoor lights and garden decorations which can be expensive when you pay full price.
7. Bonbons
Grab the 'luxe' kind that comes with decent gifts inside. They normally seem out of budget when you're spending up prior to Christmas – but at half price, they sure beat silly paper hats and un-funny jokes.
8. Santa sacks & stockings
If your Christmas keeps getting bigger every year you might want to add to your sack and stocking collection. Or grab some to use as "baby's first Christmas" gifts for new bubbas on the way next year.
9. Artificial Christmas trees
They'll be on sale in most stores, but make sure you check ebay for trees, too. Sometimes people impulsively buy an artificial tree before Christmas and then realise they've got nowhere to store it, so they'll be selling it cheap.
10. Boxes of chocolate
Christmas-themed chocolate will be the cheapest, as it will expire before next year's festivities. But who cares about the packaging? They still taste delicious! Indulge in the Belgian kind.
11. Foot massagers
Grab these now for Mother's Day!
12. Beach towels
It's the perfect time to hit the beach, and most department stores will be offloading the masses of beach towels they were selling as gifts.
13. Games
There are usually deals to be had on PC and console games after Christmas, so if there's a gamer in your family they'll love this time of year.
14. Calendars
Retailers will be slashing the prices of next year's calendars so they don't get stuck with stock as the days tick by.
15. Bed linen and homewares
Larger stores often have big sales this time of year on linen and manchester. Start the new year with a fresh set of sheets!