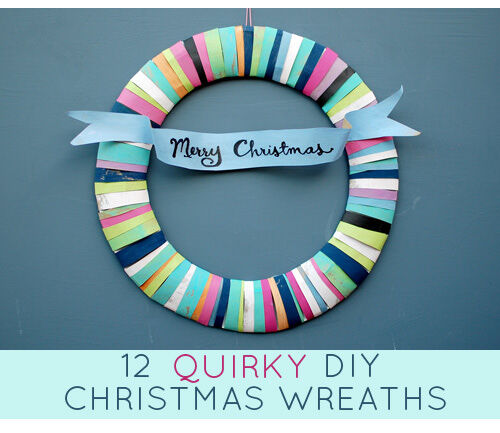 A welcoming wreath at your door is a must for spreading Christmas cheer. Here are 12 DIY Christmas wreaths that put a spin on the traditional – made with everything from recycled plastic bags to felt balls and PVC pipes.
1. Pretty papercraft wreath
The crafty wreath above was made using paper bags, paint and cardboard. See the tutorial at The Journals of Giddy Giddy.
2. Felt wreath
Get instructions for making these ombre felt Christmas wreaths at Burlap and Blue.
 3. Clothes peg wreath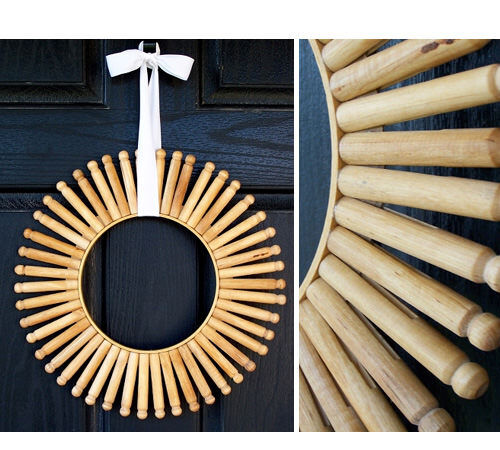 Combine of fashioned clothes pegs with an embroidery hoop for this minimalist wooden wreath. Read more at Budget Wise Home.
4. Scrapbook style wreath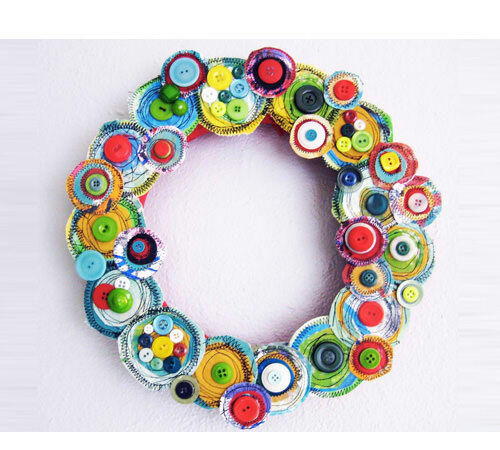 Alisa Burke created this scrapbook-style wreath using layers of painted canvas and buttons. See the step-by-step guide here.
5. Gingerbread man wreath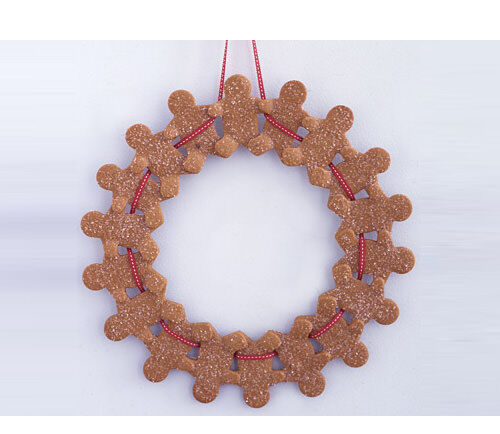 Oh so simple, oh so cute! Layered gingerbread men are baked and then threaded with ribbon to make this edible Christmas wreath from Martha Stewart.
6. Stripey paper straws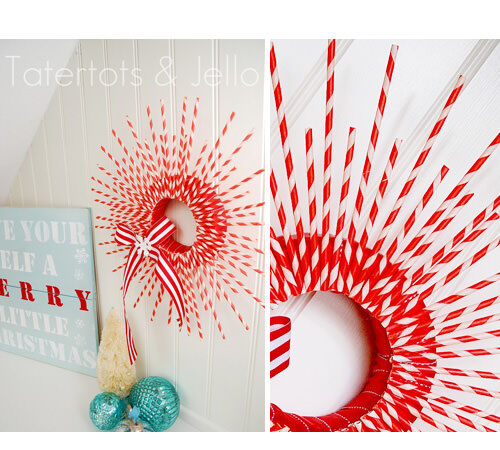 Candy-striped straws are making a nostalgic comeback everywhere from kids' parties to craft projects. Get the steps for creating this straw wreath from Tatertots & Jello.
7. Edible herb wreath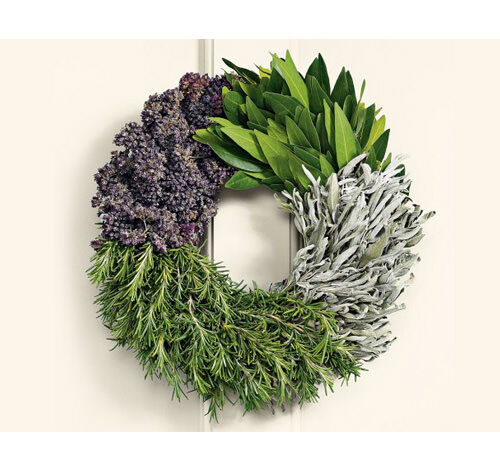 This gorgeous herb wreath could make a beautiful fragrant gift for a cook. This one's by Williams-Sonoma but you could make your own from a polystyrene circle studded with culinary herbs like rosemary, bay leaves, sage and oregano.
8. Cardboard tube wreath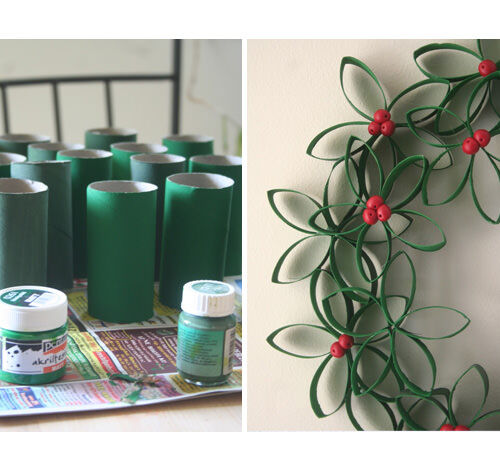 Toilet rolls get the upcycle treatment with some green paint and a bit of creativity. Head to Kiflies Levendula to see how it's done. (Hungarian language site – but the images will give you the gist).
9. Plastic bag wreath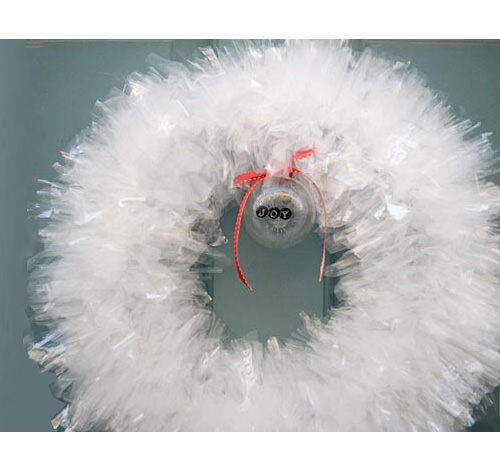 Pesky plastic turns pretty like a snowflake with this project at Design Sponge.
10. Balls of fun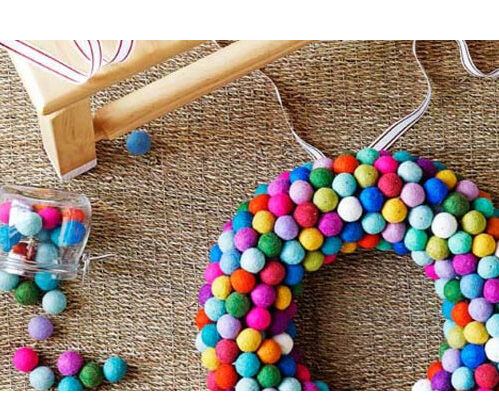 Buy some ready-made felt balls and glue them to a polystyrene circle using this Christmas wreath idea from Real Living.
11. Plumbers wreath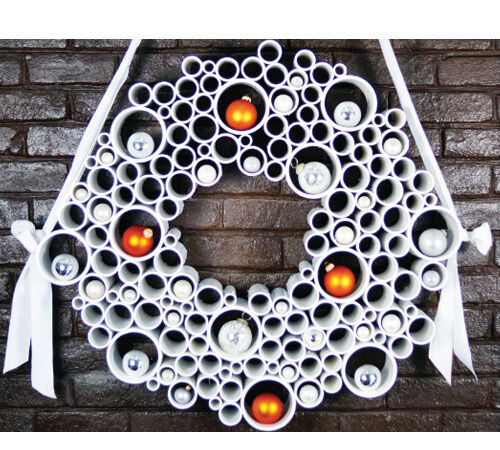 Certainly not your traditional wreath but would be great if your other half is a plumber! Today's Nest made this one out of PVC pipes.
12. Construction paper wreath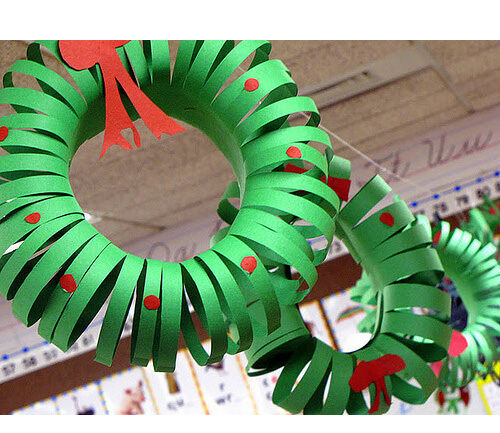 Our Small Town Idaho Life shares this easy idea for paper wreaths that the kids can make, too.
Read next…
Still looking for Christmas decoration ideas? Here are a few of our most popular articles full of festive inspiration.
• 20 creative advent calendar ideas
• 12 creative gift wrapping ideas
• 25 fabulous Christmas crafts