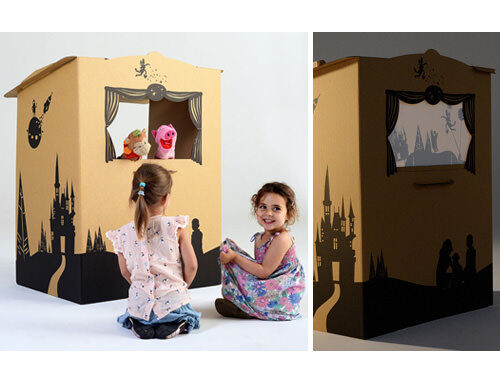 Creativity comes in many forms, and today it comes in cardboard! Just released, these clever toys from Tinyfolk pop up in minutes for oodles of fun.
Construct the Puppetbox cardboard theatre and start the show. There's a screen and a set of shadow puppets included to create silhouetted stories, or grab your own puppets and set the plot in motion.
When the show is over, take a break in the Playhouse, printed with pictures to fuel their imaginations or sold perfectly plain for kids to decorate. Made from 100% recyclable cardboard sourced from sustainably managed forests, these toys take the simple and beautiful approach to childhood: where whimsy and spontaneity reign free.
Available from Tinyfolk – Puppetbox $69 / Playhouse $59