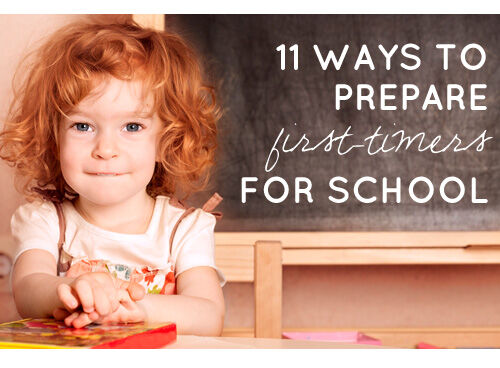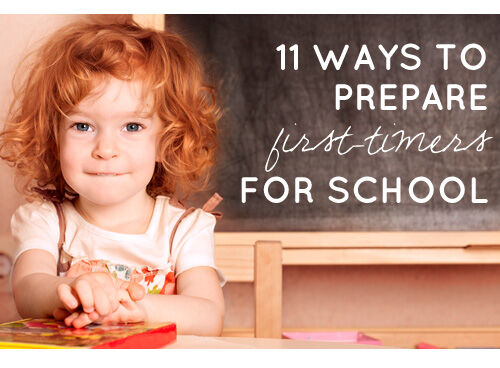 The first day of school is often a complicated mix of terror and excitement. Avoiding tears is hard for little ones (and their mums!) as the hype of starting school can be overwhelming. However, there are plenty of things you can do to minimise first day jitters. Here are 11 easy ways to ensure the path to big school is a smooth and straight one!
1. Practice dressing-up
Get your child acquainted with the look and feel of their new school uniform about week or two before the big day arrives. Allow your child to move around and play in their school gear and teach them how to get it on and off themselves. This will build excitement (if there wasn't enough already), and boost their confidence.
2. Invest in quality school shoes
It's crucial to buy school shoes that fit properly; remember those little feet will be inside their school shoes in excess of 6 hours a day, 5 days a week! Be sure to get good quality, durable shoes that are fitted by a trained salesperson. This is one area where you shouldn't scrimp and save. And don't forget, school shoes need to be worn-in before the first day of school to avoid blisters and other foot-related complaints.
3. Do plenty of dry-runs to school
Familiarise your child with the school grounds and the route to school before Term 1 commences. Take regular drives to the campus (or take the bus or walk there – depending on your chosen mode of transport). Point out landmarks along the way and discuss the buildings and playgrounds. This is also a good opportunity to practise the morning routine, including packing the school bag.
4. Have fun with role-playing
Pretend to be the teacher and read books to your child in a mock classroom. Perhaps do some art and craft, and even ring a bell for recess and lunchtimes. Role-play different school scenarios, such as:  picking-up, dropping-off and saying goodbye. Then swap roles and give your child the opportunity to play teacher. But be warned: They'll love this game so much; they'll be begging to play it on a daily basis!
5. Organise play dates
If you know other kids that will be starting at the same school as your child, organise some play dates. If not, contact the school office and see if they can put you in touch with some other families who are starting school for the first time. If a play date isn't possible, maybe write a postcard with your child that you can send to a fellow new-starter to break the ice.
6. Choose kid-friendly school gear
Choose practicality over design when it comes to backpacks, lunchboxes and drink bottles. Always make sure your child can operate these things without assistance. If they have to ask a teacher for help every time they want a drink of water it's not going to do much for their confidence. Add a colourful bag-tag to the front of the school bag – it's a great way to help your child quickly identify their own bag, amidst the sea of other identical school bags.
7. Always pack a spare pair of undies
Nerves can do strange things to our bodies! So, always pack a spare pair of undies for your child in a discreet paper bag (and maybe throw in a small packet of wipes). You just never know when they might come in handy.
8. Figure out a special goodbye ritual
A secret handshake, a butterfly kiss, or even a little goodbye poem is a beautiful tradition to start with your child on their first day of school. A special goodbye ritual will not only become a great source of comfort to your little one, but it will also fill your heart with warmth as you bid them farewell each morning.
9. Arrange a little celebration
Organise a special family dinner for the end of the first week of school. Allow your child to pick the menu and make sure you let them know how proud you are of them. Getting through the first week of school is a fabulous achievement, so celebrate the wins! Click here to see 10 fun ideas for marking the first day of school.
10. Pack a lunchbox that will get eaten
The golden rule of lunch box making is to keep it simple! Complicated and messy lunches might mean your child is too busy eating to play. It may take a while for you and your child to figure out the best lunchbox ingredients, so just experiment. And remember, a little love note from mum slipped between the banana and the sandwich, can go a long way.
11. Keep your own stress levels down
Of course it's important to prepare your child emotionally, socially and practically for school but don't go over-the-top. If your child senses your anxiety about the first day of school, then you can bet they will feel anxious too. Keep your stress levels down on the day by setting up a morning coffee date with other new mums, so you can all support each other on that important first day.