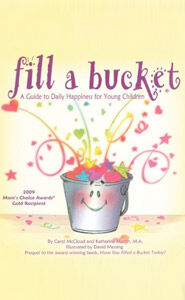 Fill a Bucket – A Guide to Daily Happiness for Young Children
by C. McCloud
Adjusting to new environments and getting along with new friends is made easier by this sweet, simple book that gently introduces the idea that their behaviour has a powerful effect on others.
Little ones are encouraged to 'fill a bucket' by being kind and considerate and looking out for each other. Have you 'filled a bucket' today?
Buy Fill a Bucket – A Guide to Daily Happiness for Young Children