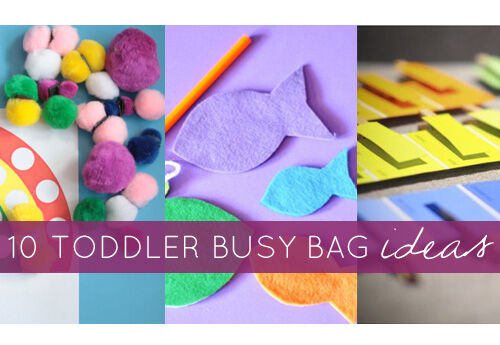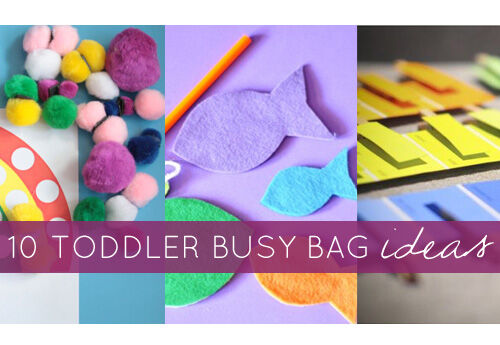 Smart mums know that if you're waiting at the doctor's office, trying to grab a caffeine kick at a cafe, or taking an urgent call on the run, a bag of toddler-taming tricks is essential. But there's no need to spend a fortune on travel toys.
Here are 10 ideas for creating your own toddler busy bag, full of engaging activities for little ones.
1. Pizza Factory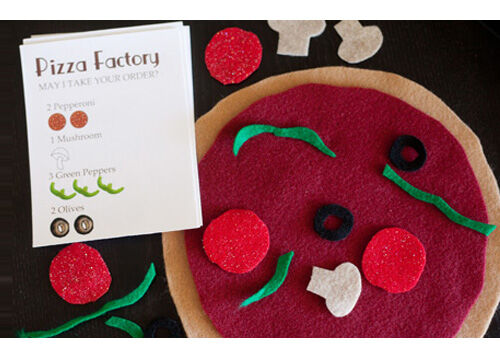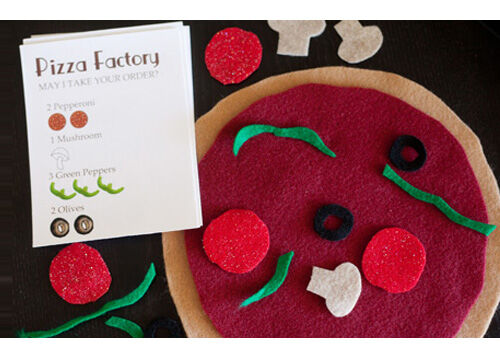 Use felt to cut out shapes that represent a pizza base, sauce and ingredients for kids to make their own pizzas. To extend the play time, provide them with recipe cards where they have to match certain ingredients to the "order". This easy, fun idea was found at Second Story Window. Download the printable recipe cards here, here and here. (via Second Story Window)
2. Icy-pole stick shape makers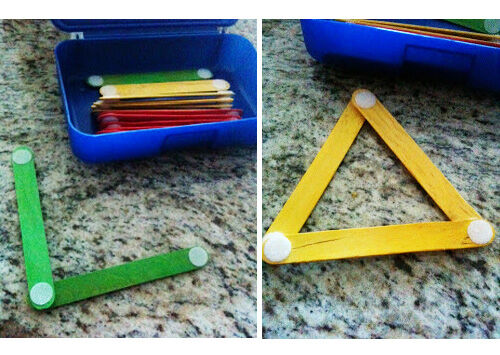 Buy some coloured craft sticks and stick velcro dots at the ends, so kids can have fun creating geometric shapes and patterns. (via Tot Treasures)
3. I spy bottle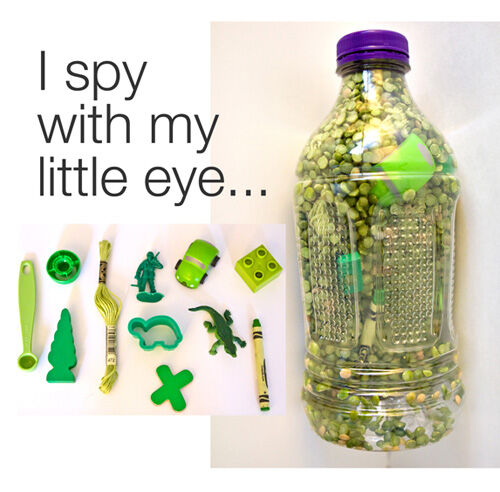 Assemble a collection of little green objects and take a photo. Now fill a clear bottle with dried green split peas and insert the 'treasure', then seal the bottle. Your kids will need to shake the bottle and hunt for the items, using the photo as their guide.(via Modern Parents Messy Kids)
4. Paint chip colour matching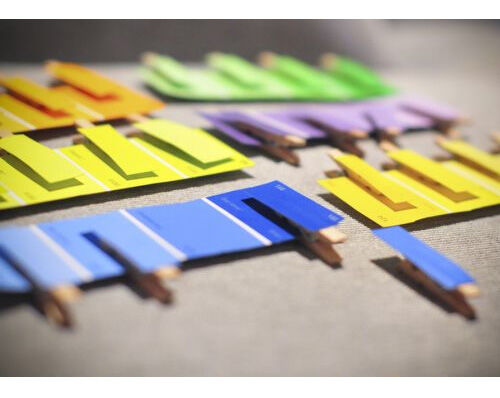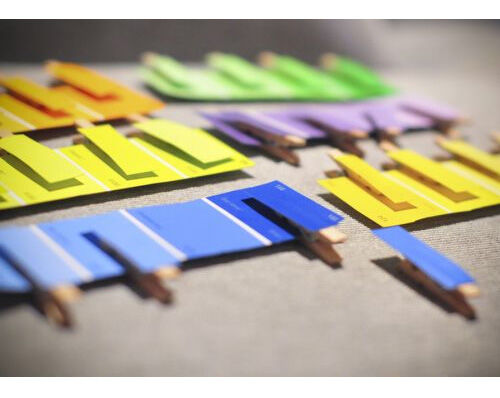 Paint companies are going to start charging us for paint chips when they see how many nifty crafts can be made from their colourful free swatches. For this colour-matching game you'll need two of each card. Cut and glue strips from one of the cards to clothespins. Kids need peg the right pin to the correct swatch colour. (via Stephanie Klein)
5. Laminated road maps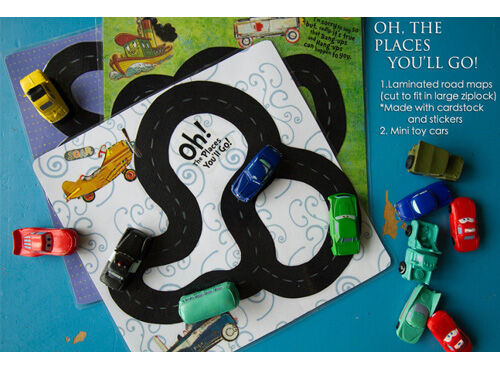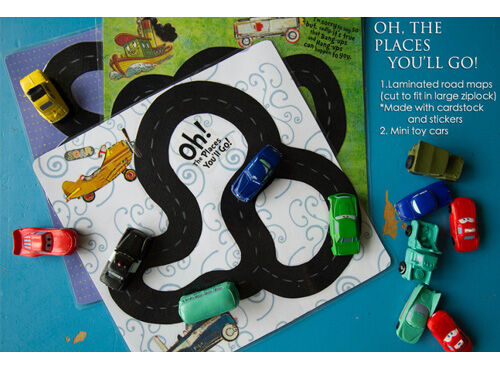 Create mini car track cards and laminate them, then place in a bag with matchbox cars. This set by by Arlee from Small Potatoes is a hot favourite with her kids! (via Small Potatoes)
6. Magnetic pom poms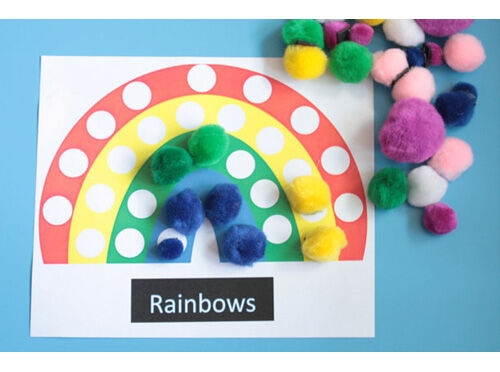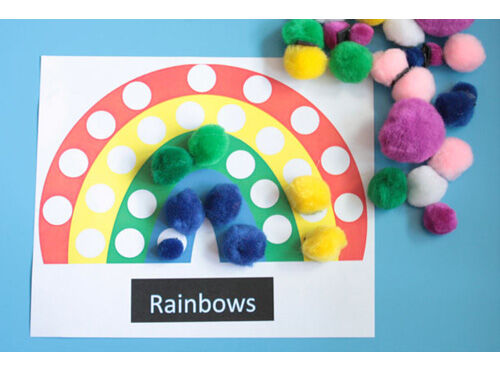 Glue magnets to coloured pom poms and let kids make shapes and pictures on a small magnetic baking tray. You can also make paper templates to line the tray, like the rainbow one above. Get more instructions for this activity here. (via Pinterest)
7. Clip toy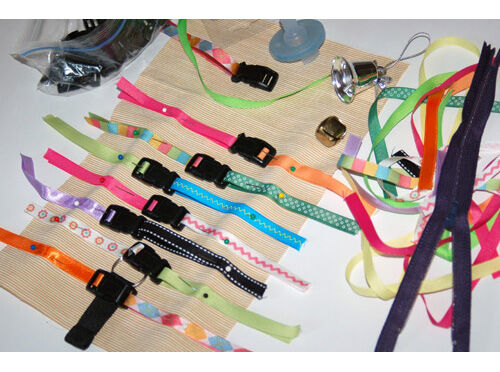 Find some small plastic buckles and clips at a craft store. Then attach them to coloured ribbons and a fabric backing using these instructions. Sew a few other bits and bobs to the material (such as bells or zips) and you've got a fantastic fine-motor toy that will have kids clipping and un-clipping for hours. (via Kids Activities Blog)
8. Magnetic tote bag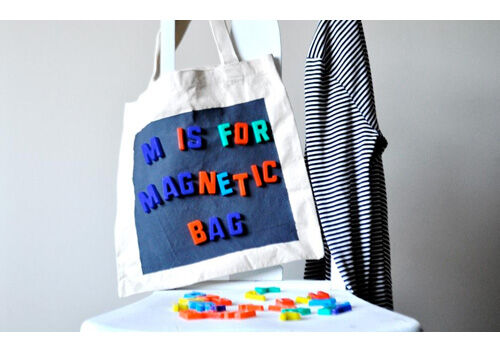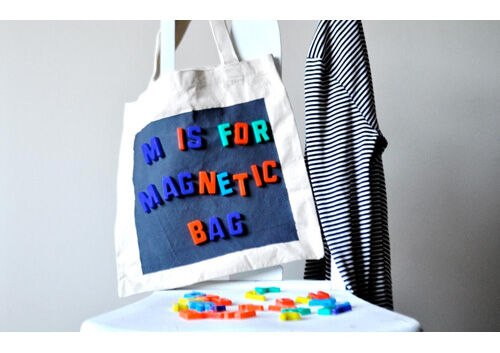 Chrissan from Ducks in a Row created this magnetic tote (get the instructions here) which can be filled with fridge magnets for shape-making and word-spelling fun on the go. (via Ducks in a Row)
9. No sew fish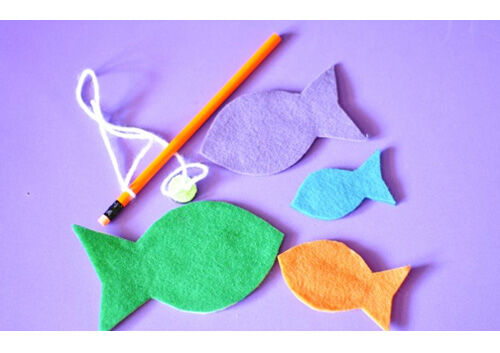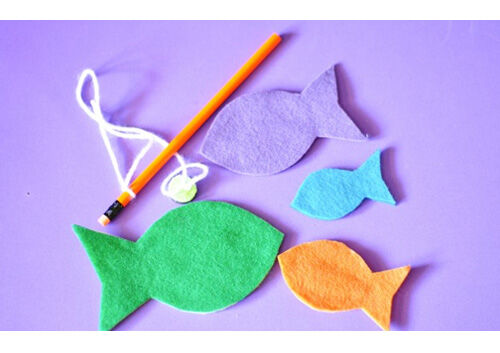 Catch the big one with a felt fishing set that has magnets glued inside. Get more instructions at Unsolicited Advice. (via Motherhood on a Dime)
10. Button snake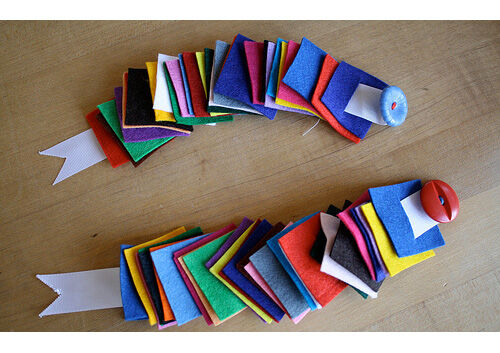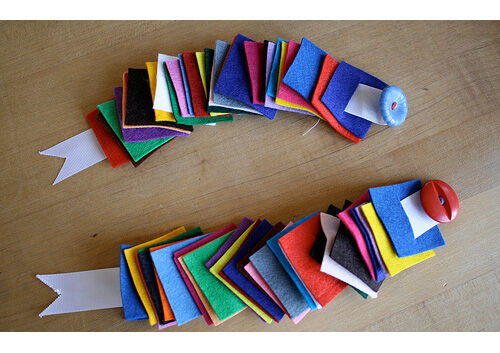 Sew a button to the end of a ribbon and then cut slits in to a pile of felt squares. Kids will have fun buttoning the felt to create the 'snake' … and will develop nimble finger skills in the process! (via Happy Hooligans)
Toddler busy bag tips


Store activities in ziploc bags, clear zippered pencil cases or plastic snack boxes
Stick a photo of the contents on the outside so kids know which bits go with what.
Include an aluminum tray with a raised lip. Kids can place it on a table or balance it on their lap in the car, and play without losing pieces.
Look for simple 'busy' activities to do at home, like sorting objects in ice cube trays or stacking plastic cups. See more ideas for home here.
Host a busy bag swap with friends. Each person chooses one activity and makes enough for everyone in the group. Get together and exchange!