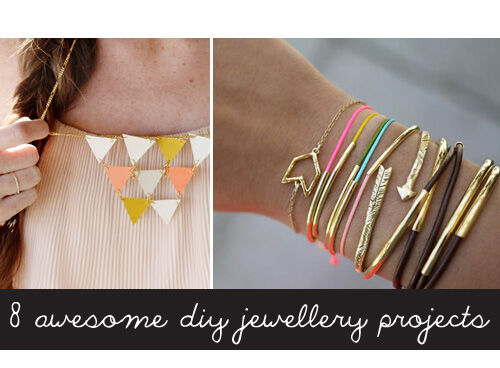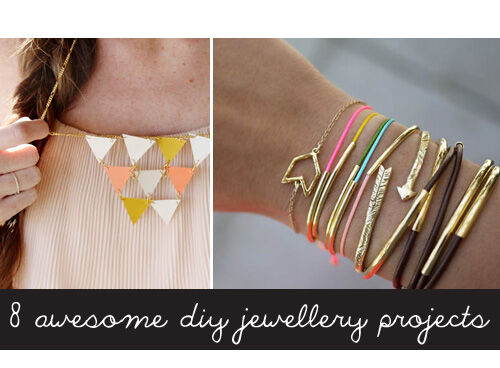 Forget forking out for Tiffany's …. these awesome DIY jewellery tutorials show you how to make showstopping accessories out of ordinary objects, craft supplies and even a few things you might find in the shed!
1. Paint Chip Geometric Necklace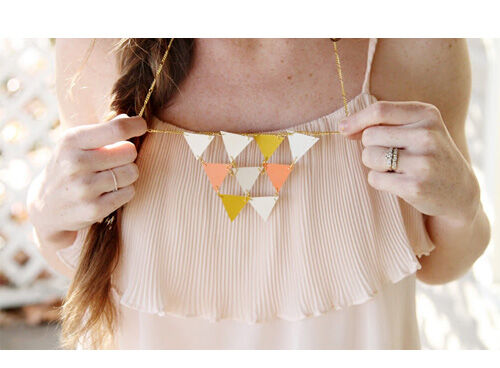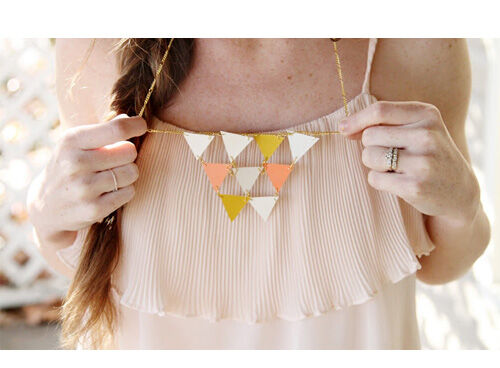 Raid the hardware store, this Golden Geometric Necklace by Sincerely Kinsey is made from paint chips. Click for tutorial.
2. Gold Noodle Tube Bracelets
In the craft world, gold noodle tube beads are a dime a dozen – who knew? Honestly WTF shows you how to turn them in to colourful strings of bracelets. Click for tutorial.
3. Vintage Rhinestone Studs
You'd never guess these vintage-style earrings are backed by humble tap washers. Wedding Obsession shows you how to make these showstoppers – perfect with an up-do and black turtleneck for Hepburn-esque style. Click for tutorial.
4. Zipper arm candy
Zip it good with Brit + Co's bracelets, cuffs and bangles made from zippers. Click for tutorial.
5. Painted wooden bead necklace
A super simple idea for the craft-challenged! Laura Parke turns plain wooden beads in to designer-look baubles with a splash of paint. Click for tutorial.
6. Fabric Multi-Strand Scarf
If you have an old t-shirt lying around then you have a fabric necklace/scarf in waiting. Rabbit Food For My Bunny Teeth shows you how. Click for tutorial.
7. Wire Heart Ring
Get some love wrapped around your little finger with this easy heart-shaped ring by A Few Good Things. Click for tutorial.
8. Studded Bracelets and Hair Clips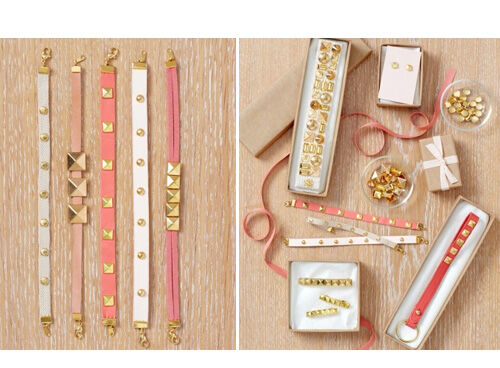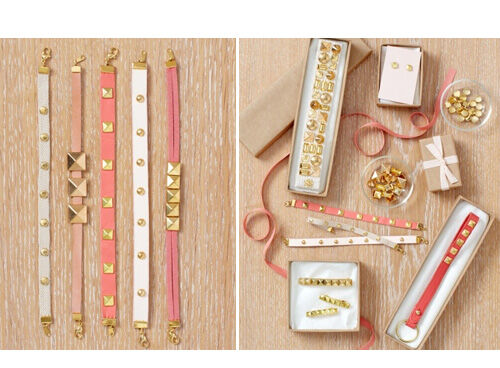 Get studded the Martha way with these DIY accessory projects from Martha Stewart. Click for tutorial.