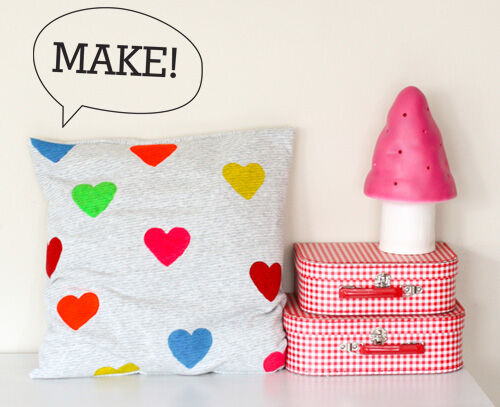 Anyone who loves colour, pattern and funky prints needs to bookmark this post right now! Stop coveting those designer cushion covers or luxe artworks and learn some easy DIY printing skills to make your own instead. It's easier than it looks and you've probably got most of the gear you need at home. So let's get crafting!
READ MORE: • 17 fun colour-dipping projects to try
1. Circle stamped ombre lampshade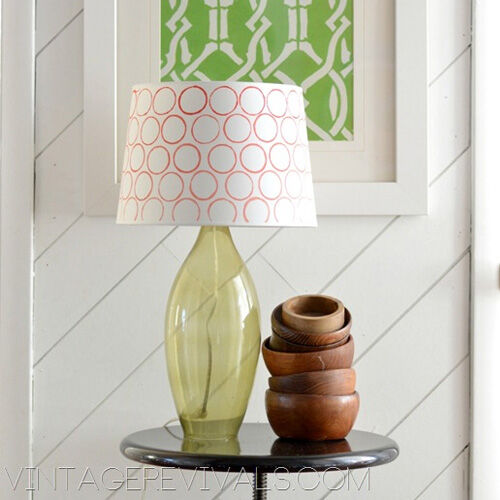 A humble toilet paper roll provides the 'stamp' for this lampshade makeover. See the tutorial at Vintage Revivals.
2. Hand-stamped swaddling wrap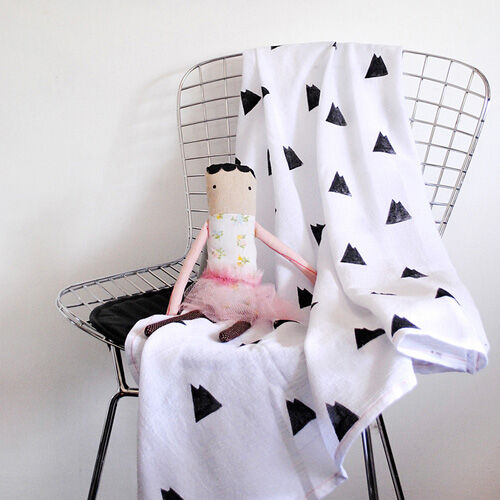 Create your own custom, one-of-a-kind baby wrap with this tutorial from Merrilee Liddiard at Mom's Best.
3. Geometric stamped town print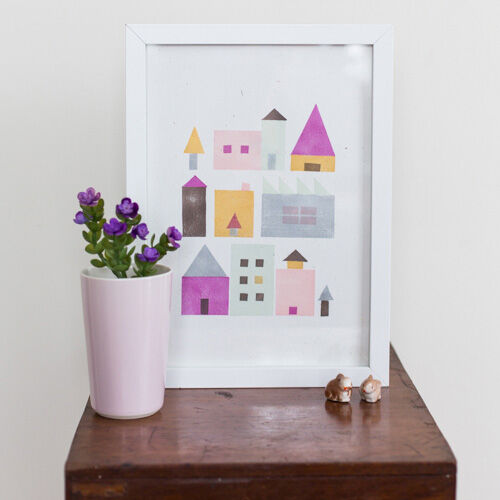 With just a few simple geometric shapes and pretty colours, you can create your own little village to hang on the wall. See more at Fellow Fellow.
4. Rolling pin printed paper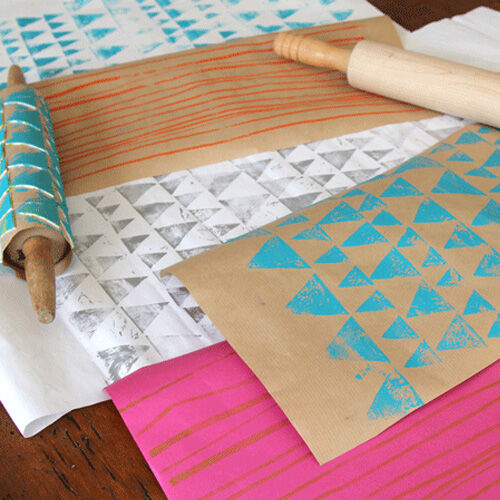 Raid your kitchen drawer and use a rolling pin, some rubber bands and pieces of foam to create lengths of printed paper for wrapping and crafting. See how it's done at Eco Salon.
5. DIY monogram stamp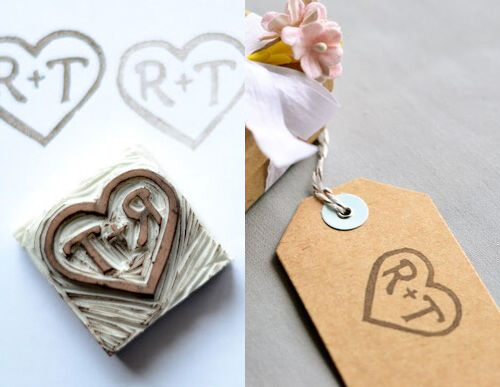 You'll need to pop to the craft store to buy a carving block and craft knife for this one, but then it's easy peasy. Get the tutorial from Love My Dress.
6. Cross hatch stamp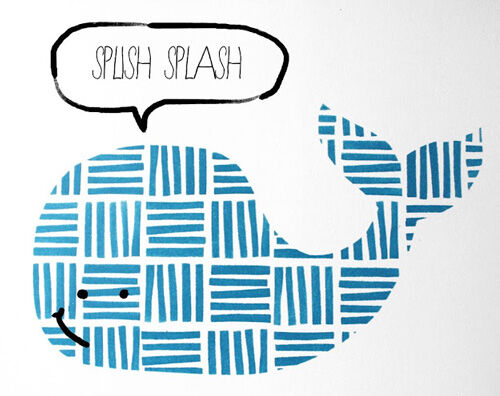 Cut out shapes from craft foam and glue them to a wooden block to create this cross hatch stamp. See more at Lines Across.
7. Pencil eraser stamped tote bag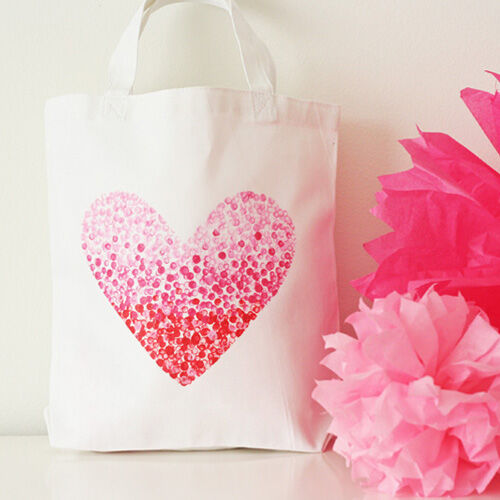 Dip the end of a pencil eraser in to puffy paint and dot-dot-dot to your heart's content. Get the tutorial at V and Co.
8. Stamping with LEGO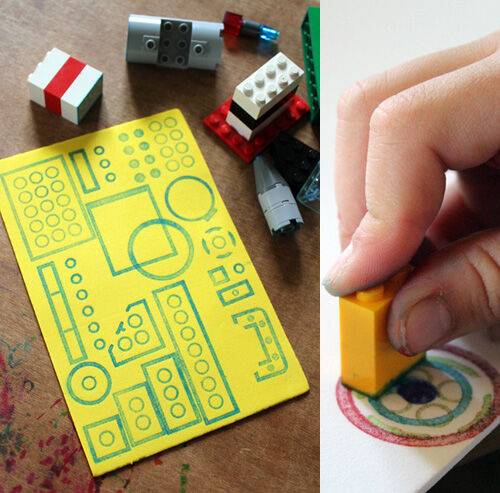 This is a fun one for the kids. Let them use their LEGO pieces to stamp patterns and pictures on to craft foam. Read more at Filth Wizardry.
9. screen printed t-shirt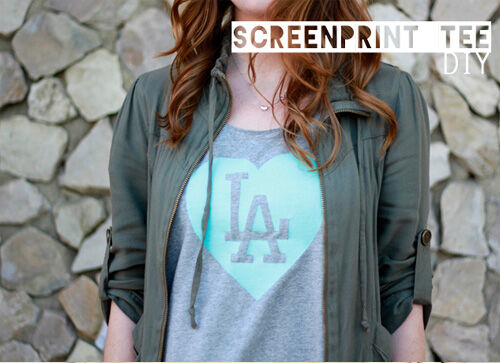 Make your own screen prints using an embroidery hoop, pantyhose and Modge Podge. Read how at Calico Skies.
10. Stenciled Moroccan rug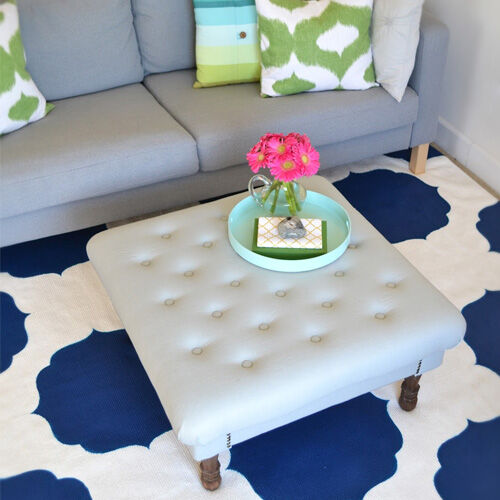 Can't find a rug in the right pattern or colour to suit your own? Sarah M. Dorsey shows you how to make your own.
11. Fabric screen printed with contact paper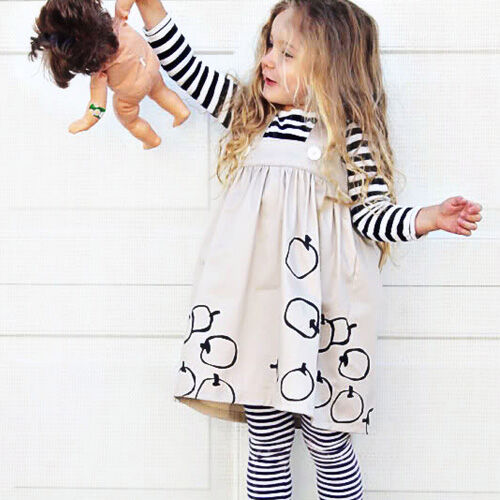 Contact paper is another material that can be re-purposed to make a screen print. Get the tutorial for this gorgeous apple-print fabric at Lil Blue Boo.
12. Heart stenciled cushion cover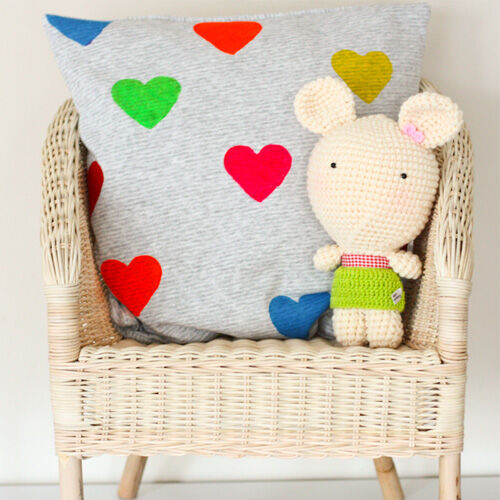 Use a heart paper punch and fabric paint to make this printed cushion. See the steps at Sunday In Color.
13. Arrow stencil cushion

Want to give your cushion covers a face lift? This pretty pink arrow stencil adds a splash of style and colour all in one. We love! (via Making Home Base)