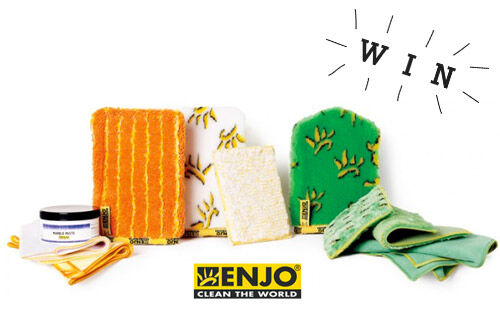 This competition is now closed.
Congratulations to our lucky winner: V. Haley of Berwick, VIC.
Every domestic goddess has to start somewhere, and what better way to overhaul your cleaning regime than with the ENJO Domestic Starter Kit.
Full of kitchen, bathroom and household cleaning essentials, this clever kit is the key to cutting down your cleaning time, cutting out the chemicals and living the spotless life you dream of!
ENJO cloths and gloves lead the way in eco cleaning products, harnessing the natural power of ENJO Fibre technology and water. The Domestic Starter Kit contains 9 different grime-busting gloves and miracle cloths to get those tiles gleaming and surfaces shining without a chemical in sight. Top it all off with a spray bottle, laundry bag and marble paste for the tough spots. Let the sprucing begin!
One lucky Mum's Grapevine subscriber will be cleaning like a pro with an ENJO Domestic Starter Kit worth $375.
Competition ends July 26, 2013.