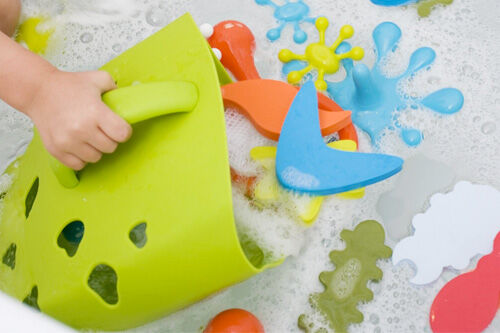 Kids love bath toys, and we love the way they keep kids occupied while we make our little critters clean! But when the splishing and splashing is finished, you're usually left with a sea of plastic toys that need somewhere to live … and if they don't dry out properly they go all slimy and mouldy. Ew!
Lucky for you, we've found 15 fabulous products and ideas for keeping bath toys organised, clean and tidy!

1. Boon animal pods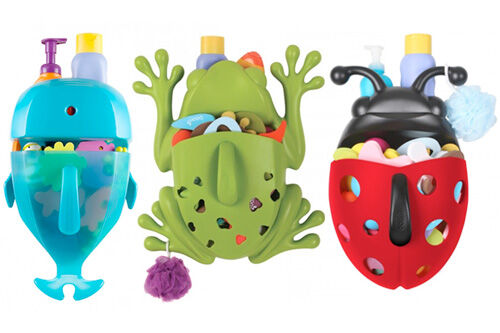 When it comes to the cutest bath toy storage you'll ever own, Boon's animal pods win hands down. We are huge fans of the wall-mounted Boon Frog Pod ($64.95), Boon Bug Pod Toy Scoop ($54.95) and the new Boon Whale Pod ($54.95), which not only look adorable but are cleverly functional. The removable 'bodies' double as scoops to collect and drain your toys, and there are hooks for face washers and spots to hold shampoo and soap.
2. KidsKit Pelican bath storage pouch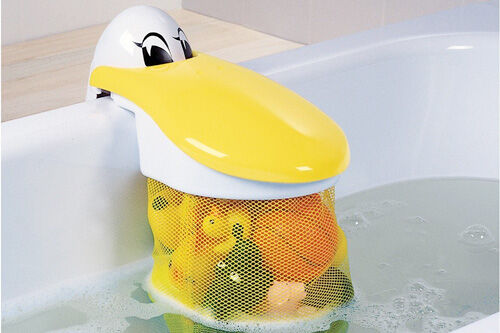 Get the kids to put their bath toys away by 'feeding' the hungry pelican! The KidsKit Pelican bath storage pouch ($49.97) hooks over the edge of the bath and allows toys to drain and dry in his mesh bill.
3. Kidco bath storage basket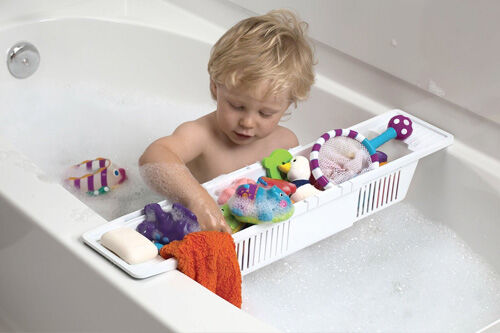 The KidCo Bath Storage Basket ($48.45) can be adjusted to the width of your bath and has drainage and ventilation holes. It also doubles as a play tray for the kids!
4. Hanging fruit basket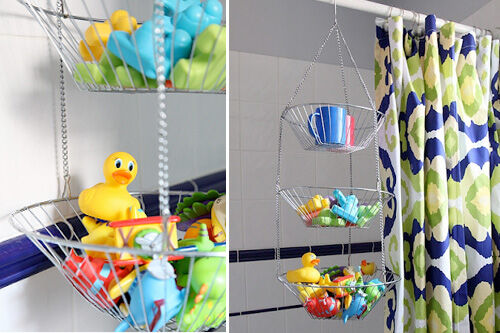 This DIY solution is actually a hanging fruit basket suspended from the shower rail. Genius! (via 8 Foot 6)
5. Bath toy bags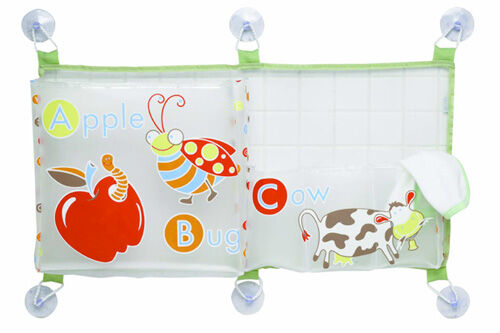 The SugarBooger bath toy bag ($34.95) is made from PVC with a mesh back for drainage. Or you could DIY this idea by attaching suction caps to a mesh laundry bag.
6. Baskets on a tension rod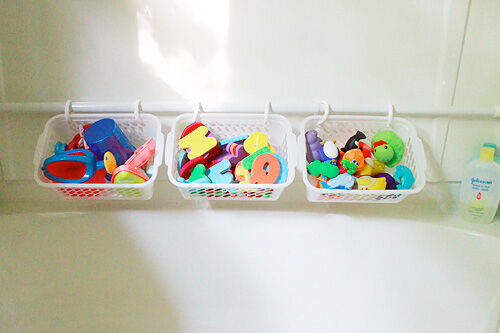 This bathroom facelift included this ingenious solution: a tension rod mounted behind the bath, with plastic baskets hung via shower curtain rungs. (via Heather Drive)
7. Aquatopia bath toy organiser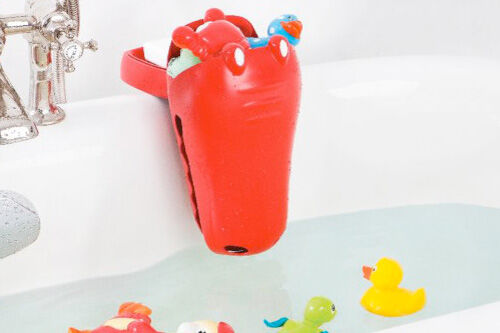 The Aquatopia bath toy organiser ($39.95) scoops, dries and stores your bath toys in its kooky crocodile mouth.
8. Mebby storage bucket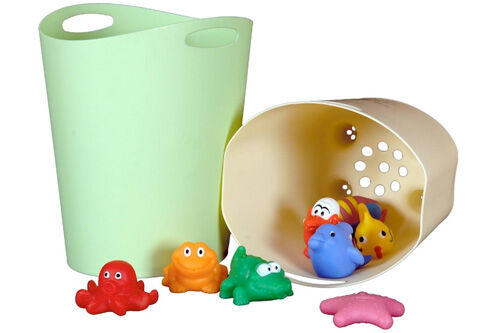 Double-walled Mebby bath toy storage ($19.99) has a perforated internal bucket to allow toys to drain, and an outer bucket with handles to catch the drips.
9. Oxo Tot Whale Pail
The OXO Tot Whale Pail ($29.95) is made for scooping, rinsing and storing on its own wall-mounted bracket, with a clear window at the front so you can see what's inside.
10. 3 Sprouts bath storage caddies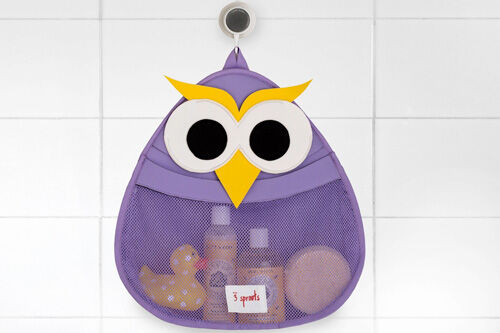 3 Sprouts Bath Storage Caddies ($44.95) come in three cute designs (walrus, owl or fox). They gobble up your bath toys with their stretchy, wide mouths and attach to your bathroom tiles with suction caps.
11. Dishrack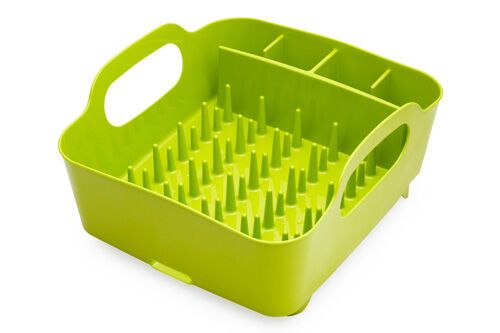 If you've got room for it on the edge of your bath, a humble dishrack ($29.95) makes an awesome bath toy organiser that allows plenty of air circulation for toys to dry.
12. Skip Hop bath organisers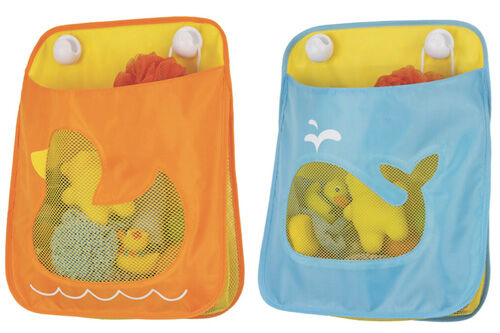 Made from quick-drying nylon, Skip Hop's bath organisers ($19.95) expand to hold all your toys, are machine washable and hold on tight with four suction caps.
13. Peg basket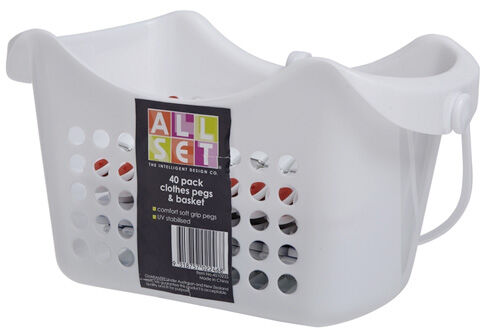 An inexpensive peg basket with a handle can be hung over your taps or suspended from your shower caddy.
14. Stowaway bath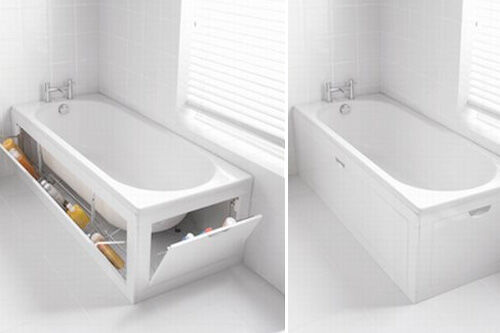 The Stowaway Bath utilises all that unused storage space under the bath itself. No word on whether this product will be available in Australia anytime soon, but if you're planning a bathroom renovation you might be able to get your tradie to rig up a bath surround similar to this one. (via Born Rich)
15. IKEA plastic bag dispenser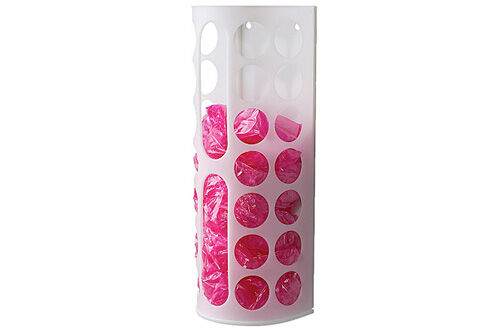 We've heard from quite a few mums that they use this inexpensive IKEA VERIERA plastic bag holder ($1.99) as bath toy storage, either mounted on the wall or resting on the bath surround. In fact, from a quick Google search it appears the versatile VARIERA rarely gets used for its intended purpose. Other creative uses include toilet roll storage, wrapping paper roll holder or an umbrella stand!
How do you keep your bath toys organised? See tips from our community and join the conversation on Facebook …