Perfect for inexpensive and fun party favours, these simple sparkly fairy wands are personalised with the first letter of your guest's name. Get your craft on with this easy tutorial from party expert Jennifer Henderson from Love JK. Read on …
What you'll need …
Printable Star Template
(Download here)
Card stock for printing onto (250gsm or thicker works best)
Balloon sticks
Glitter cardboard
Letter bling
Ribbon
Craft knife
Ruler
Hot glue gun
(All of these materials should be available from your local craft or art store.)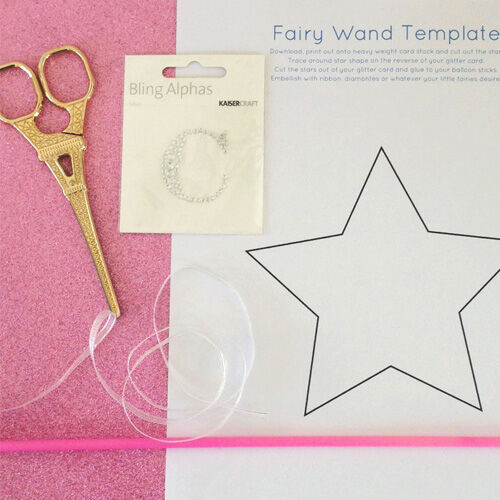 How to …
1. Print out the star template onto card stock and cut out.
2. Using the template as your guide, trace around the star on the reverse of the glitter card. Remember you'll need two stars per wand.
3. Wrap the ribbon around the balloon stick and tie off at the end with a pretty bow.
4. Using your hot glue gun, adhere the balloon stick to the smooth side of the glitter card. Let set.
5. While this is setting, adhere your letter bling to the front of your other piece of glitter card.
6. Finally, adhere the two stars and balloon stick together, using your hot glue gun.