Fabulous Fiji! It really is one of those magical destinations where both grown-ups and children are so exceptionally well catered for that the usual family holiday lament of "different location, same routine" goes out the window.
Guest contributor Elisa Elwin from Out & About With Kids shares with us what makes Fiji a favourite holiday destination.
1. The kids are happy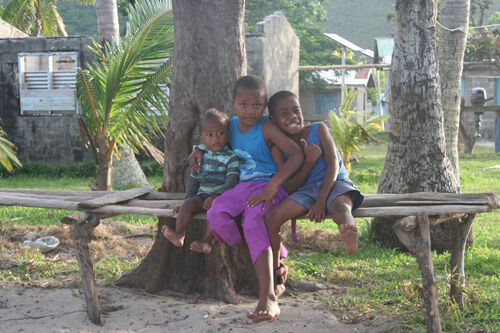 There was laughter and music everywhere we went. The Fijian people love children … and the feeling is mutual! These friendliest of friendly people are sensational with babies and kids and there's no shortage, at any family-friendly resort in Fiji, of willing and very able babysitters. Kids Clubs here are a joy for the kids and a welcome respite for mum and dad to relax and do their own thing. From toddlers to teens, every child we met had the same look of happiness.
"Bula" is the Fijian greeting and it's hearty and heartfelt – the word essentially means "life" and is always delivered and received with a big smile. You'll hear your first "Bula!" as you step off the plane in Nadi and by the end of the holiday, you and the kids will be so accustomed to its very natural giving and receiving you may find yourselves inadvertently using it instead of 'Hi!" when you get home!
I would go as far as saying 'if you don't holiday with kids in Fiji you are missing out'. It is the most family friendly destination we have ever been to – and the app Bound Round even lets kids choose fun activities and places to visit in Fiji so they can have a say, too.
2. It's beautiful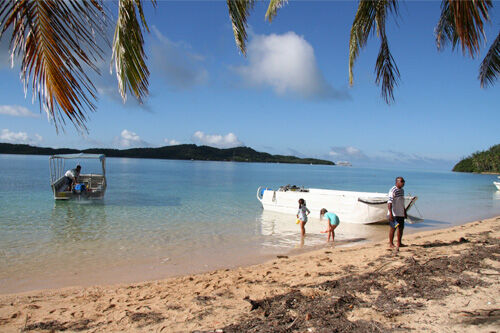 The Fijian Islands are just as beautiful as the energy and spirit of the locals. We loved the Northern Yasawas, with their small village islands, palm trees and island village life. Captain Cook Cruises Fiji showed us a daily parade of divine islands perfect for snorkelling, swimming, visiting and spending time getting to know the village – and each island was more beautiful than the last.
Every night was a treat of fabulous food and entertainment, with each child treated as a valued guest. Laughter and joy was a part of every beautiful Captain Cook Cruise day.
3. Relaxation time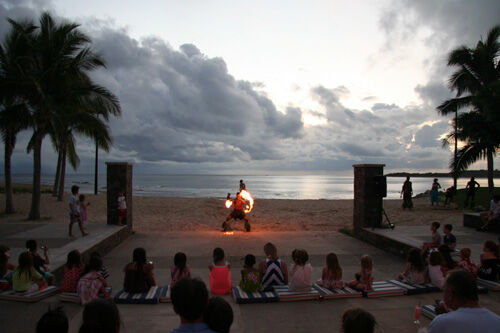 'Fiji Time' really is just that – relaxed and slowed down. Nothing is a problem. From day one, the fast-paced 'we must do everything' vibe starts to fall away. Everyone begins walking more slowly and laughing more easily, with spontaneous smiles. Slow it down and really relax into Fiji holiday mode.
The Intercontinental Fiji Golf Resort and Spa had this down perfectly. Find a lounge by the pool and have fun with your kids, swim in the turquoise waters of the aptly named Coral Coast, watch the sundown fire-lighting ceremony, eat at one of the many restaurants or, more decadently, treat yourself to some time out at the divine spa or play a round of golf while the kids are treated like loved family by the kids club or nannies.
Everyone gets to wind down in Fiji.
4. The climate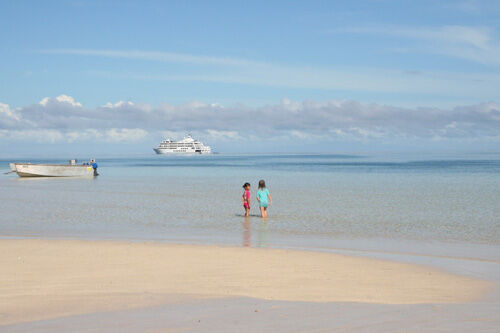 Even in the thick of winter, Fiji's climate is a balmy 28 degrees average by day and a temperate 24 degrees as evening arrives. In summer it can hit the high 30s but air-conditioning, cool drinks, fresh tropical fruits, palm-tree fringed beaches and fabulous resort pools will keep you chilled in every sense of the word!  Check out Malolo an intimate, rustic resort owned by a local family. We loved every second of our stay there, hugging each other with conspiratorial joy as we noted the cold and wet weather we left behind. Plantation Island is another great place, with heaps of kids' activities to keep them entertained.
5. It's close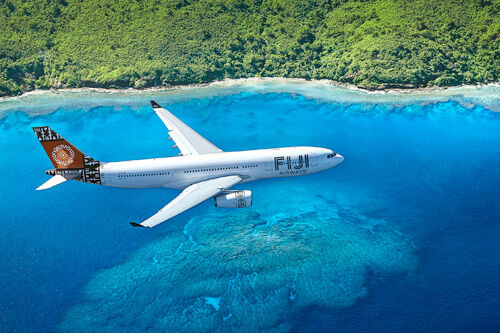 You'll arrive at Nadi Airport in Fiji from Australia's east coast, Auckland or Christchurch in under four hours. When you're traveling with kids, this short-haul international flight is a huge plus for mum, dad, and the little ones. And there's almost no jet lag! Fiji Airways fly to Nadi every day in around 4 hours from Brisbane, Sydney and Melbourne. Quick flight, friendly Fijian service, easy transportation to your holiday destination: it's perfect.
Tourism Fiji tells us over and over again about how wonderful Fiji is for the whole family – and they're right! We've already booked our next holiday there.
Bula!
Elisa Elwin is the Publisher of Out & About with Kids. Travel Writer, Social Worker and parent to two teenage daughters, Sam and Tori. With family far and wide, they visit and spread their wings a couple of times a year.