If my son detects an activity is being set up that has educational benefits, he will absolutely refuse to have anything to do with it.
I have found (much like eating vegetables) the whole process is much more enjoyable when he doesn't realise I'm tricking him in to learning something!
Mastering first words is an important milestone, so we've rounded up 17 literacy learning tools to help teach early literacy that are so much fun your kids won't be able to resist!
1. Little Tyro Literacy Essentials Pack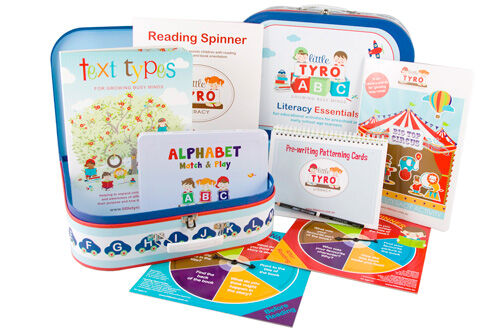 This fantastic Literacy Essentials Plack from Little Tyro ($89.95) contains five literacy products housed in a cute carry case. Activities inlcude an alphabet matching game, pattern cards for pre-writing, a magentic storymaking game, reading spinners and a book about recognising different types of text. Each of these inventive, teacher-designed products can be bought separately, too.
2. Magnetic poetry for kids – first words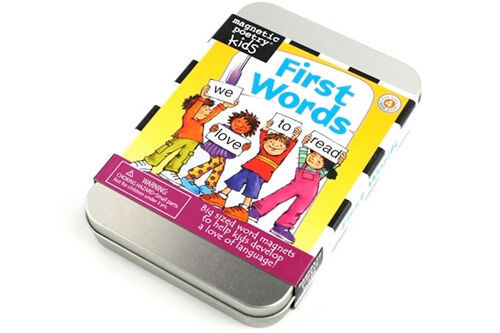 Designed by parents and teachers, Magnetic Poetry – First Words ($34.95) teaches your kids to make sentences with sight words. Use them on the fridge or any other magnetic surface.
3. Alphabet chart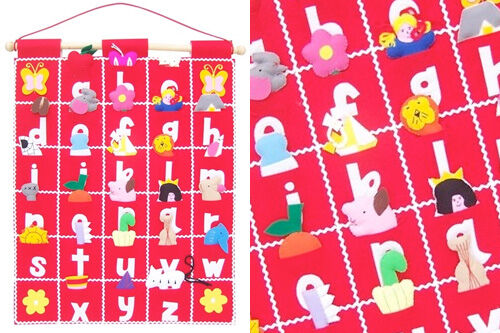 Little grabby fingers love surprises. This alphabet chart ($39.95) ticks all the right boxes, with cute, felt objects for each letter hidden away in every pocket.
4. Peek, seek & find ABC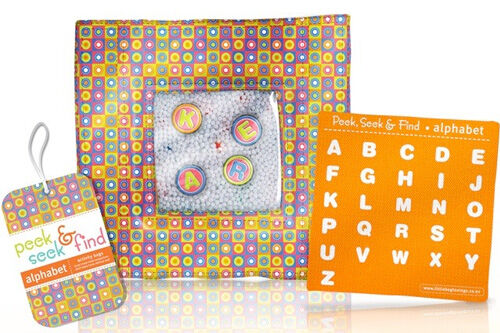 A treasure hunt in a bag! The possibilities are endless with this Little Beginnings Peek, Seek & Find ($26.95) bag of hidden letters. Try looking for all the blue letters, or perhaps try and find whole words. A great time-filler on long car trips too.
5. Read and Match dominoes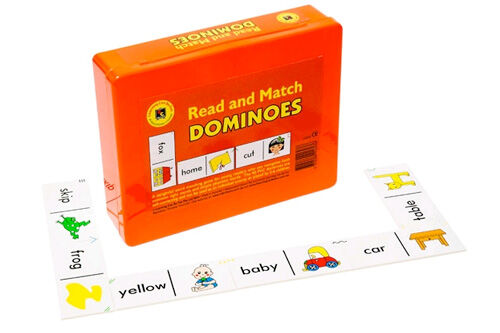 Everyone loves a game of dominoes and this set of Read and Match Dominoes ($13.95)  is a fun way to learn sight words as you play.
6. Pass the word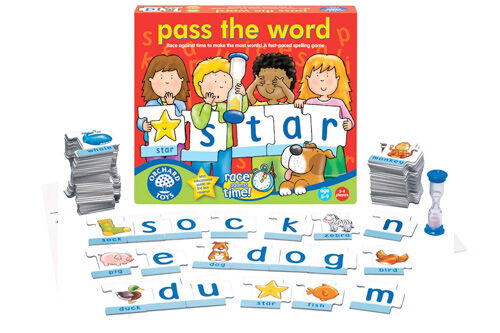 Spell words against the clock in the fast paced game of Pass The Word from Orchard Toys ($34.90).
7. Storytelling cards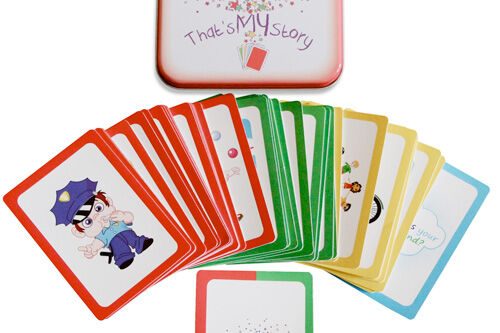 That's MY Story storytelling cards ($14.95) are a gorgeously fun and creative way of encouraging early literacy, vocabulary and comprehension skills. Build your own story and see where your imagination will take you. There are even multiple variations on the game, depending on age, skill level and number of players.
8. Alphabet stamp set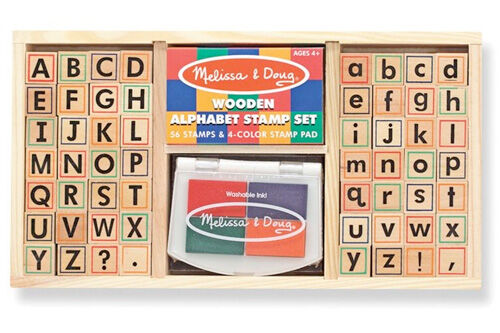 Stamps are a timeless favourite and the Melissa and Doug Alphabet Stamp Set ($38.99) is sure to bring hours of delight. Fun for craft lovers, but also a great way to help with letter, name and word recognition.
9. Touch and feel flash cards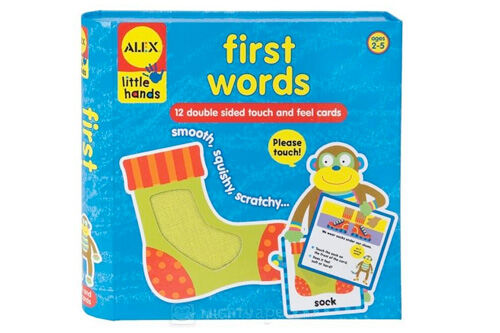 Flash cards just got a whole lot more interesting with Alex Toys Touch and Feel First Words Flash Cards ($19.99).  Each card has a different texture to help children identify the object on the card and the back of each card lists interactive activity ideas for parent and child to explore together.
10. Mark My Time digital bookmark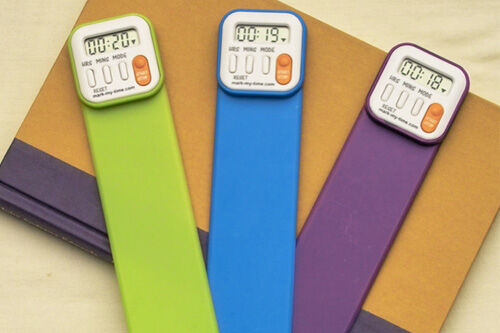 For established readers, most schools recommend 20 minutes reading time per day. These Mark My Time Digital Bookmarks ($13.95) are a fun way of keeping track of those precious minutes. A reading record for each child can be created and the cumulative timer can be used to keep track of larger reading goals.
11. Duplo word-building game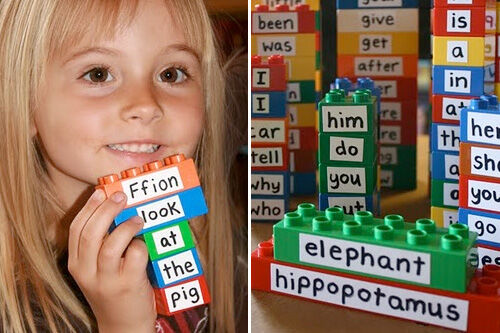 This blog post from Filth Wizardry has some brilliant ideas for building early reading and literacy skills simply using things you are likely to find around the house. We particularly love the idea of sticking letters on duplo to turn them in to a word-building game – brilliant!
12. Planning With Kids sight words pack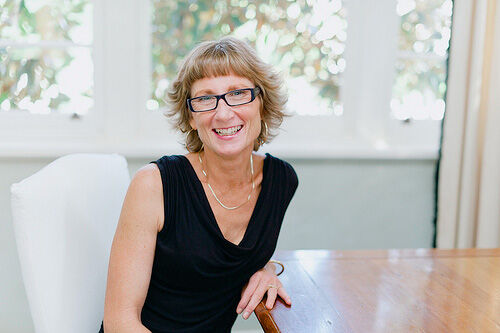 Mum of five, Nicole Avery from Planning With Kids has compiled a downloadable pack of sight word activities and games ($4.95) based on the Dolch word list. The principle behind learning these sight words is that greater reading fluency will be achieved as children instantly recognise words without having to stop and decode them.
13. Clothes pin word game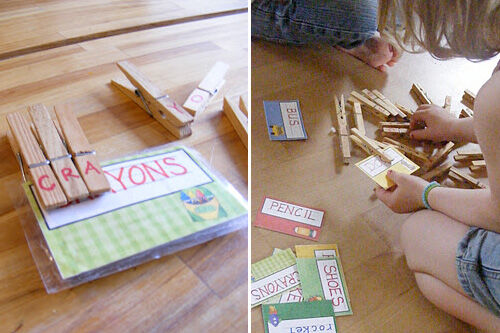 This Clothes pin word game devised by Imperfect Homemaking is another simple yet child appealing idea using inexpensive props you may even find around the home.
14. Dough letters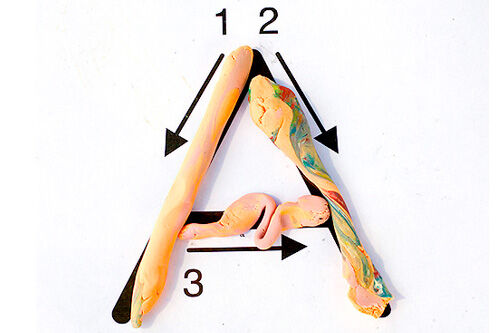 Every child loves playdough. It is always the perfect go-to activity for rainy days stuck inside. Thanks to Busy Mommy Media, here is an idea to make playdough fun and educational. Also a playful idea for older readers to help memorise word spellings.
15. Magic words watercolouring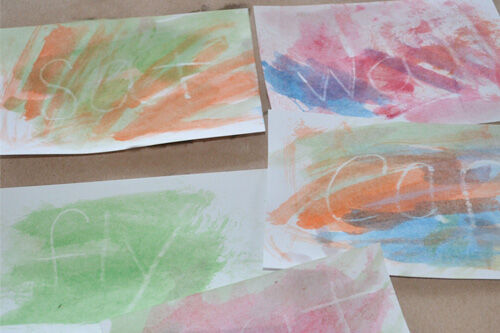 Secret squirrels will love this activity from The Pleasantest Thing where letters or words are revealed simply by painting. White crayon is used to write the message, which the watercolour doesn't stick to. So easy!
16. Janod Yogame ABC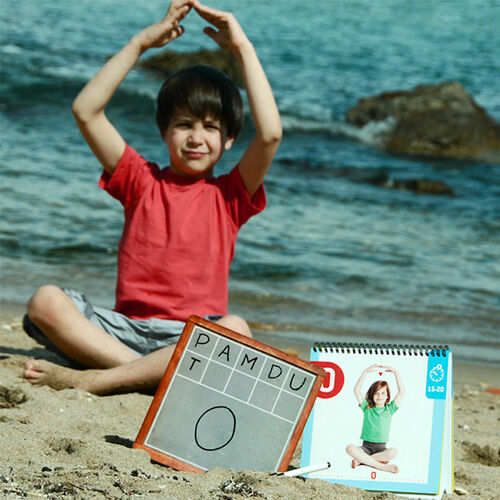 This one is a great for physical learners who can't sit still and need to learn by doing. Janod's Yogame ABC ($39.95) teaches children how to make letter shapes with their bodies. They'll be learning yoga, flexing their muscles and training their brains all at once.
17. Uncle Goose blocks
One of the challenges of learning your ABCs is identifying the difference between upper and lower case letters – and when to use them. These classic wooden alphabet blocks from Uncle Goose ($36) feature both upper and lower case, in a clear font with attention-grabbing colours.