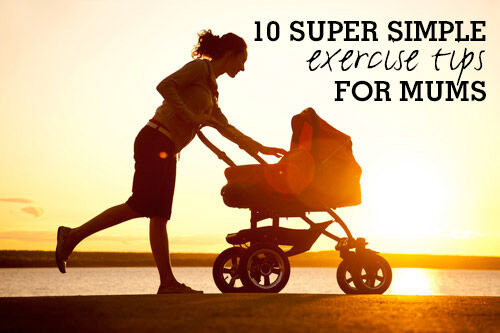 Even fitting a shower in can sometimes be a juggling act for mums, let alone finding time to exercise. Thanks to the Mum's Grapevine Facebook community, we have put together a list of great ways to get yourself motivated and movin'!
Some are free and some cost money, but all can be done either with the kids in tow or at home while they play. Not only is your bum going to thank us but you are likely to find your mood and energy levels improve as well. So get going … no excuses now!
1. Don't just get the pram out at the shops – go for a walk.
Pushing a pram is good resistance training, plus it's free.
2. You spent a lot of money on furniture – use it.
A dining chair is perfect for tricep dips, full cans of spaghetti make perfect weights, and a back step can be used for step ups. If you really want to get the kids involved, you can even use them to bench press … maybe don't try this one with 5 year old though!
3. Playing with your child.
Aeroplanes, flips, chasey – all these things will help get you moving and improve your fitness. Just add some stretching into your day and you will see a difference in no time. The kids will love the quality time too!
4. Put the hours spent in the park to good use.
The play and park equipment can be used for strength training. For example, bench press using park seat or use the seat to do multiple steps on the spot. You can also run in and around play equipment like cones.
5. Get yourself some Kettlebells.
You can find a bunch of free training circuits via the internet, ranging from 10 minutes to 1 hour in duration, to do at home.
6. Hubby or the kids got an Xbox or Wii?
Get yourself toned and terrific using one of the fitness games and maybe have a giggle and some fun at the same time.
7. Get an app!
There is an app for just about everything and exercising at home is no exception. Try 40 Fat Burners or Bodyweight Training: You Are Your Own Gym.
8. Channel your inner Jane Fonda and pop on an exercise DVD.
From Tracey Anderson to Michelle Bridges and Zumba, exercise DVDs are a great all-weather way to get moving. The kids can play while you work up a sweat or do it once they all go to bed. If you want a cheaper option try recording fitness programs off the TV.
9. Check out your local YMCA or look for mums' groups that do park fitness.
There are lots of programs that offer child minding (in some cases it's free). With an expert on hand, you can get the most out of your work outs.
10. When all else fails Google it!
You will find heaps of websites dedicated to helping you get fit. Look for training programs specifically aimed at mums at home. dailyhiit.com is free, has full instructions if you don't have the right equipment and only takes 12-15 minutes a day.
These tips were compiled from the fantastic advice shared by readers through the Mum's Grapevine Facebook community. For more ideas or to get answers to your own question, join in here.