Introducing GoldieBlox – construction and engineering toys aimed squarely at girls. You might have noticed the ad above going crazy on social media recently.
Developed by engineer Debbie Sterling (via a crowd-funded Kickstarter project) these toys feature a little girl called Goldie, who goes on adventures and solves problems by building simple machines – machines your child can build too, using the GoldieBlox toys. They're great for problem solving and fine motor skills, getting children interested in technology and engineering (without them even knowing!) and they're definitely different to anything we've seen before. Goldie Blox will be available from Kidstuff from December 2013.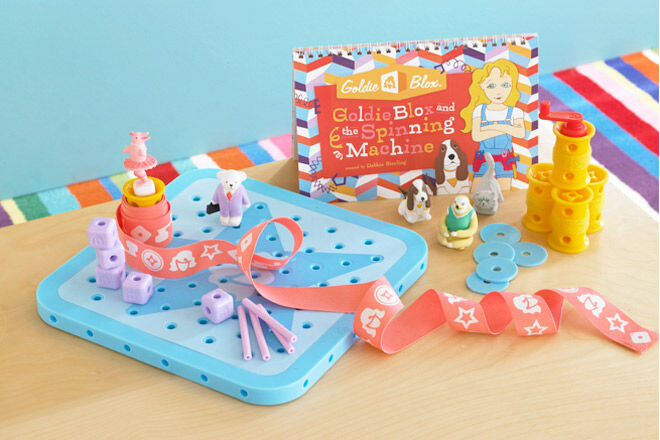 There's a lot of buzz about gender division in toys these days. UK group Let Toys Be Toys has successfully persuaded several major retailers to get rid of their 'boys' and 'girls' aisles in order to stop limiting children's interests. Locally, Australian consumer group Play Unlimited is following suit, launching a petition to get Toys R Us to diversify their marketing and stop promoting pink to girls and blue to boys, exclusively.
We at Mum's Grapevine are heeding the call too. You'll notice that this year, our Christmas Gift Guide has no 'girls' or 'boys' sections. Our gifts are organised by age, aimed at engaging children based on their skills and social and emotional development – not their gender.
We love GoldieBlox. But … we'd love to see boys AND girls playing with them, rather than reinforcing that certain toys are only for one gender. In the words of Play Unlimited, "Let our children decide what they want to play with. Who they are. The colours they prefer. What they want to be when they grow up. Encourage choice, and just let our kids choose what they play with."
So tell us … what do you think?