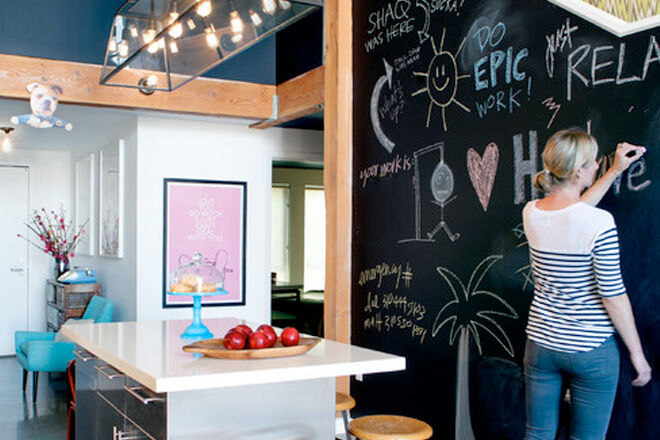 Chalkboards are far from old school. In fact, they are back in vogue and more popular than ever before. And not just for the kids! Perfectly practical for everyday life, you can use them to make lists, take messages, label and organise things or unleash your creative side.
Even if you're not game enough to go for a whole chalkboard wall (like the above, created by Daleet Spector Design) here are 18 funky versions for you to scribble all over!
1. Chalkboard Dolls House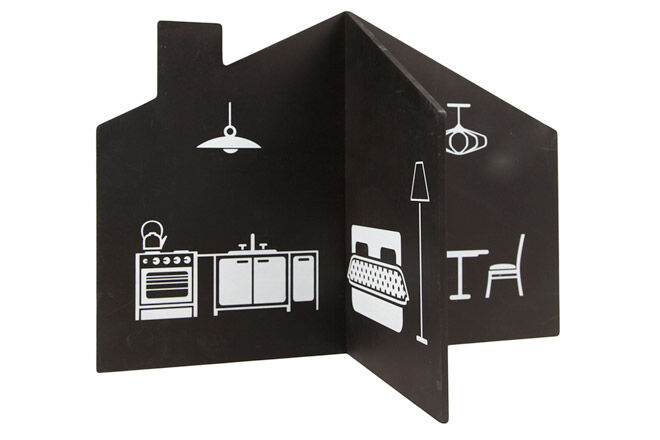 Kids can add their own interior touches with Cotton On Kids Chalkboard Dolls House ($13.96)
2. Chalkboard wall stickers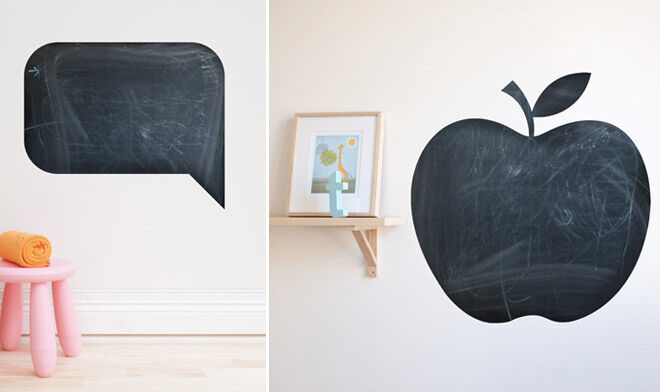 Simple sillhouettes of apples, elephants, clouds and speech bubbles adorn 41 Orchard's removable chalboard wall stickers ($40). Cute for playtime or for leaving messages for family.
3.  Travel Chalkmat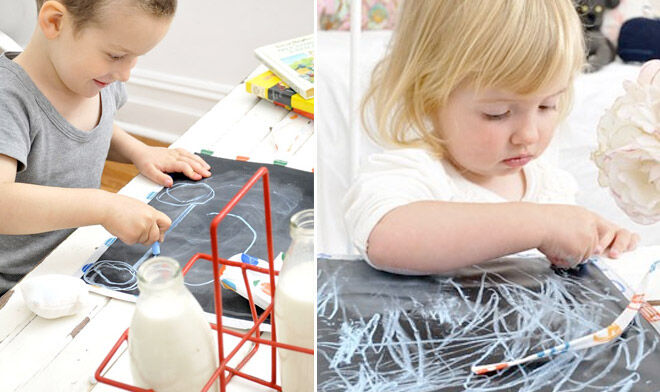 So handy for fun on the run, Daju travel chalk mats ($22.95) can be drawn on while they're waiting for dinner and then flipped over and used as a placemat.
4.  Tinyfolk chalkboard tees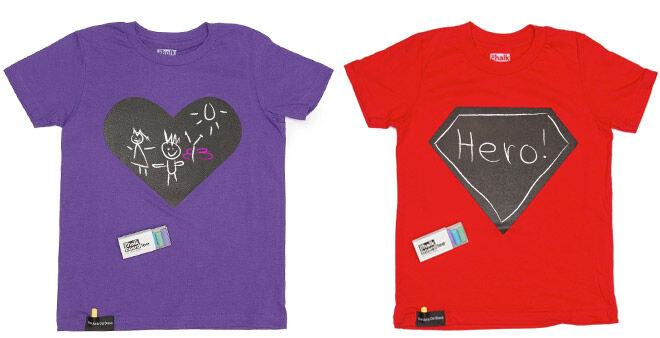 Play fashion designer with Tinyfolk Chalkboard T-Shirts ($39)
5. Wooden Chalkboard Laptop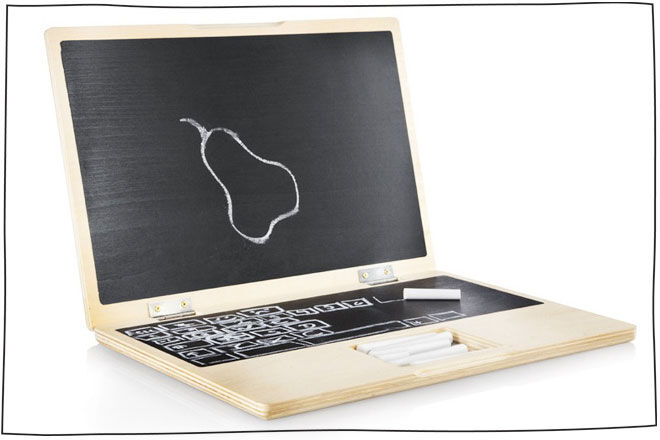 Your little offsider will happily work alongside you with a wooden chalkboard laptop ($21.95)
6. Chalkboard Fridge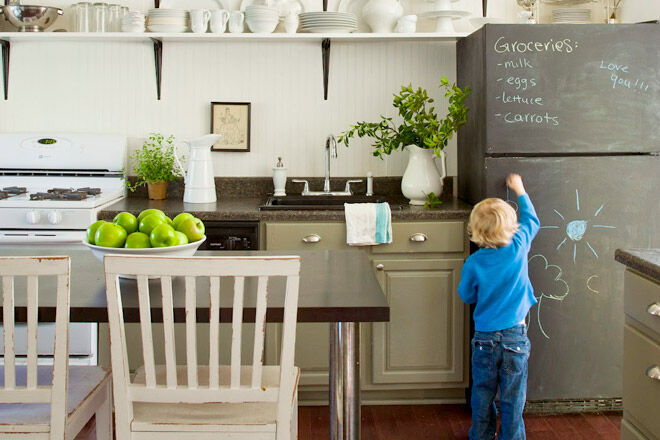 Got an old fridge? Give it a few coats of chalkboard paint and you'll have a blackboard for the kids and an easy spot for your shoping list. Via Lauren Liess.
7.  Chalkboard Blocks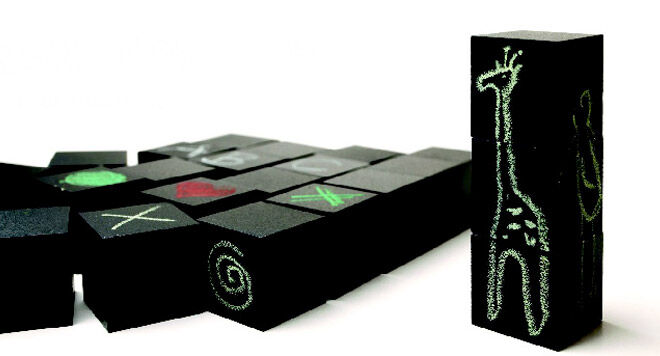 Mini artists can draw their own puzzles or memory games with Colorem Blocks ($109) by Swiss brand Naef. If the price is a bit steep, make your own by painting ordinary wooden blocks with chalkboard paint.
8.  Drum Chalkboard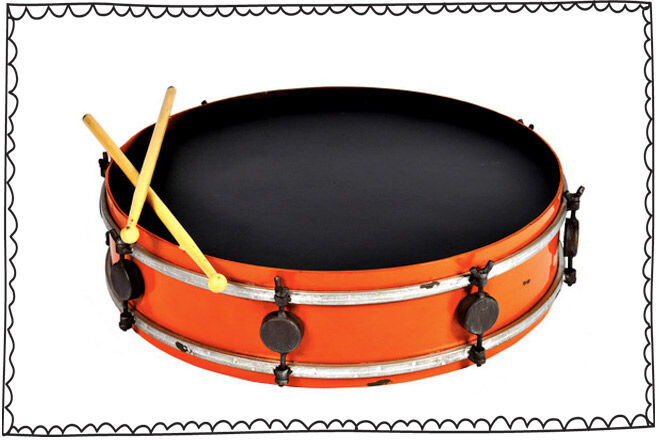 Hands off little drummer boys and girls, this drum chalkboard is for hanging on the wall and writing notes, not playing!
9.  tinyme Wall Organiser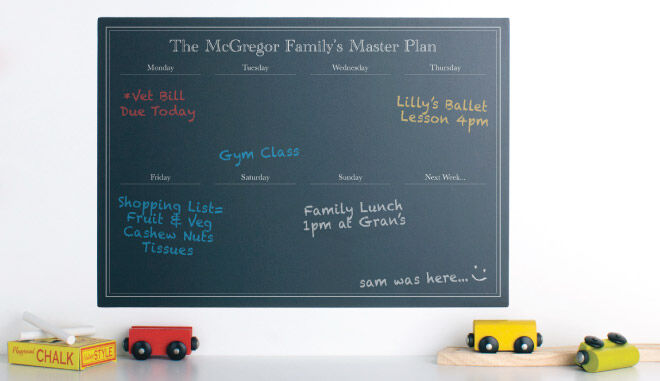 Organise the family with one of tinyme's personalised chalkboard wall planners.
10. Chalkboard Coasters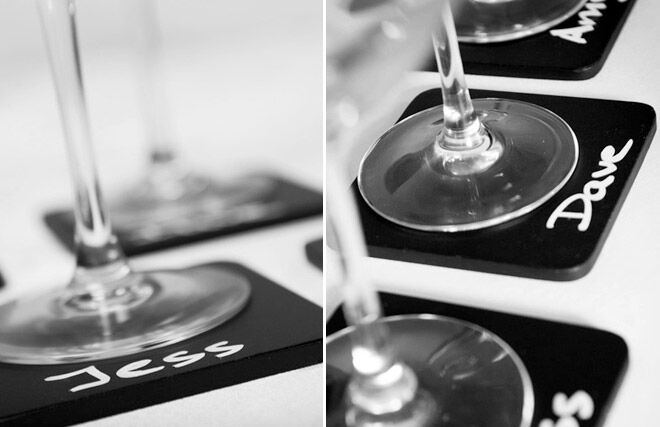 A cute alternative to place cards: chalkboard coasters ($29)
11. Chalkboard Play Table
Save money on paper and let them draw on the table instead! This versatile Hip Kids Chalkboard Activity Table also has room for all your craft supplies ($159).
12. Chalkboard Drawers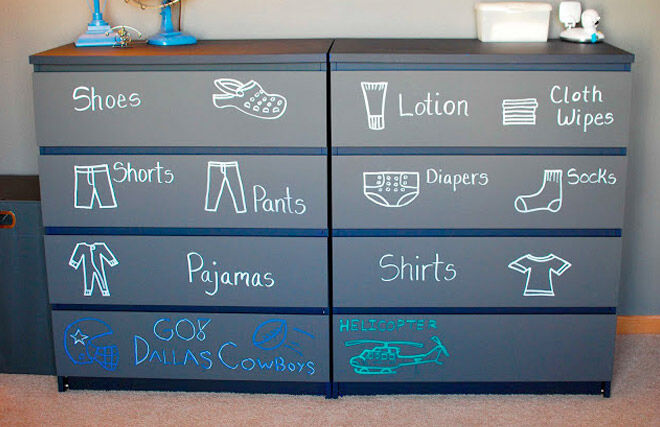 Help kids learn where to find their own PJs (or give Dad a few clues for putting away the washing), by painting an IKEA chest of drawers with chalkboard paint – like this one over at mcbabybump.
13. Chalkboard Nesting Dolls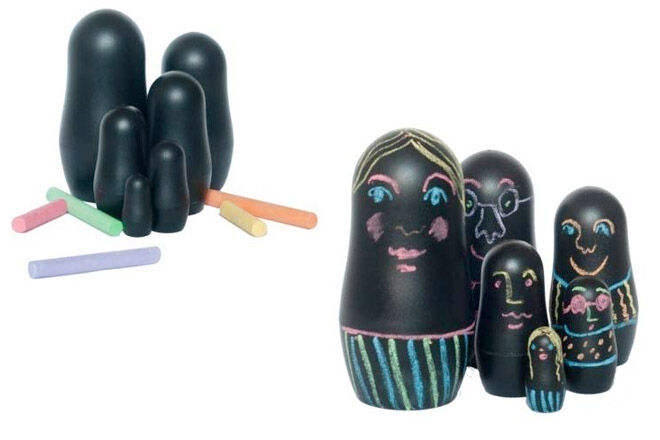 Create a funky family and then erase them and start all over again, with Chalkboard Nesting Dolls ($30)
14. Chalkboard World Map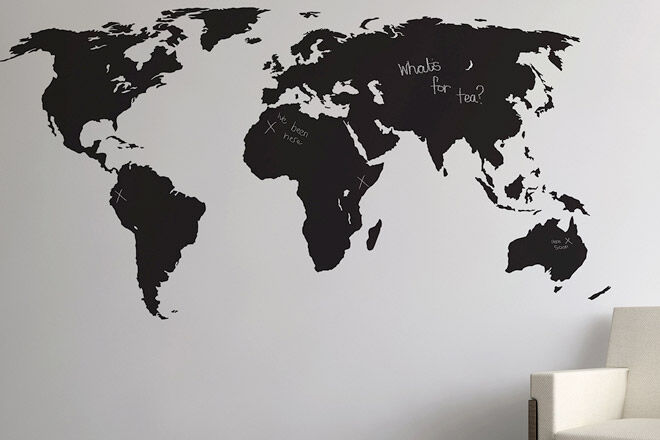 Mark off holidays, dream destinations favourite places with a Chalkboard World Map ($58.99)
15. Chalkboard Table Runner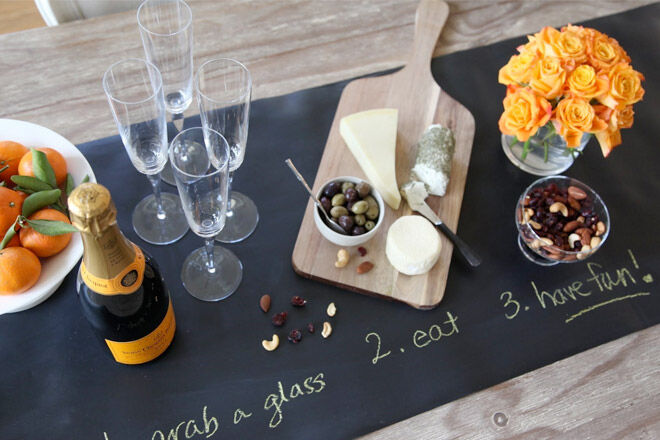 Tell your party guests what's on the menu with a chalkboard table runner ($31.95)
16. Chalkboard Stool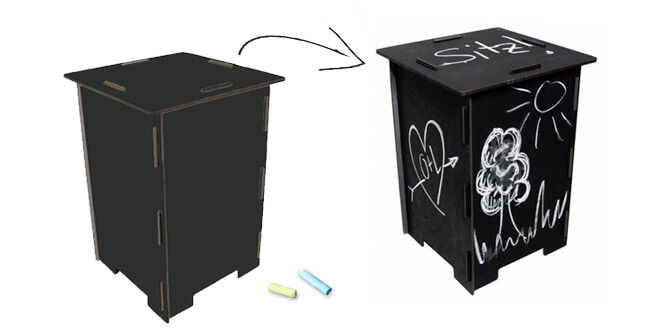 This Werkhaus chalkboard stool ($55.95) is great in theory – but probably best not to write on the top unless you're happy to sport your kids' designs on your rear. Maybe better as a side table?
17. Organisation Station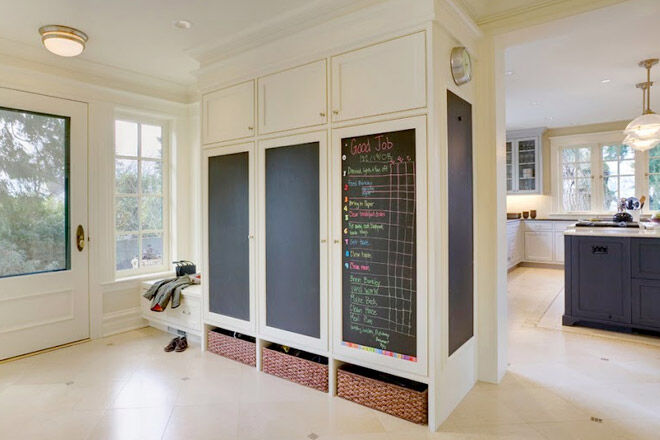 Keep everyone ship-shape by painting a hall cupboard in your entryway with chalkboard paint. Use it to keep track of your calendar, reward charts and school reminders. Coats, hats and bags are kept inside and shoes go in the baskets below. Via Menter Architects.
18. Spice Jars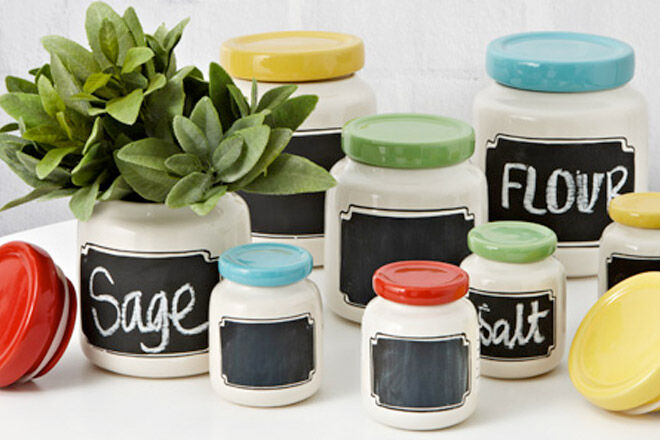 Spice things up with chalkboard spice jars from Freedom (from $12.95)
 19. Coloured Chalkboard Paint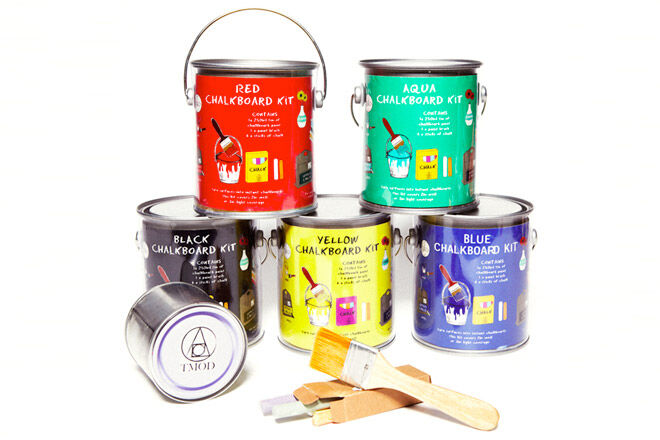 Don't get stuck with boring black. Chalkboard paint now comes in a rainbow of colours, so you can create your kids' dream blackboard wall without turning their room in to a gloomy cave. We vote for aqua!