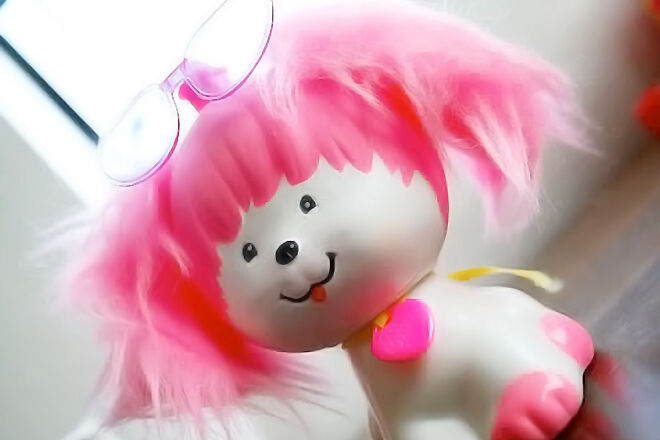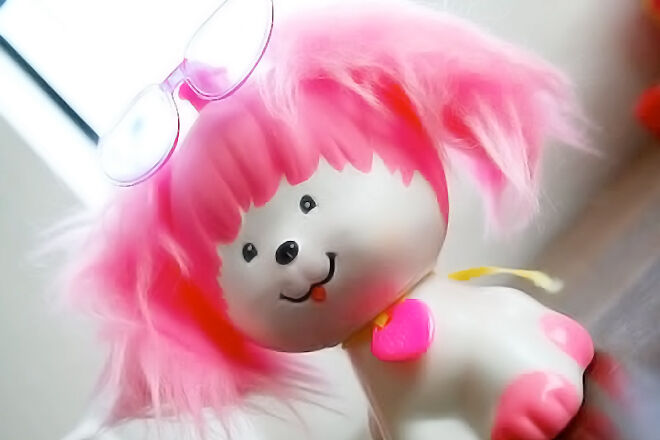 There are some classic toys that have stood the test of time – LEGO, My Little Pony, Cabbage Patch Dolls, Mr Potato Head – beloved by both the old and new generation. And there are some toys that have simply disappeared. No less loved, no less perfect but somehow they can now only be found in battered boxes in our parent's attic or with exorbitant price tags on eBay.
Come with us on a trip down memory lane as we share 20 perfect toys from our childhood that need to come back.
1. Fisher-Price Classics Record Player
Hey Mr DJ, put a record on I wanna dance with my baby…  Here's the thing, we can't even remember what the records played but can recall with the most precise detail placing a record on the player and putting the needle on. Selecting on a song on your iPad will never be as satisfying.
2. Tomy Fashion Plates
Where countless dreams of being a fashion design begin. Mix n match the delightfully hippy designs – wouldya look at that long frilly skirt? Place a piece of paper over the top of the pates and colour in. There were even "textured" plates so you could choose between such fashionable fabrics as plaid, polka dot or flowers.
3. Unisonic See Through Trimline Telephone
Talking to your eighth grade BFF all night was so cool if you had this see-through phone. Twirling your finger through the cord, whilst discussing whether Matt or Luke Goss is cuter, is a joy modern youngsters will never experience. One of the MGV team had this phone, and we are all retrospectively jealous.
4. Waterful Ring Toss
The pre-Teris game that turned small children into obsessives. What made Waterful Ring-Toss so addictive was that it looked easy but was absolutely impossible. Just one more go! One more, I'll get them all this time… We'd be shocked if this doesn't exist as some kind of app now.
5. Charm Bracelets
Then you were seven, these plastic charms were the height of sophistication and glamour. It was all about collecting as many as you could find, then mixing and matching the charms for the right combination of playful yet elegant. And a plastic saxophone is about as elegant and worldly as a fourth grader gets.
6. Pen Holder
The sensation of grade five class. Everyone had their Herlitz Hedgehog Pen Holder on their desk, right next to their Itty Bitty Bin. This is how you desk accessories, late 80s-style.
7. Barbie and the Rockers
Everyone has their own "ultimate" Barbie: that one specific Barbie that will always mean elegance, adventure and the ultimate fantasy. Here at Mum's Grapevine, we couldn't decide between Twirly Curls Barbie, Crystal Barbie and Astronaut Barbie… But in the end we picked the Rockers cos this is the slammin' jam that came on the free cassette tape with the Barbie and the Rockers range.
8. Barbie Star Traveller
Everyone has their favourite Barbie accessory and, for us, it was the Barbie Star Traveller. A massive yellow camper, complete with kitchen, bedroom and closet, and even a "deck" on top for sunbathing and barbecuing. Aaaah the 80s, when every Barbie accessory wasn't pink.
9. P'jammer Alarm Clock Radio
The most 80s alarm clock ever. Kids today will never know the pain of shifting slowly back and forth with the FM knob to get the perfect reception for  Casey Kasem's Top 40. It even has a special compartment on the side to store your headphones.
10. Kenner Tree Tots Family Tree House
We're cheating a little bit as the magical Family Treehouse has been relaunched by Klorofil Magicland. However, the new version no longer features the glorious 70s interior: yellow walls, hanging ferns, orange tiles and a television that is so small it sits on a standard size bookshelf.
11. Fisher-Price Classics Two Tune TV
Back in the old days when there was one wood-panelled TV in the living room, this served as your televisual entertainment in the bedroom. Turn the knob to change the scene! Youngsters these days would likely swipe at the screen and end up bemused when nothing happened.
12. She-Ra: Princess of Power
Forget He-Man, his twin sister She-Ra is where it's at. She-Ra, alongside her steed Swift Wind, led a group of freedom fighters known as the Great Rebellion to free her homeworld of Etheria. How awesome is that?
13. Watchimals
Is it a watch? Is it an animal? By George, it's both! 80s kids strapped this on and waited very impatiently for someone to ask the time.
14. Fluppy Dogs
A dog that will actually sit still whilst you cuddle and squeeze it and comb its hair. Although it looks rather like a mop head that has been fashioned in to the shape of a puppy, for some reason we had to have one.
15. Le Clic
There was a fad in the 80s for adding "Le" in front of lifestyle products to give them an air of European sophistication, hence "Le Clic", so chic! Le Clic used disk film which made it incredibly techy and modern.
16. Sweet Secrets
Cute little doll right? Gotcha! Sweet Secrets were actually little dollies and animals that transformed into jewelled cases, jewellery, and makeup.
17. Takara Rock' N Flowers
Back in our day, a flower that dances along with music was almost too much to comprehend, let alone one that is wearing sunglasses and holding a guitar, madness! We simply could not comprehend the technology that allowed the Takara Rock' N Flower to bop along to music on its own accord. What is this witchcraft?!
18. Poochie
Whatever happened to Poochie? It's one of life's great mysteries, disappearing into the ether whilst My Little Pony and Care Bears went from strength to strength. This cute little pup with pink ears and distinctive heart-shaped sunglasses perched on her head personified sassiness. We always loved the Poochie stamp set.
19. Sharp QT50 Boombox Radio
Forget iPods and iPads and Spotify, if you wanted to listen to music in your bedroom when we were young, you needed to beg and plead for mum and dad to get you a boombox… and a bunch of blank tapes. That way you can create your own mix tape by recording your favourite songs off the radio. The real skill was hitting record in the nanosecond after the DJ stops talking and when the song starts.
20. Pound Puppies
If Poochie represented uptown glam, Pound Puppies were downtown street style. Needing a new home, a bit muttley but you knew they would love you as much as you loved them. And you know what was even cuter than Pound Puppies? Pound Puppies newborns! Puppies that are even more puppyish than puppies!