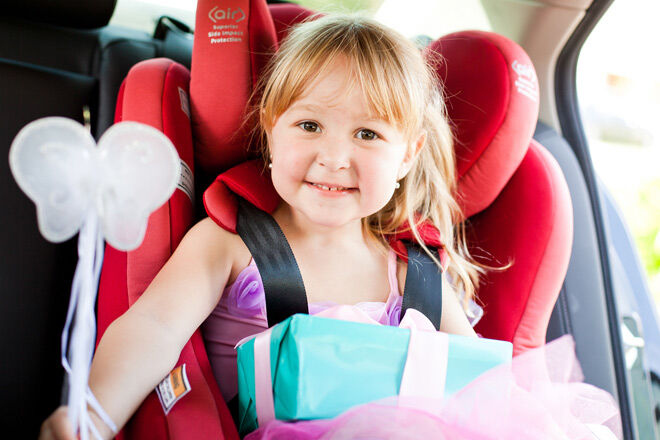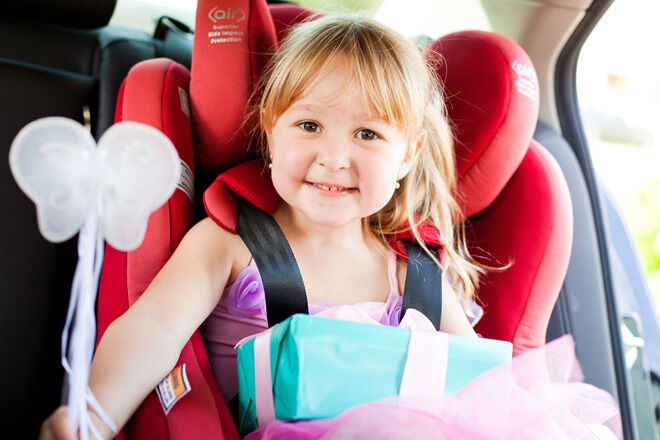 This article was last updated: 18 December 2017
Australian car seat rules and laws for children used to be incredibly complex, varying from State to State. But in recent years, Australian States and Territories have got together over coffee and muffins and worked out uniform child restraint laws across the country.
The basic rules are:
Babies must be in a rearward-facing child restraint until they are 6 months old.
From 6 months to 4 years, you can use either a rearward-facing or a forward-facing child restraint.
From ages 4 to 7, use either a forward-facing child restraint or, when they have outgrown that, an approved booster seat.
Kids aged 7 and older should be in an approved booster until they outgrow it, then they can use an adult seatbelt (as long as they're tall enough for it to fit properly).
But there's still a bit to know, so here's our overview of what the rules mean and how to safely secure your children.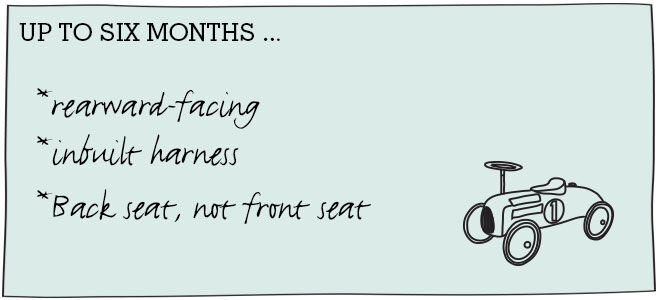 Children up to six months old must use an approved rearward-facing infant restraint. This type of restraint is held in place by a seatbelt or ISOFIX anchor, and the top tether strap, with the baby facing the rear of the vehicle, and has an inbuilt harness system.
Children up to six months must not travel in the front seat of a vehicle that has two or more rows of seats. A rearward-facing restraint can be fitted to a vehicle with only one row of seats as long as there is no airbag in that position and a child restraint anchorage point is available.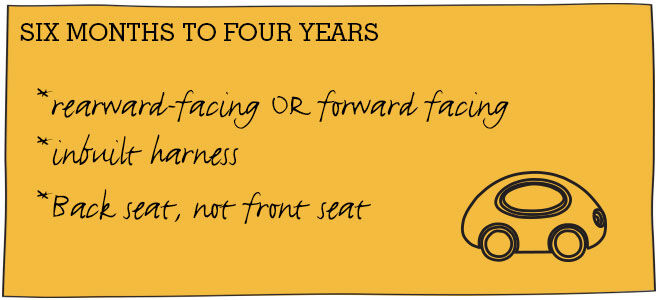 Children six months to four years may use either:
An approved rearward-facing infant restraint.
An approved forward-facing child safety seat with an inbuilt harness. A forward facing restraint is held in place by a seatbelt or ISOFIX anchor, and a top tether strap. The seat faces forward and incorporates a six-point harness.
Children in this age group must not travel in the front seat of a vehicle that has two or more rows of seats.
Note: Whilst the law states that children can be forward-facing from 6 months, many safety groups recommend keeping children rear-facing for as long as possible, until the child outgrows the restraint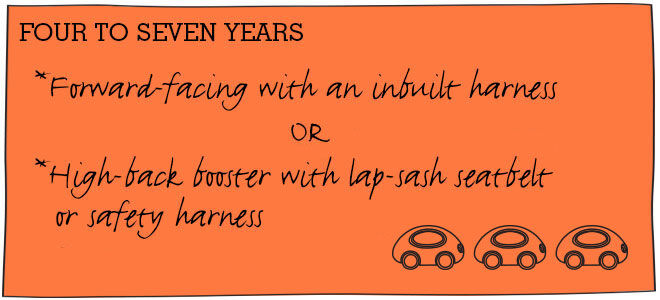 Children aged four years up to seven years may use either:
An approved forward-facing child safety seat with an inbuilt harness.
An approved booster seat with either a lap-sash seatbelt or child safety harness.
Children from four to seven years of age can only sit in the front row of a vehicle with two or more rows when all other seats are occupied by children younger than seven in an approved child restraint.
Booster seats
If the booster seat comes with a tether strap, it must be anchored to the child restraint anchorage point. However some booster seats that meet the Australian Standard (AS/NZS 1754) do not come with a tether strap and therefore do not need to be anchored in the vehicle. Children in booster seats must be restrained by a suitable lap and sash type approved seatbelt that is properly adjusted and fastened, or by a suitable approved child safety harness that is properly adjusted and fastened.
Booster cushions
Booster cushions have been deleted from the 2010 version of the Australian Standard for child restraints (AS/NZS 1754) because they provide no side impact protection in a crash. Although booster cushions are no longer allowed to be manufactured in Australia, they are still legal to use.
Dickey seats
A 'dickey seat' is a retro fitted seat that is usually fitted to the cargo area of a station wagon, for small passengers. Children aged four years and older are allowed to ride in dikkie seats, however they do not offer the same level of protection as a booster seat as there's no side impact protection. A child safety harness must be used on a dikkie seat that has only a lap belt fitted.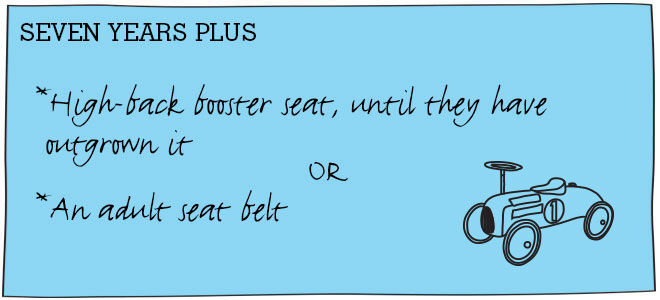 Children aged seven years and older may use either:
An approved booster seat with either a lap-sash seatbelt or child safety harness.
An adult seatbelt.
Booster seat
If a child is over seven years and still fits in a booster seat, they should still continue using it until they have outgrown it, and are tall enough for the adult seatbelt to fit properly.
Seatbelt
A seatbelt fits your child properly if:
The sash part of the seatbelt sits flat on the shoulder without touching the face or neck.
The lap part of the seatbelt crosses low over the hips, not the abdomen.
It's not twisted.
All the slack is removed.
Legs of the child hang over the front of the seat when sitting right back.
If the child outgrows their current booster seat and is still unable to wear the adult seatbelt correctly, it may be possible to obtain a larger booster seat. Lap-sash seatbelts provide greater protection than lap-only seatbelts. If there is a lap-only seatbelt in your car, it can be used with a properly fitting child safety harness.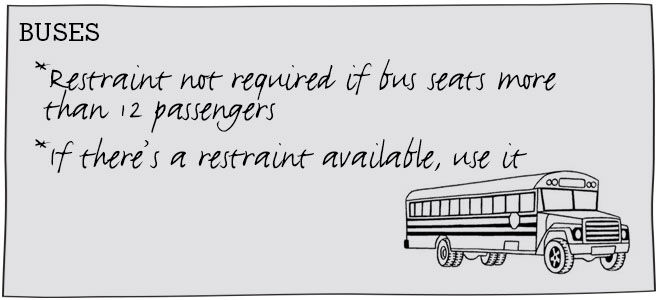 A driver of a bus designed to seat over 12 adults is not required to ensure passengers are in a restraint. However if there's a restraint is available, it should be worn.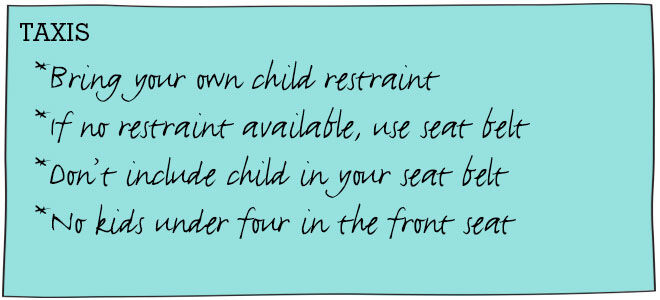 Not all taxis will have a child restraint however all taxis do have an anchor bolt. It is recommended you provide your own child restraint:
Children aged under 1 year do not have to use a child restraint, but they must travel in the back seat. (Except in NSW, where all passengers younger than 12 months must be secured in a child restraint). A parent/carer without a child restraint should not include the child in their seatbelt.
Children aged 1 year and over must be seated in their own seating position in a taxi, with their own properly fastened seatbelt if no suitable child restraint or booster seat is available in the taxi.
No passenger under four years old may sit in the front seat.
A child aged between four and seven years may only sit in the front row if all of the other seats in the row or rows behind the front row are occupied by passengers who are also under seven years old.
Choosing a safe restraint
Approved child restraints must comply with Australian Standard (AS/NZS1754:2010) and all restraints sold in Australia must meet with strict requirements covering materials, design, construction, performance, testing and labelling.
You should use a restraint that is appropriate for your child's age and size. Child restraints that are compliant with this new Standard (AS/NZS1754:2010) include shoulder height markers to ensure appropriate use of the seat. The markers indicate when a child has outgrown his or her restraint. Once the child's shoulders reach the seat height limit of the restraint, the child should move up to the next type of restraint where his or her shoulders are in line with or above the lowest marker.
Child restraints and booster seats purchased overseas, including ISOFIX compatible child restraints, do not comply with the Australian Standard for child restraints: AS/NZS 1754. This standard is one of the most stringent child restraint standards in the world. Unlike the European Standard, the Australian standard requires all restraints to be tested in side and rear impact tests and some with inverted test for roll-over protection.
ISOFIX brackets, which feature in most vehicles imported to Australia, were officially approved for use in Australia last year. The ISOFIX system provides a safe and easy way to install a child car seat correctly without the need of vehicle seat belts. Maxi-Cosi has now released the first Australian approved ISOFIX compatible car seat system, and it's likely more brands will follow.
Using a second-hand restraint
If you are considering using a second-hand child restraint or booster seat check that:
It meets AS/NZS 1754, version 1995, 2000, 2004, 2010 and 2013 (look for this information on the restraint).
It has not been in a serious crash.
It is not more than ten years old.
All the parts, including the instruction booklet, are included.
There are no splits, cracks or stress marks on the restraint shell.
The straps are not frayed, worn or damaged.
The buckles work smoothly.
What if my child is too big?
The rules refer to age (instead of size, height and weight). However, the current laws also acknowledge that there can be wide variations in the height and weight of children of the same age.
If your child is too small for the child restraint specified for their age, they should be kept in their current child restraint until it is safe for them to move to the next level. Likewise, if your child is too large, they may move to the next level of child restraint.
For more information
Child Car Seats is supported by Transport for NSW, the NRMA, Royal Automobile Club of Victoria, Transport Accident Commission, VicRoads and Kidsafe Australia, and provides guidance and support about how to choose the safest restraint for your child. The program rates child restraints and booster seats according to how well they protect your child in a crash, and how easy they are to use.
National Child Restraint Guidelines have been developed by Neuroscience Research Australia (NeuRA) and Kidsafe – The Child Accident Prevention Foundation of Australia.
Other helpful resources include:
Transport for New South Wales: Choose correct restraint for child's age and size
Queensland Government Department of Transport and Main Roads: Choosing a child restraint
Tasmania Department of State Growth:  Child Restraints – A Guide to Car Seats
South Australia Department of Planning, Transport and Infrastructure: Seat Belts and Child Restraints
Northern Territory Government: Child restraints
WA Roadwise: Child car restraints
This post was last updated in December 2017. Whilst we've done our best to interpret the relevant laws, please make sure you check the official sites above to make sure this information is ship-shape and current. Happy travels!