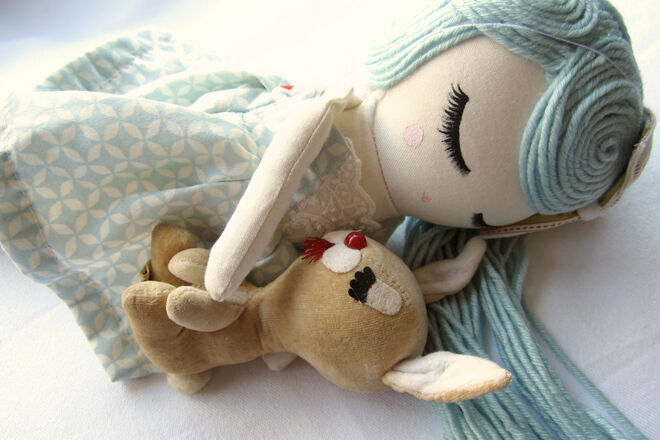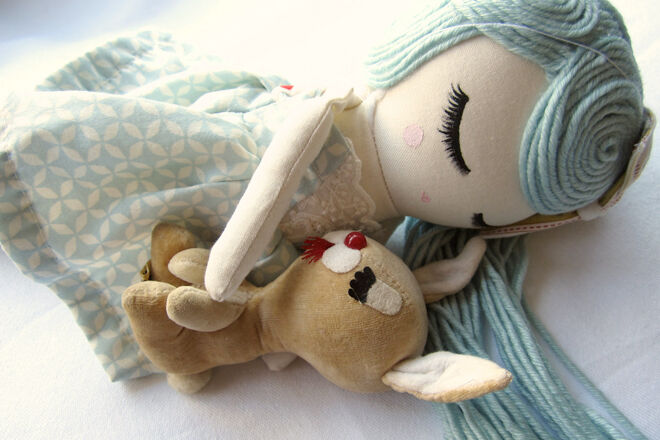 A beautiful rag doll is the perfect childhood friend. Whether being pushed around in a toy pram, dragged up into a treehouse or being tucked into bed at night, they're a constant playmate and their soft arms are always ready for cuddles.
Fabric dolls may be the most patient, kind and understanding friends we've ever had. Sometimes they are passed from parent to child as a family keepsake, and often held onto long after the imaginary tea parties have ended.
Here are 27 rag dolls who are ready for new friends and a life of adventure.
1. Silver Cross Ruby Dressing Up Doll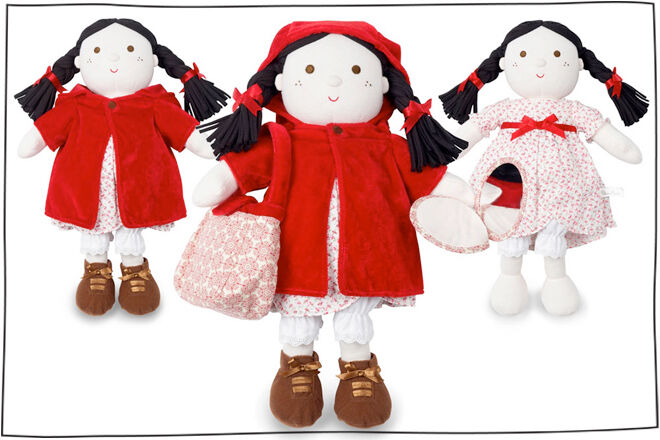 The Ruby Dressing Up Doll ($69.95) has a Little Red Riding Hood vibe that's perfect for fairytale make-believe. She comes with a velvet cape with hood, floral dress with bloomers and shoes, fabric compact wtih safety mirror and shoulder bag.
2. Nana Huchy Rag Dolls
Nana Huchy has a beautiful collection of rag dolls to meet the whim of every imaginative child, including Boris the Pirate ($25.50), Valentina Ballerina ($49.50) and Hannah Rag Doll ($25.50) with her hair in pigtails.
3. PinkNounou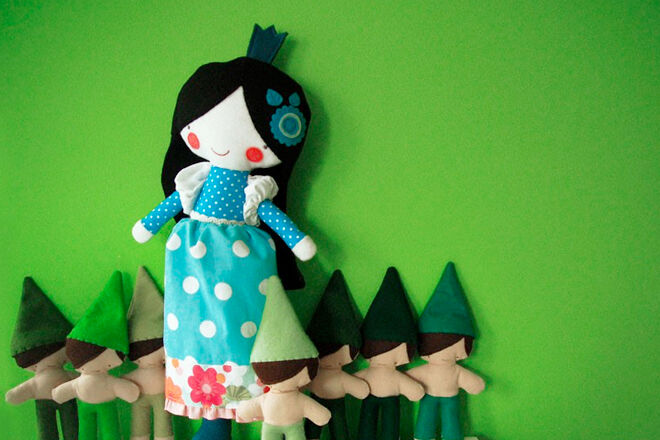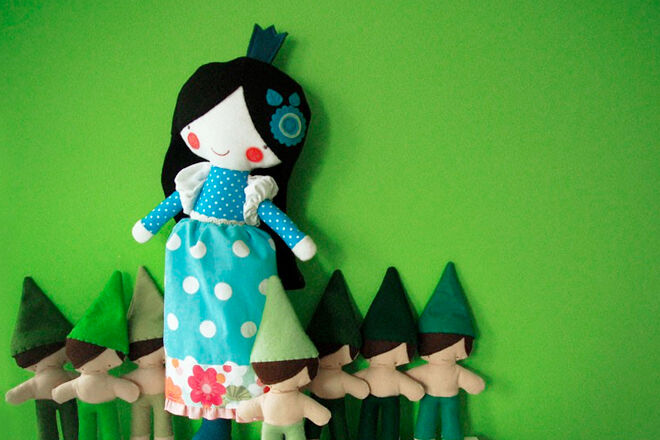 Pink Nounou dolls are handmade in Portugal and feature oversized, apple-cheeked faces and beautiful stitching and details.
4. The Busl Barn
These custom rag dolls (from US$65) from The Busl Barn are hand-embroidered along with the child's name on the back of the doll's dress.
5. Tiger Tribe
Tiger Tribe is an Australian company who make these cutesy rag dolls ($39.95 each) from soft cotton.
6. French dolls at Spirited Mama
The French ribbon elves and Romantiques (from $69.95) from Spirited Mama have a circusy, old-fashioned feel.
7. Alimrose Designs
Alimrose Designs offer an adorable range including this Cowboy Doll ($48.95) and Beth Doll ($29.95).
8. Walnut Animal Society
The Walnut Animal Society ($115 each) might let you join if you know the secret handshake! Okay, it's a cuddle and they love it. Eleanor the Bear, Chester the Raccoon, Magnolia the Bunny, Henry the Fox and Ruthie the Deer would love some new friends.
9. Roving Ovine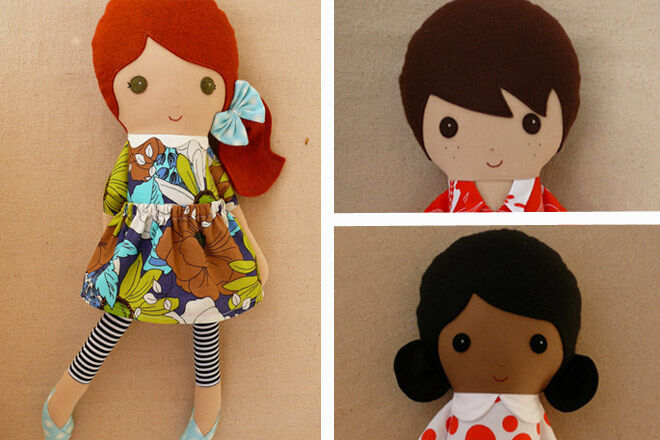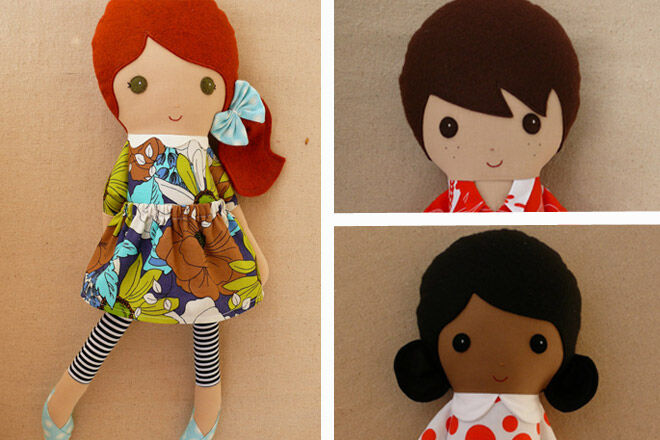 Roving Ovine make these unique, one-of-a-kind handmade dolls (from $40.35) from quality materials with original patterns and designs. They also do custom orders, so get creative!
10. Gaiia Kim
These Handmade rag dolls by Gaiia Kim have a certain elegance. The "Les Années Folles" doll (left) was inspired by The Great Gatsby although we're not sure how many kids have read Fitzgerald's homage to the jazz age and the end of decadence.
11. Riley Construction
Riley Construction rag dolls (US$48) are all made by hand and combine Riley's heritage techniques with a fresh, modern outlook. We love the "Hipster Girl Rag Doll" range (bottom left). According to Riley, Hipster Girl is learning to play the banjo and loves to thrift shop.
12. Ebulobo Circus Betty
Circus Betty the Tightrope Doll ($44.95) has run away from the Circus and wants a new friend! Betty has a removable cape and tutu. We love the golden ballet shoes too.
13. Lalanka
The Lalanka play doll ($49.95) is a beautifully-made doll from Poland. That lovely long plait and big blue eyes are so charming! There's even a matching little girl's dress ($49.95) to go with the doll!
14. Pottery Barn
These International Designer Dolls ($129) from Pottery Barn are perfect for adventurers who long to travel.
15. Raggidy Rag Dolls
There's a Raggidy Rag Doll (from $95) for every possible adventure: pirates, cowboys, or simply cuddles and exploring the backyard.
16. Mend by Ruby Grace
Mend Cloth Dolls by Ruby Grace (from US$100) are created with repurposed and vintage fabrics. They feature hand-painted faces and customers can choose what colour hair or clothing they would like, so every doll is one-of-a-kind.
17. Lucky Boy Sunday
Lucky Boy Sunday art toys (starting from $69.95) have a kooky sensibility inspired by "an artistic take on the world of children". The brand's Danish designer are highly creative textile designers with backgrounds in fashion and art.
18. Miss Kiki of Cherry Blossom Lane
Miss Kiki of Cherry Blossom Lane is an Australian company that creates beautiful, handcrafted dolls (from $139.95) with designer fabrics, laces and embellishments. They can also be custom ordered, with the option of a hand-embroidered name or initial of your loved one.
19. Hazel Village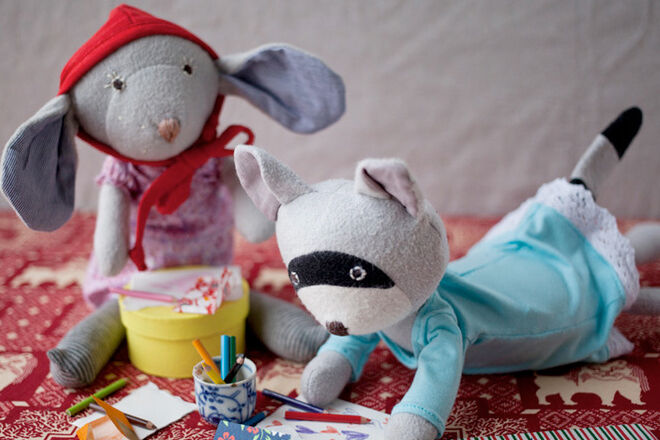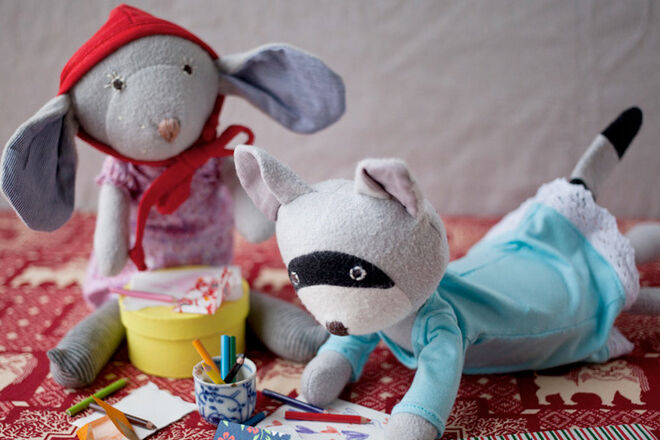 These cartoony and fun dolls by Hazel Village (from $42) are imagined as part of a little animal community. Check out their website for cute photo stories featuring the characters and their adventures.
20. Maileg Rabbits
The Maileg Rabbits (from $39.99) are available in both "mega" size and tiny fit-in-the-palm-of-your-hand size. We love their clothes which have a rural, farmyard feel.
21. Moulin Roty 'Les Parisiennes' rag dolls
Moulin Roty's 'Les Parisiennes' rag dolls (from $81.95) are crafted from a carefully selected assortment of co-coordinating fabrics and would look right at home strolling down a miniature Paris laneway.
22. Eclectic Critters
Eclectic Critters rag dolls (from $65) are bright and fun, kind of like what Powerpuff Girls would look like if they were hand-made.
23. Piggy Hates Panda
Piggy Hates Panda handmade huggables (from US$54) are crafted and customized with painstaking care and attention to detail to ensure that you'll have a lovable, kid-safe friend that's made to last. The "gentlemen" dolls are marvellous, it's not often you see a rag doll with such glorious facial hair.
24. Viola Studio
ViolaStudio Dolls are made from wool and their eyes, nose and mouth handstitched. This Zoe doll has a removable wool sweater, beret (to die for!), purse, socks and cotton dress. The plaits are simply gorgeous!
25. Nana Huchy Enchanted Fairies
These gorgeous little fairies – Trixie Belle, Twinkle Toes and Nancy Pancy ($35 each) are fresh from the enchanted forest and ready to make mischief!
26. The Kidstore dolls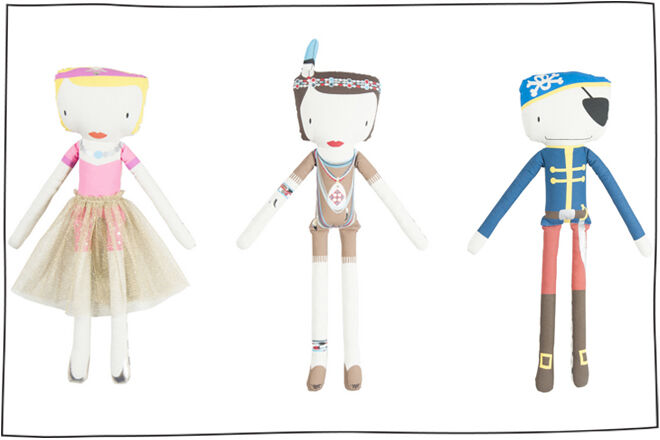 These adorable floppy dolls from The Kidstore ($15) are full of personality and won't break the bank!
27. Reversible dolls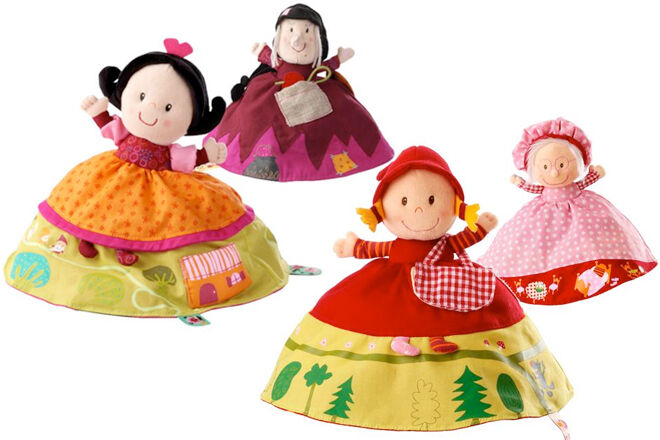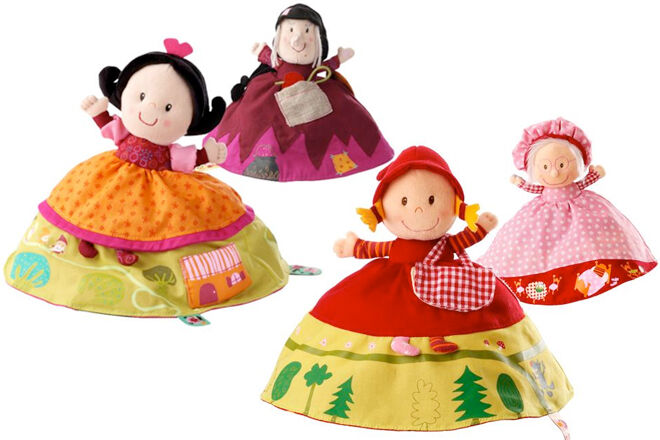 Double your fun with these reversible dolls (from $63.95). Turn dolly upside down and her skirt flips over to reveal another character in your puppet show.