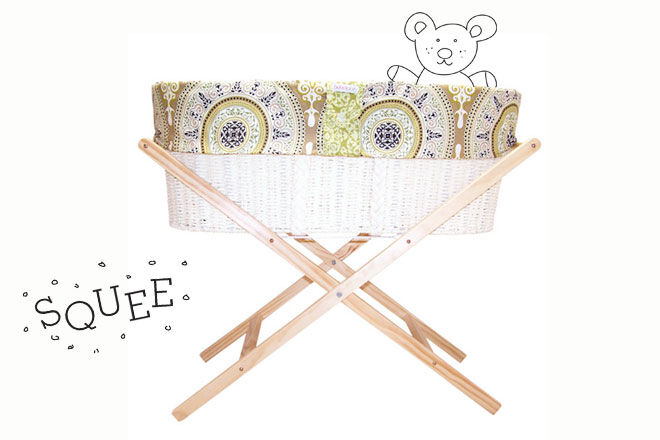 When a tradition lasts for thousands of years, you know there must be a reason. Babies have been sleeping in Moses baskets since … well … the time of Moses! These luxe contemporary versions from Bebelicious take everything that's right about Moses baskets and add in a huge dose of style and innovation.
The first thing you notice is the warm, natural feel. Made from paper rope over a wire frame, with strong woven and stitched handles for easy carrying, this beautifully hand-woven basket is covered with a reversible liner and comes with it's own mattress (either cotton-covered or organic Tetra tea tree). There's a matching fitted and flat sheet that comes with the set, so you won't have to worry about finding linen that fits, and the organic version comes with a soft bamboo fleece blanket, too.
Great for carrying from room-to-room and keeping baby with you during the day, it's also super portable for naps at Granny's house. You can place the basket directly in the cot for sleeps, or buy a lovely wooden stand – in either a space-saving folding version or soothing rocking design.
Available from Bebelicious (Moses baskets from $215, stands from $89).