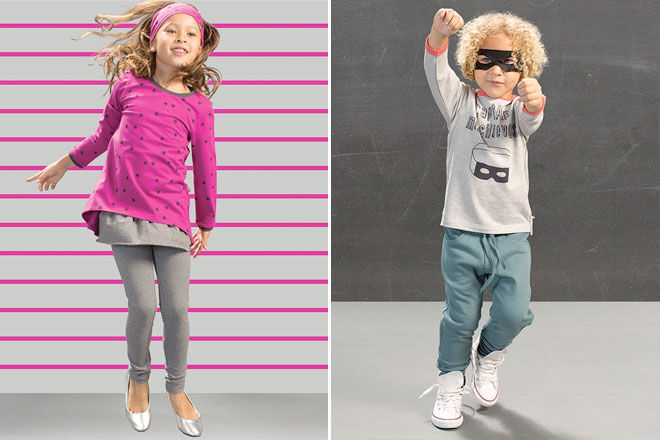 The temperature is imperceptibly dropping every day and we're finding each morning we're having to rethink our fashion choices. Out go the shorts and t-shirts, and in come the long sleeves. So we jumped with joy when we saw eeni meeni miini moh have released their winter 2014 collection.
For girls, it's all about ruffles. And lots of them. On hems, collars, pockets, sleeves … wherever they will fit! Eeni meeni miini moh dresses (from $59.95) remind us of pretty vintage night gowns, a kind of nod to Federation-era fashion with a modern twist.
Ponchos ($79.95) are back in, and ruffled coats ($139.95) are fitted but comfortable enough for running, jumping and getting into all kinds of mischief. We love muted palette of soft pink, tangerine, eggplant, charcoal, soft greys and Caribbean blue. We're also delighted to see a girls range in blues and greys. Pretty doesn't have to mean pink!
The boys range has a classic and timeless feel with cargo pants, shirts, pullovers and hoodies in neutral shades of olive, grey, blue and tangerine. The gauge knit pullovers with bear faces ($79.95) are our personal favourite and we also love the polo t-shirts (from $39.95) with a sewn in long undershirt to keep those arms nice and warm.
Fitted beanies and scarf collars (that don't require constant re-tying) are gorgeous accessories for active little tykes.
The eeni meeni miini moh babies range features those distinctive ruffles on the girls clothes and a squee-worthy hand-drawn rabbit (sorry, le lupin, so chic). Spots and stripes are still all the rage.
The boy babies range is slightly more utilitarian (no ruffles!) but snug and as comfy as can be. We think the absolute stand-out of the babies range is the fitted hats, with two knots at the top like floppy bunny ears. There's also a version that snaps under the chin to keep the hat in place and heads toasty.
Available now from eeni meeni miini moh.