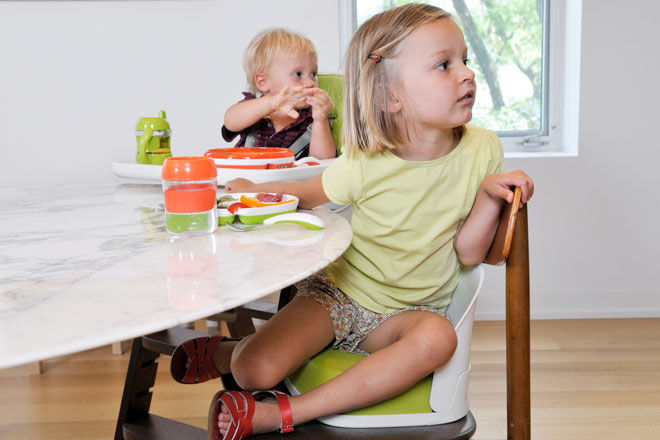 Ultra modern eating accessory makers OXO Tot have launched a huge new collection of products. We love the sleek lines and minimalist approach, with just a hint of colour to keep things playful.
OXO Tot also keep things practical: finding solutions for the small day-to-day annoyances that bothered you more than you realise, now that you know there's a solution. Tired of hurting your knees when bathing bub? Here's a Kneeling Mat ($22.99). Having trouble cleaning water bottle spouts? Here's a set of straw cleaners on a detachable ring ($9.99). Tatty wipes packets uglyfying your nappy change station? Here's a pretty white dispenser ($29.99). OXO Tot have thought of everything.
Here are some of our favourites from the new range.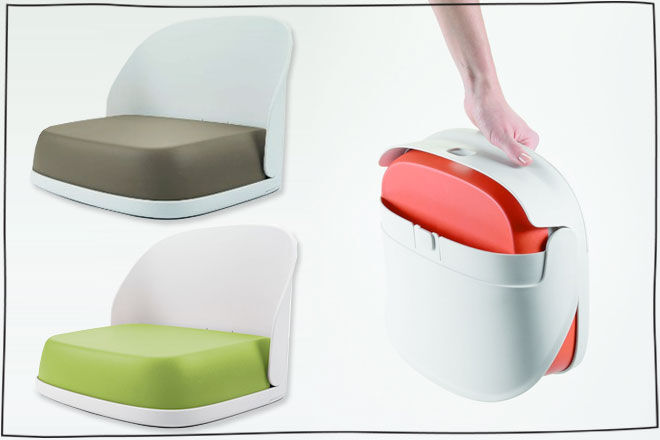 The OXO Tot Seedling youth booster seat is a comfy, soft cushioned seat with backrest for ages three and up. It can be easily folded up and transported for holidays or meals on the go.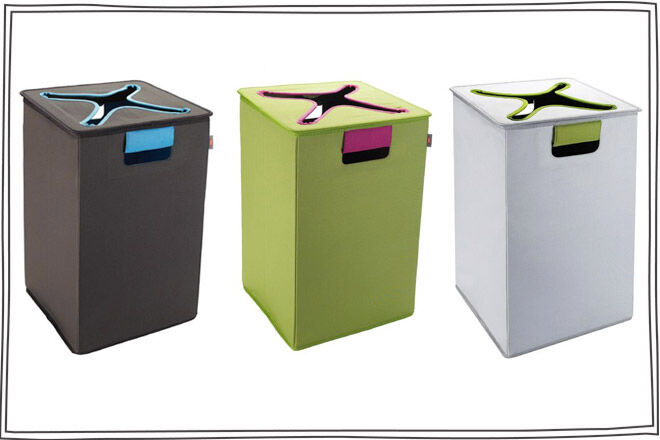 The Flip-In Bin ($39.99) features lid flaps that flex open and spring back gently. Not guaranteed to help you with your aim when lobbing dirty clothes towards it, but the lack of a lid will save you time and energy.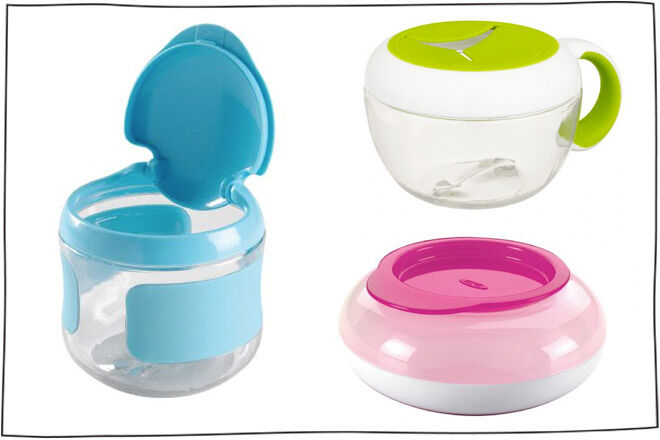 Snack attacks have never looked so cool! The Flip Top Snack Cup ($9.99), Flippy Snack Cup ($9.99) and Snack Disk ($9.99) are perfect for keeping little ones fed on the go.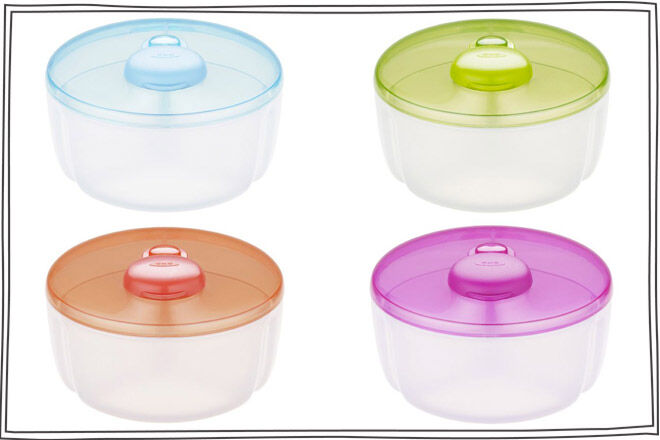 The OXO Tot Formula Dispensers ($9.99) can hold enough powdered formula for three feeds.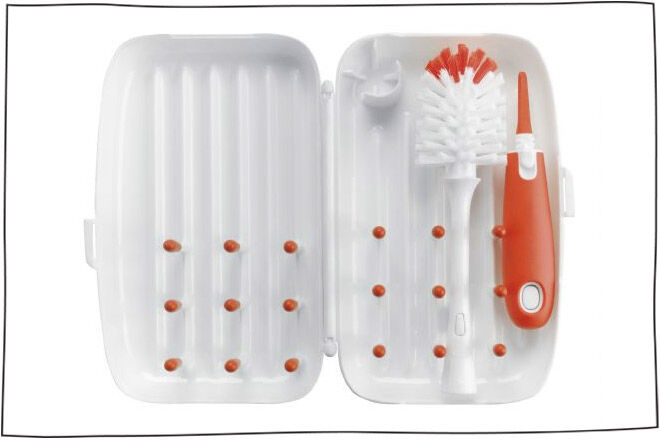 Why did we not know about this last time we went on holiday? The OXO Tot On-The-Go Drying Rack & Bottle Brush ($22.99) is an all-in-one portable solution for cleaning and drying bottles and pump parts.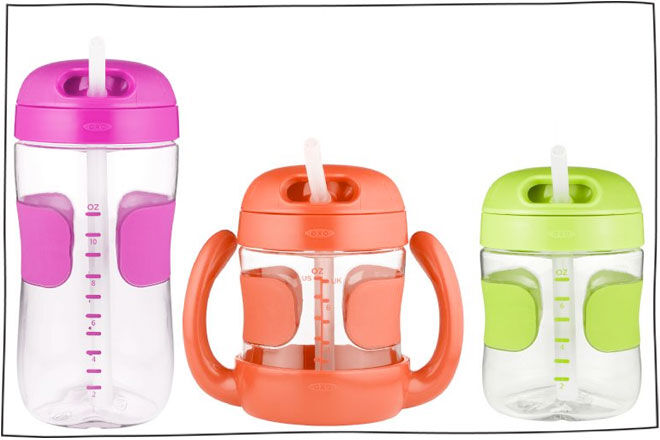 We're big fans of OXO TOT's sippy cups so it's great to see the range now includes straw cups (from $15.99) and twist top water bottles ($17.99).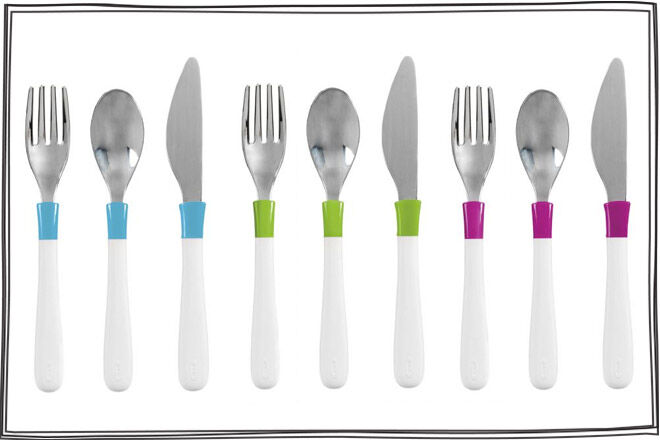 Too small for big cutlery but too big for small cutlery? Here's the solution. The OXO Tot Cutlery Set for Big Kids ($13.99) is great for transitioning tots to the grown-up table.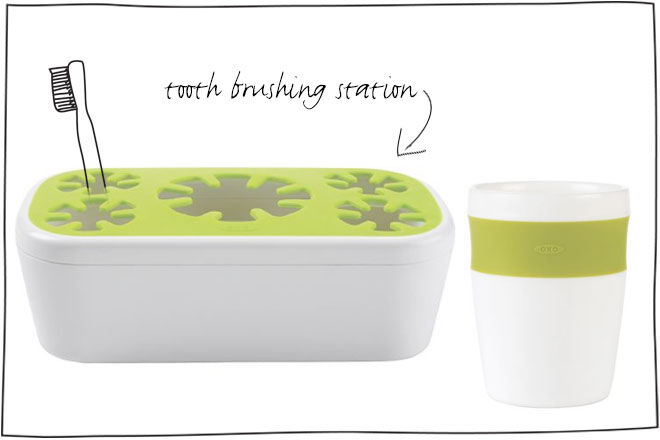 OXO Tot moves from your kitchen in to your bathroom with a kid-friendly Toothbrushing Station ($11.99) and non-slip grip Rinse Cup ($9.95). The toothbrush holder has non-slip feet and a weighted base to prevent tipping and flexible holes that 'grab' on to brushes and paste to keep them upright for easy access.