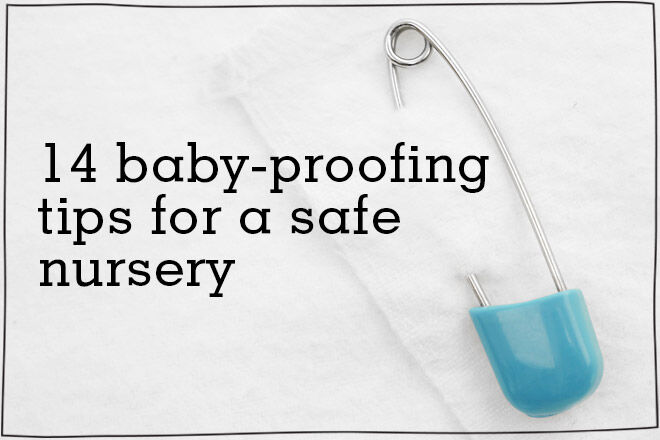 Mary Dawes from First Aid For You gives us the low-down on making your nursery safe for baby.
During our First Aid Courses, I'm often asked about baby-proofing: when and how. The short answer is, start baby-proofing as early as possible because before you know it your little one will be grabbing on to things, which is when accidents can occur. Here are 14 tips to help make your nursery and key parts of your home safe.
14 top baby-proofing tips
When buying nursery products, look for safety standards tags. Ensure that everything you're buying meets Australian safety codes.
If you're thinking of buying second hand, ask the seller for their instruction manuals and warranties. Prior to purchasing, check that there are no splinters and that the paint is not chipped. Little ones love to chew and suck on all manner of items.
A cot mattress should fit snugly into the cot, no more than two adult fingers should be able to slide down the side between the mattress and side of the cot.
Keep curtain cords tied up and out of reach. Little hands and teething mouths will find wooden or plastic toggles a delight – so make sure they are not accessible!
Place safety plugs in all power point outlets and keep power cords securely tucked away.
Never place a crib next to a heater or in an area that gets direct sunlight. Overheating is a known risk factor associated with SIDS.
Keep cribs, change tables and chests of drawers away from windows, by doing so you'll be removing temptation to climb towards the window.
Refrain from hanging artwork or objects on the wall above a cot – they could fall in to the cot if their fixings become unsuck. A baby who learns to pull themselves up could suddenly find these objects within reach.
In the bathroom, look for spout protectors to keep little hands away from potentially hot surfaces and look at storing medicines as high as possible or in a medicine safe – readily available online.
In the lounge room, place corner guards on coffee tables to prevent little heads banging against sharp corners.
In the kitchen, keep chemicals locked away and up high. Colourful liquids can look like a yummy treat to crawling babies and toddlers.
Change your perspective: Don't be afraid to crawl around in different rooms to see things from your baby's view, that way you'll spot anything tempting before they do!
Never, ever leave a child unattended when they are playing – especially if they're with a younger sibling. We know it may be tempting (and there is a time and a place when we need privacy) but making sure they are always within your eyesight is important. Remember all it takes is a matter of seconds for a baby or toddler to tug on a cord or attempt to pull up on a chest of drawers.