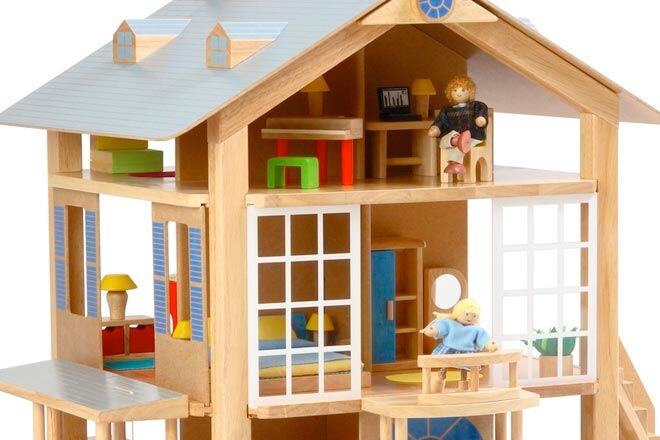 Call us crazy over here at Mum's Grapevine, but we never fully understood why doll houses are often seen as "girls toys". It's not as if only girls live in houses and boys instead live in parking garages, helicopter landing pads or railway stations… So why are so many doll houses pink from foundations to chimney?
We know that boys also love to play house, and that not every child (girl or boy) necessarily wants a doll house in every shade of pink and purple. Here are 21 of the best doll houses for both boys and girls to enjoy (and maybe Mummy too!).
1. Hip Kids Remi's Doll House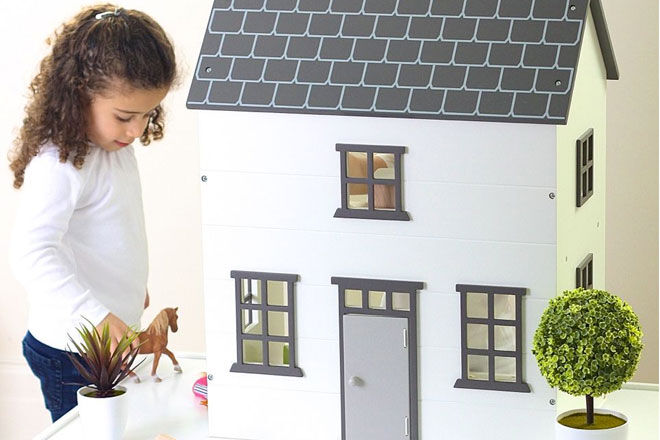 We love Hip Kids for their simple lines and focus on beautifully executed details. And their Remi's Doll House ($199 with dolls and furniture) is no different. Beautiful, clean white walls and charcoal highlights make this understated doll's house quite unique, we love it!
2. Plan Toys Chalet Dollhouse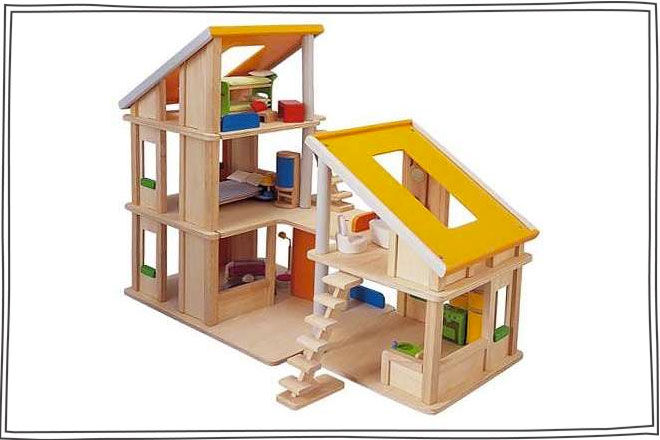 Plan Toys make a gorgeous range of doll houses but the Chalet Dollhouse ($235.90 with furniture) really caught our eye. It features sturdy materials that Plan Toys are known for, plus decorations in yellows, reds and blues, it kind of reminds us of the 70s. The house divides into two pieces that can be arranged in different patterns, a huge skylight and one movable staircase. Furniture is included.
3. MoMA Modern Playhouse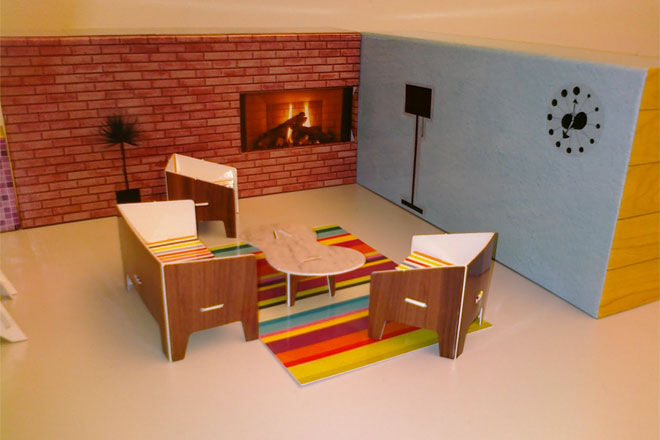 If Don Draper had a doll's house, this would be it. The 60s-inspired interior of the MoMA Modern Playhouse ($43) has us swooning! And it has some seriously hip credentials, this doll house was designed by the epicentre of New York City cool, the Museum of Modern Art (MoMA). Best of all, it can be folded away when not in use, although don't think we'd ever want to hide it away.
4. Klorofil Magic Treehouse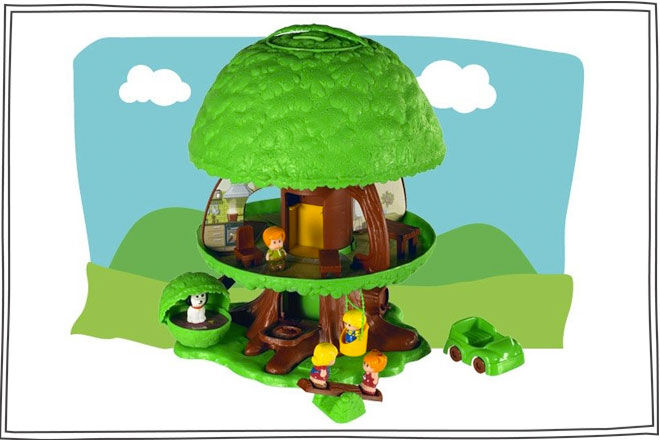 The Magic Treehouse is one of our childhood favourites, why did we ever let it go? Thankfully Klorofil have brought it back for the next generation. The Klorofil Magic Treehouse ($174) even features some modern extras: when the tree is opened up or closed, the whole of the countryside comes to life with gorgeous sounds of birds singing and a running river can be heard.
5. Le Toy Van Cherry Tree Hall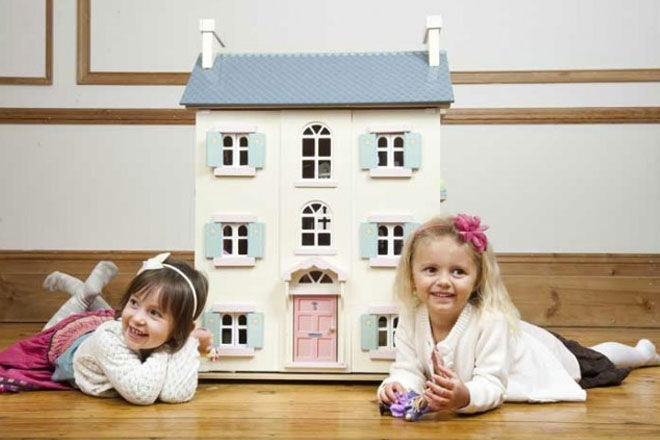 Le Toy Van make incredibly beautiful Victorian-style dollhouses that your children will want to keep forever. Cherry Tree Hall ($299, dolls and furniture are sold separately) is their largest doll house at 92cm high and four stories. The touches of pink and blue balance out nicely so we think both boys and girls will love it. It includes lovely little details including chimney stacks, staircases with banisters and functioning shutters. The back can be opened out for play, or closed to hide away mess!
6. Miniio Miniko doll house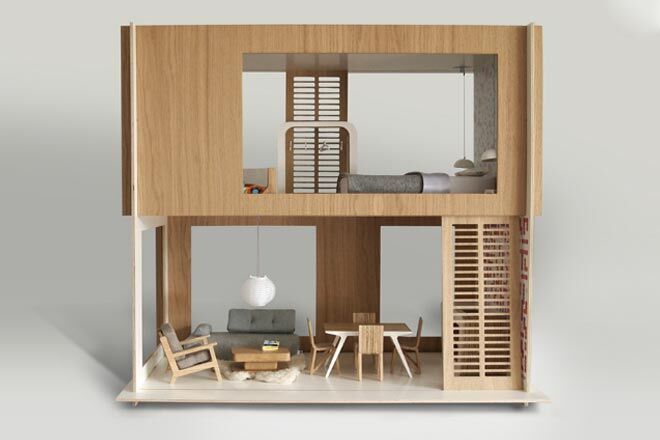 If you're looking for something a little more modern, Miniio's Miniko doll houses ($699) provides that ever-so-fashionable Nordic feel. Finished with natural beeswax and and including unbelievably luxe furniture and accessories, the Miniko doll house is perfect feel for budding design gurus with cash to splash.
7. Hape All Seasons Decked Out Doll House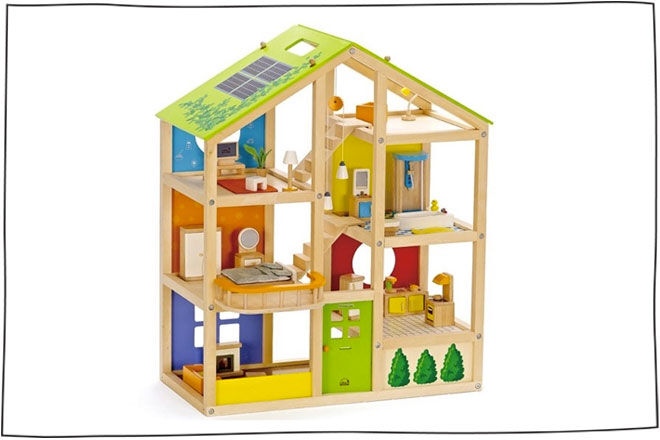 The Hape All Seasons Decked Out Doll House ($333 including family, pets and furniture) is a bright and open doll house with an environmental message. We adore the solar panels on the roof, a sign of modern times! The Hape All Seasons Decked Out Doll House comes with lots of furniture and a happy family to turn this house into a home.
8. Makedo Find and Make Dollhouse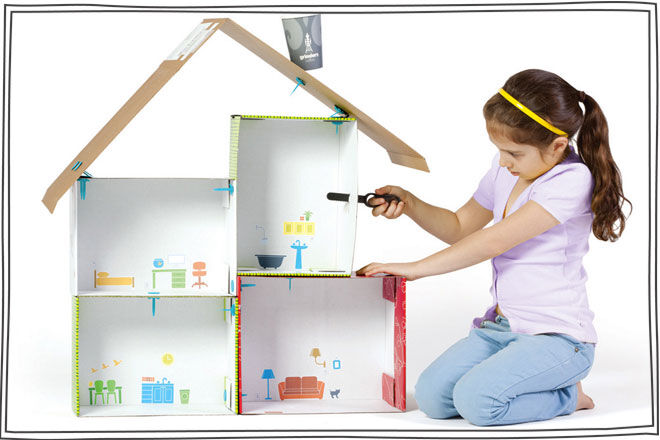 The Makedo Find and Make Dollhouse ($25) is the perfect way to keep little ones busy whilst upcycling old boxes. The Find and Make Dollhouse is a set of tools – including a plastic Safe-saw Re-clips and Lock-hinges – to help you connect your old boxes, creating a doll's house! Stickers are also included for decorating, as well as instructions to help the building process. The perfect time-waster for cooler winter months, this is just the thing for wannabe architects, engineers and builders.
9. Lundby Stockholm Doll's House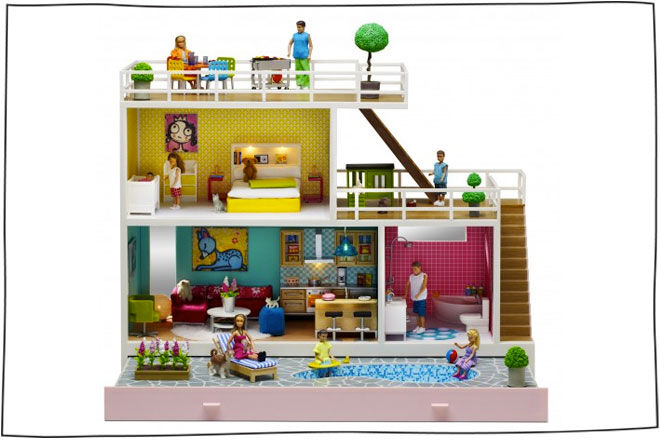 Lundby's Stockholm Doll House 2013 ($199.95) has been newly renovated and wow are we impressed, when can we move in? Complete with a rooftop deck, a swimming pool (that slides out of from a hidden drawer) and super hip interior decorations. It even includes working lights!
10. Sylvanian Families Log Cabin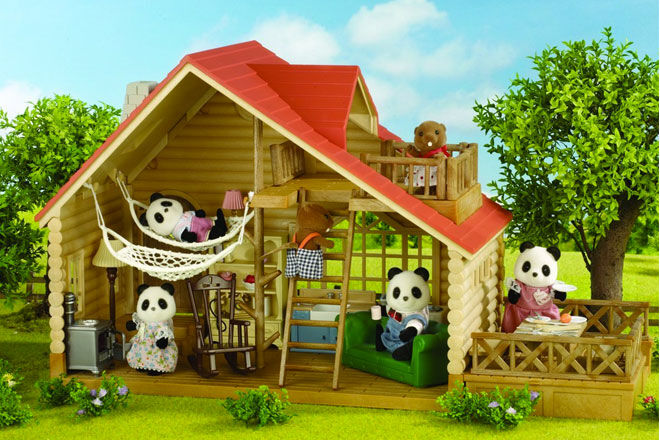 Sylvanian Families Log Cabin ($74.99, figures and accessories not included) is the perfect getaway for busy dolls needing a break. is the Sylvanians' favourite holiday hideaway. Packed with fun features designed to help stressed out dolls relax: including hammocks to sleep in, a sun deck for lounging and a hot tub for relaxing! That's the life.
11. Brinca Dada Dylan House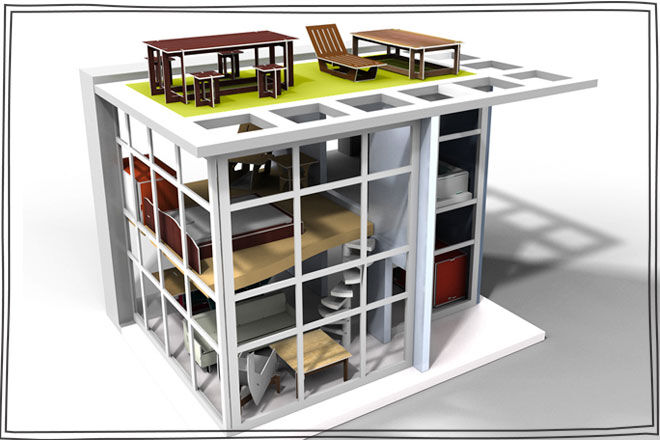 Brinca Dada's Dylan House ($170 with furniture) is a high concept doll house on steroids. Seriously, does it get more uber-fashionable than a toy house inspired by "the minimalist masterpieces of Paul Rudolph and Tadao Ando"? No, no it doesn't. With five living spaces on three levels, including a roof patio, you'll have trouble deciding if you should get this beautiful house for yourself or your munchkin!
12. Voila Large Doll House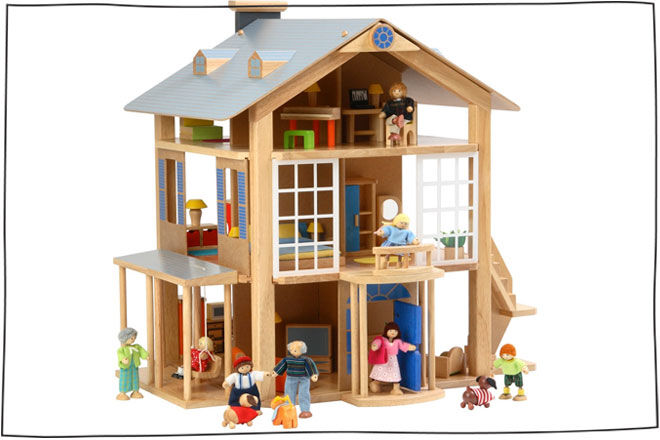 The Voila Large Doll House ($259, furniture set and dolls sold separately) is a lovely mix of open plan and tiny little nooks to inspire stories and play. We think this doll house if perfect for little ones who love movable objects and changing things up, as it includes three stories featuring four rooms each, a removable staircase, chimney, removable roof panels, sliding windows and doors and porches that can be arranged in a number of ways.
13. Avalan Kids Doll House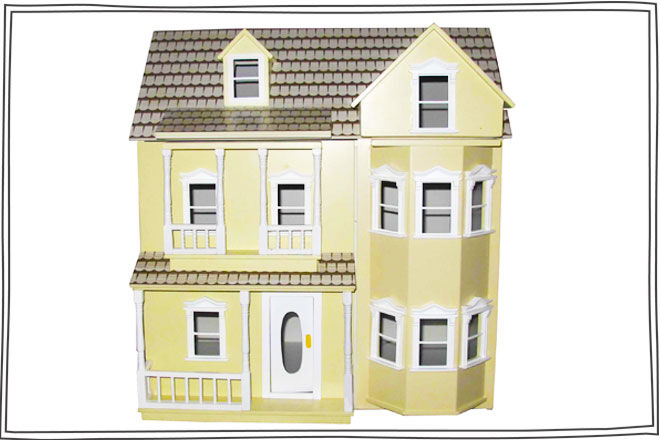 We love the Avalan Kids Doll House in yellow ($140) for its old fashioned-charm: this is the doll house for purists who love classic designs. It's especially hard to find "traditional" designs that aren't pink or purple these days so we think it's great Avalon also offer this beautiful house in a more neutral colour. It's a great price but the catch is that it comes flat packed, so have a Phillips head screwdriver ready!
14. Kidkraft Designer Dollhouse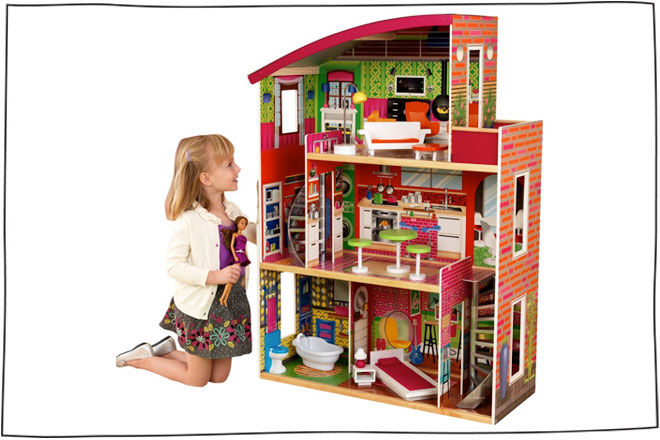 The Kidkraft's Designer Dollhouse ($240) loves colour! It's kind of like a rainbow threw up all over this little house (but in a nice way).  We're also loving the très modern upside-down design with living room at the top and sleeping quarters on the ground floor.  This funky and bright doll house features three levels, two curved staircases and 11 pieces of hip furniture.
15. Playmobil Doll House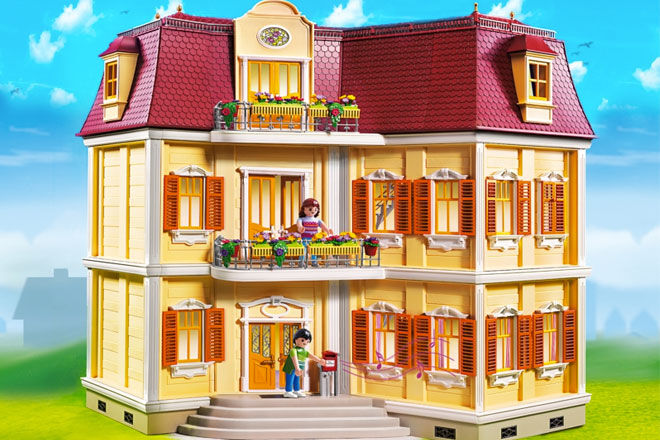 The Playmobil Doll House ($249.95) is perfect for children with grand designs who plan to have their own country manor in the future. It's one of Playmobil's largest sets with three stories,  five internal rooms and two staircases. It even includes a doorbell that can be rung!
16. Flat Out Frankie Flatpack Cardboard Play House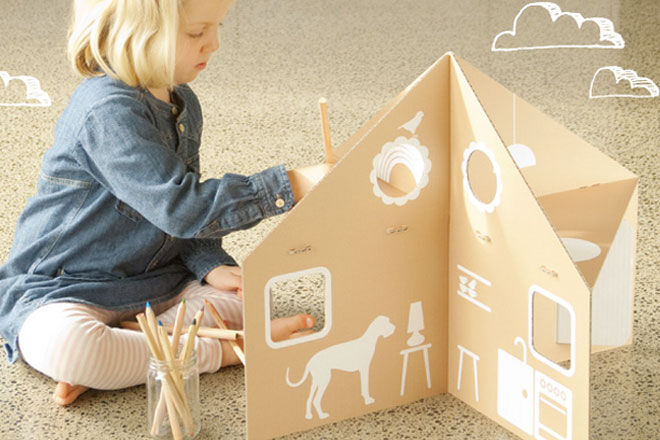 The Flatpack Cardboard Play House ($35) from Flat Out Frankie is a DIY cardboard dollhouse kit for all dolls that can be folded up and packed away! This house comes with strong greenie credentials: it's made with sustainably sourced natural kraft board screen printed with water soluble inks. The best part is, the decorating is down to your little one, so break out the coloured pencils and channel your inner Kevin McCloud.
17. Maisy's House and Garden Pop-Up Play Set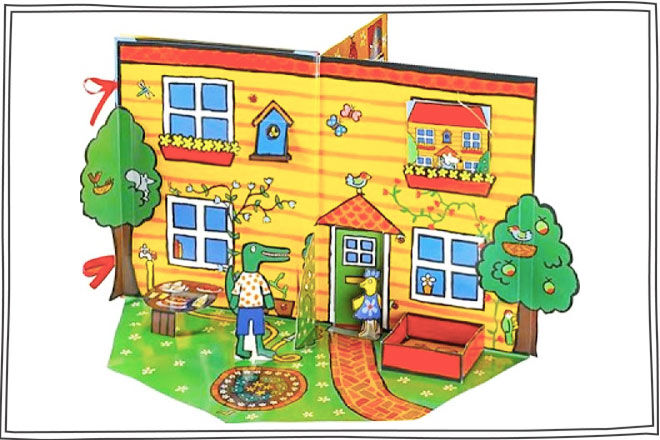 Pop-up play houses will always have a special place in our hearts because they remind us of our childhoods. Opening the book, tying the ribbons together to create the house, pulling out the furniture and accessories from a hidden spot and folding it open – such bliss! The Maisy's House and Garden Pop-Up Play Set ($36.43) is surprisingly durable and has 48 accessories for inside and out, including an iPod and watering can, and even includes a mini Maisy book with lots of fun play suggestions.
18. Timbertop Classic Dolls House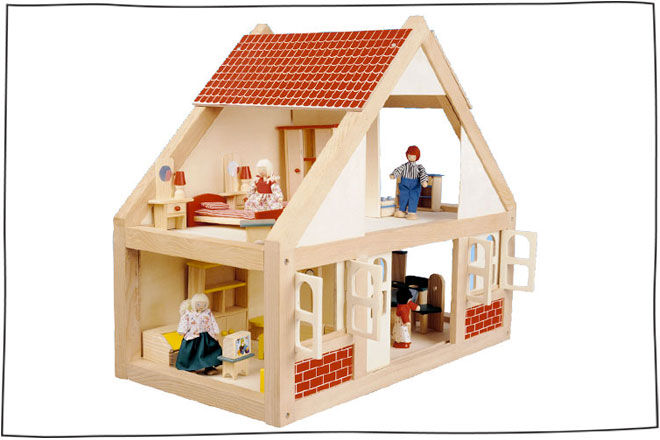 Timbertop are an Australian owned family business that design quality wooden toys. Their Timbertop Classic Dolls House ($179.95) is as sturdy as they come and features the sweetest accessories and furniture (honestly, wouldya look at those bedside lamps? Too cute!).
19. Bookcase dolls house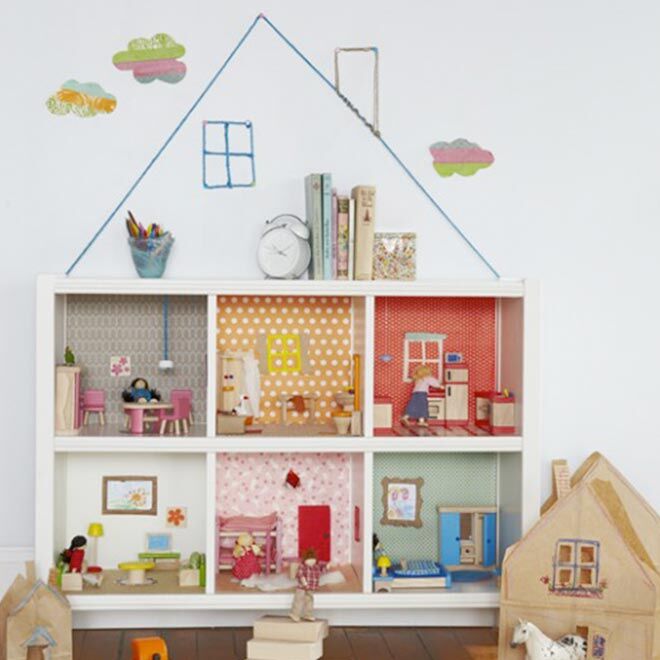 With a bit of ingenuity, you can turn any small bookcase in to a dolls house. Add some wallpaper backing to each 'room', cut out squares of carpet or vinyl as flooring, and add small wall sticker details. Or simply put dolls and furniture inside. Kids imaginations will do the rest!
20. Built-in dolls house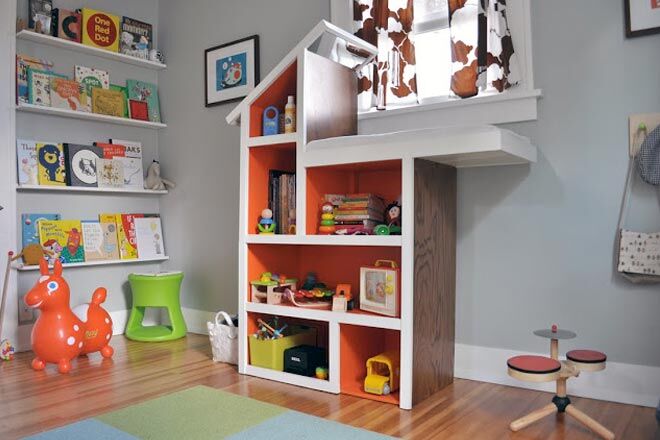 Chris and Kristin from klt: sketchbook renovated Kristin's old childhood dolls house and turned it in to a storage unit / change table for their son's room. This would be a cute idea to replicate if you're getting built-in storage made for kids' rooms.
21. Eco Dolls House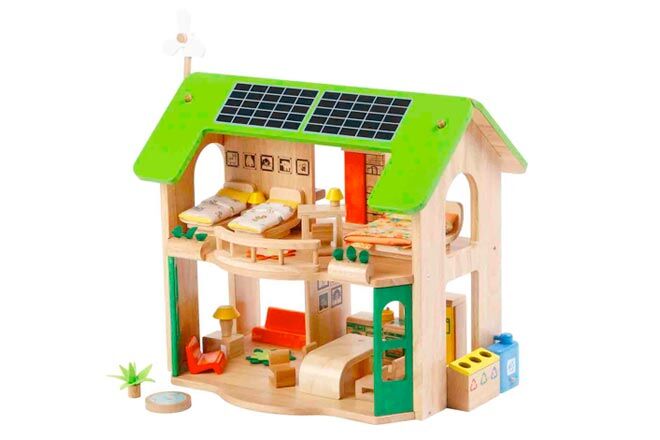 For budding greenies, Voila's Eco Dolls House ($189.95) comes with pretend solar panels, recycling bins and a wind turbine!