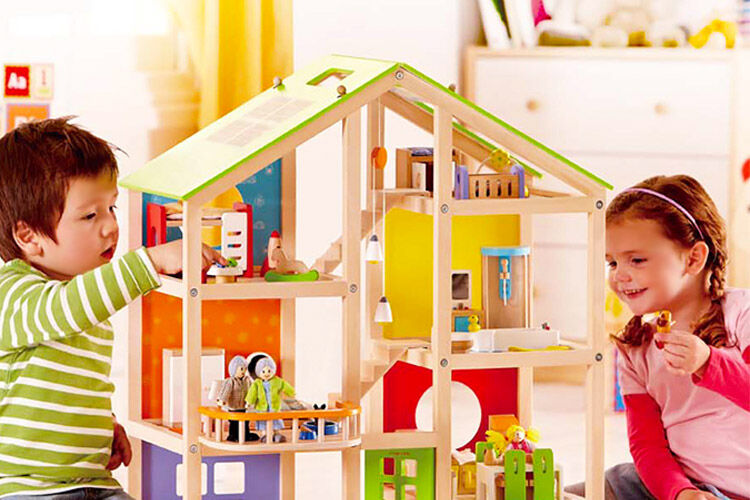 Dolls houses are home to the incredible world of imaginary play. Yet so many dolls houses are pink from the foundations to the chimney, leaving little choice for our doll-loving boys. To ensure playtime is inclusive for all, we've scoured the shops and found the best gender-neutral dolls houses for everyone to enjoy.
From pop-up books to grand Victorian-style homes, here are 13 doll houses for boys and girls alike.
1. Hip Kids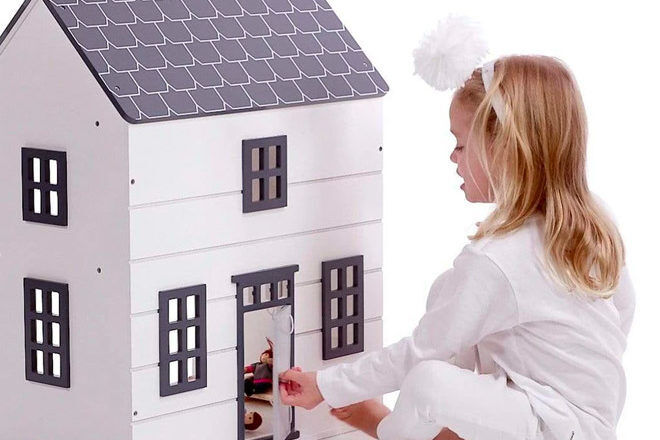 We love Hip Kids for their simple lines and focus on beautifully executed details. Beautiful, clean white walls and charcoal highlights make this understated doll's house quite unique, we love it! Dolls and furniture included.

---
2. Plan Toys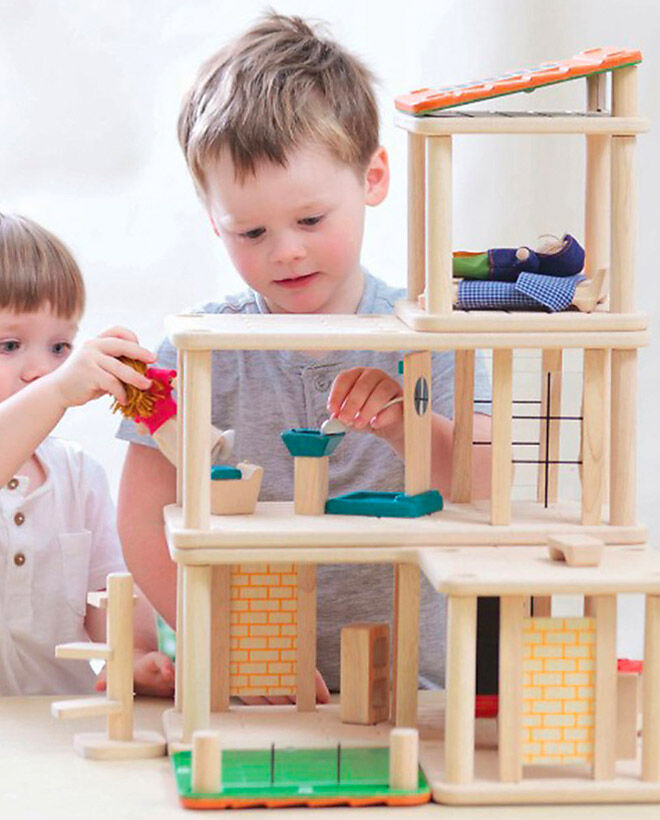 Featuring the sturdy materials that Plan Toys are known for, this house divides into three units that can be arranged in ten different configurations. With solar roof panels and contemporary furniture, it's a modern dolls house for boys and girls.

---
3. MoMA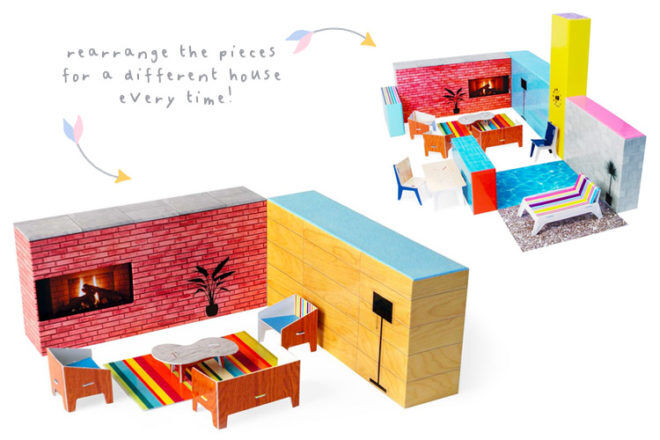 If Don Draper had a doll's house, this would be it. Designed by the epicentre of New York City cool, the Museum of Modern Art (MoMA), this 60s-inspired playhouse has us swooning! Best of all, it can be folded away when not in use.

---
4. Klorofil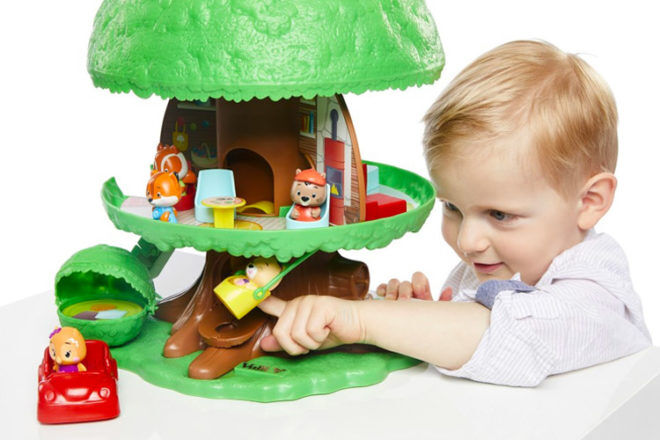 The Magic Treehouse is one of our childhood favourites, why did we ever let it go? Thankfully Klorofil has brought it back for the next generation with some modern extras. When the tree is opened up or closed, the whole of the countryside comes to life with gorgeous sounds of birds singing and a running river can be heard.

---
5. Le Toy Van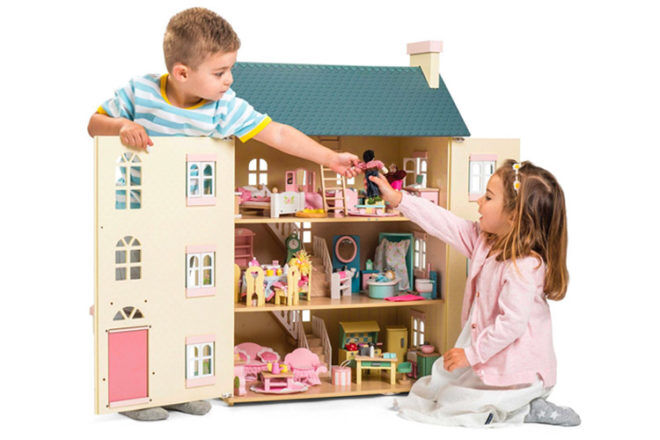 Standing at 92cm high and with four stories, this stunning dolls house includes lovely little details such as chimney stacks, staircases with banisters and functioning shutters. Plus the back can be opened out for play, or closed to hide away the mess!

---
6. Miniio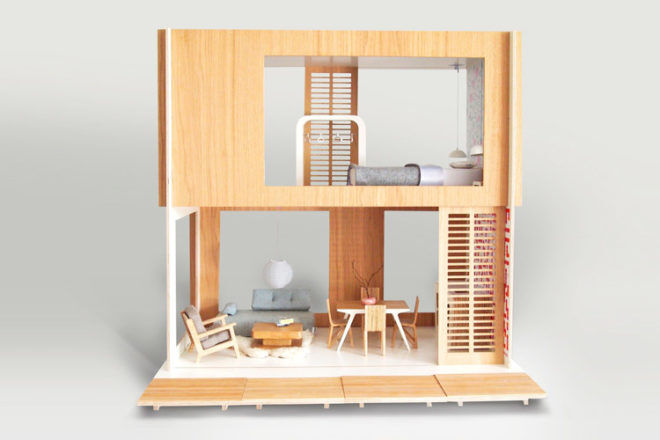 Looking for something a little more modern? This beauty provides that ever-so-fashionable Nordic feel. Finished with natural beeswax and unbelievably luxe, the Miniko doll house is perfect feel for budding design gurus with cash to splash.

---
7. Hape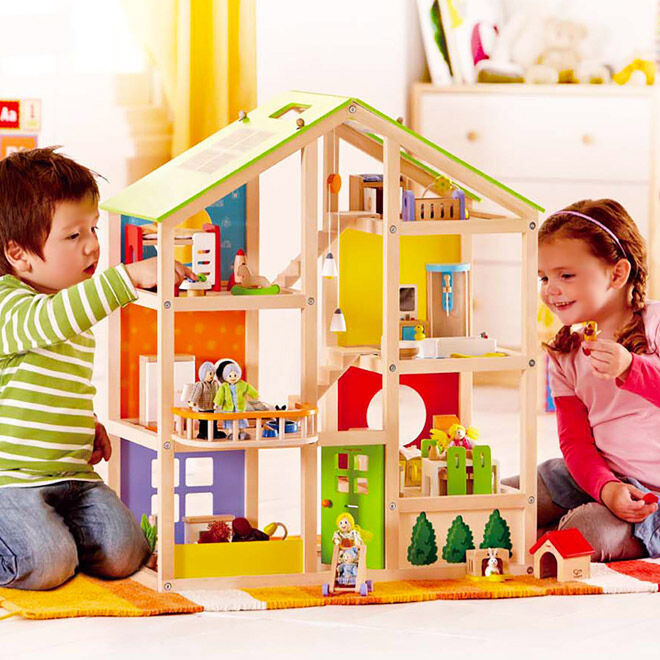 A bright and open doll house with an environmental message. We adore the solar panels on the roof, a sign of modern times! The dolls house comes with lots of furniture and a happy family to turn this house into a home. Family, pets and furniture included.

---
8. Lundby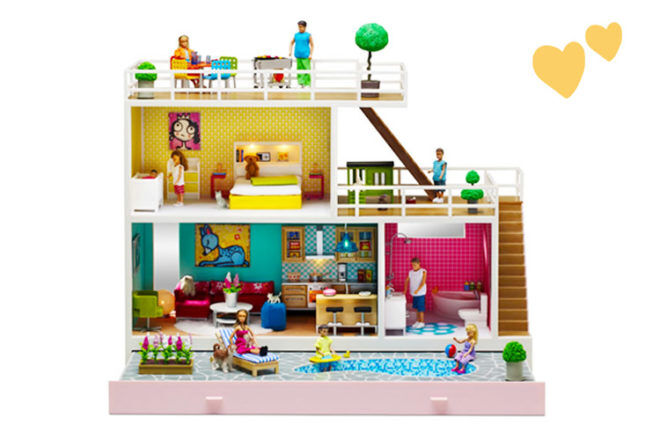 Newly renovated and back to impress. Complete with a rooftop deck, a swimming pool (that slides out of from a hidden drawer) and super hip interior decorations. This dolls house even includes working lights!

---
9. Sylvanian Families
The perfect getaway for busy dolls needing a break. Packed with fun features designed to help stressed-out dolls relax: including hammocks to sleep in, a sun deck for lounging and a hot tub for relaxing! That's life. Figures and accessories not included.

---
10. Kidkraft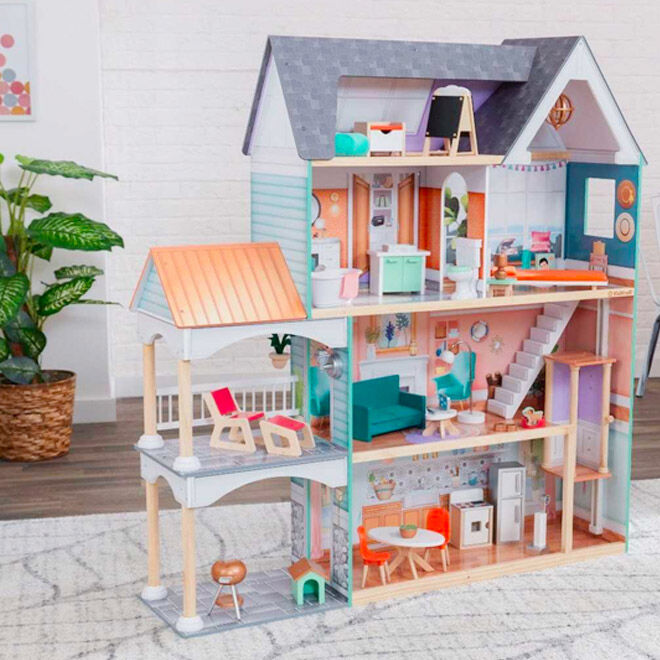 What a pop of colour! We're also loving the très modern upside-down design with living room at the top and sleeping quarters on the ground floor.  This funky and bright doll house features three levels, two curved staircases and 11 pieces of hip furniture.

---
11. Flat Out Frankie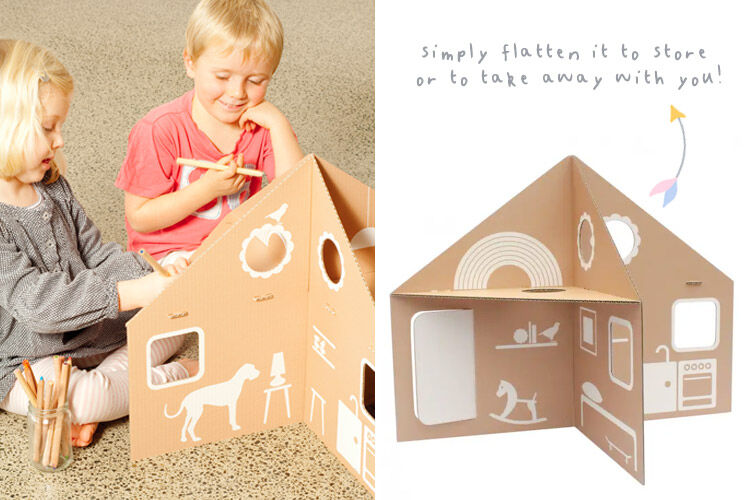 is a DIY cardboard dollhouse kit for all dolls that can be folded up and packed away! Made from sustainably sourced natural kraft board and screen printed with water-soluble inks, this house comes with strong greenie credentials. The best part is, the decorating is down to your little one, so break out the coloured pencils and channel your inner Kevin McCloud.

---
12. Lucy Cousins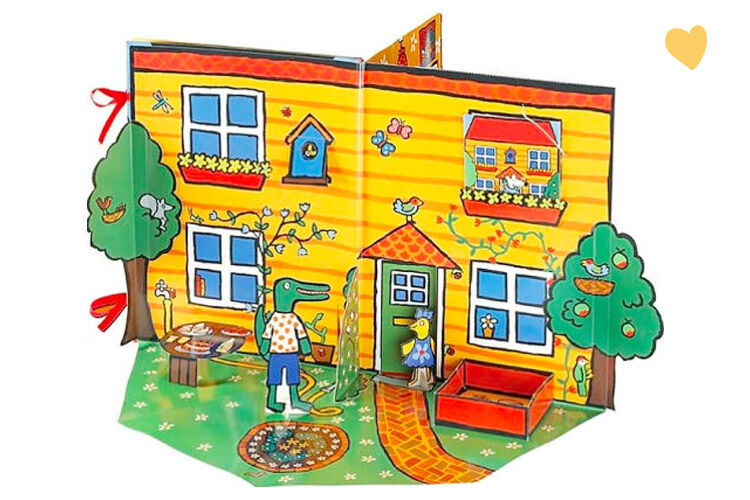 Pop-up play houses will always have a special place in our hearts because they remind us of our childhoods. Opening the book, tying the ribbons together to create the house, pulling out the furniture and accessories from a hidden spot and folding it open – such bliss!

---
13. Voila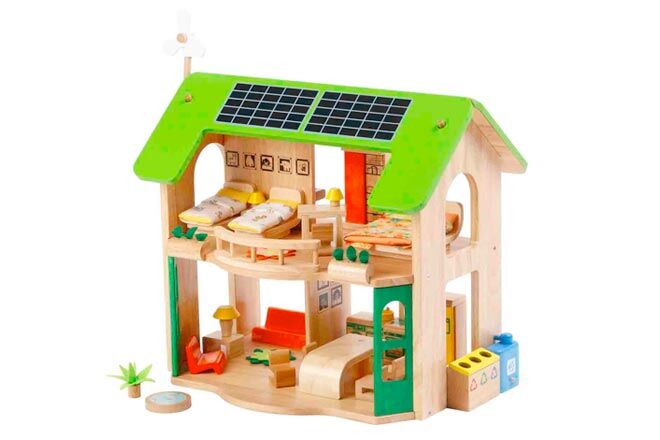 For budding greenies, this dreamy little dolls house comes with pretend solar panels, recycling bins and a wind turbine!

---
Read next …
Looking for more incredible dolls and accessories? Here are a few of our favourite articles for you to read next: