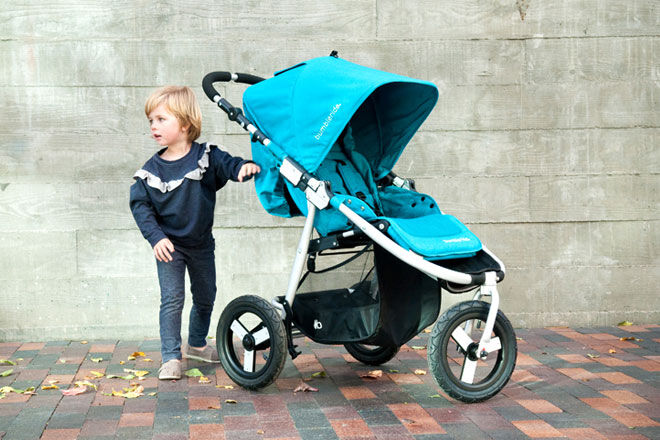 Hurrah! American brand Bumbleride has arrived in Australia to much fanfare, with the very funky Indie and Indie Twin prams.
These gorgeous prams have the functionality of an all-terrain jogger, without sacrificing beautiful design. Perfect for babies, toddlers and kids, these prams are also made with parents in mind. Bumbleride is all about making baby mobility fun, simple and intuitive, with ergonomic designs and simple details to make a hectic day fuss-free.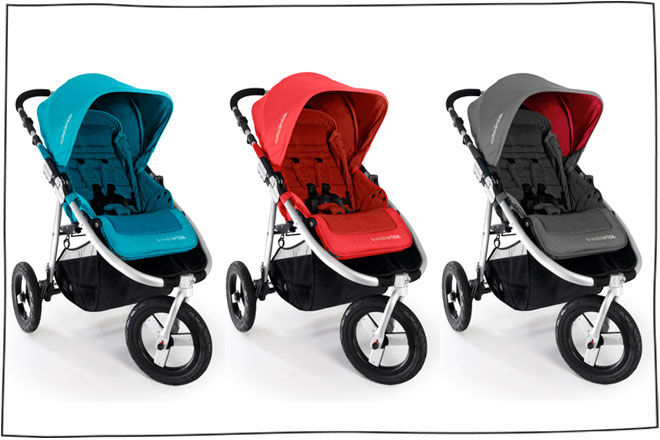 The Bumbleride Indie ($849.95) is perfect for active mums: this agile, lightweight pram is literally made for jogging. The compact shape, 12 inch wheels and rear suspension mean it can master any terrain, and look pretty snazzy whilst it's at it. The 360-degree swivelling front wheel can be locked into a forward-facing position, making it safe for mums to really stretch their legs and go hard. The Indie weighs in a teeny 9 kgs and it folds easily and compactly, so putting it in the boot won't feel like an Olympic event.
We love the thought that's gone into the Indie: its over-sized cargo basket means no more balancing shopping bags on your arms whilst trying to negotiate your pram, and the interior features soft and durable bamboo blended fabric to help naturally absorb moisture and regulate temperature. The oversized canopy is ideal for the Australian climate, and the free rain cover will have you prepared for any unpredictable weather that comes your way.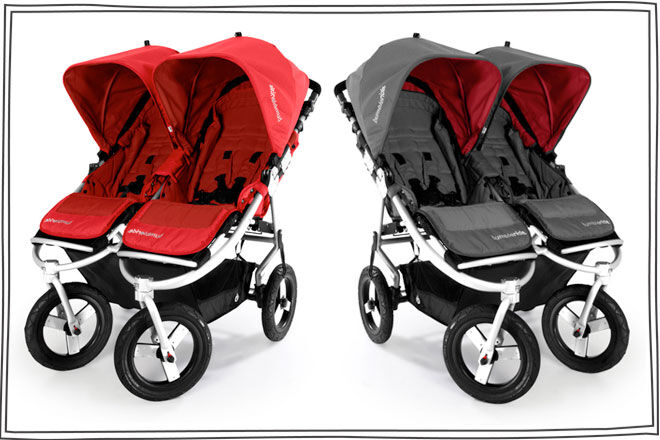 The Indie Twin ($1,299.95) is made for double trouble! Great for twins, or a toddler and baby, the multiple seat adjustments help keep each child as snug as can be. The Indie Twin's reclining backrests and adjustable footrests make it perfect for infant use, or you can use the optional Maxi Cosi Car Seat Adapter to fit a Maxi Cosi Mico infant seat.
Both the Indie and Indie Twin are available in a stunning range of colours: Aquamarine, Cayenne Red, Fog Grey and Jet Black. The Bumbleride Indie and Indie Twin come with accessories designed with you in mind, anticipating a mum's every need. The Rain Cover, Cup Holder and Tyre Pump are included with the Indie and Indie Twin, and extras include a matching Carrycot in the lovely Bumbleride colours, Foot Muff & Liner for cooler months, handy Parent Pack and Travel Bag (great for holidays or storage).
Bumbleride's motto is "making baby mobility fun, simple and intuitive" and we think they have definitely succeeded with these fantastic prams.
Bumbleride's Indie and Indie Twin are available from Bumbleride.
.