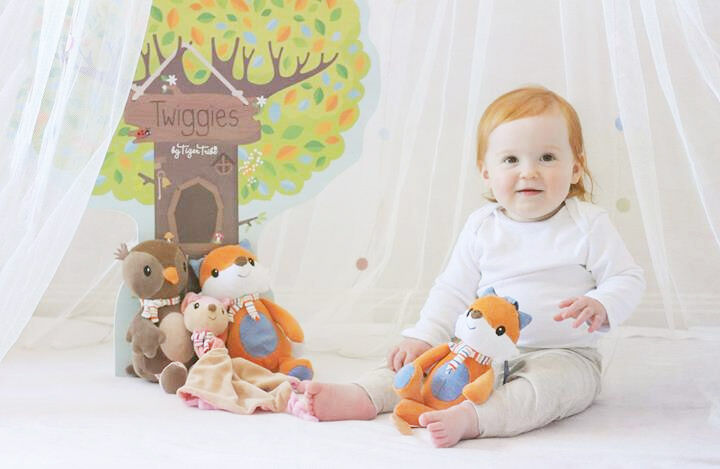 Make some room Pooh Bear and Piglet, there's a new gang of fun and fantastical creatures in town (er… we mean the woods!). The very awesome and creative Tiger Tribe have launched a range of incredibly sweet woodland characters, just for babies. The Twiggies collection – featuring Freddie Fox, Daisy Deer and Ollie Owl – make the perfect cuddly pals for little ones.
Designed to entertain and comfort newborns, the collection is made from beautiful soft jersey and cotton fabrics. Freddie, Daisy and Ollie are available as soft toys ($24.95), squeaky rattle ($14.95), blankie ($19.95) and musical toy ($29.95).
The soft toy is the perfect size to be cuddled and clutched over the years: babies will love exploring and discovering ears, eyes, nose and lovely winter scarf. And we think toddlers and big kids will also love the Twiggies soft toys, they look like perfect pals to explore enchanted forests and magical trees with, not to mention a tea party or two (woodland creatures are renowned for their love of tea parties, of course).
The musical toys come with handy velcro straps to attach easily and safely to prams, cots or car-seats. The squeaky toy and blankies feature the Twiggies friendly faces and are perfect for hugging, gripping and chewing. The jersey and cotton fabrics means the Twiggies collection is extra soft for the very best snuggles.
We also love the beautiful packaging. Each Twiggies creature comes in their own special little treehouse with windows (and even a little doorbell) – perfect inspiration for tales of adventure and mischief-making!
Available from entropy.com.au