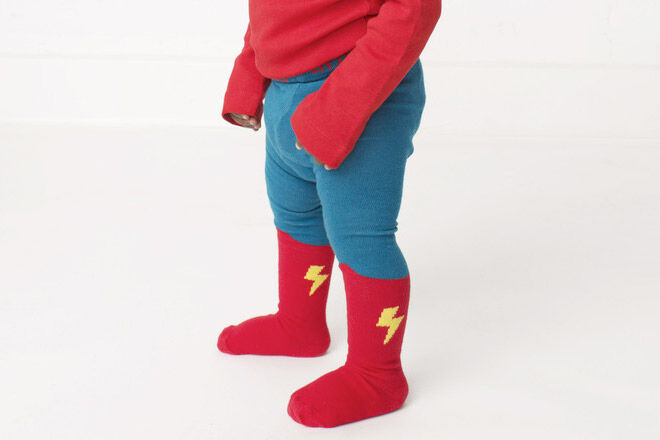 Tights aren't just for Robin Hood and superheroes! They're also perfect for keeping little lads snuggly and warm throughout the cooler months. Little Titans tights are loud, bright and just the thing for both boys (and girls!). Created by British Mum Carly Hardy, Little Titans tights took shape after she had trouble finding tights for her son that weren't pastel pink and covered in polka dots or candy stripes.
Designed for newborns to three-year-olds, Little Titans tights are the ultimate nemesis for little ones who love to kick off their socks. We simply love the Little Titans' 'Wild Thing' tights ($30) designed by illustrator Kate Hindley. Who wouldn't want to look like a crafty fox with zig zag markings and little paws?
And we also adore the Green Peak tights ($30), left, with the built-in "socks" featuring super-cosy terry inner and non-slip soles. Great for wearing under trousers or on their own – but without the frosty ankles!
Available in lots of fun colour combinations: charcoal grey and bold orange, big blue stripes with red accents, soft grey with sunshine yellow knees and toes – as well as the uber cool superhero design – they're sure to be the fashion trend this Winter.
Available from babydonkie.com.au.