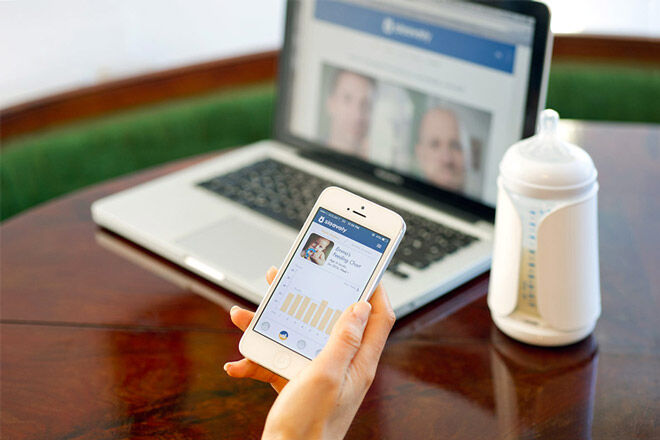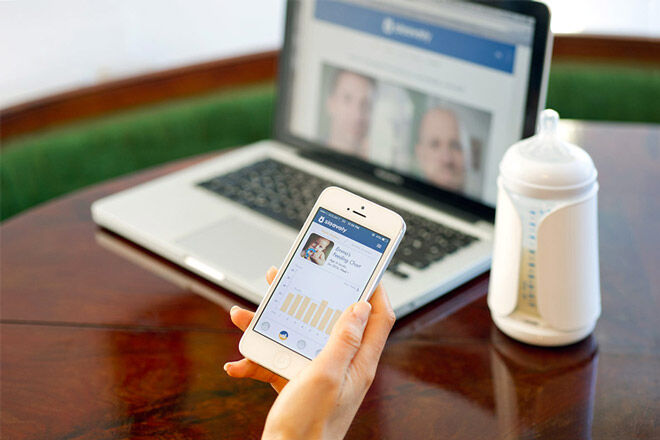 Once upon a time we thought that a baby bottle was just a bottle, pretty simple really. We were so wrong! Baby bottles have gone high-tech and futuristic, anticipating your needs and solving problems before you have them. Here are 10 of the best (and one pretty cool app) that proves the future is here. Does this mean we can expect hoverboards and flying cars some time soon?
1. Mixie Formula Mixing Baby Bottle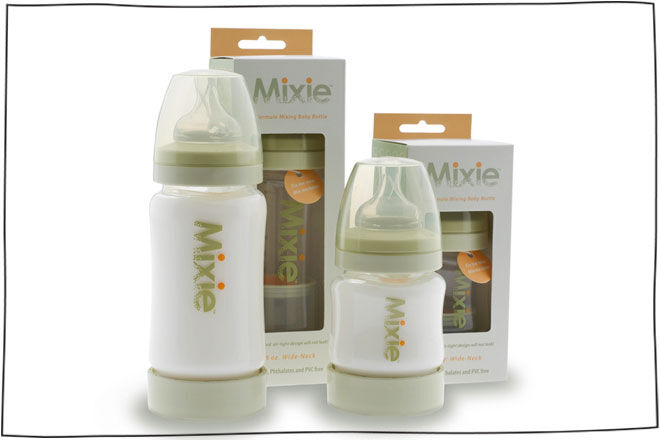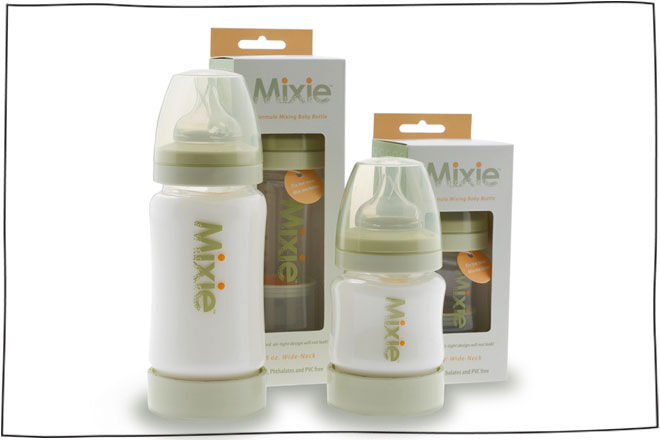 Formula on the go can a logistical nightmare. Whether on planes, trains or automobiles, or even just at a friend's house, mixing pre-measured formula can mean mess and spills (seriously … we once tried to measure out and mix formula on a plane, in the dark, with a screaming toddler begging for his bottle. Never again).
That's why we love the Mixie Formula Mixing Baby Bottle (from $24.95). When you're out and about, all you need to do is click a button and give the bottle a shake to mix the formula in. So simple!
Check out the instructional video which shows how easy Mixie bottles are to use.
2. B.Box Essential Baby Bottle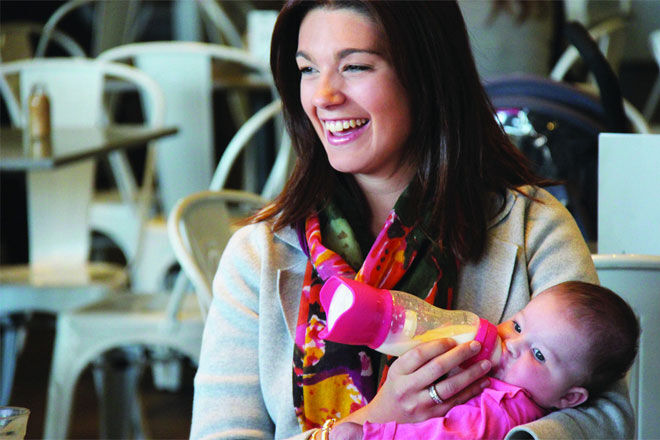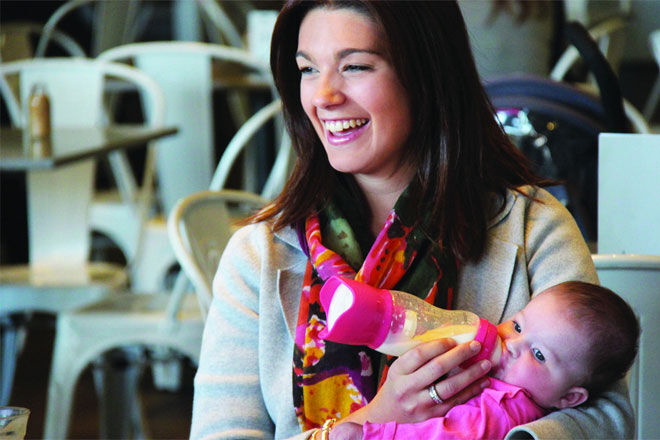 The B.Box Essential Baby Bottle ($24.95) works much like the Mixie formula bottle, just click a button then shake shake shake!
The appeal of the B.Box bottles is the funky and futuristic design in a range of colours – like aqua, lime, berry and plum – which is pretty much B.Box's thing.
3. yoomi self-warming bottle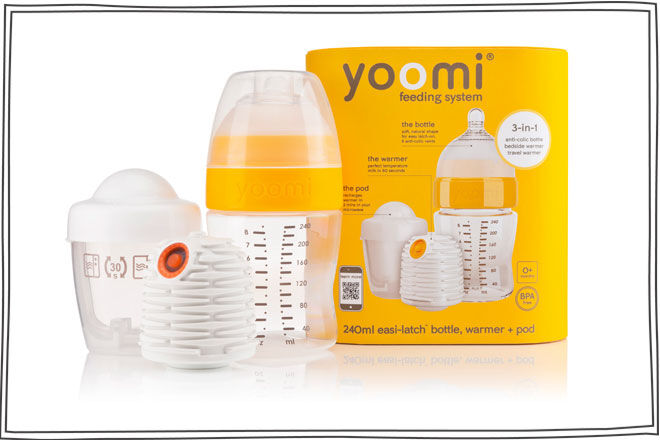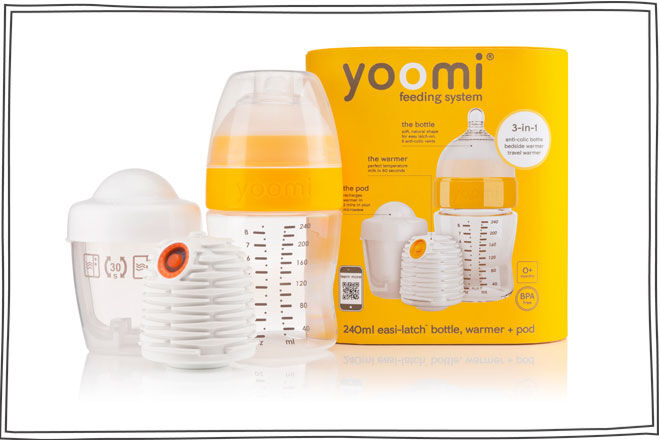 Yoomi offer a baby bottle ($58.95) that warms up in just 60 seconds – with no access to electrical outlets or need for cables – the clever so-and-sos!
The secret is a rechargeable warmer, which you can charge by popping in the microwave, so no messing around with batteries.
This is heaven sent for bubs who must have their milky at just the right temperature.
4. iiamo Feeding Bottle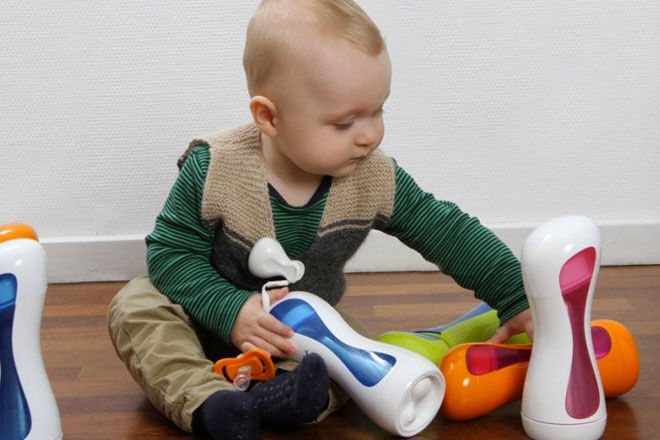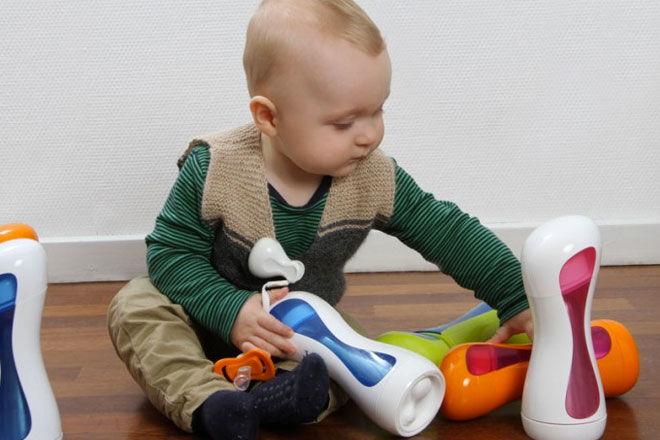 What wizardry is this? The iiamo baby bottle ($34.95 with warmer) heats milk or formula with the use of a disposable heating cartridge that contains only salt and water.
Were we a little smarter, we could probably effectively explain how heat is generated by rehydration of salt in a heat chamber, but instead we'll just say it's terribly clever, completely safe and environmentally friendly.
5. Dr. Brown's Natural Flow bottles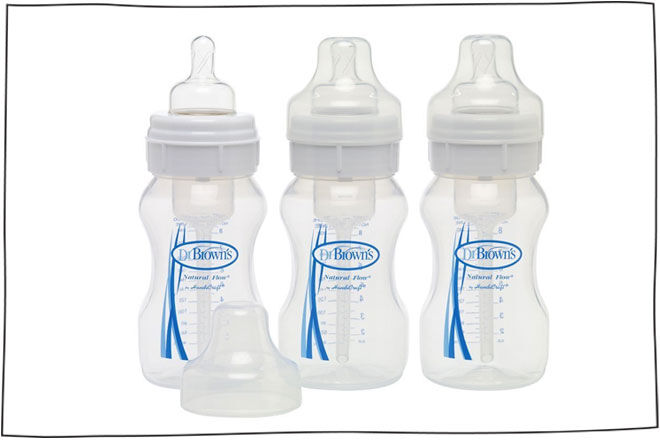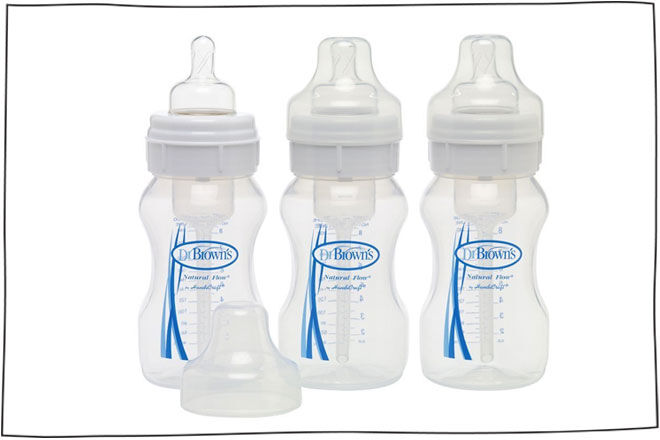 As any parent knows, it's torture to watch your little one struggle with the discomfort and pain of reflux, you'd give anything to take it away!
Dr. Brown's Natural Flow bottles (from $15.95) are a step in the right direction: they feature an internal vent system that provides positive-pressure vacuum-free feeding that helps reduce colic, spit-up, burping and gas by eliminating negative pressure and air bubbles.
Now, if we can just get our partner to drink from one too…
6. mOmma Feeding Bottle with Handle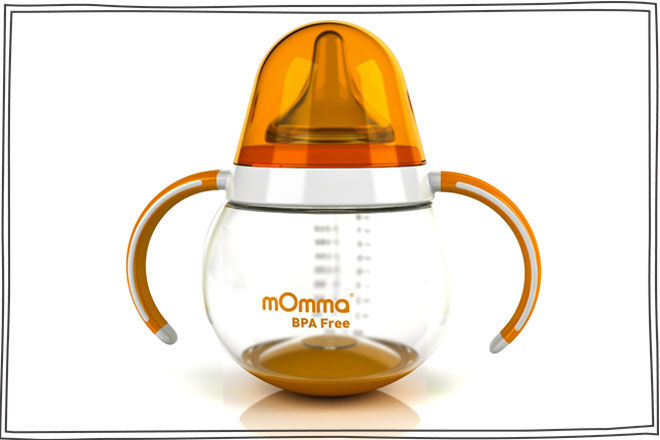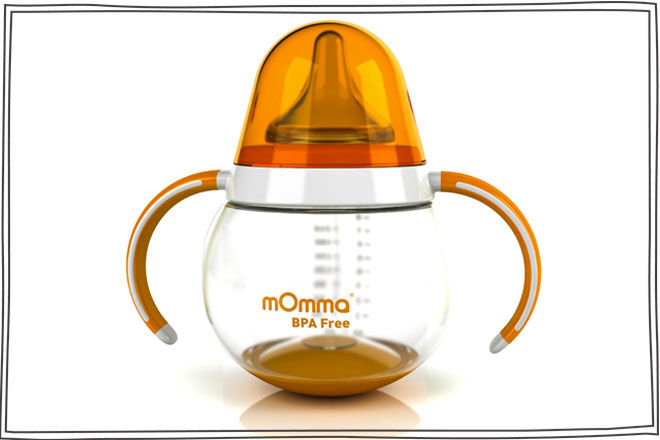 Some bubbas have the most remarkable skills: no matter the location, no matter the circumstances, no matter the bottle, they will find a way to spill their drink.
This is why the car, pram, couch (and sometimes our pets) smell like sour milk! Gesticulating toddlers and mess-makers have finally met their match with the mOmma Feeding Bottle ($30.90). The bottle may delightfully rock n roll around, but will always remains upright.
Just try and tip this bottle over, we dare you!
7. Kiinde Twist feeding system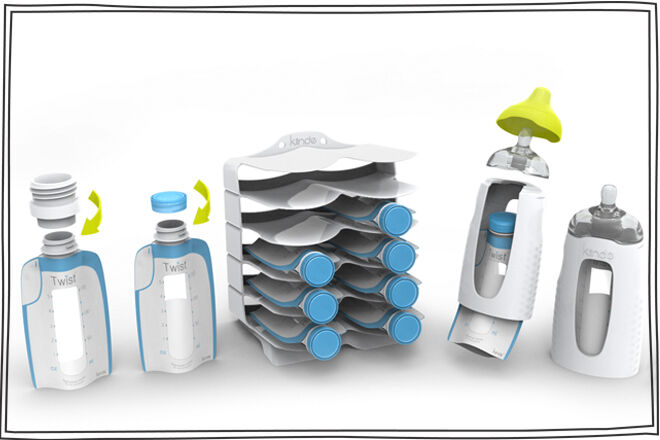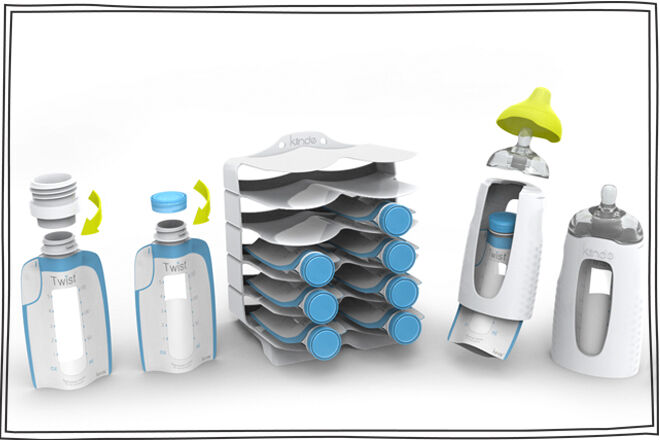 OK we're cheating a little bit as the Kiinde Twist Feeding system (starter kit: $79.95) doesn't include bottles, but that's what so great about it! Designed for breast milk, the Kiinde Twist feeding system allows mums to pump directly into storage pouches with leak-proof, twist-locking caps.
You can even label the pouches and store them in their special breastmilk holder and organizer (seriously they've thought of everything).
To feed bub, simply slide the pouch into the Kiinde bottle holder – there's no risk of any spills! Seriously whoever said "there's no use crying over spilled milk" clearly never used a breast pump.
8. Cherub Baby Colour Change Bottle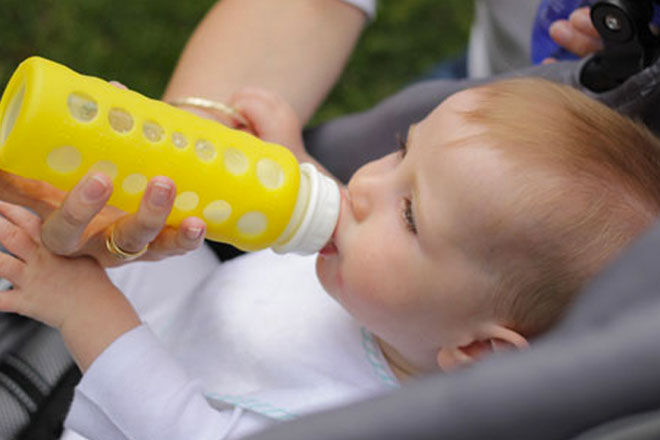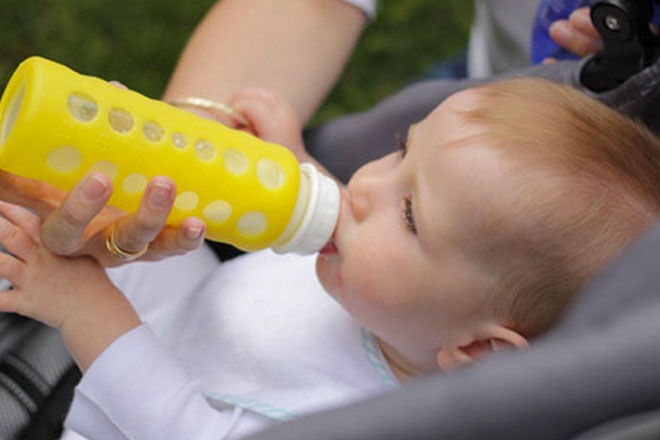 We've had hyper-colour t-shirts, mood rings and even heat-sensitive mugs. But Cherub Baby have an actual practical use for modern technology: a baby bottle cover that changes colour if the milk or formula is over 42 degrees.
A simple and very practical way to stay safe, the Cherub Baby's Colour Change Natribottle Glass Bottles ($14.95) are made from high tempered borosilicate glass with a removable silicone sleeve.
9. Medela Calma Feeding Solution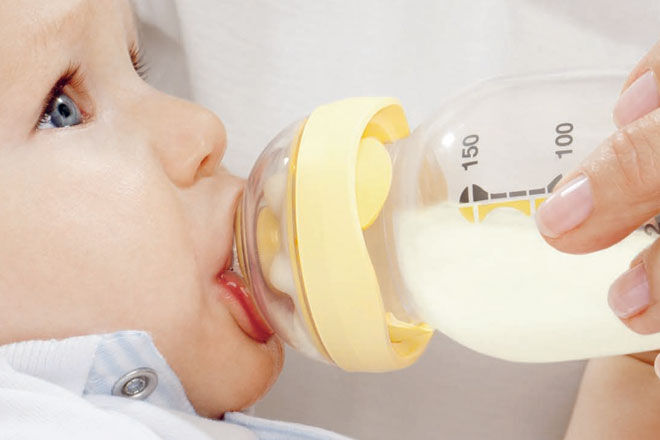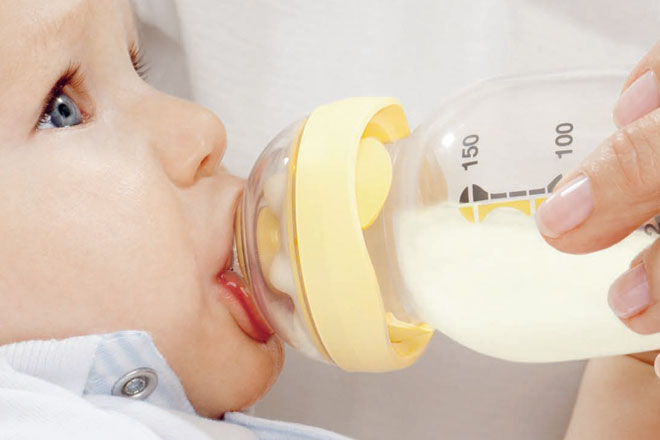 The Medela Calma Feeding system was designed with breastfeeding mums in mind. Simply put, the Calma teat (from $26.95 with bottle) puts bub to work!
Unlike many other teats on the market where milk just flows, milk won't flow from the Calma teat unless a vacuum is created, and milk flow stops when baby relaxes to pause and breathe.
10. mimijumi Baby Bottles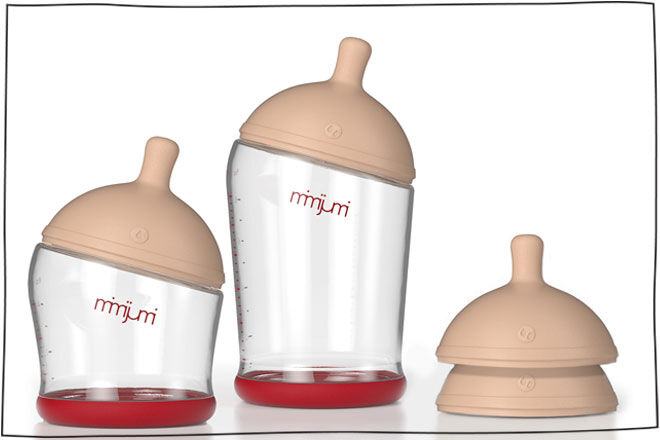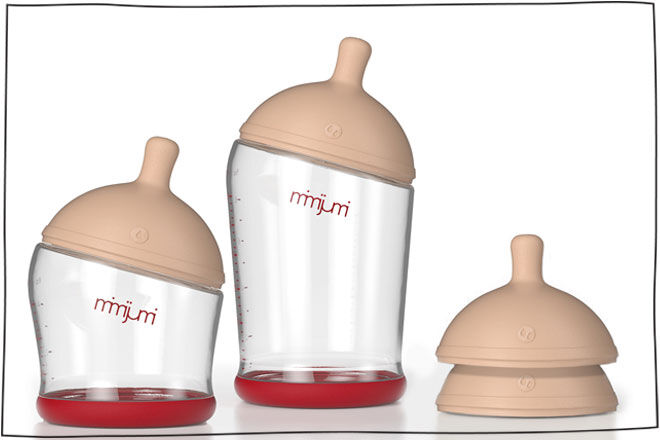 Another bottle made for breastfeeding mums is the mimijumi baby bottle ($27.99) with a nipple designed to replicate a mother's breast (even down to "pores" on the teat!). Bubs must latch onto the nipple and suckle in order to produce the milk, which can help create continuity for complementary bottle and breast feeding.
… and one App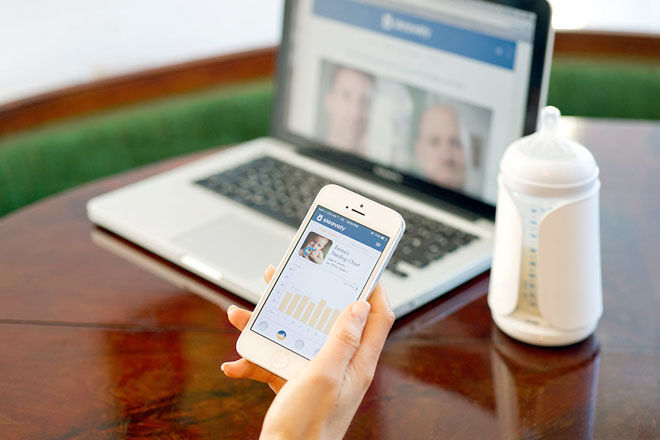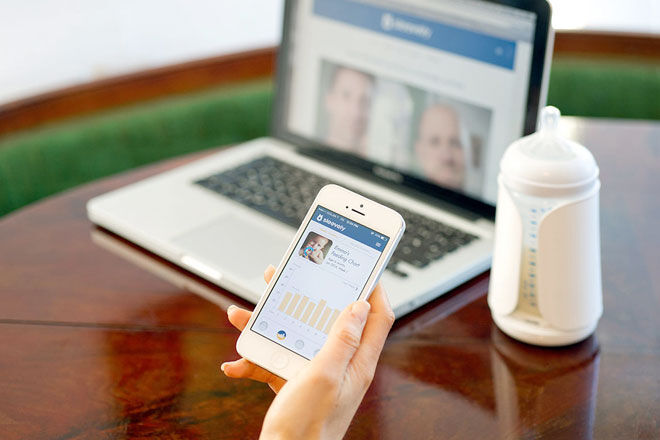 Hands up who has a baby feeding diary? Hands up who remembers to fill it in after every meal? Hello? No one? Yeah, us too. That's why we're rather excited out Sleevely, a baby bottle holder that's also a nutrition tracker.
Simply slide the baby bottle into Sleevely and Sleevely does all the work: monitoring the quantity and temperature of each feed. It sends all the data to an app that provides you with info-graphics and real time updates, including smart recommendations for feeding.
This is a very high-tech solution for families juggling feeding between carers, or just for those of us who are rather hopeless at updating that feeding journal.
Sleevely is currently looking for backers on Kickstarter, so if you like the sound of it, pledge your support and it could become a reality.