Each week we send our famous Sale Alert Newsletter featuring all the hottest sales, exclusive discount codes and offers … but if you're not reading it, then 75,000 other mums are getting their hands on your precious bargains!
"But I've subscribed!" You say. "And I get nothing!" Well, we hear you. Chances are your ISP or email software probably uses some type of spam filter. So to get around it you need to add us to your trusted list of senders, contacts or address book.You do trust us, don't you? We would totally share our last piece of cake with you. And we would tell you if you had something on your face. Pinky swear. So, let's do this.
Step 1: Un-spam us!
First of all, your emails from Mum's Grapevine might be accidentally putting themselves in to spam. Silly things. Open your spam folder look for an email from us. Then open the email and mark it as "not spam".
Try also adding [email protected] to your Address Book or Contact list.
Well done! Next, we have to make sure it never happens again. Like, ever …
Step 2: Add us to your whitelist
A whitelist is the opposite of a blacklist. Makes sense. It tells your fancy-computer-machine that you WANT to see Mum's Grapevine emails, because we are cool and interesting. To 'whitelist' Mum's Grapevine, find your ISP or email client on this list below, and click to follow the steps:
Whew! That was technical. I think I need a cronut. But yay, now we are special friends! Watch out for our awesome emails coming to an inbox near you, soon.
If you're not receiving email you are expecting, there are two things you can do:
Use the "Not Spam" button in your Bulk folder.
Create a filter to automatically send email from certain domains to your Inbox. This is the only way to really ensure delivery.
Report as "Not Spam"
– Check your Yahoo! Bulk folder
– If you see the email from Mums Grapevine, highlight it and click "Not Spam" on the toolbar.
– This does not guarantee that your mail will be delivered in the future, but it does help.
Hotmail Live, Windows Live and MSN back to top
Previously "Hotmail", "Live", "Windows Live" and "MSN"…
In the new Outlook.com you must click the "Wait it's safe" link if you find emails mis-identified as spam.
Entering the email contact in the address book or contacts no longer whitelists the sender.
To ensure messages from specific email addresses are not sent to your Junk Email folder, you can do one of two things:
Check the "Junk" folder if you do not see the [email protected] email in your Inbox:
Open the email from [email protected]…
Click the "Wait it's safe" link
Mark Sender as Safe
[email protected] ([email protected])
To: [email protected]

Manually Add to Safe List
Click gear icon on the top right.
Select "Options" in the drop down list.
On the Options page under "Preventing junk email" click "Safe and blocked senders"
Click the link "Safe senders" on the next page.
Enter the email address [email protected] in the text box.
Click "Add to list"
[email protected] will now be added to your list of "Safe senders"
Emails added to your "Safe senders" will not be delivered by mistake to your "Junk" folder.
To make sure email gets delivered to your inbox, you must add the email address [email protected] to your contacts list.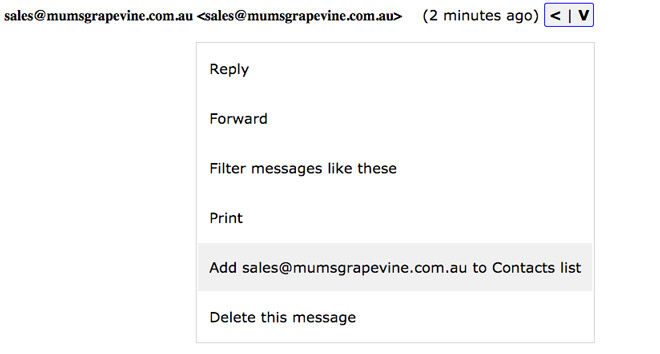 Open the email from [email protected].
Click the drop down arrow next to "Reply" in the upper right side the email from header.
Click the "Add [email protected] to Contacts List" from the list that appears.
You will now see [email protected] appear under the link "Contacts" on the left side of the page.
Click the "Gmail" icon on the top left Gmail.
Click the link "Contacts" and then in the "Search Contacts" form field type:[email protected].
Now you can select to move [email protected] to a contact list of choice and edit any details.
Report as "Not Spam"
Check your Gmail Spam Folder
If you see the email from [email protected]: Open the Email
Click the button on the toolbar, labeled "Not spam".
Outlook 2003 (or higher)back to top
To add [email protected] to you list of "Safe senders" on Outlook:
Right click our email in your Inbox email list pane.
On the menu displayed move your mouse over or tap "Junk"
Click or tap on "Never block sender" in the menu that rolls out.
The resulting popup will say:
"The sender of the selected message has been added to your Safe Senders List."
Click or tap "OK"
To add sender to address book:
Open the email
Right click on the from address
Choose "Add to contacts" option