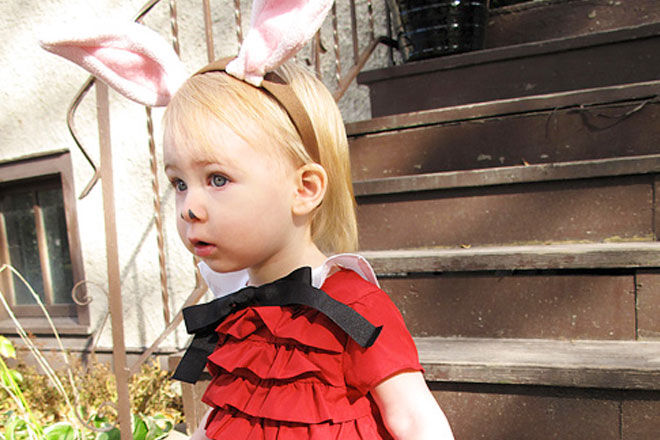 Yes, it's that time of year already! Next week is Children's Book Week, a celebration of great books and classic characters. We all know that organising last minute dress-ups can be a little stressful, so here are some fun, creative ideas to make sure you've got the book week costumes covered. No sewing required!
1.The Very Hungry Caterpillar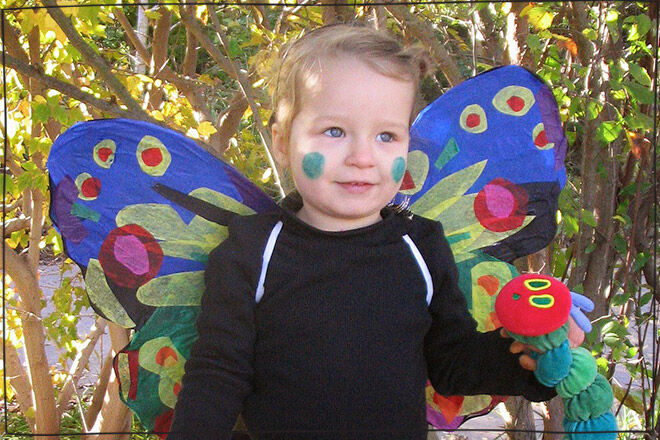 Everyone loves this all time classic! To re-create this colorful costume made by Third Story(ies) you'll need a few pieces of bright tissue paper and a large piece of cardboard … easy! Get the kids to help you stick into place, and soon enough, just like the book, your little munchkin will burst into a beautiful butterfly!
2. Angelina Ballerina
Ears? Check. Tail? Check. Tutu? CHECK! It's time to turn the dancing queen of your household into a mini Angelina Ballerina! Buy a tail and ears from a discount shop or follow the instructions at Skirt as Top to make your own. Add it all to your girl's existing ballet outfit and finish the look with lots of pink satin bows!
3. Thing 1 and Thing 2

Straight from causing mischief with Cat in the Hat, the demolition duo, Thing 1 & Thing 2 is the perfect costume for siblings or best buds at book week! Living in This Old House shows you how to turn red tops and bottoms, beanies and a blue feather boa in to this look – there's even a free printable for the logos on the front of the shirts. Get the kids to pluck the feathers while you glue onto the hat to create a funky fro!
4. The Paper Bag Princess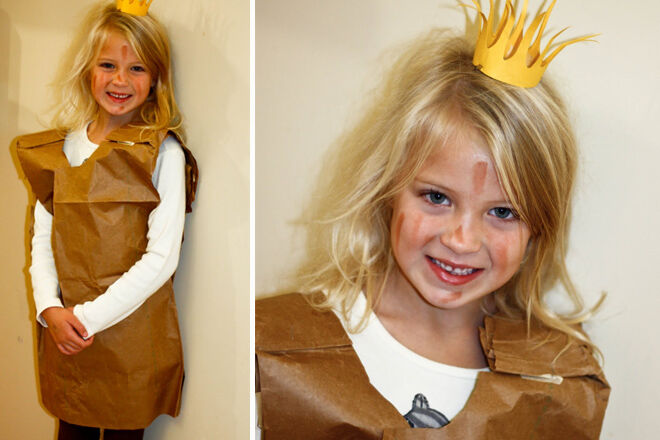 Copy PlainLJayne's DIY style by duct-taping a dress together out of brown paper, or cutting holes in an existing heavy-duty large paper bag. Add a homemade paper crown and some bronzer streaks for an authentic dirty face!
5. Gruffalo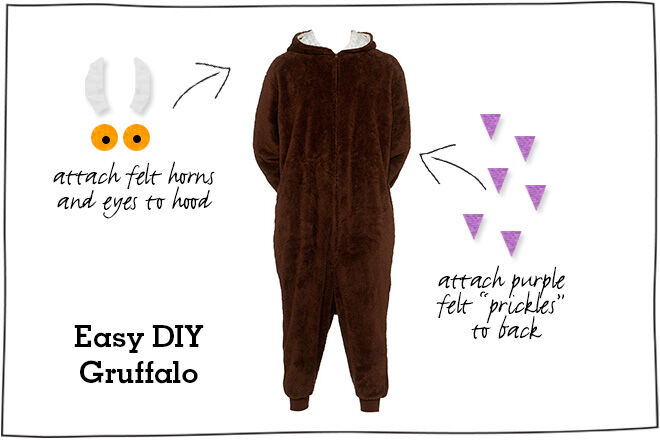 Here's why we LOVE felt. Grab yourself a furry brown onesie or a brown hoodie and track pants from a discount shop. Then buy some white, orange and purple felt. Cut out horns, eyes and 'prickles' and glue or pin them on. Suddenly, there is such thing as a gruffalo.
6. Where's Wally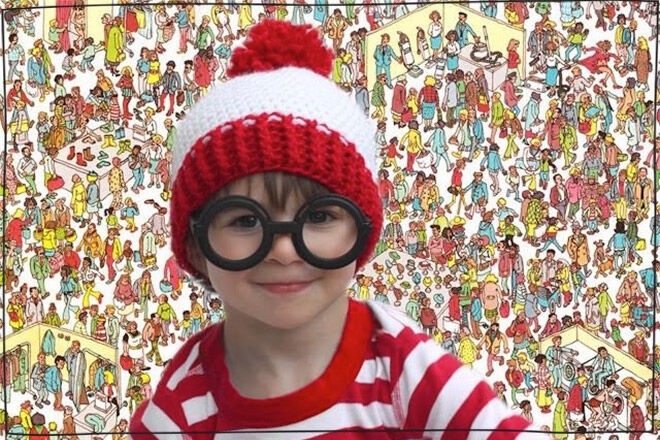 Spectacles at the ready, it's time to go looking for Wally! This is such a fun and easy costume to put together. Rummage through the wardrobe for  a striped t-shirt and a pair of jeans then add some super hipster glasses! Top the look off with a beanie and a walking stick and you're good to go. If you're feeling particularly crafty, get the instructions for knitting the beanie from Repeat Crafter Me. Let's just hope everyone else doesn't have the same idea, or it could turn school pick up in to a real-life game of Where's Wally.
7. Olivia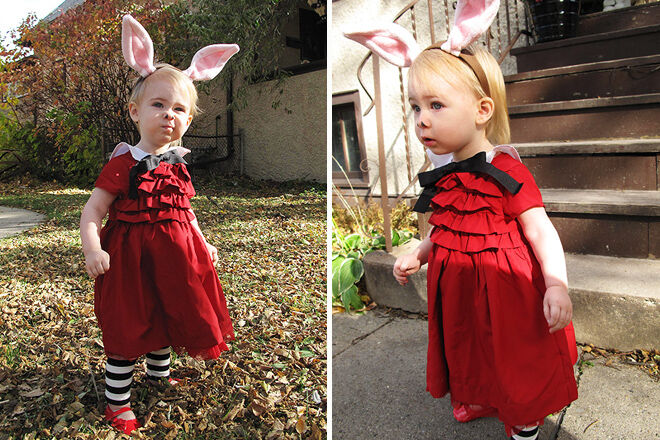 Nicole from Making it Lovely turned her daughter in to Olivia – and isn't she the most adorable little piglet! DIY this with a red dress, some stripey black-and-white tights and pig ears either bought from a costume shop or made from pink cardboard sticky-taped to a headband.
8. Saucepan Man

Tin foil is your friend! When it comes to the Magic Faraway Tree's Saucepan man, a few takeaway containers pinned to a jacket or cardy and a hat covered in foil is all you need. Amy from In My Bubble created this costume for her son, making sure to attach the 'saucepans' to a cardigan so it could be easily taken off before sitting down to start school work.
9. Alice in Wonderland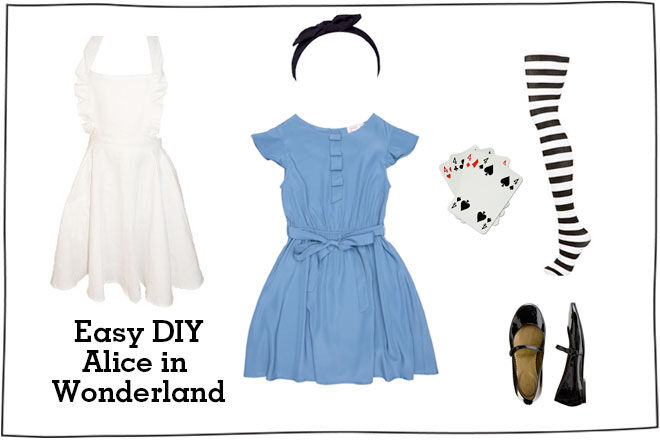 Sure, you coud buy a Disney-fied Alice costume off the rack, but this actually a super easy one to assemble yourself. All you need is a light blue dress and a white apron (try ebay). Then add a black headband, some Mary Janes and stripey tights. Carry a white bunny rabbit toy for added effect!
10. The wonder of the onesie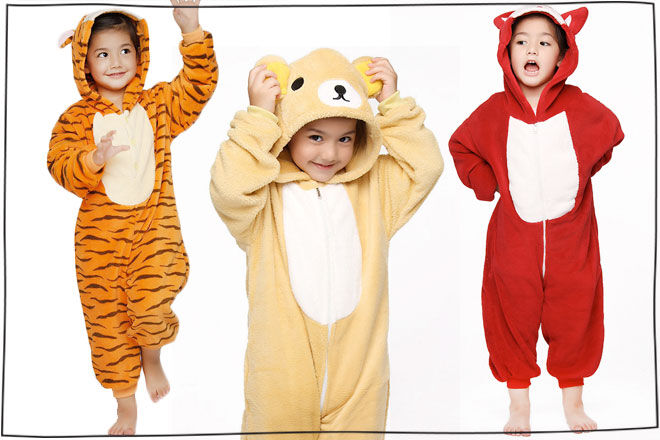 Animal onesies are everywhere right now, and if you're time poor it's an easy buy that can apply to soooo many books. A tiger becomes Tigger from Winnie the Pooh or The Tiger Who Came to Tea. Transform into the bear from We're Going on a Bear Hunt or grab two more teddies and suddenly you're the three bears from Goldilocks. Come as the fox or the mouse from The Gruffalo … the possibilities are endless (and your kids get some fun new PJs out of it too).
Need more inspiration? Check out our other book week costume articles …
• Best DIY book week costumes (2018)
• Best DIY book week costumes (2017)
• Best DIY book week costumes (2016)
• Best DIY book week costumes (2015)