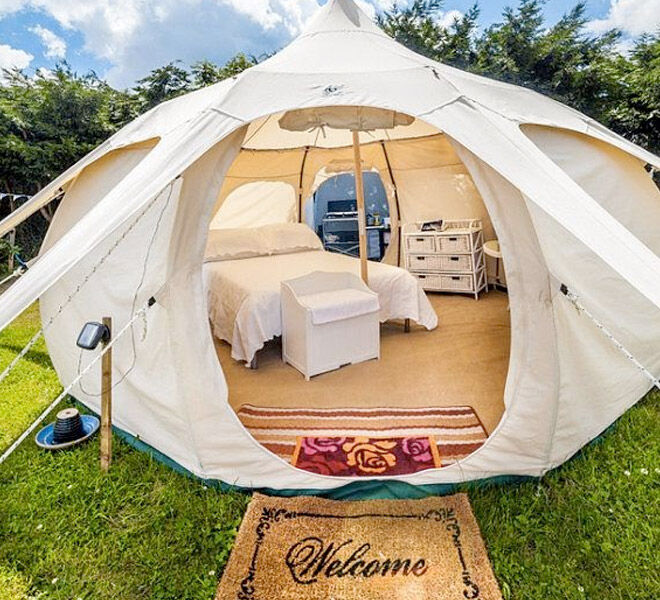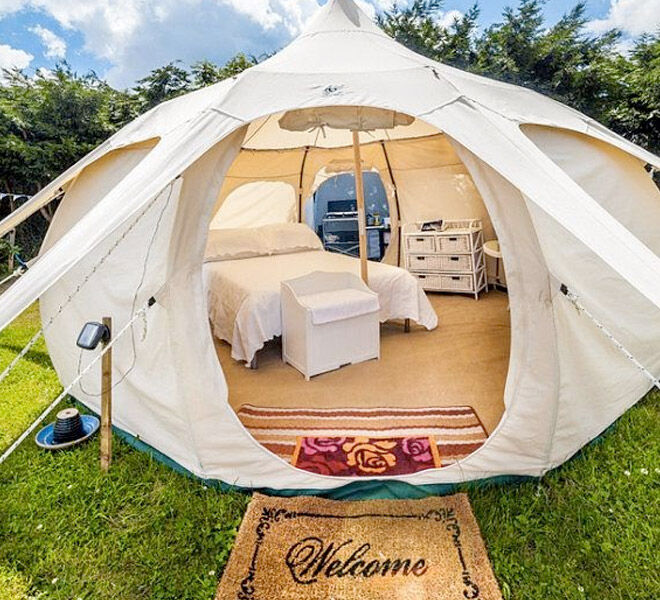 Camping is a fabulous, thrifty way to take the whole family on holiday and get closer to nature. And don't get us wrong, we love nature … just not when it crawls in to the bottom of our sleeping bag.
Luckily there's a way to do camping with a few home comforts that will keep everyone happy, clean and content! Here are our top glamping tips for more fun, less mess and less stress. Brought to you by NRMA Holiday Parks. Image: lotusbelle.com.au
1. Take hip tableware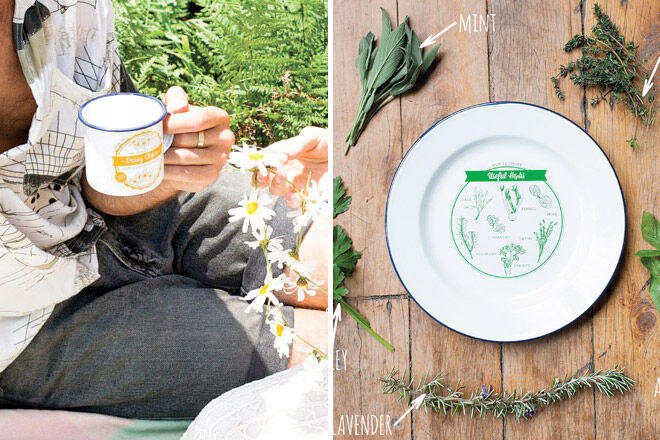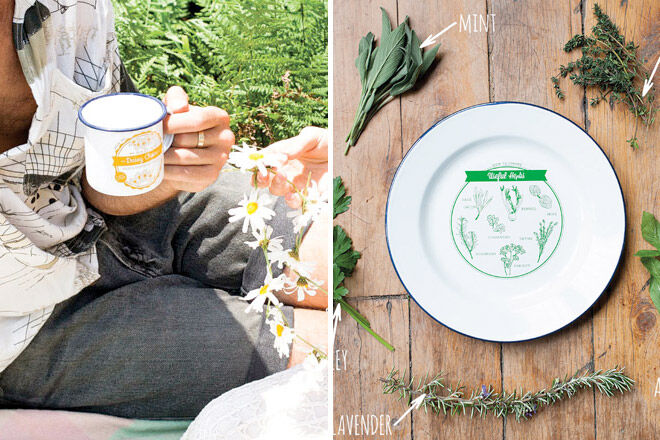 Is 'campfire chic' a thing? If it's not, TMOD just invented it. These enamel cups, plates and teapots in TMOD's adventure range have an old-school Boy Scout vibe that reminds us of something out of Moonrise Kingdom. The collection is inspired by all kinds of outdoors adventures and each piece is printed with instructions for camping activities. Make campfire pancakes (using the mug as your measure – handy!), brew some bush tea in a cute kettle, or read your plate to find out how to forage for edible flowers. The water bottle even features a camping checklist!
2. Bring a portable high chair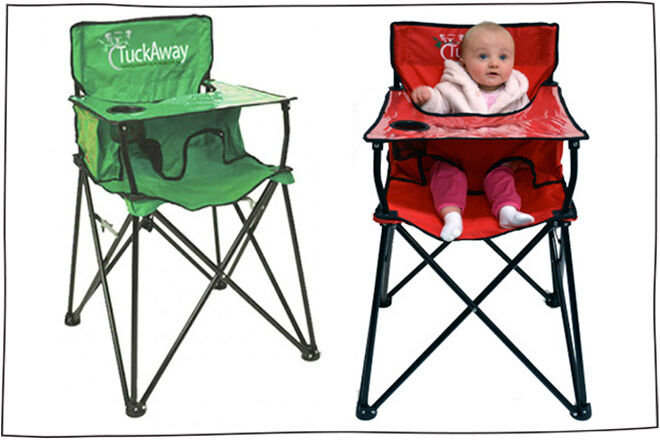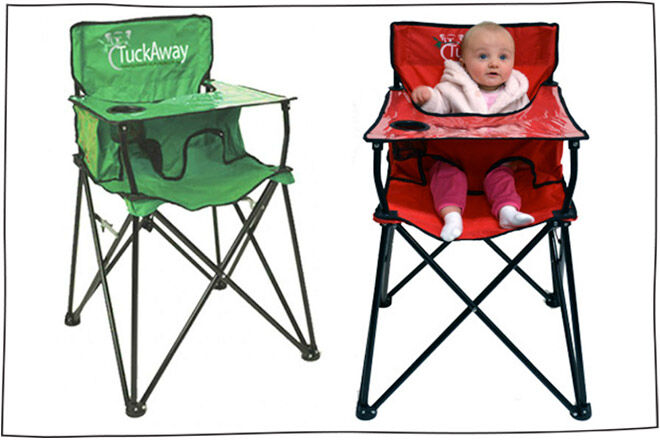 Getting the kids to sit still while munching their way through an outdoor diner isn't an easy task for the best of us. We jumped for joy when we clocked our eyes on these nifty little TuckAway high chairs ($89) from Scorpi0n Global. Complete with cup holder and wipe-clean resting tray for plates and finger food, these are a MUST for your mini camper! With sturdy lockable legs and an adjustable safety strap, the TuckAway folds up just like a camp chair and we bet you can find a million uses for it even when you're not camping. Take it with you to barbecues, picnics, lunch at a friend's house, or on holiday. Genius!
3. Choose one-pot cooking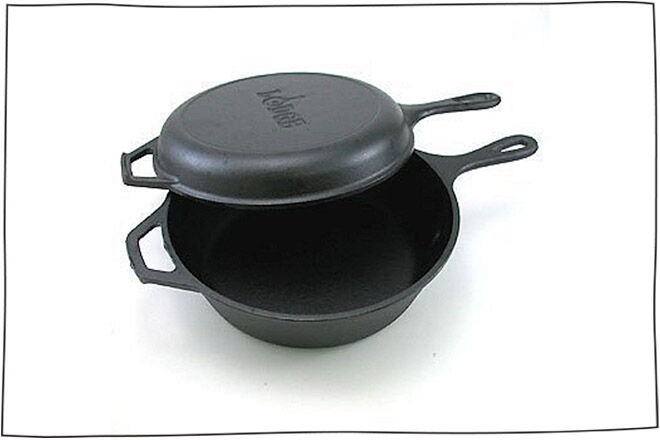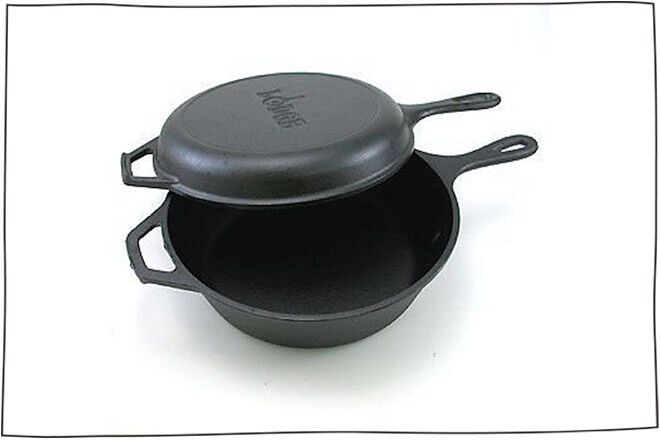 Putting up tents and running around like a crazy lady out in the wilderness is bound to make you a little peckish! This iconic, quality cast iron cookware from Lodge is ideal for all your campsite cooking needs. Lodge cookware is seasoned with vegetable oil baked onto the iron at a high temperature, creating natural easy-release properties. The more you cook, the better it gets.
Get the fire going and get the kids to measure out ingredients for your one pot meal. Minimal prep and minimal dishes. YES!
4. Upgrade your acommodation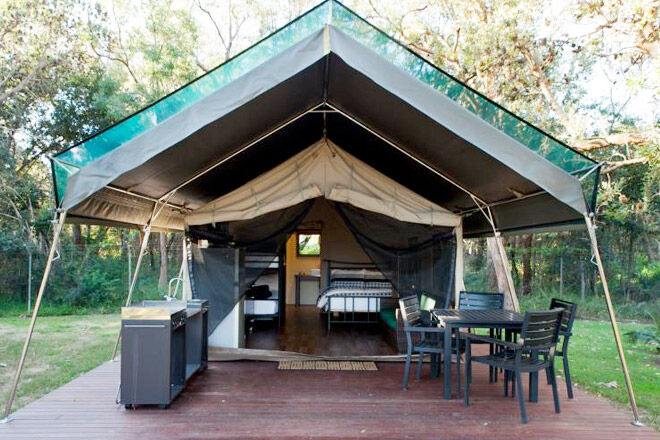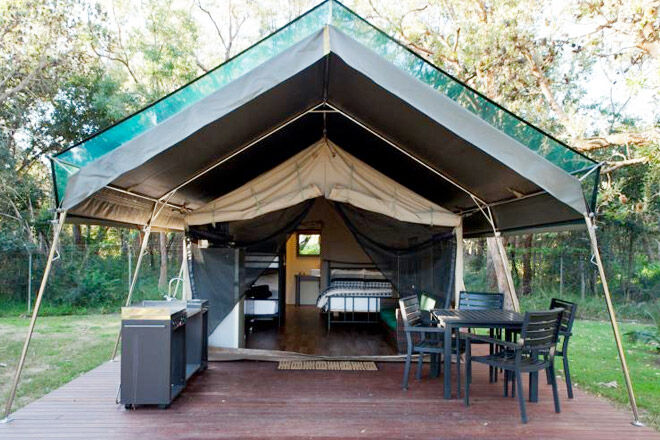 If the idea of pitching in the bush is too much for you to handle, then why not head to NRMA Holiday Parks for some fabulous family fun. You can enjoy all the facilities on offer, such as swimming pools, water parks, mini golf, free WiFi and camp kitchens while technically still in your tent. If walls and floors are more your thing, upgrade to one of their gorgeous luxe tents or cabins for ultimate glamping comfort.
NRMA Holiday Parks are located in some of the best holiday spots in Australia, including the Gold Coast, Coff's Harbour, Merimbula and the NSW South and Central Coast. Set in beautiful landscaped gardens, and they also offer great kids activities during school holidays and on weekends. Pitch your tent, park your motorhome, or check in to a villa or beachfront house and you'll know the true meaning of 'glamping'!
5. Keep bub covered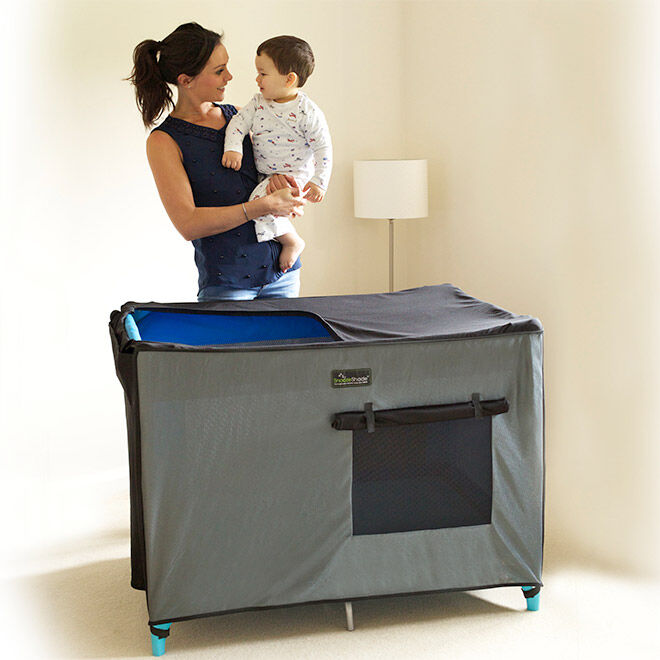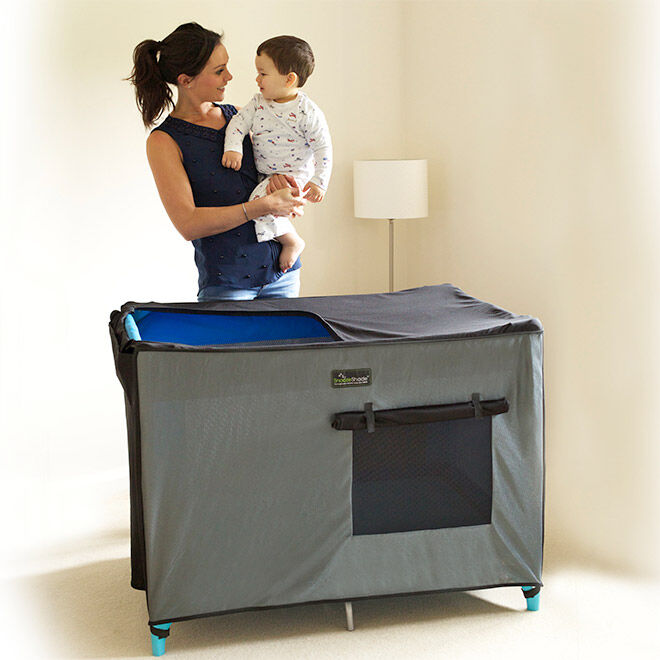 Snooze Shade have designed the perfect partner to your cot if you're camping with bub in the same tent. The SnoozeShade Plus Deluxe is a breathable cover to place over your portacot for shade, insect protection or just to create a dark environment for sleeping. It ensures they won't wake up when you turn on the torch in the middle of the night or at the crack of dawn when the sun streams in. Anything that gives mum an extra hour of peace in the morning is a winner for us!
6. Pack mini beauty essentials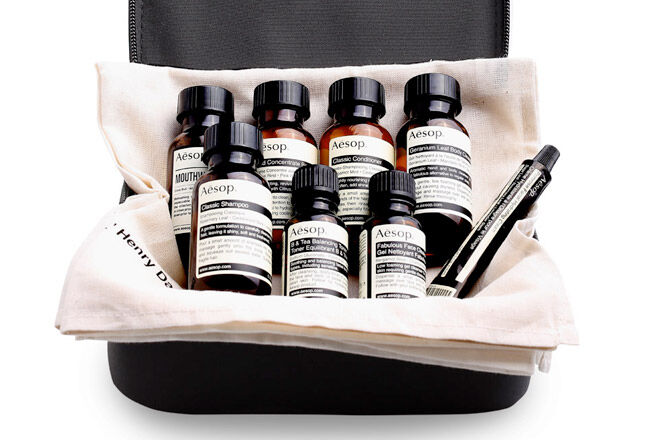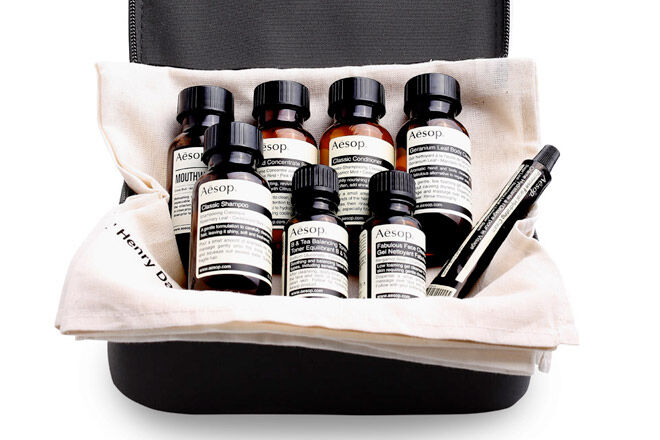 Let Aesop take care of your beauty regime while you travel with their luxurious travel kits. Jam packed with all the essentials, you can take their mini bottles of magic with you anywhere – from parsley seed anti-oxidant skincare to mouthwash, shampoo and conditioner.
7. Glam up your gumboots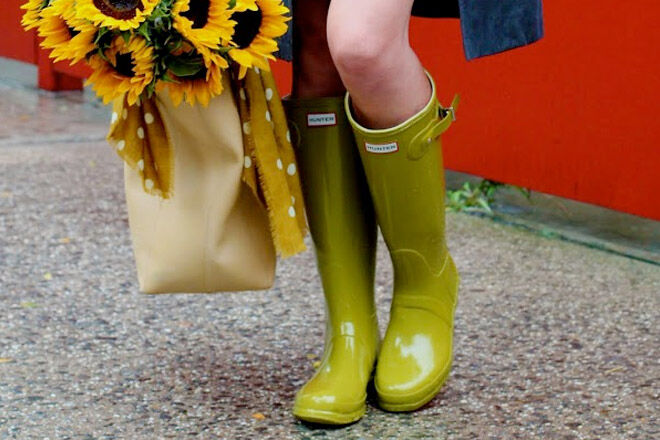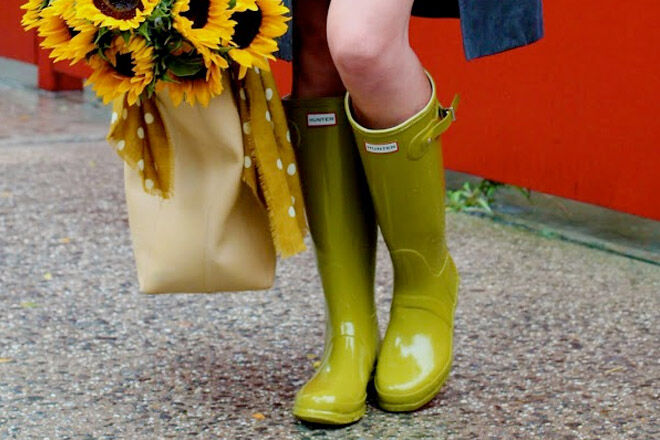 Traipsing through the mud and trekking in treacherous weather doesn't have to be all doom and gloom. The muddy get-away could be a perfect excuse to go out and buy yourself some seriously glamourous gumboots! Hunter are the style icons of the gumboot world with boots in every colour of the rainbow. Why be boring with black when you could add a bit of gloss to your glamping!
8. Take a terrific tent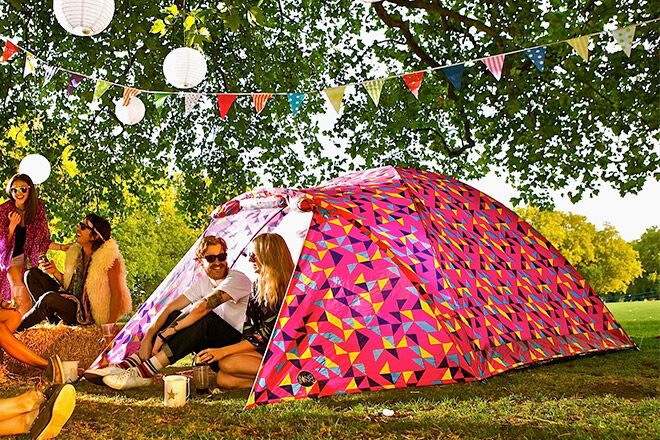 The days of dead phone batteries and lifeless laptops out on the open road are long gone thanks to the peeps at Bang Bang Tents. Their colourful collection of solar powered tents ($395) can charge anything from your camera to your speakers with the 5watt panel that sits snug as a bug in the back of tent. Plus their cool designs will definitely get you noticed in the camp ground!
Or for something completely luxe, check out Lotus Belle tents (that's the one at the very top of this post). These amazing yurt-style tents (from $1,950) are so huge, you could put your double-bed inside!
9. Bring your Thermomix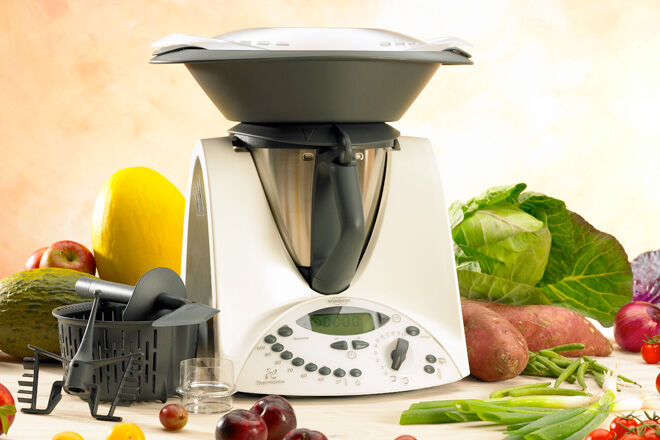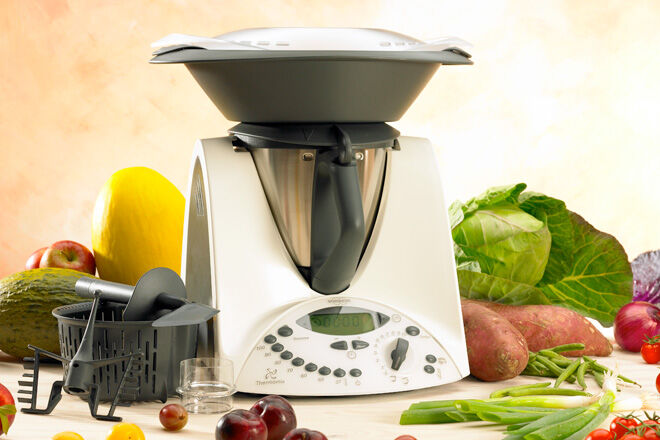 A powered site is the perfect place to bring this wondrous cooking gadget. Your camp neighbours will wonder how on earth you manage to whip up fresh soups, risottos and smoothies without appearing to break a sweat. Make one-pot dishes or use your thermie to help you prep for easy campfire or BBQ cooking: chop and steam veggies, make sauces, or knead dough for campfire bread. Check out some recipes here.
10. Light up lovely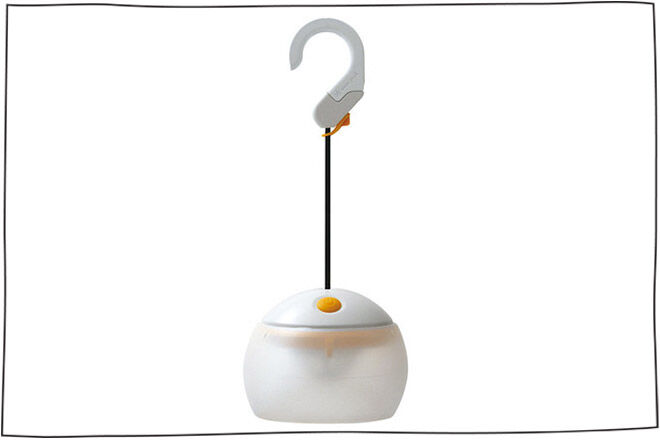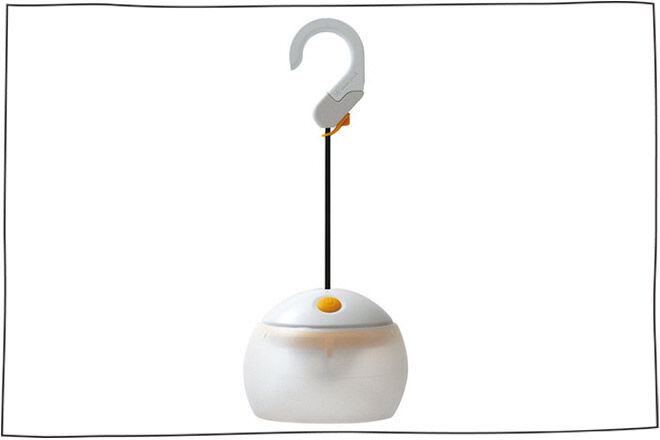 Sick of being blinded by a bright torch as your other half searches the tent for their thongs? The lightweight, silicone Hozuki Lantern ($89.95) from Snow Peak hangs up like a pendant light and has several light settings. Create a soft candle-like light for your tent interior or under your awning, or upend it and set to 'flicker' for a realisic candle effect on your camp dinner table.
11. Pimp your campervan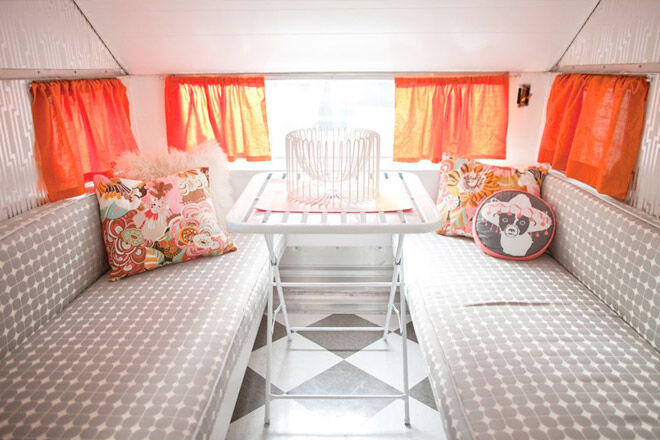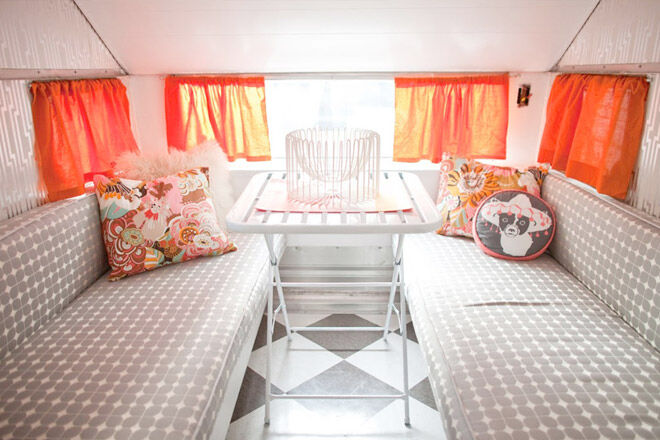 Creating a luxe caravan experience doesn't have to involve buying a top-of-the-range camper. Check out Michelle Sullivan's guide to how she glammed up her vintage camper and made it look a million dollars (on a budget).
12. Get your coffee kick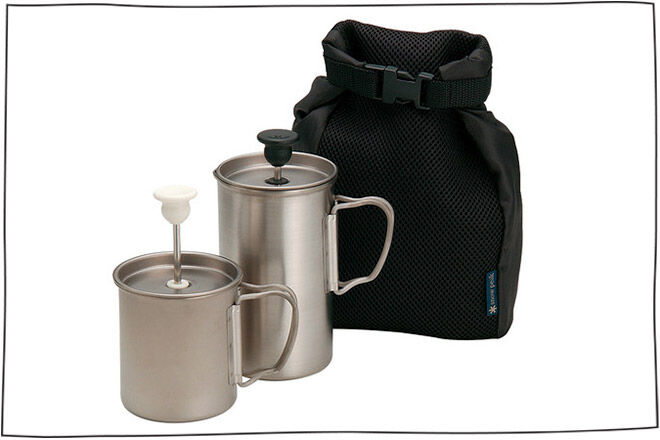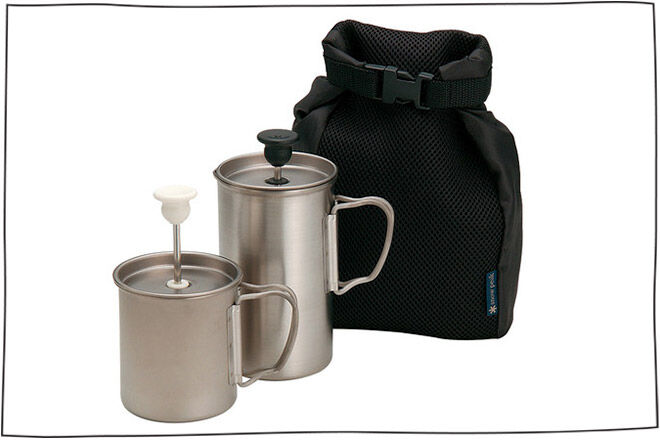 If you think that going camping means you have to go without your cafe style caffeine hit then you're wrong! The guys at Snow Peak have taken note of our crazy coffee culture and brought us this beautiful Cafe Latte Set ($110.95). Not only does the titanium french press give you the perfect pour, but the titanium milk foamer allows you to create the style of coffee you desire. Cappuccino anyone?!