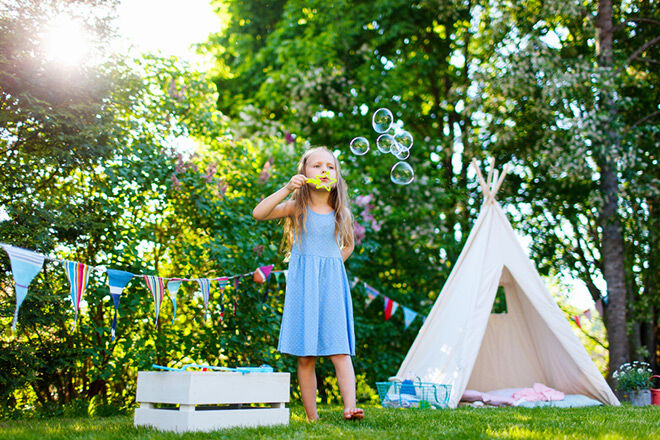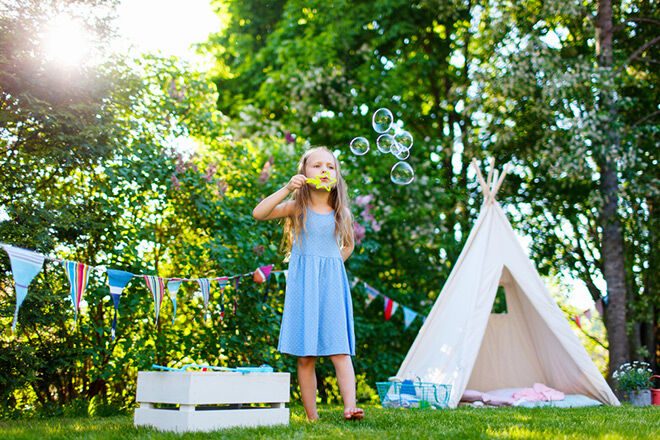 Spring is almost here and we can finally go outside again! Hurrah! Here are 14 kid friendly garden ideas to turn your backyard into a fun, creative and beautiful place to play. Brought to you by Australian Outdoor Living.
1. Tyre swing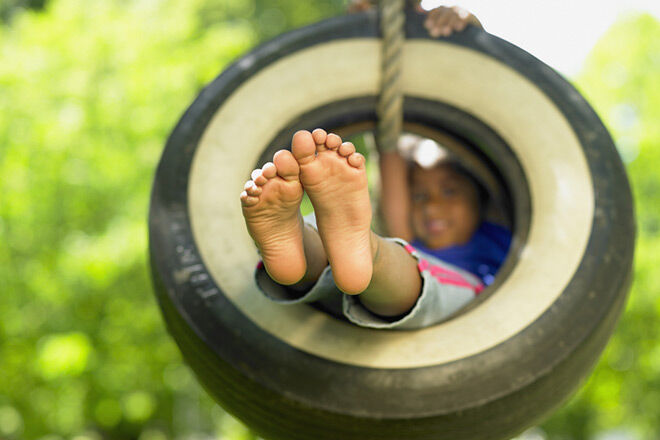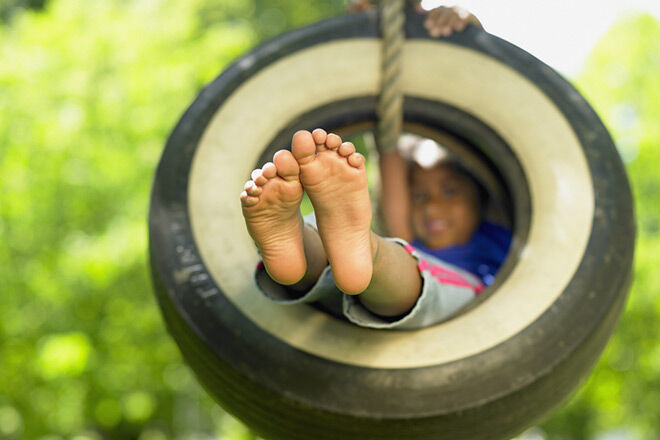 There's nothing more old-school than a tyre swing. If you have a sturdy, shaded tree it's the perfect spot for swinging the day away. Add an old tyre and some rope or chain and this old-fashioned play equipment won't break the bank.
2. Cubby House (or tent)

If you have room for a cubby house, then it's a prime investment! A cubby will be used day-in-day-out during the warmer months for pretend play – everything from shops to cafes to mums-and-dads or even used as a knight's castle or superhero lair. But if you don't have space for a permanent structure, don't despair. A play tent or tepee filled with pillows does the job just as well and can be brought inside when the sun sets. [Image: mycubby.com.au]
3. Veggie patch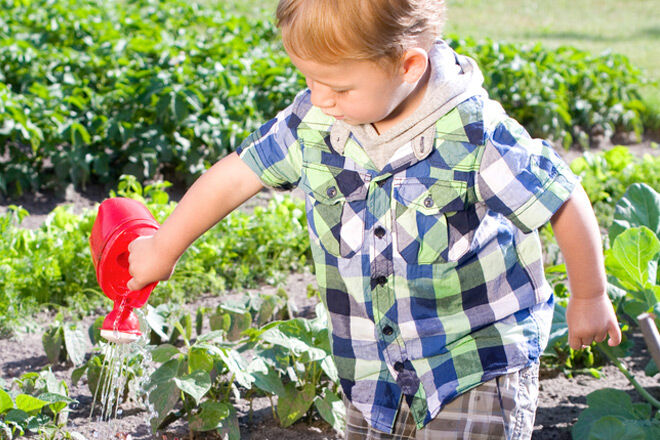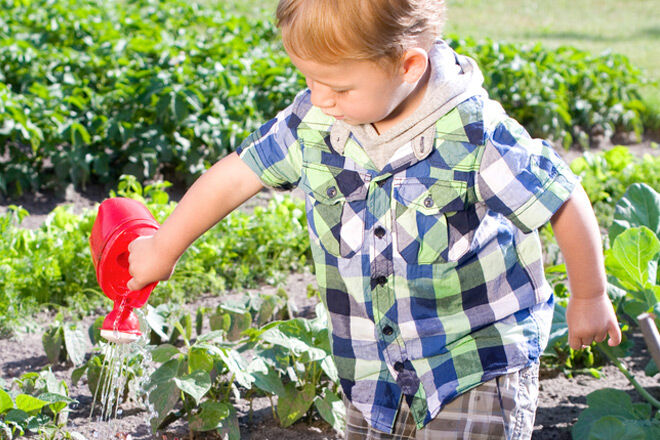 Devoting a portion of your garden to veggies is a treat for the kids as well as you. The family gets fresh home-grown food and the children will love planting, watering and getting their hands dirty. If you're worried about them pulling up your prized produce, assign them a plot of their own and fill with easy-to-grow veggies.
4. Artificial grass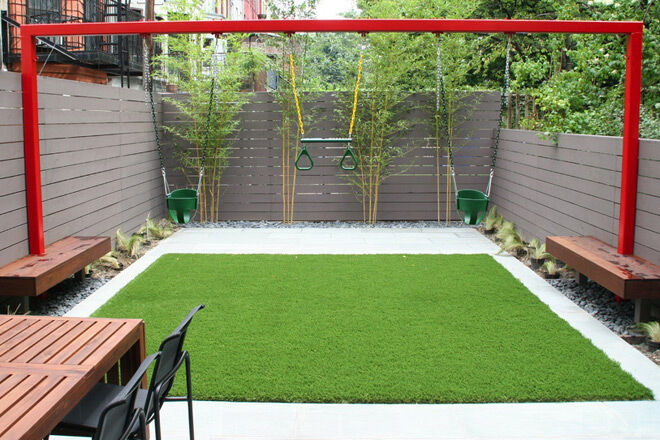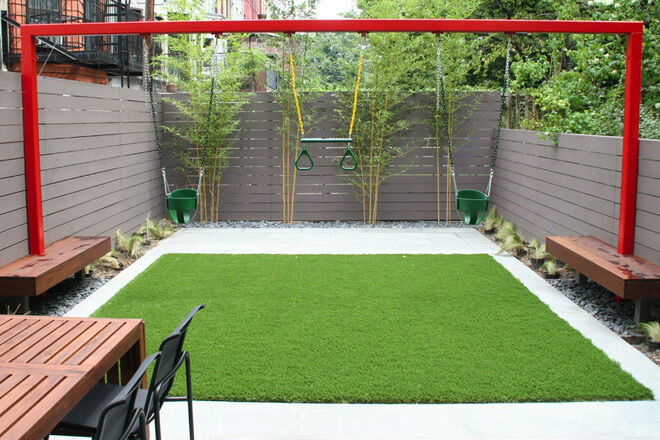 Artificial grass is especially good for providing a soft play surface under trampolines and play equipment, without the maintenance and water issues. There's also no mud when it rains and no weeds or bindis! It also allows you to get creative with shapes and playful ideas, so you can create a dream-like backyard wonderland. [Image: littlemiraclesdesigns.com]
5. Sandpit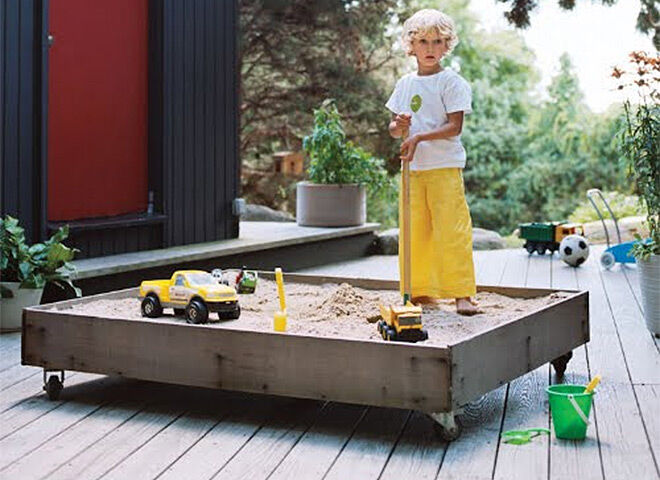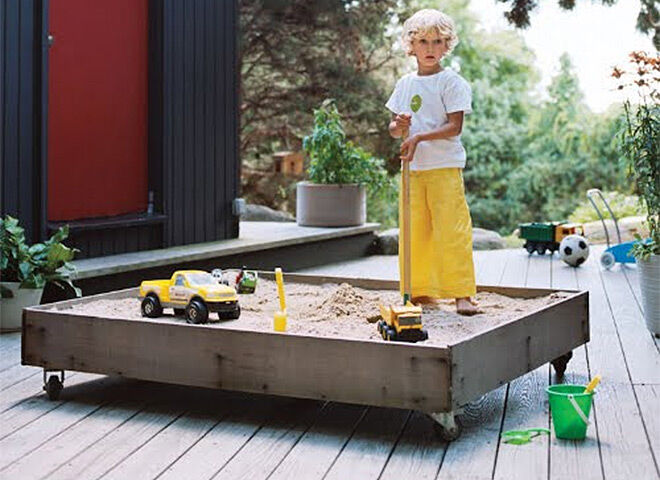 A built-in sandpit is amazing for kids but can take up a lot of room and leaves them exposed to the sun. How about building a portable sandbox on wheels? Or covering your sandpit with a pergola. You could even have a 'lid' built for the sandpit so the pergola area can be used for other activities (even grown-up alfresco drinks when the kids are in bed). [Image: melanieacevedo.com]
6. Outdoor blackboard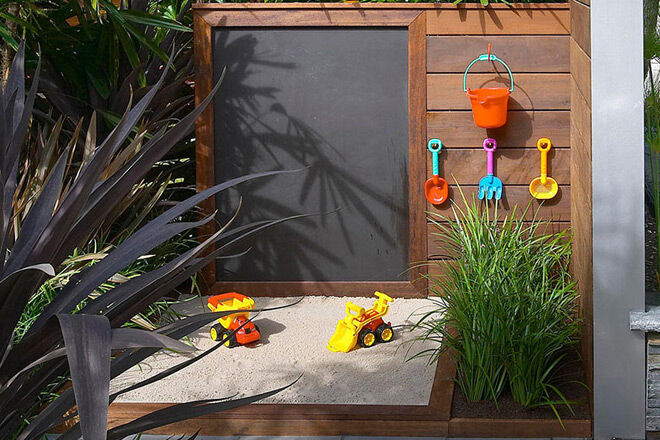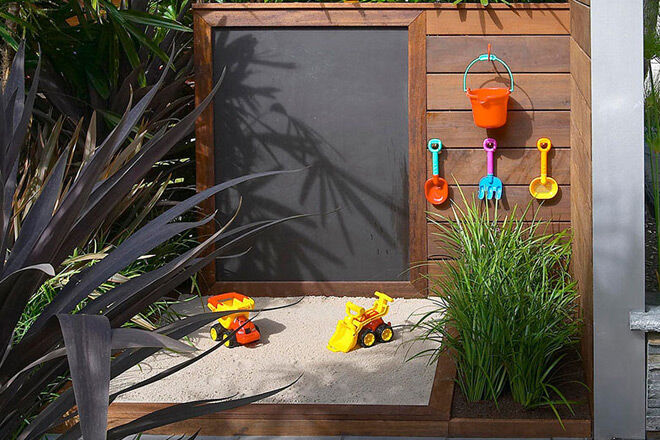 Outdoor blackboards are a fun and easy way to unleash (temporary) creativity outdoors. They go perfectly in a corner with a sandpit or can be attached to any fence. We love the colour and personality it adds to the yard once covered with the kids' technicolour scribbles. [Image: rollingstonelandscapes.com]
7. Fairy gardens and safari parks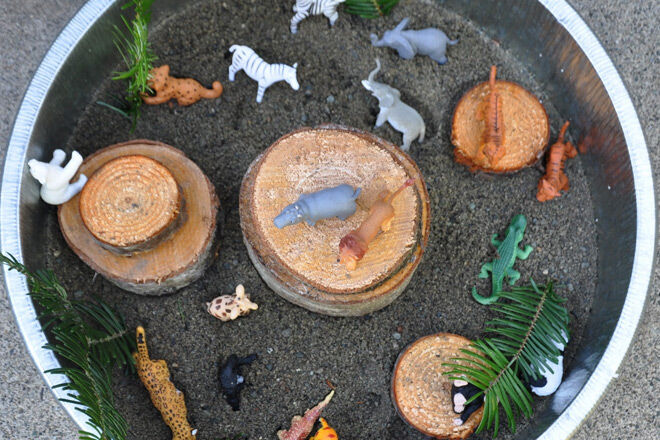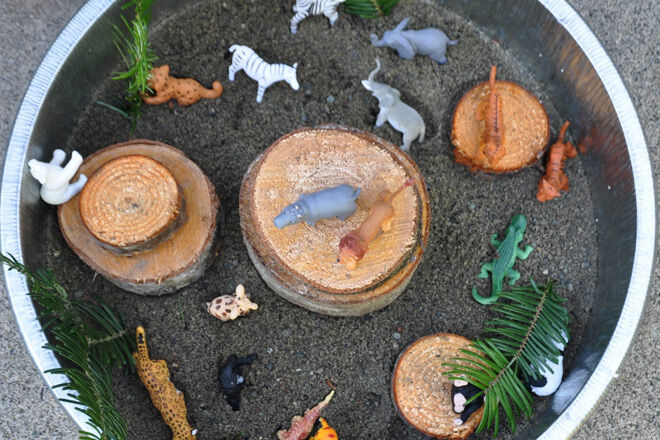 When it comes to small space ideas for outdoor play, this one's a winner. Call it container gardening for kids. Take a pot or large basin and plant up a miniature fairy garden, using tiny pebbles for a path, moss for grass and little decorative fairy objects. Or use mini ferns, rocks and wooden offcuts to make a tiny safari park for plastic animals to play. [Image: stompinginthemud.blogspot.com.au]
8. Race track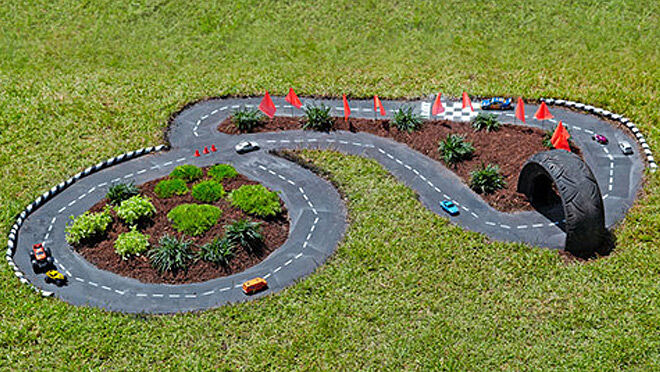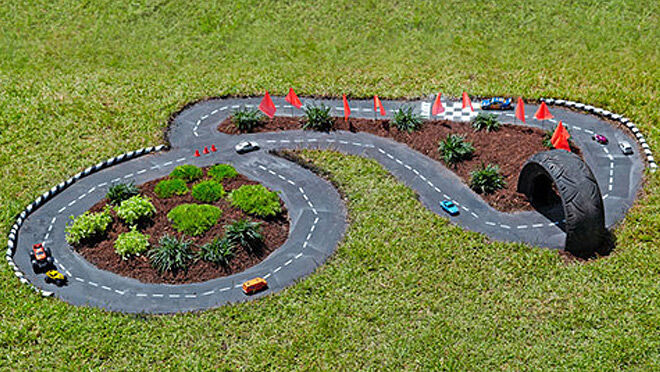 Get car-loving kids outside by giving them a permanent built-in race track! Get instructions for creating your own mini Formula 1 track from Better Homes & Gardens.
9. Water play
Water play is the ultimate backyard activity! Whether its running through the sprinklers, splashing around in buckets or wading in the paddling pool. Why not create a dedicated water play area with an elevated water table, or create your own play pond for toy boats with this tutorial from Lowe's.
10. Outdoor kitchen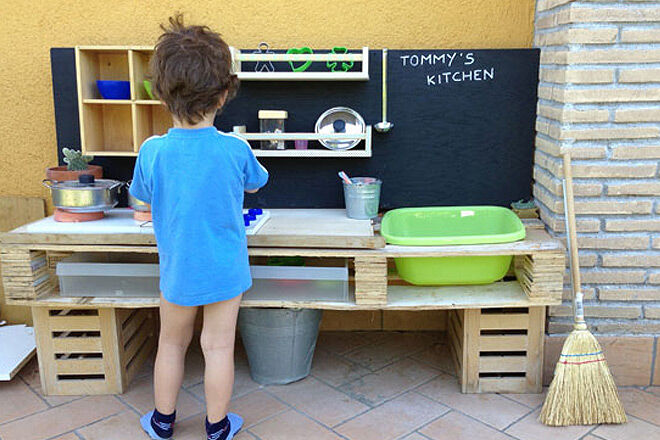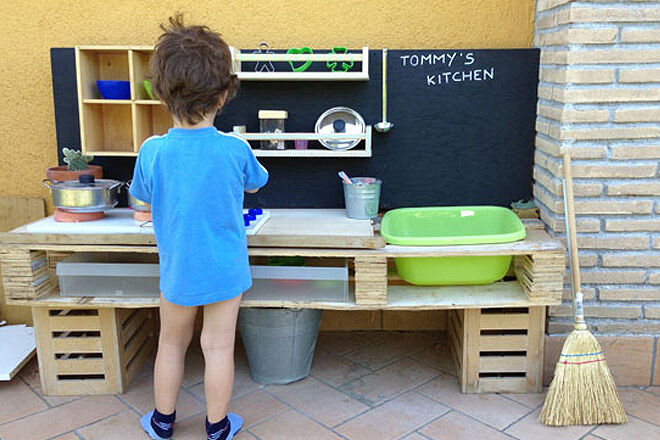 Play kitchens are a big hit indoors and even better when they are outside and Mum and Dad will let you make a MESS! A mud pie kitchen can draw on lots of the elements we've already mentioned here (outdoor blackboard, sand and water play) to create a corner of the garden devoted to fabulous fun. This one was built out of pallets, but you could build a more permanent structure in the garden that could double as a potting bench or garden storage when the kids grow up. [Image: mommo-design.blogspot.com.au]
11. Garden art studio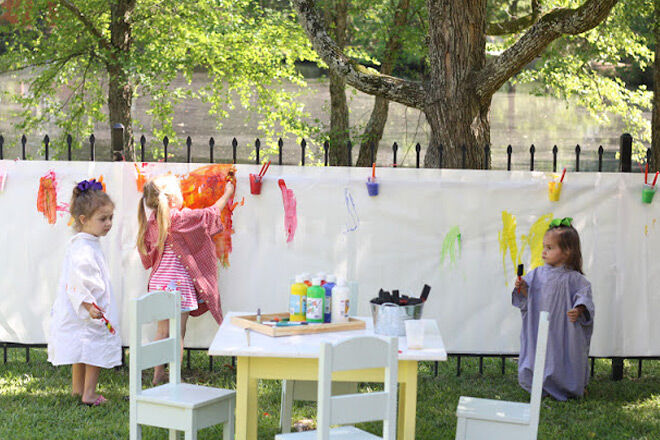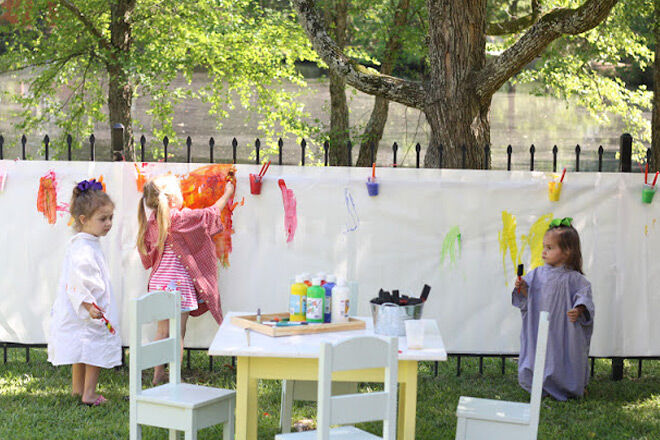 If you have a fence that's not too high, attach a long roll of butchers paper with pegs or spring clamps, and hang plastic cups full of washable pant. Then let your little Jackson Pollocks go crazy! [Image: girlinthegrayhouse.blogspot.com.au]
12. Rock climbing wall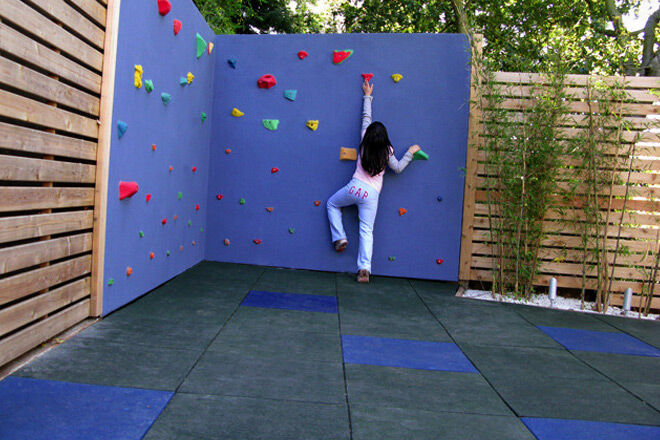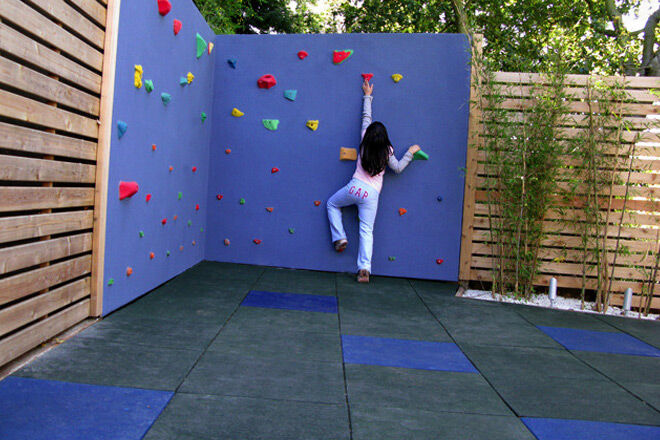 Little climbers will be very happy when you turn a corner of your garden in to an awesome climbing wall! Just make sure it's sturdy and safe and you have a soft surface below. Or build a smaller, angled A-frame for little ones. [Image: www.shadesofgreenla.com]
13. Outdoor toy storage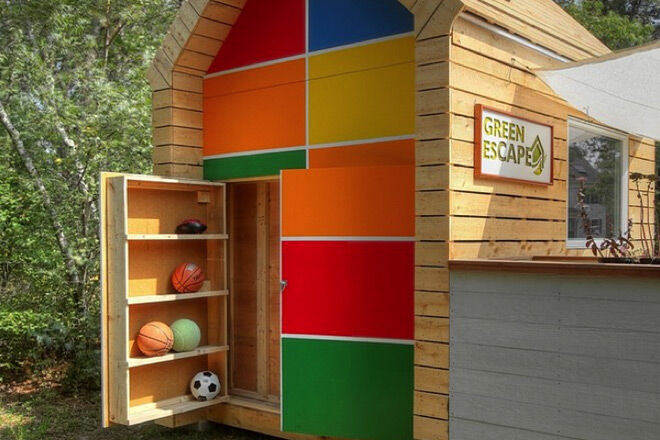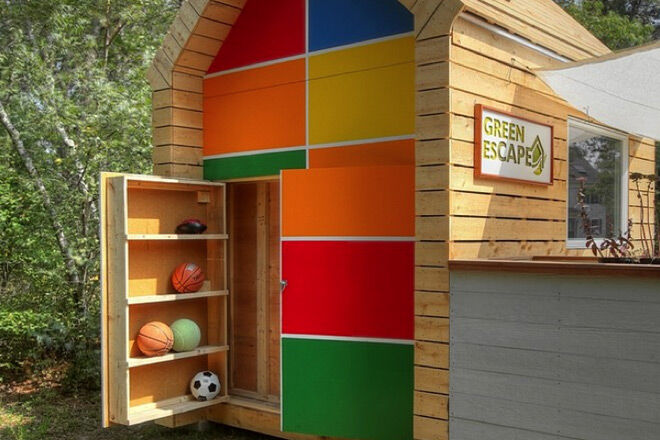 With all this outdoor play you're going to need a creative place to store all those balls, buckets, spades and more. Look for places to build in storage including under seats, inside benches, under stairs and decks, attached to walls, or even in the walls of a play house! [Image: zeroenergy.com]
14. Keep it safe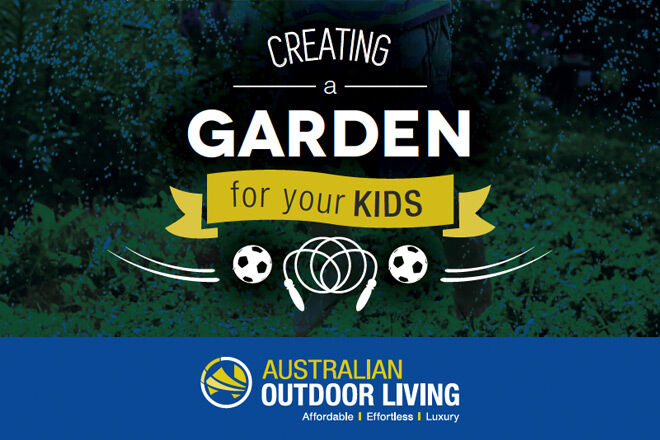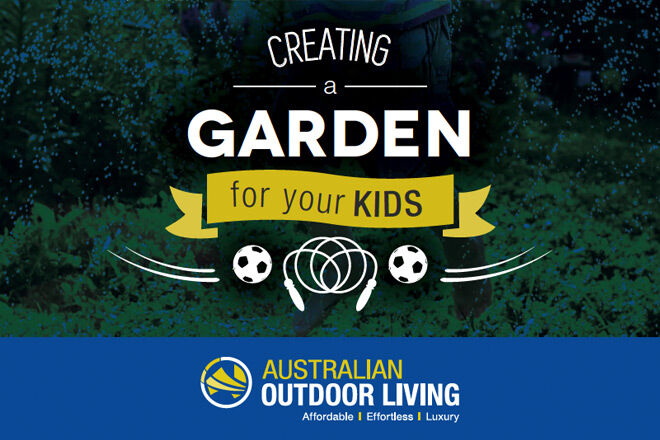 Australian Outdoor Living has put together a handy guide to creating a garden that's safe and fun. Download the guide for advice on what ground coverings and shading to choose as well as top tips for making your garden safe and welcoming for kids.
Australian Outdoor Living helps Australians improve their lifestyles and build the dream outdoor home environment they've always wanted. Their range of outdoor cafe blinds, roller shutters, artificial grass, pergolas, verandahs, decking, pools and more can help you to create that perfect outdoor space for your family. Find out more at australianoutdoorliving.com.au