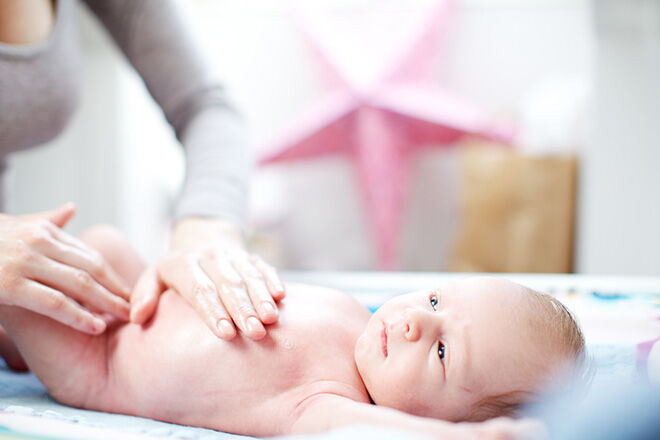 In any nursery, the change table is a hub of activity. Not just for nappy changes, its where most of your baby's personal care will take place, it's where you'll dress and undress them, apply creams and lotions and dry them after bath. After the cot, it's the most important spot in your baby's room.
But … babies wriggle! You can't leave them there unattended, you definitely can't go in to the next room to grab something you've forgotten, and as soon as they start to roll you'll need to learn to do everything with one hand. So having your change table set up properly with absolutely everything you need is essential.
We've put together this handy guide for assembling all the change table essentials, to ensure you're one super-organised mama with a happy bubba.
1. Nappies and wipes
Well, of course, nappies and wipes are a no brainer for a change table – but there are a lot of things to consider here. Firstly, you'll need to decide whether you're going to go for disposable nappies or modern cloth nappies. If it's the latter, you'll need to look at various brands and either buy all-in-ones, or other styles that require snap-in boosters and liners.
Similarly, if you are buying commercial wipes, you'll need a wipes container that can be opened with one hand and some mamas in cool climates swear by a wipes warmer to prevent tears. Or if you want to go au naturale, some mums prefer a spray bottle of water and a washcloth for wiping.
2. Nappy rash cream and moisturiser
A good nappy rash cream is a change table essential, of course. You might need to try a few before you find the right one for your bub. There are barrier creams, soothing ointments, and antiseptic creams. Paw Paw ointment, coconut oil, or cornflower powder. Get some samples from the chemist or from your health nurse. You'll also want to get a sensitive skin moisturiser to keep the rest of baby's skin soft and free from dry spots.
3. Hand sanitizer
You won't be able to run to the bathroom to wash your hands, so make sure you have a bottle of hand sanitiser at the ready to disinfect before and after nappy changes or before any other personal care. A pump style is perfect because it only needs one hand to operate.
4. Face washer
Face washers have a million uses – yes, perfect for wiping faces, wiping bottoms if you prefer not to use commercial wipes and mopping up spills. But mums of boys also tell us they are perfect for throwing over boy parts while the nappy is off, to prevent a little wee stream from sprouting up!
5. Little Eyes eye wipes
Lots of babies get gammy eyes in the early months. Use Little Eyes hypoallergenic wipes to gently and safely remove crusts or secretions from the corners of baby's eyes. With no alcohol, fragrances, or preservatives, these wipes come in individual sterile sachets perfect for the change table drawer.
6. Hair brush
Your bub might not have much hair … or they might have a lot! The change table is often a good spot to give their tiny tresses a quick brush after getting dressed, to keep them looking darling and dapper.
7. Nail clippers or scissors
Use change table time to check baby's nails and keep them trimmed to stop scratched faces.
8. Cotton balls
Oh, there are so many uses for a cotton ball! Use them to gently apply nappy cream on sore spots, use them to clean between all those chubby bubby baby skin folds, to dab on ointments or to clean your baby's comb or scissors. A very handy item to have close by.
9. Thermometer
The change table is usually the first place you take baby to when they wake up – so if they feel like they've woken with a temperature you'll want to be able to check right away. Keeping your baby thermometer here is also a good idea as you'll always know where to find it!
10. Nasal drops and aspirator
Speaking of illnesses, as soon as they get their first cold (and we regret to inform you will happen eventually) you'll suddenly know how essential saline drops and a nasal aspirator can be.
11. Cloth nappies
If you're wondering why stores still sell old-style cloth nappies (which are essentially large squares of terry towelling) this is why: they are super-absorbent and therefore good to use as burp cloths, for mopping up milk spews or putting under the baby as a change table cover. They have a million and one uses – basically, anything you might normally use a towel for – except their size and shape makes them easier to use and wash regularly than a big bath towel.
12. Massage oil
Massage can be a lovely way to bond with baby. It's great for getting them relaxed before bed or get them used to being on the change table if they don't seem to like it! Keep massage oil in your top drawer and give baby a rub down after bath, before bed or between changes.
13. Nappy sacks
You may wish to use a nappy pail or another nappy disposal method, but lots of mums find it easy to use biodegradable, odour-neutralising nappy sacks to wrap up dirty nappies and stop the stink!
14. Change table covers
A plastic change mat is practical for wipe-clean convenience but that cold surface can be a shock to the system for tiny bottoms. Prevent change time tears with a towelling or cloth change mat cover. Always keep a spare in your change table drawer, or use cloth nappy squares.
15. Dummies or teething toy
Some babies love looking up in to mummy's eyes as she coos and smiles during change time. Other babies are not too happy about the experience at all! Have a spare dummy, teether or toy within reach so you can soothe and placate them while you get the job done. You might want to reserve an especially engaging toy just for change time.
16. Spare onesie
It's a rookie new mum mistake. We've all done it. Picked the perfect outfit for the day, got baby all ready on the change table and then suddenly an errant milk burp or nappy explosion means it all has to come off. Then you're carrying a wet and crying baby back to the wardrobe to pick a new outfit. Keep a spare onesie or romper in the drawer so you can get them changed quickly if you need a backup plan!
17. Disinfectant wipes
Cleaning wipes are a quick way to give the change table mat a once over after accidents or just to keep germs at bay. Look for plant-based non-toxic wipes.
18. Nappy caddy
The change table is looking a little full now! You'll need a way to keep it all organised. Although you might have a couple of drawers or a shelf, a nappy caddy is perfect for keeping the absolute must-haves within reach: nappies, cream, wipes and nappy sacks. The caddy can also be grabbed and moved from room to room if you need to do a quick change in another part of the house.
19. The rest
So, your change table is all set but there are a still a few more things that need to be in the vicinity. In the early months, lots of your nappy changes will be done at night, so keep a soft night light nearby. The low light will send signals to the baby that it's still nighttime (not morning!) Also don't forget you'll need a bin for disposable nappies or a washing pail for cloth, and easy access to your laundry basket. Top it all off with a mobile, wall frieze or other distraction to keep your bub entertained.
And there you have it – the perfect change table setup!