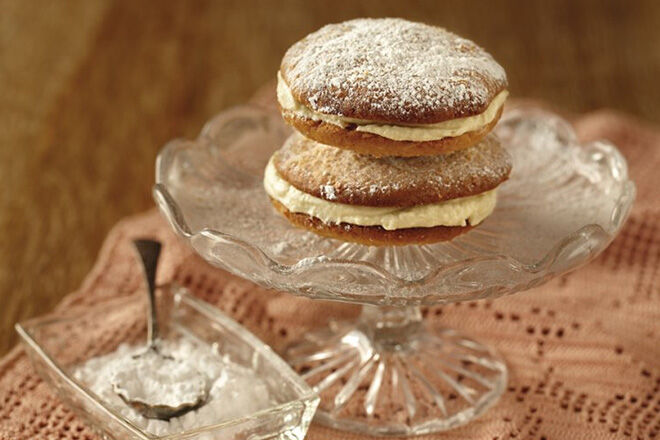 Is it a biscuit? Is it a cake? Nope, it's a whoopie pie: a cross between a sponge cake and a cookie. Confused yet? Well, all you really need to know is it's delicious.
The pastry part is crisp on the outside and soft on the inside, with a moreish vanilla cream filling sandwiched in between. This whoopie pie recipe makes 10-12 'pies', which in my house pretty much translates in to a serving for one.
If you don't like coconut, omit it and use the batter as a base for any combination of flavours you choose: add choc chips for a sugar rush or grated lemon rind for a citrus tang.
Ingredients
1 cup (150g) self-raising flour
½ cup (75g) plain flour
pinch of ground cinnamon, nutmeg and ginger
155g salt reduced butter, softened at room temperature
½ cup (100g) caster sugar
¼ cup (50g) brown sugar
2 tsp vanilla extract
2 large eggs
2 tbs milk
2 tbs desiccated coconut
Filling
150ml thickened cream
½ cup (70g) icing sugar
1 tsp vanilla extract
pinch cinnamon