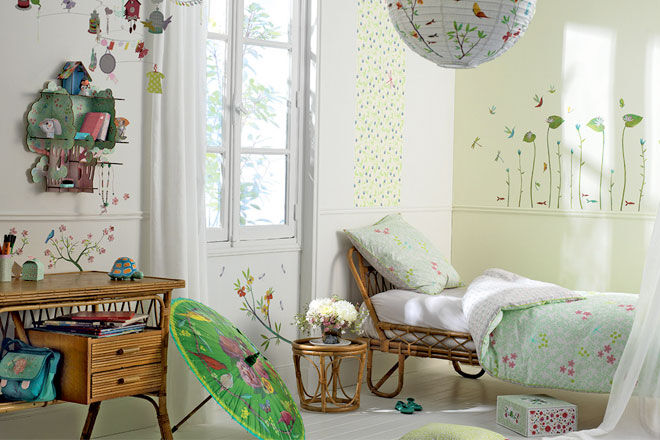 There's something magical about Little Big Room décor by Djeco. Somehow this chic French range – incorporating wallpapers, quilts, shelves, light shades and more – has the power to transform a humble little bedroom into a whole new universe.
The designs, colours and patterns are bold and beautiful. They cleverly manage to combine a sense of fun and excitement with an overall feeling of calm and serenity – ideal for bedrooms where sleep might not always come easy. Now your little one can drift off in an enchanted meadow surrounded by fairies. Or slumber at the edge of a wood with friendly forest animals for company.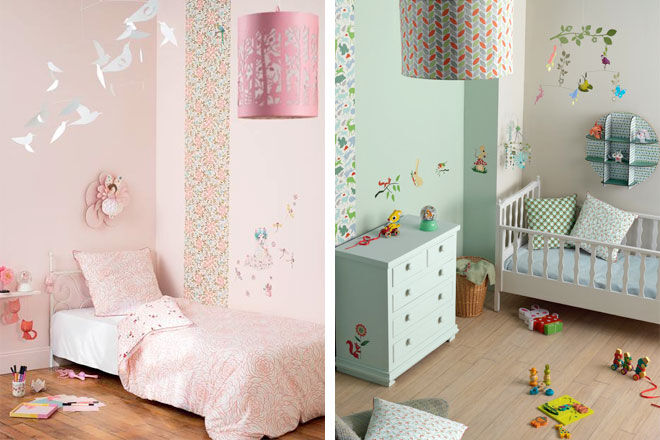 The Romantic Quilt and Pillow Case Set ($99.95) is fit for a princess, in gorgeous soft pink and white hues with pops of red flowers. Match it with Romance Wall Paper ($54.95) and a Raspberries Cushion ($29.95).
And of course there are heaps of other furnishings to choose from, including playful wall stickers (from $24.95), and lanterns and light shades (from $22.95) in charming colours and patterns.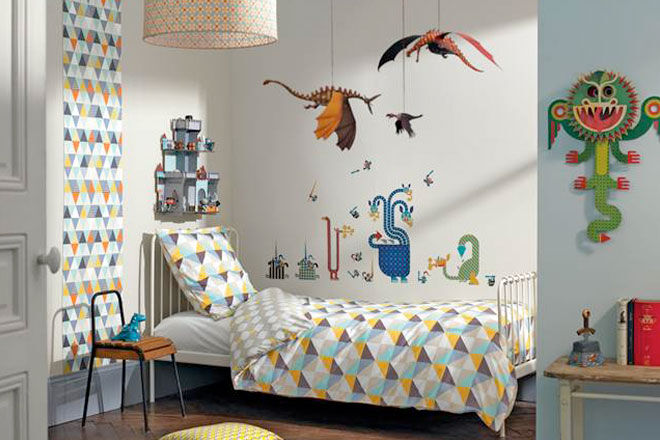 For the little man in your life, check out the Checks Quilt and Pillow Case Set ($99.95). It comes in a funky pattern of blues, brown and taupe with pops of yellow on one side, and a geo pattern on the other. Again there's a wall paper pattern to match and a host of other items to complete the look.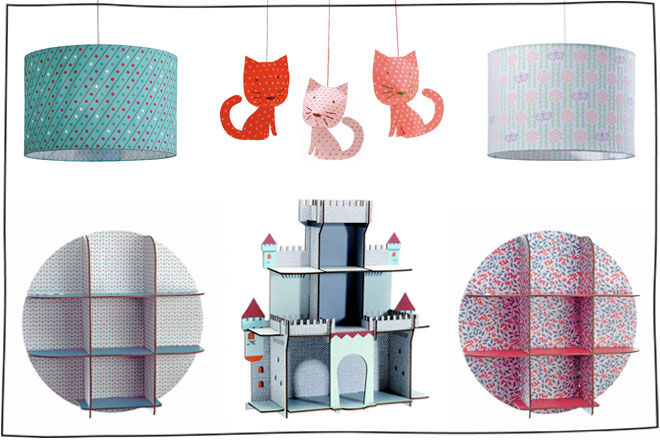 If you thought mobiles were just for babies and toddlers, think again! Djeco have designs to suit all ages and tastes, including purrfect Perched Cats and delightful Dragons ($9.95 each).
And for the icing on the cake we love Djeco's fabulous shelf systems, perfect for displaying treasured possessions. Choose from the circular Little Dots and Little Flowers designs ($67.95), the oh so fun Knight's Citadel ($59.95), and many more. With storage like this, tidying up will no longer feel like a chore for your little mucky pup.
Available at wheredidyougetthat.com.au