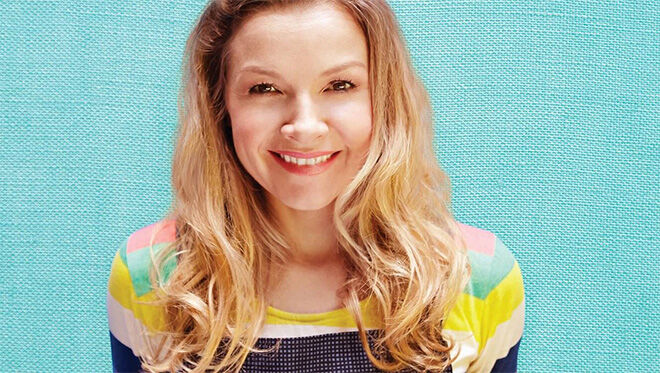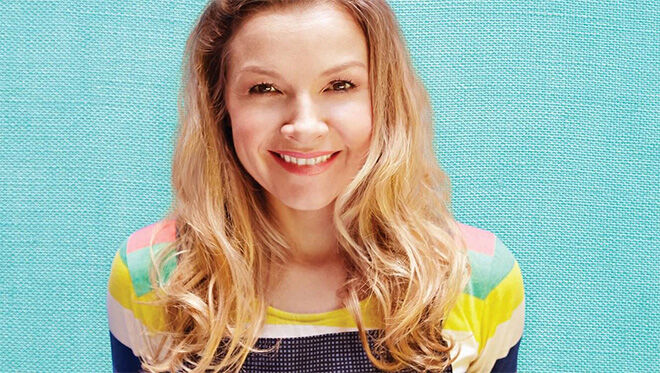 Meet the amazingly multi-faceted Justine Clarke.
She's an accomplished stage and screen actor, seen most recently on Time of Our Lives, and mum to three children – Josef, Nina and Max. But our kids know her best as a long-standing Playschool host (11 years!) and the voice behind hits like Little Day Out, Dinosaur Roar, Dancing Face and Watermelon. We were lucky enough to catch up with Justine in between rehearsals for her new tour, to ask her how she does it all.
Q. Where do you get inspiration for your songs? What makes a good children's song?
I'm inspired by what's around me, it really helps still having a 5 year old in the house because it keeps me inside that world. Getting on the floor and playing superheroes with my 5 year old, singing songs with him, keeping an ear to the ground about what things he and his friends like to do. Most importantly it's staying connected to the memory of being a child yourself once. It's great to hang on to that feeling. We were all there once!
Q. What do you love about performing for children?
Their unbridled energy, their heckling, their honesty. The joy of hearing them sing and seeing their faces when they are truly engaged in the music. It's priceless.
Q. Did you always imagine you'd become a children's performer?
I've been singing and performing for as long as I can remember. It was a natural progression for me to record this music with Peter Dasent (the pianist on Play School) because I loved the songs. That's always been at the heart of this project, the music, the writing and the simple objective to make good music for kids and their families to enjoy.
Q. How do you balance it all: acting, singing, writing, performing, and raising a family of three children? Where do you get your energy?
Like all mums, I think I just go into each day with a list of things I have to achieve and then a list of what I would like to achieve after I get through the first list. Not much gets ticked off that second list, but I live in hope. But seriously, I don't think any of us has the time to sit back and work out the formula (if there is one?!) to balancing it. We just all try to do our best and accept that it's busy and know that it goes quickly.
Q. Do you ever get tired of singing the same songs over and over (and are your kids sick of your music?!)
I love the songs and I think my audience do too, so it's always lovely to sing them and know that the kids appreciate and enjoy them. There are certain songs that really work and I never tire of playing them as the enthusiasm for them in the crowd is infectious. My kids are older now so they have definitely moved on from these songs.
Q. Now that your kids are growing up, are you tempted to work on something that would appeal to your elder children's age groups?
Yeah it would be fun. Not sure what though!?!
Q. Do you think being a children's performer and Playschool host – and everything you've learned about engaging children – has made you a better mum?
I think everything I do, in some way, makes me a better mum. Like everyone, you just learn each day – the good and the bad – about being a parent, and doing the best you can at the time.
Q. Who is your favourite 'character' on Playschool?
Don't tell the others but Humpty is very funny. He wears a costume well and his hair is pure comedy whenever he moves. All the male presenters on the show are also very funny and animate all the toys so well.
Q. Were you ever tempted to reprise your role of Roo on Home & Away or was that a definite 'I've moved on' decision?
It wasn't an option. I had been asked to return earlier on after I'd left, but I wanted to play other roles. I couldn't go back now because Roo is back in Summer Bay!
Q. What was it like working with Frank Woodley on 'Woodley'? How were you able to contain your laughter while filming?!
I'm shocking, I'm a terrible laugher on set and Frank is hilarious, so yes, it was difficult but it was also a joy and a privilege to watch someone with his skill work.
Q. Many of our readers love your fashion sense – where do you shop?
Melbourne! Melbourne! Melbourne!
Q. Bernadette from Time of Our Lives or Ally from Tangle. Which character did you like playing better?
Both were great roles for different reasons and both had casts I adored working with. That's a hard one. Can't choose!
Q. What can we expect from your latest show, I am a Band?
The show is a live music concert, much like any other, only this is especially for pre-schoolers (and some school-age kids too! Anyone who likes pop music really) so you can expect the hits plus a couple we haven't played before like 'The Softest Song Of All'. But basically, all the songs that are the most engaging and interactive.
Q. Do you have any new projects in the pipeline?
I'm writing more which is great and have some things in the pipeline that are in development for TV. More touring and I'm about to open at the Opera House in an adaptation by Andrew Upton of a play by Maxim Gorky called 'Children Of The Sun'. Come and see it!
Q. And lastly … do you really love watermelon?
I love it, I love it, I really really do x
Justine's 'I am a Band' tour will travel to Perth, Adelaide, Melbourne, Sydney and Canberra during November and December 2014. To book, visit justineclarke.com.au