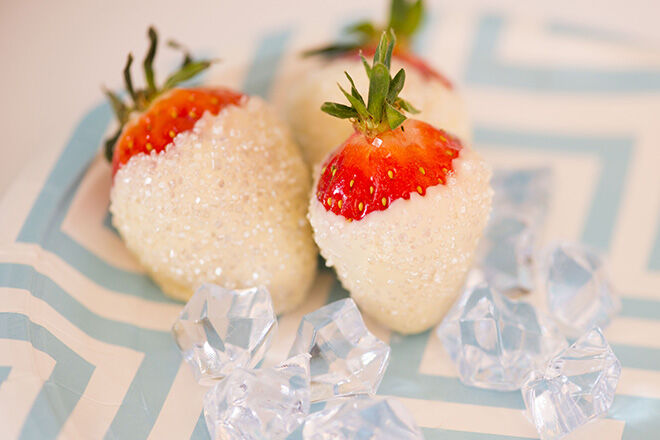 The best way to melt these frozen hearts is to eat them! Add some sweet fruity fun to your Frozen inspired party with these easy peasy white choc-dipped strawberry frozen hearts. Dusted with edible sparkles for that authentic frosty look!
Ingredients
Whole strawberries
White chocolate melts
White sugar sprinkles or edible glitter
Method
Line a baking tray with waxed baking paper.
Wash and pat dry strawberries, ensuring they're completely dry.
Place white chocolate melts in a microwave safe bowl and microwave on low heat for one minute. Remove from microwave and stir. Repeat until chocolate is warm and runny, but not hot.
Hold strawberries by the stalk and dip in to melted chocolate, turning strawberry to coat evenly.
Remove from chocolate and allow some of the excess to drip off.
Hold strawberry over an empty bowl with one hand, and with the other, lightly dust with sugar sprinkles or edible glitter until coated.
Place strawberry on baking tray. Repeat until all your strawberries are done, then refrigerate your frozen hearts until it's time to eat!
Looking for more FROZEN party ideas? Click here