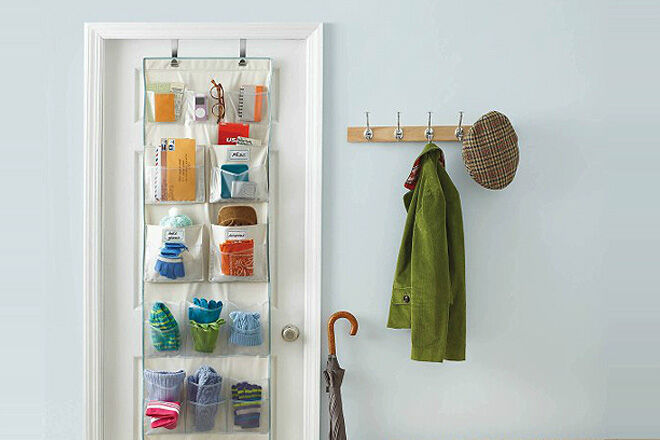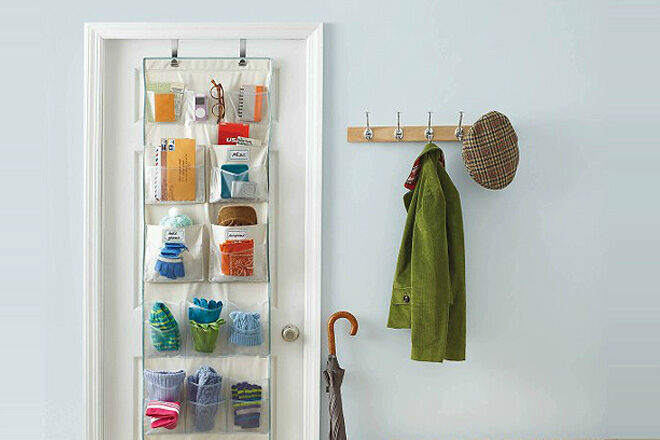 If your cupboards are overflowing and you're running out of places to hide the junk, consolidate your clutter with an inexpensive fix! A trusty over-the-door shoe organiser is all you need. The simple storage solution will instantly free up floors and help keep the cupboards clear. We've got 11 home organisation tips using your humble over-the-door shoe organiser!
1. Barbie party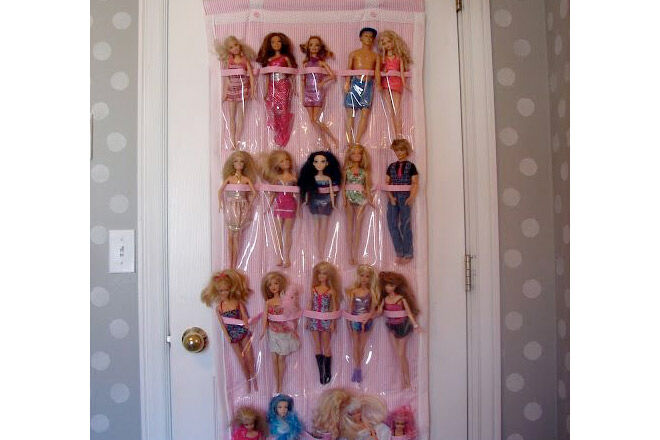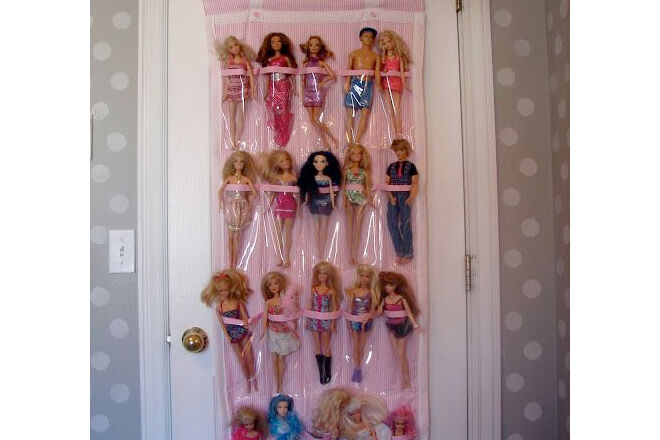 Don't let the dolls get lost around the house. Give Barbie and her friends their own place to party! With see-through slots and perfect pockets the gang will always be ready to play. Make your own with instructions from A Girl and a Glue Gun.
2. Bathroom bliss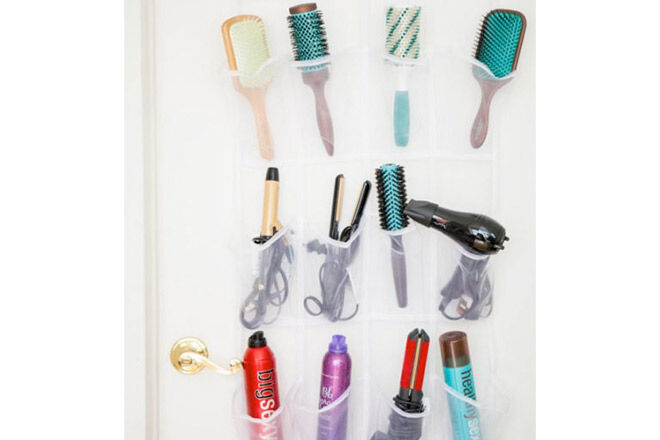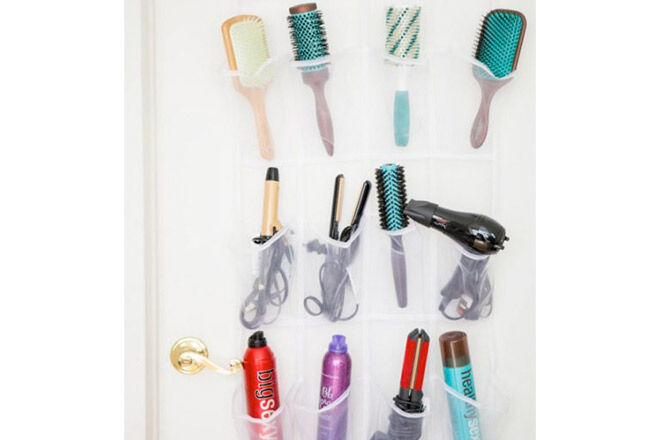 Cables, cords and curlers can easily create chaos in the bathroom. Get your everyday essentials into order with this great idea from Cosmo! Keeping everything in reach will save squabbles at shower time.
 3. Craft closet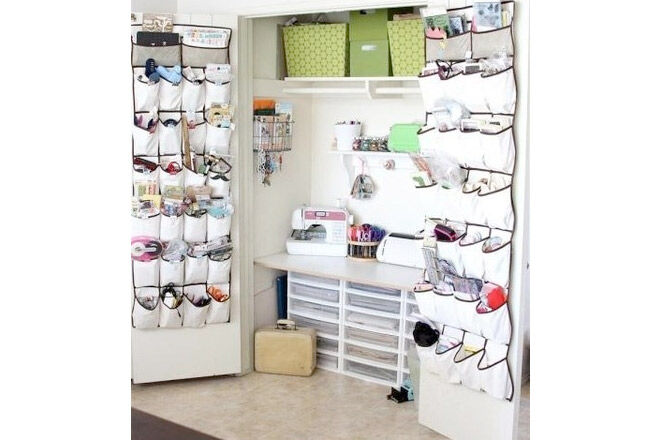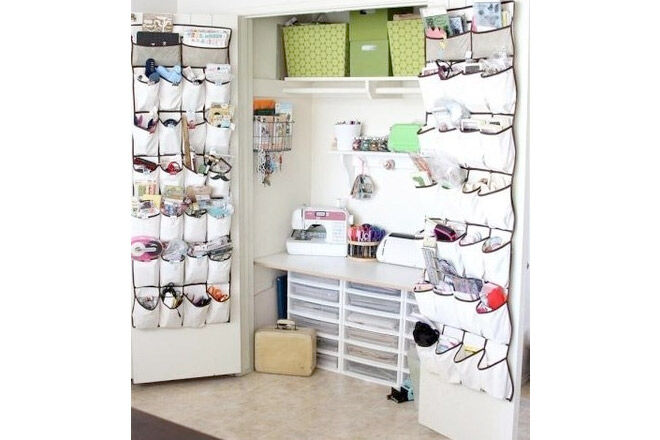 Create a corner of crafting heaven with your very own craft closet! With all your supplies in one little nook your productivity is sure to increase. No more searching for the scissors, it's time to stitch!
4. Taming the car chaos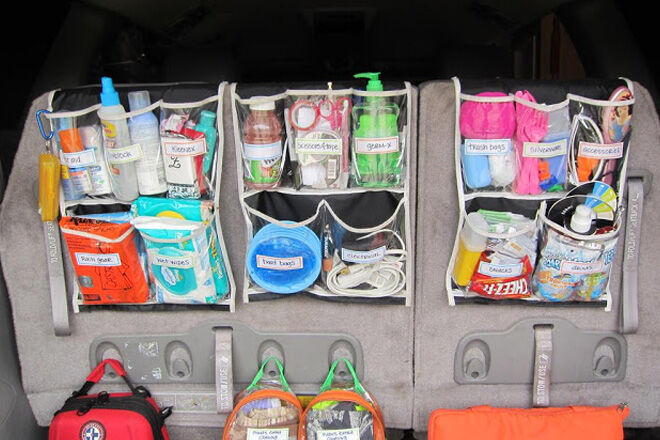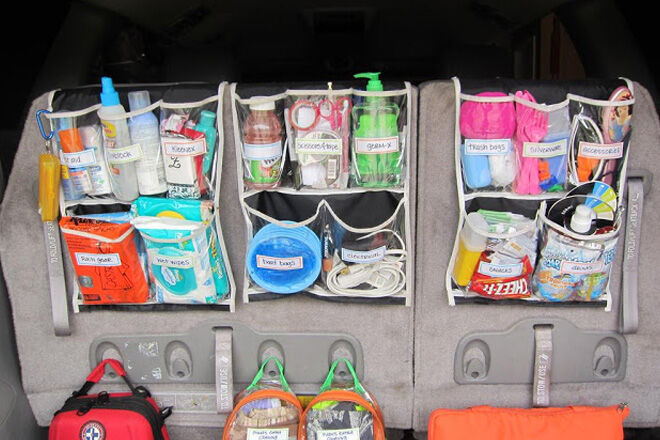 The Castro Family from Happynings has THE most organised car we've ever seen. From nappies and wipes to snacks and scissors, they are prepared for everything! Attach over-the-door hangers to the back of the your car seats and fill and label them. This could also work well hung over the back of the driver and passenger seats the kidlets behind have easy access to snacks, games and toys on long drives.
 5. Hallway heaven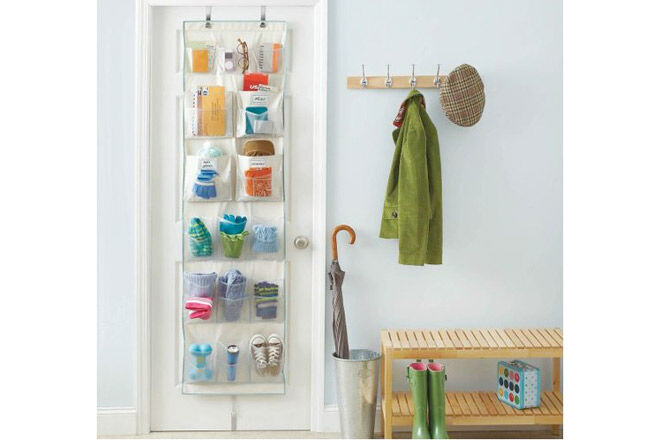 Apartment Therapy show us how to solve storage issues in small bedrooms, but we say why stop there? Bring this idea to your hallway or laundry to keep the family bits and bobs together. With so many scarves, hats, gloves and shoes you'll be surprised how quickly you fill the pockets!
 6. Portable presents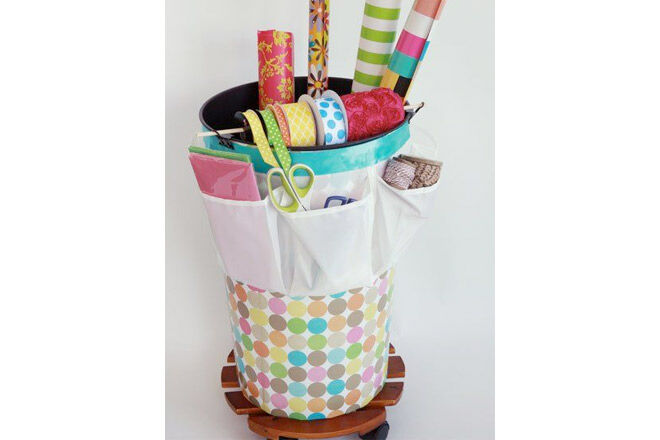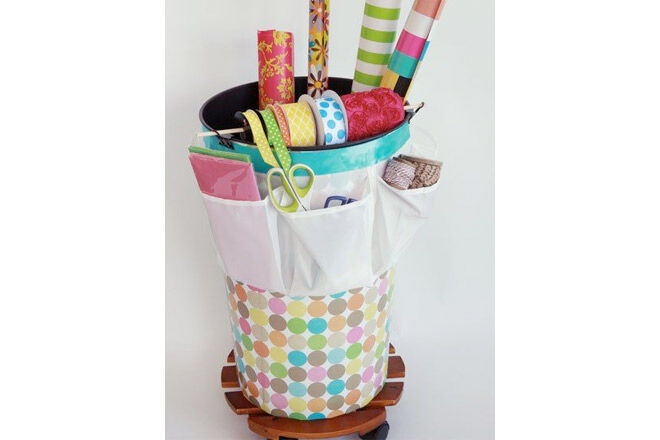 If you don't have the cupboard space for a craft closet, don't fret! Cherylstyle shows us how to DIY a wrapping paper organiser that comes complete with wheels! With an over-the-door shoe organiser, a plastic bin and a glue gun you're half way there.
 7. Utensils unite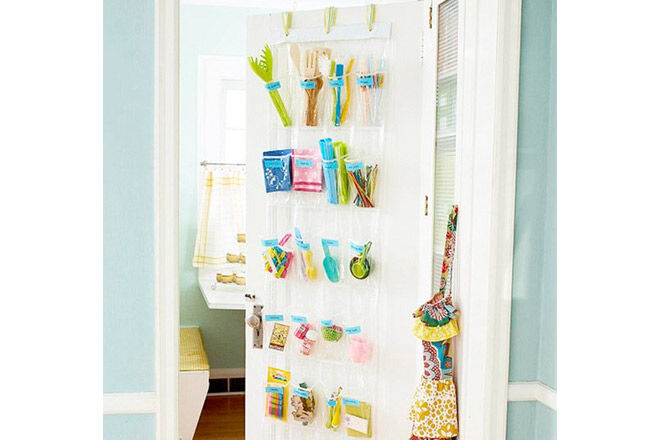 It isn't long before spatulas and spoons take over the kitchen in their masses. Centsational Style shows us how to organise the knick-knacks and label like crazy for a cleaner, happier kitchen.
8. Pantry Pockets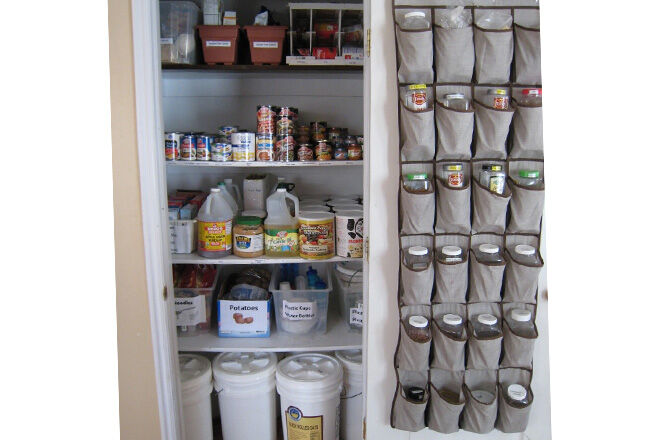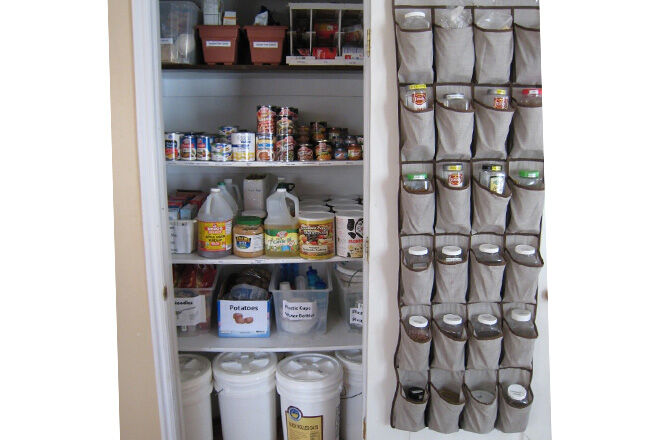 Looking for ways to tidy up the pantry? An over-the-door organiser could do wonders for clearing those shelves. Jars and bottles work really well stored in pockets – either label the lids or use a clear door organiser to see what's what. [Image via decoist]
9. Too many toys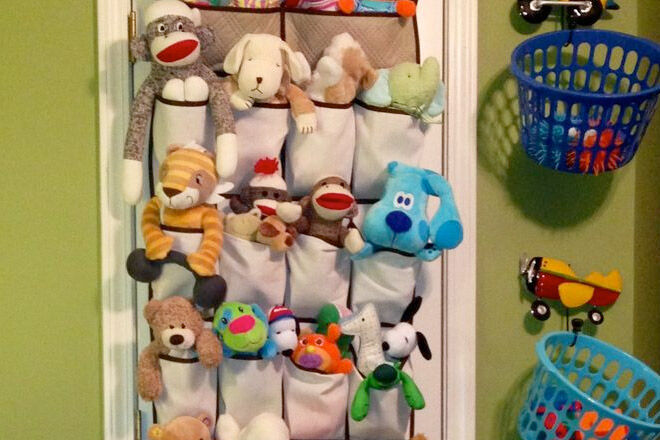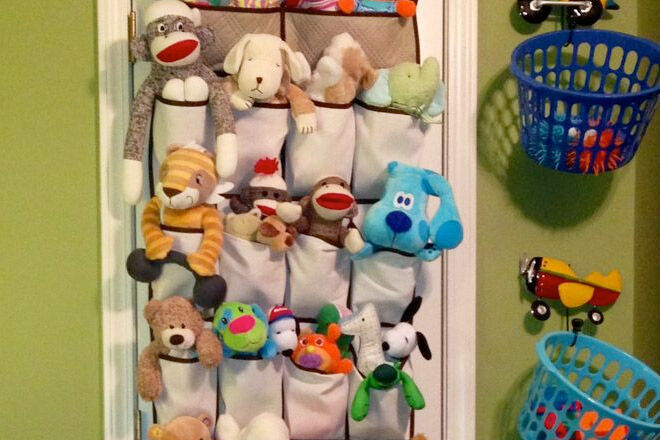 Stop soft toys from taking over the kids bedrooms by putting them into storage sleeves. Once the kids get used to this being their 'sleeping bag' tidying the toys will be a lot easier. You could even name each pocket so every toy had its own sleeping spot!
10. Vertical Garden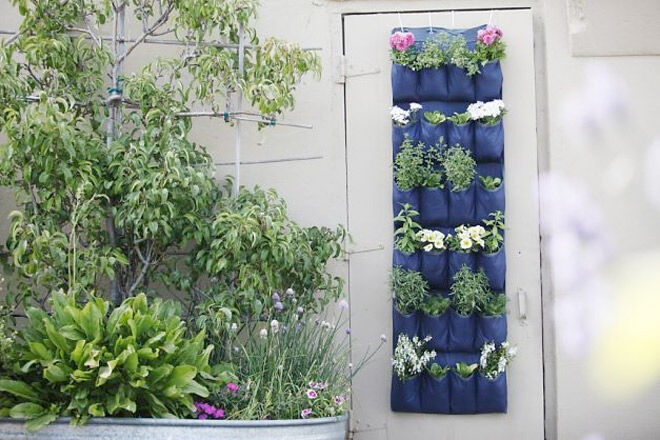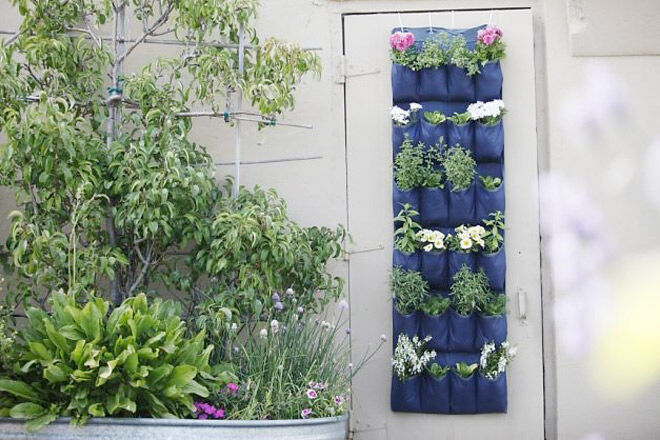 Maximise your outdoor space with a vertical garden! SFGate have brilliant ideas for saving space in the great outdoors. Whether you have a balcony or small backyard, an over-the-door organiser could be the answer to a great little garden. Simply poke holes into the bottom of each pocket, hang in a sturdy place and plant away!
11. Drink dispenser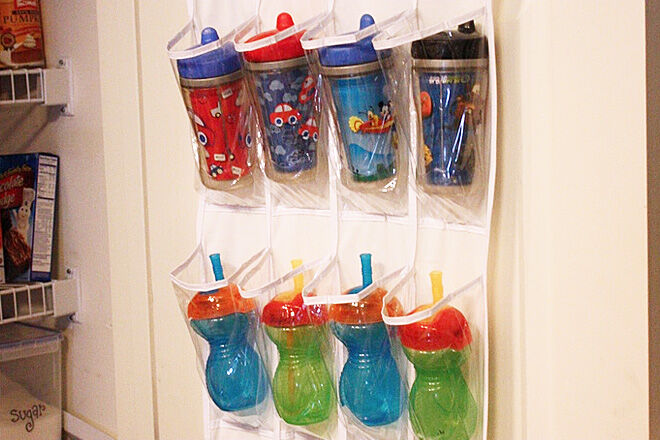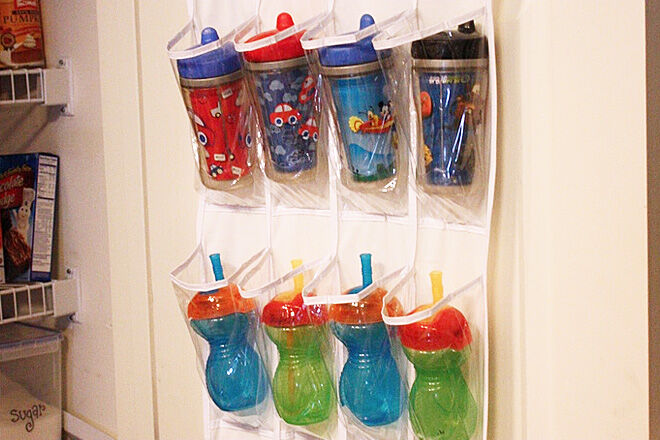 Keep your bottle and its lid together forever by storing them in sleeves. This is a great idea for kids' lunchbox containers too! Get fantastic with your plastic and put an end to last minute morning panics.