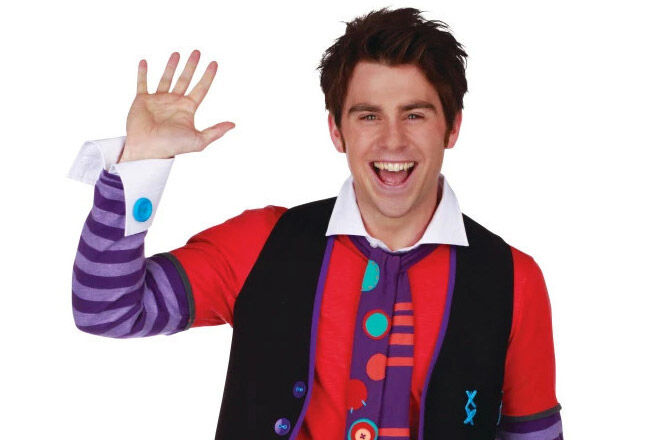 Meet Jimmy Rees, the funny man behind Jimmy Giggle.
He's known to children and families Australia wide as Jimmy Giggle, co-star and partner in crime of puppet owl, Hoot. The talented newlywed counts pirate speak and eyebrow manipulation among some of his skills thanks to a four year stint in the popular ABC series. With a new show AND parenthood on the horizon we caught up with Jimmy to find out how he does it.
Q. How did you get to become Jimmy Giggle?
I initially auditioned for a role on ABC 3's studio 3. It was an open call and I got through the first round but didn't hear anything after that. Unbeknown to me, Giggle and Hoot were auditioning at the same time and asked for a few hopefuls from the ABC3 auditions. I auditioned for Giggle and Hoot, they offered me the position, and when the producers told me I would be wearing my pyjamas to work, I accepted immediately.
Q. What do you love most about performing for children?
Totally unpredictable. Children are the best audience, they involve themselves 100% and if you ask them how they liked the show, you know the answer will be honest and out of left field.
Q. What's your favourite song to perform?
I love the Funky Owl because everyone loves to flap their wings and hoot like Hoot. The song has a mountain of energy.
Q. What are Hoot and Hootabelle like behind the scenes?
Hoot is always looking at himself in the mirror, he tells me it's because he loves the colour of his blue feathers. Haha! and Hootabelle is always out twinklifying everything.
Q. What can we expect from your upcoming tour – Giggle & Hoot and Friends?
Songs, laughter, ROARS, STOMPS, more songs, more laughter, superheroes, stars, audience participation, Jimmy Giggle's (not so amazing) dancing and thousands of HOOT HOOTS!
Q. Which 'friends' are the most fun to tour with?
We had a great cast last time we toured and I am looking forward to meeting the people on this tour. We have the addition of Hoopla Doopla this time. If we are talking B1 and B2, they are so tall you can't take them anywhere, it's rather awkward going out for dinner with two 12 foot bananas. Ha ha!
Q. Do you get recognised in real life?
Yes I do, even with a full 5 day growth on my face. The parents mostly recognise me and sometimes it takes a little convincing to get their son or daughter to believe it's really me.
Q. Are you always this happy? Where do you get all your energy from?
I have always had an abundance of energy. I love making people laugh, so I guess this role is perfect for me. Myself and the other cast and crew have a great time on set, it's relaxed and jovial, there is always time for a joke.
Q. We saw you early last year in The Wizard of Oz, do you have any other projects coming up?
I was in a pantomime in July this year. The wonderful Bonnie Lythgoe is bringing the classic British panto to Oz. It was excellent fun and man it was funny. I think she is putting on another show next year as well. I don't know why the panto hasn't worked in Australia, they are so … Aussie. I try to fit in a few things when I can but Giggle and Hoot takes up most of my time.
Q. What are you most looking forward to about becoming a new dad?
Having a little person to laugh at my already impressive collection of dad jokes.
Q. And lastly… Are you going to tuck your baby in with the Giggle and Hoot goodnight song?
That would be great, perhaps a new segment called 'Jimmy Giggle's nappy changing extravaganza'.
Jimmy Giggle, Hoot and Hootabelle are setting off on a giggle-icious live stage adventure with their friends the Bananas in Pyjamas and Hoopla Doopla's Zap, Mimi and Jango this summer. The tour will travel to  Melbourne, Sydney, Brisbane, Newcastle & Canberra during December 2014 and January 2015. To book, visit Live Nation.